A 3 ingredient, 15 minute Baileys dessert to impress. Rich and flavourful, with a super creamy, luxurious texture similar to chocolate mousse. I pack it with a double shot of Baileys per portion, but it can be made much lighter if you wish!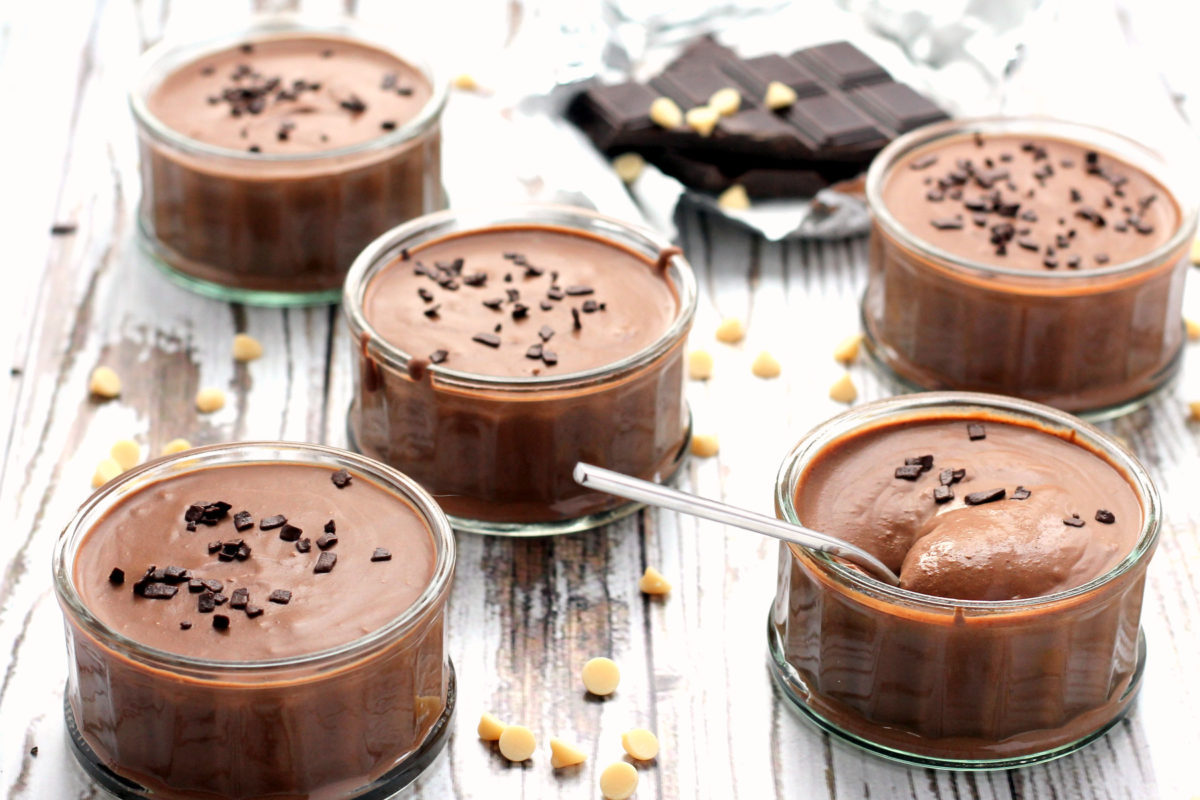 There are two things you need to know about these little Baileys Chocolate Dessert Pots.
Thing one is that it's really easy.
You're going to breathe such a sigh of relief when you see how beautifully they will fit in to your dinner prep. A total lifesaver when you want to bring out something home-made and special, but don't have a lot of time to be focusing on dessert.
All you need to do is melt some chocolate and then beat together three ingredients. Just three! Two of which are given away in the title. Wanna know the other? It's coconut milk!
Coconut milk has such a gorgeous texture which whips and then sets. You can also have it silky and mousse / pudding-like, as shown in the photos, if you only refrigerate it for a few hours. But because coconut milk gets really hard when it's cold (as does chocolate), you can also have it more "set" by refrigerating overnight or putting it in the freezer for a while. Either way is great!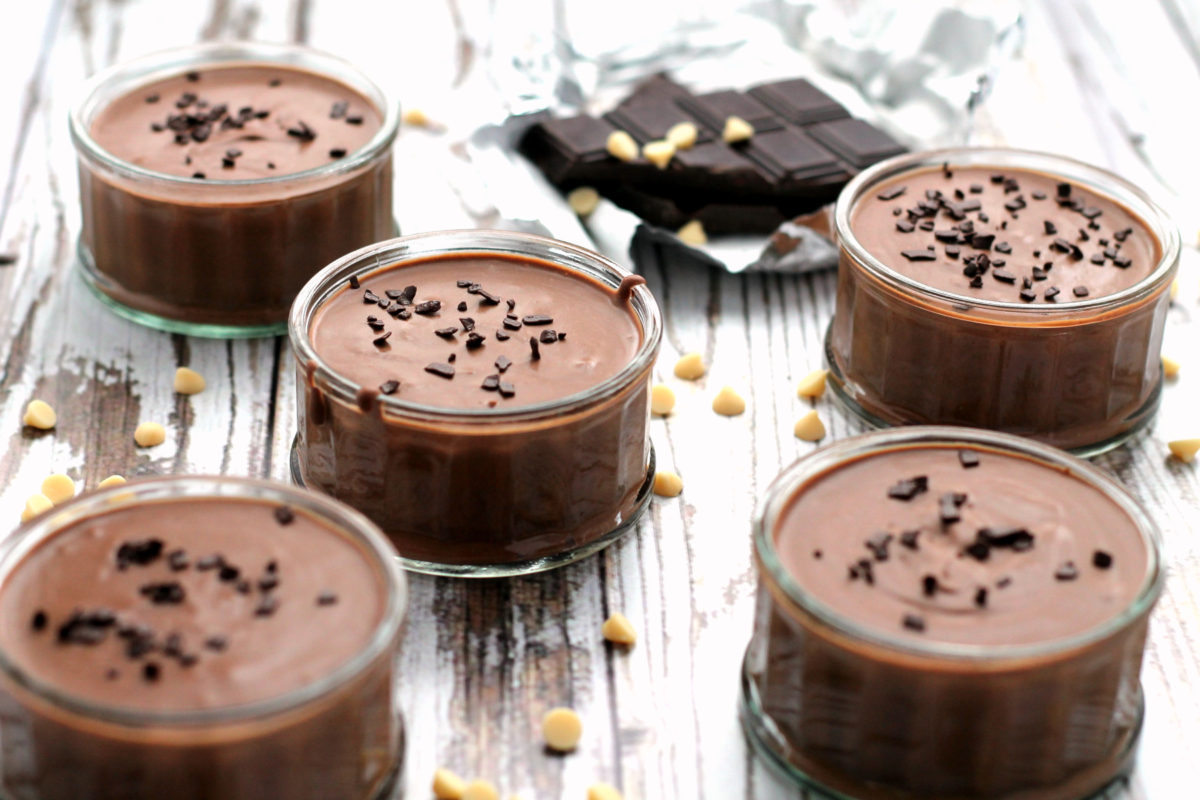 Thing two is that it's really boozy.
Divide this between four and everyone is consuming a double shot of Baileys each. Luckily, Baileys is fairly weak so that's still not as alcoholic as a vodka shot. Nevertheless, this is a little something to bear in mind if you are serving it to someone who is driving / pregnant / in AA.
If you like the taste of Baileys, that is a definite strength. You get a good hit of it, and it marries perfectly with the dark chocolate. The coconut milk is just there for the aforementioned benefits; its flavor is entirely overpowered.
Having said all that, this is such a flexible and foolproof recipe that you can do whatever you like. Reduce the booze if you prefer just a cheeky little hint of Baileys. You could add in some milk to make up the liquid content, but even if you don't, it's not a problem- the end result will just be a little firmer.
Aaaand here's another idea. If you're teetotal, you could use Irish Cream Coffee creamer or flavoring syrup. (This only works if you're in America or another country that loves adding sugary cream + flavorings to their coffee. When I search "coffee creamer" in my British online supermarket, they just give me Baileys.)
Though if you pursue this, I can't tell you how much to use because I, on recommendation from my supermarket, stick to the booze.
Since it's February and this is so chocolatey, I'm going to have to nominate it for your Valentine's Day celebrations! Whether it's a romantic dinner with your special someone, a fun Galentine's get-together, or a normal Sunday because you think Valentine's is dumb… this is the dessert for you.
And if you've decided to go all out with the Valentine's stuff, I've also got some beet gnocchi hearts with your name on them. Have fun!
Print
Easy Baileys Chocolate Dessert Pots
Yield 4-6 portions
A 3 ingredient, 15 minute Baileys dessert to impress. Rich and flavourful, with a super creamy, luxurious texture similar to chocolate mousse. I pack it with a double shot of Baileys per portion, but it can be made much lighter if you wish!
Ingredients
400g (14oz) can of coconut milk
200mls (3/4 cup + 2 Tblsps) Baileys Irish Cream (This will be very boozy! Reduce for a more subtle result)
200g (7oz) dark chocolate
Instructions
Before you get started, you'll need to refrigerate the coconut milk in its can overnight, or freeze it for a few hours. This allows the coconut milk to separate.
Open the can of coconut milk and the thick cream should have set on the top. Spoon the cream out into a mixing bowl and discard the water left behind (you can keep this in the fridge and re-use it in a smoothie if you like)
Melt the chocolate in a double broiler, or a microwave, whatever works for you. Set aside.
Using a stand or hand mixer, beat the coconut milk on a high speed until it's silky and airy. It will take a few minutes.
Add the Baileys to the coconut milk very slowly, followed by the melted chocolate, mixing continuously to incorporate them whilst letting as much air in as possible. Be sure to scrape down the sides of the bowl with a spatula on occasion.
Once all of the ingredients are in, mix on high speed for an extra few moments for good measure.
Portion into ramekins, small glasses or wine glasses.
Place in the refrigerator for a few hours to achieve a silky, puddingy texture, or overnight for a more firm / set result.
Notes
Use full fat, unsweetened coconut milk. (I like Sainsbury's own brand, if you're in the UK)Depending on the size of your ramekins / glasses, you'll get 4 to 6 desserts out of this. I used leftover ramekins from GU puds in the batch I photographed, and it made 5.
Nutrition Facts
Amount Per Serving

Calories 329

% Daily Value

Total Fat 19.9 g

31%

Saturated Fat 12.2 g

61%

Sodium 19.3 mg

1%

Total Carbohydrates 25.6 g

9%

Sugars 16.3 g
* Percent Daily Values are based on a 2,000 calorie diet. Your daily values may be higher or lower depending on your calorie needs.