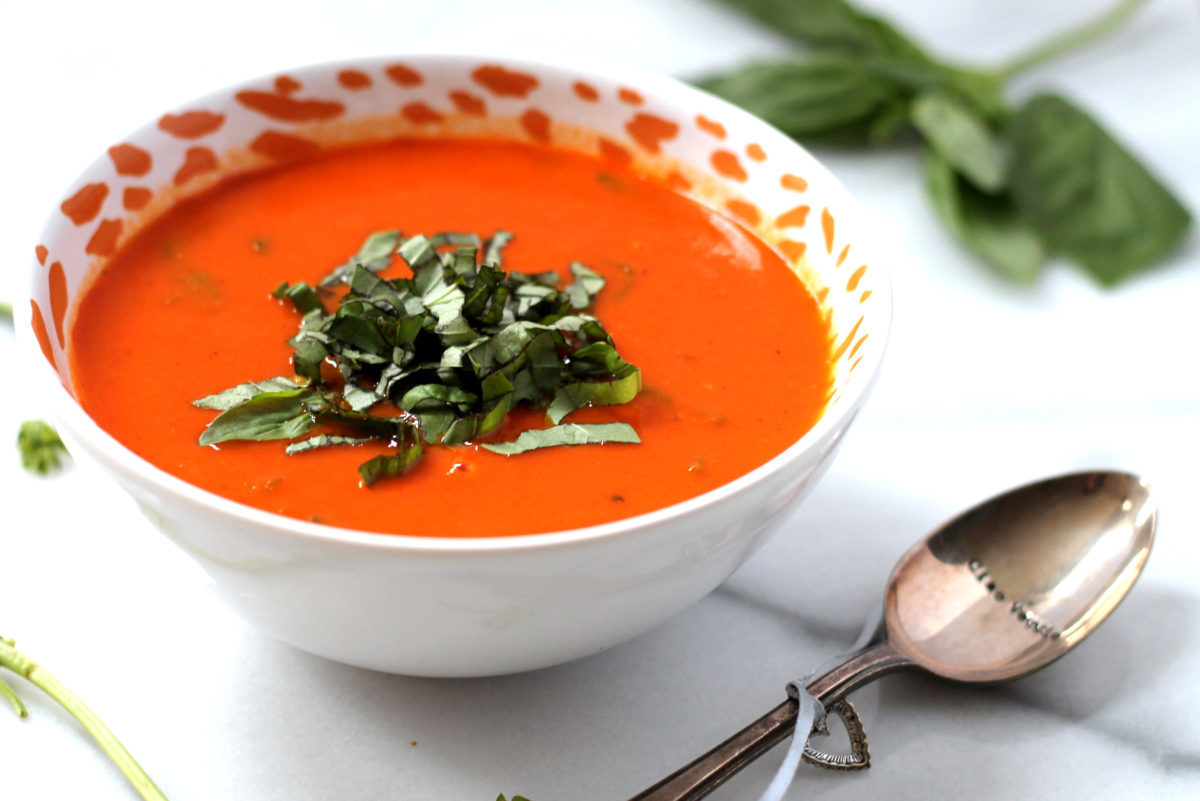 I always insist that I'm not a soup person, but my soup archives are starting to suggest otherwise. I've been finding some great ways to enjoy soup recently, and it's a lifesaver when catering to a group of people for lunch.
You probably already knew all that.
This is my personal recipe for tomato soup, which I've been working on over the last year. Adding roasted garlic is a fantastic way to upgrade this classic. I'd always been indifferent to tomato soup, but this has made me fall in love with it a little.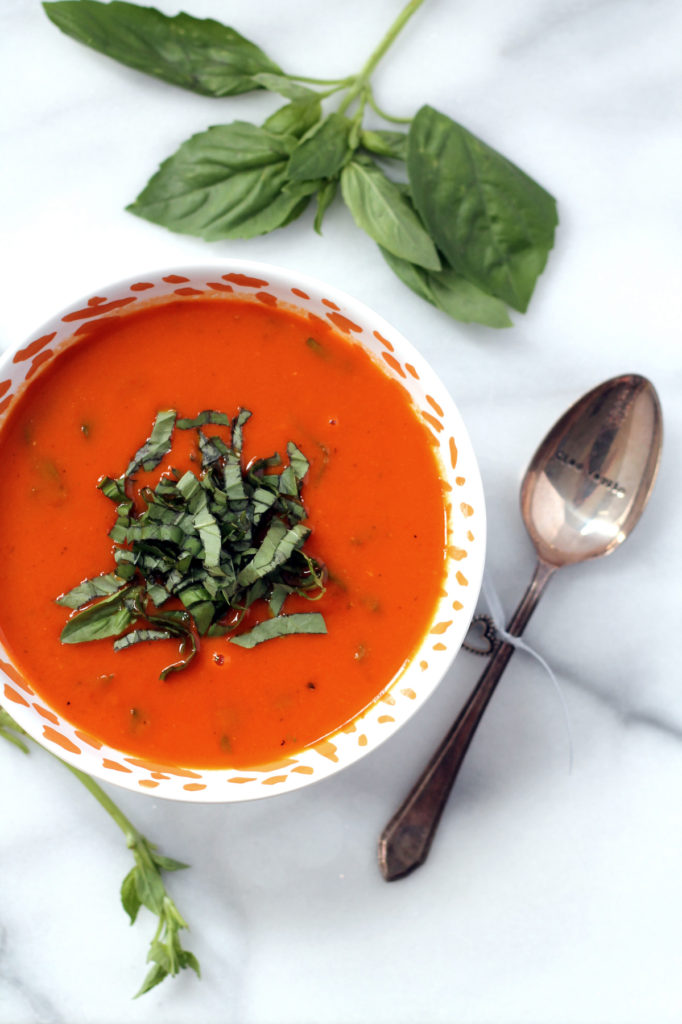 These photos are questionable (winter light, argh) but I hope you can see that it's really thick and creamy. It tastes like it's been spiked with some heavy cream, but it hasn't. Nope nope nope. This is totally dairy free.
There's a tiny bit of almond milk but really, the magic comes from the roasted garlic. It adds so much to the flavor and the texture: creaminess, body and umami. You're going to add six (yes, six) whole heads of roasted garlic to this soup. An idea which you may find terrifying, intriguing, or totally irresistible… depending on how much you love garlic.
You can use less if you like, but roasting garlic does make it turn very mellow and the end result is subtle. You do need to be quite sure it's completely roasted and melty before adding it.
I hope you enjoy this soup!
Print
Creamy Tomato & Roasted Garlic Soup
Yield 6 -8 servings
Ingredients
Olive oil
1 shallot, minced
2 x 400g (14oz) cans of of whole plum tomatoes
6 heads of garlic
2 tsps brown sugar
4 cups (950mls) vegetable stock
1 tsp balsamic vinegar
2 Tbsps unsweetened almond milk
A few handfuls of chopped basil.
Instructions
Pre-heat the oven to 200C / 390F.
Prepare the garlic heads for roasting. Slice the tops off, leaving the end of each clove exposed. Brush with olive oil, and wrap in foil. Place in the oven for 45 minutes,
Meanwhile, in a large pan, sautee the shallots in a little olive oil for a couple of minutes, until soft. Add the cans of whole plum tomatoes, the vegetable stock, balsamic vinegar and brown sugar. Leave to simmer while you wait for the garlic to roast.
Once the garlic is completely soft, squeeze out all of the flesh into a small bowl before adding to the soup. Leave to simmer for another 30 minutes minimum (the longer, the better, so give it an hour or two if you can).
Finally, add the almond milk and use a hand blender to puree the soup.
Mix in the fresh basil, reserving some for garnish if desired.
Serve.