Oh, hey! Check me out. Eating my lentils and my kale and being all happy about it.
This is some seriously healthy stuff going on right here. I've surprised myself. I really, really love it.
We've got lentils, cooked in smoked paprika and kale, cooked in wine and garlic. We've got melty provolone cheese (splash out on the real Italian stuff if you feel like treating yourself and keeping it clean!). I have no idea where this came from or why I decided to mix all this stuff together. It's just a mash up of Mediterranean flavors masquerading as a Mexican dish, and I like it that way.
Fresh Provolone cheese is such a treat. During our recent trip to Italy, I enjoyed a white pizza that used a smoky provolone instead of mozzarella, and ever since then I've been trying to find a good source in London so I could recreate that at home. It's not as popular here as it is in North America, so it requires a little extra effort… but just like magic, this Italian deli that is 7 minutes walk from my house has a big ol' block you can buy from. Not to mention a whole selection of other fresh Italian cheeses like ricotta salata. How perfect is that?
The fresh provolone really makes this quesadilla special, but if you don't feel like going to the specialty cheese shop, that's OK. Use another melty cheese like havarti or taleggio or swiss.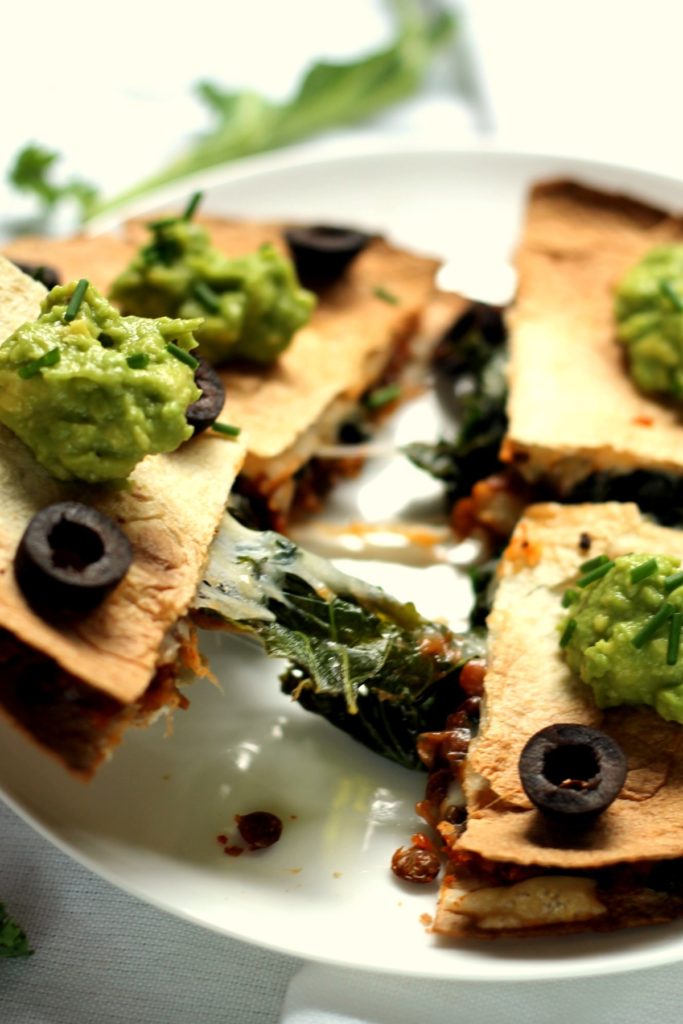 If you have ready cooked lentils from a previous evening's dinner or from a can or pouch, these quesadillas can be ready in just over 30 minutes! Bon appetit.
Print
Lentil, kale and provolone quesadillas
Yield 2 quesadillas
Ingredients
4 small flour tortillas (to make them sandwiched, as pictured) or 2 large (to make them folded over)

4-6 slices of Provolone cheese
Lentil Filling
2 Tblsps minced onion

1 garlic clove, crushed

1/2 tsp of smoked paprika and/or your favorite chili powder (feel free to mix it up but it's great to have something smoky in the mix!)

1/4 tsp cumin

1 cup of cooked green lentils

1 Tblsp of tomato puree

1 Tblsp of water

Salt and pepper
Kale Filling
4 stalks of kale, with the leaves torn off and the thick stalks discarded (if you have a bag of ready-chopped kale, it's about 3 big handfuls)

3 garlic cloves, minced

A few Tblsps of white wine (optional, substitute the juice of 1 lime if you aren't keen on wine)

Salt and pepper
Guacamole
1 avocado

Twist of lime or lemon juice

Salt and pepper
Instructions
Pre-heat the oven to 180C / 360F
First, prepare the lentils. In a frying pan or wok, saute the onions in a little olive oil until softened. Add the garlic and spices and cook until fragrant. Now add in the lentils and tomato puree and once they are mixed in with the spices, add the water. Cook for 5 to 10 minutes, until the water has mostly evaporated and you have a soft, moist mixture.
Lay out 2 tortillas and spoon the lentil mixture over them (pile it high, but you'll probably have leftovers)
Rinse out the pan and re-use it for the kale, if you wish.
Cook the minced garlic in a little olive oil until fragrant, before adding the kale and stir-frying for a few minutes until it starts to soften. Pour in the wine and cover the pan to let it steam for about 5 minutes, until it's evaporated and the kale is cooked.
Add the kale on top of the cooked lentils.
Now add the sliced provolone, and top with another tortilla.
Bake in the oven for 15 to 20 minutes until the cheese is melted and the tortillas are crisp.
While the quesadillas are baking, mash the guacamole ingredients together in a bowl.
Serve quesadillas topped with guacamole. (You can of course add your favorite salsa and/or sour cream or yogurt too but there's so much flavor inside, I found that a simple topping worked well!)