25 Easy Vegetarian Dinners (+ happy news)
Hello there! Long time no see!
I know it's been many months since I've been able to keep up my weekly / twice weekly posting schedule, thanks to pregnancy food aversions and general pregnancy distraction. Today I wanted to share the news that we welcomed our beautiful little girl, Odette Rosaline, on November 1st.
Life with Odette has been pretty sweet so far! We're just figuring out our routine and getting into our groove. And cooking is definitely back on my radar! It's been so great to have my appetite back and crave all the foods I stopped liking while I was pregnant!
That said, my cooking habits will inevitably change with parenthood. I used to spend forever in the kitchen, preparing dinner at a leisurely pace, but I now have to be a little more practical. So I've been perusing the web, and my own archives, for quick and easy meals / slow cooker meals (I love being able to prepare dinner when it suits our schedule, freeing up our precious evenings). Here are my top picks!
From the Ciao Veggie Archives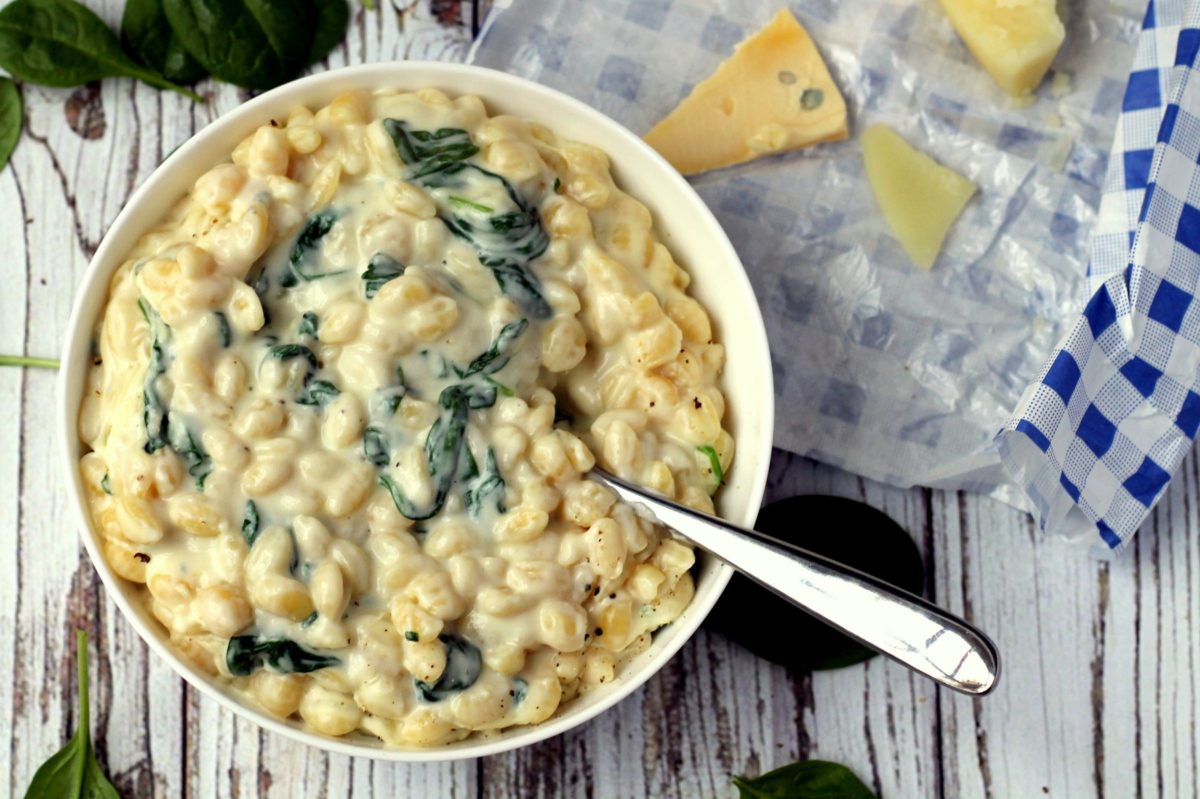 Blue Brie & Spinach Mac and Cheese – This one pot mac and cheese is super quick and easy to prepare, and also lets me indulge in some post-pregnancy ban blue cheese and brie.
Bean and Avocado Fried Quesadilla – Because having a freezer full of slow cooker refried beans at all times is one of my new life goals.
Chili Paneer Lettuce Wraps – Now that my 9 month long case of heartburn is over, I can't wait to be eating these easy peasy lettuce wraps on a regular basis again!
Avocado Pesto Spaghetti Genovese – For the evenings when you're running really behind and get super hungry… pasta with potatoes will always be a winner.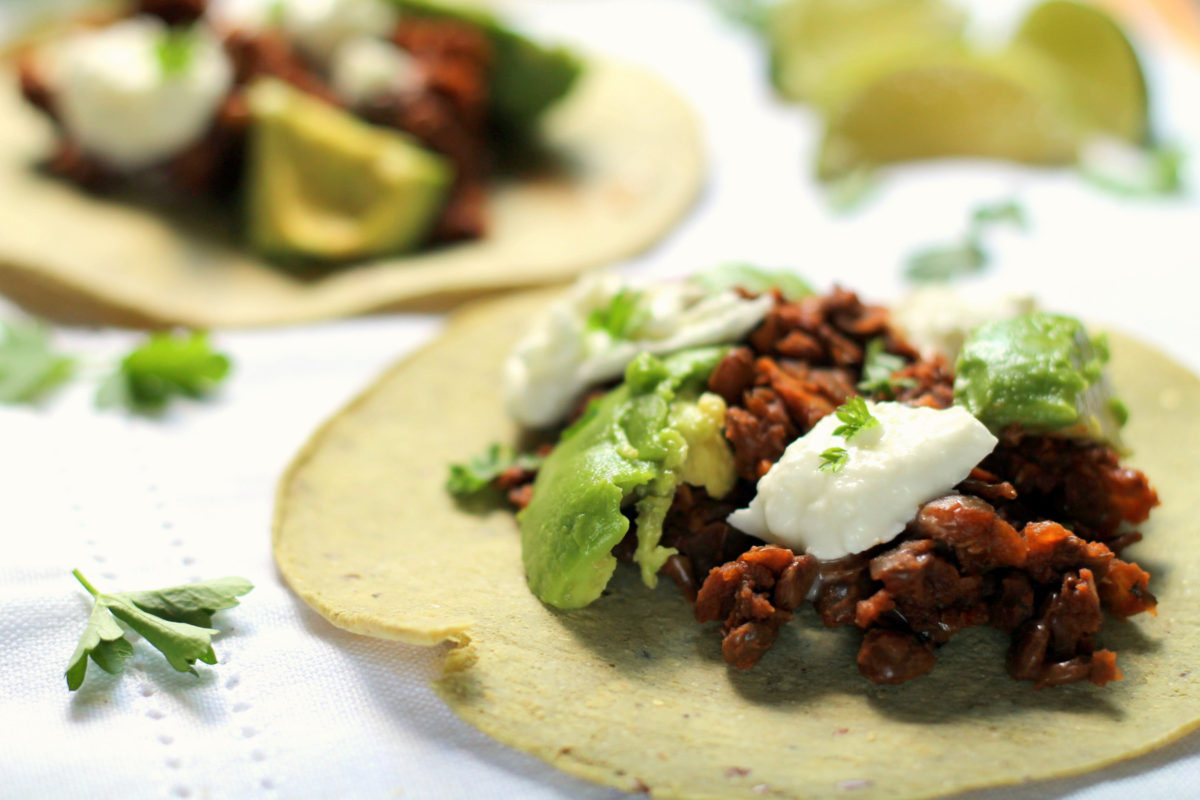 Smoky Lentil & Buffalo Mozzarella Tacos – By investing in pre cooked lentils these amazing tacos can be ready even faster.
5 Ingredient Easy Lentil Lasagne – One of my most popular recipes, a few shortcuts make midweek lasagne totally achievable.
Slow Cooker Sag Aloo –  By sautéing some ingredients directly in the slow cooker first, you get the full flavour without having to pre cook anything on the stove. This works perfectly when you will be at home and can add ingredients in stages.
Caprese Pita Pizza with Chive Pesto – Even making the pesto from scratch, this pizza comes together very quickly – using a nice jarred pesto would make it quicker still.
Slow cooker vegan tomato cream sauce – This cashew cream tomato sauce is to die for, and allows plenty of leftovers for the freezer.

Rice Cooker Cheese & Broccoli Quinoa Casserole – This whole dinner is made in a rice cooker, because sometimes I am that lazy.
From Around The Web
Slow Cooker Enchilada Quinoa from Creme de la Crumb – I tried this recently and it was a great success. I did make my own enchilada sauce rather than buying jarred stuff but even taking that into account it was a it was still very easy!
Roasted Broccoli Pepita Pesto Pasta from Blissful Basil – Remember my motto: anything green can be pesto'd! This vegan delight is very straightforward to make and turns pesto with pasta into a much more interesting dinner prospect.
Cheesy Lentil Jacket Potatoes from Emma's Little Kitchen – Baked potatoes can make for a great main meal if the toppings are substantial – these protein packed cheesy lentil jackets are ideal, and use ingredients that most veggie households will always have to hand.
Vegan Tahini Pad Thai from Will Frolic For Food – I love that the veggies in this dish are roasted rather than stir fried (which I always mess up) and then everything else is prepped while they are in the oven. A much more laid back approach to noodles!
Creamy Caprese Quinoa Bake from Half Baked Harvest – I looove the sound of this creamy Italian inspired quinoa, and it's one of those dishes that will reward your minimal effort with lots of leftovers too.
Slow Cooker Paneer Makhani from Slow Cooker Gourmet – I've tried this out and was seriously impressed. There aren't too many ingredients, and they are all cupboard staples, but the end result is just magic. I took the time to fry my paneer before adding it but that's not necessary if time is more limited.
15 Minute Hummus Salad Pizza from Lauren Caris Cooks – You'll notice most of the dishes I am gravitating towards are cozy, wintery comfort food bakes. This salad pizza is comforting but also light and refreshing with crispy bell peppers and piles of arugula.
Veggie Sausage & Sundried Tomato One Pot Pasta from The Veg Space – Decent veggie sausages can be a great time saving ingredient to have in the freezer and this unusual pasta combo is a perfect way to use them.
Spinach & Halloumi Slow Cooker Risotto from Baking Queen 74 – Let's face it, the traditional method for cooking risotto is a little impractical sometimes so using the slow cooker can put it back on the menu for busy households!
Swiss, Leek and Mushroom Braid from Happy Food Dance – I've made three similar braids since Odette was born. They are easier than they seem, and it's a great way to use up the veggies and cheeses you have to hand.
Spinach, Mushroom and Feta Crustless Quiche from Budget Bytes – Eliminating the pastry eliminates much of the effort in making quiche!
Spanish Chickpea and Spinach Stew from Lazy Cat Kitchen – This one pot wonder looks seriously flavorful and all of the ingredients in the sauce are cupboard staples.
Veggie Sausage, Lentil and Red Pepper Bake from Tinned Tomatoes – I love how you can just throw all these ingredients on a tray, put it in the oven and getting a tasty dinner at the other end!
Slow Cooker Black Bean Chili from A Couple Cooks – This list would not be complete without a slow cooker chili, one of the best possible uses for the crockpot. Chili is so versatile too – it can be served for dinner with rice, for lunch on a baked potato, or breakfast with some eggs. Time to stock the freezer with it!
Dal Nirvana from Steamy Kitchen – Making a traditional dal makhani could be an all-day affair, but this recipe makes it quite easy and uses minimal ingredients. Very achievable any day of the week!
I'll be back with some new recipes just as soon as time permits! 🙂