It's… well… it's not a pretty one.
This salad kind of deserved to live on the darkest corners of the #uglyfood hashtag, but instead I'm posting it front and center here. I just can't be bothered to worry about the attractiveness of my food right now. Perfectionism is so off my radar at the moment.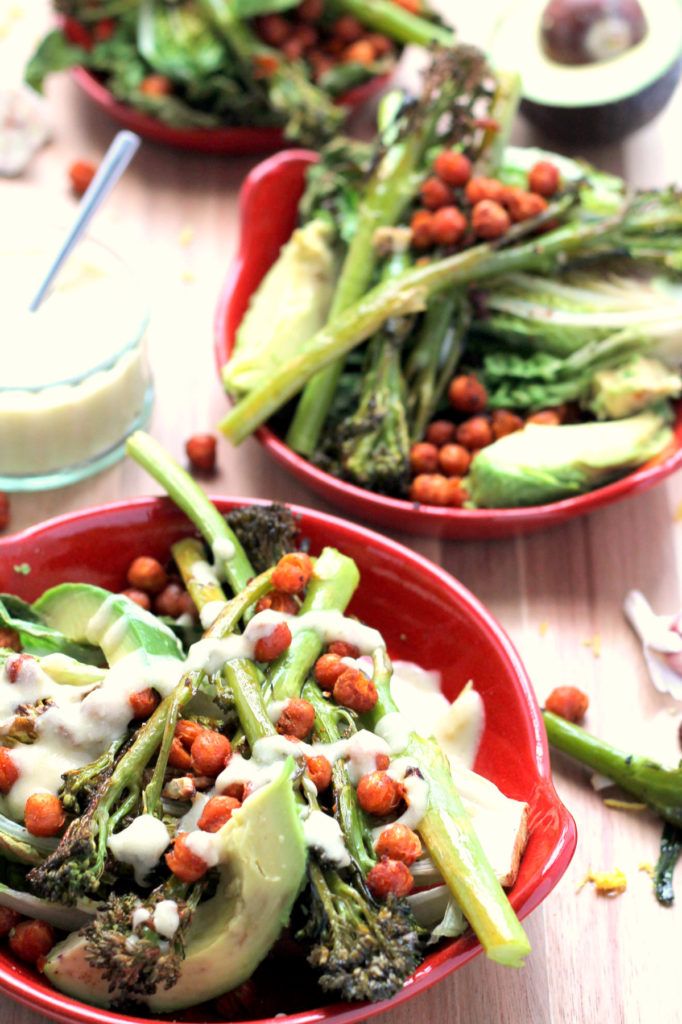 And hey. If I sound half-assed, please know it's just about appearances. I really like this ugly little salad. And I think you will too.
Grilled romaine, roasted chickpeas. Two of my current obsessions. To get those chickpeas smoky, you're going to coat them with smoked paprika. Yesyesyes. Did I ever tell you about the time I treated myself to some very expensive smoked paprika, not realizing I was buying a huge bulk tin of it? That was a good laugh. And it makes visitors to my kitchen – friends, plumbers, family members – oh so jealous.
We don't stop there. Crispy, roasted tenderstem broccoli. Avocado (obviously). Home made roasted garlic dressing (though you can sub for any creamy or caesar style dressing if you have a favorite). Everything is vegan, everything is nutritious, everything is tasty.
You've got crunchy, chewy, smoky, garlicky, crispy, leafy, creamy…. but maybe I can just stop listing adjectives and we'll agree that this salad has everything you need / want / could ever imagine?
So. Don't judge a book by it's cover and don't judge a salad by how a tired food blogger presents it. The salad is epic. Enjoy it for the messy, unattractive delight that it is.
I'll hopefully be back with some more energy for presentation soon. In the meantime, if you're interested in more attractive vegan recipes, there are a few lurking here in my vegan archives! Including this marginally prettier vegan caesar salad– the dressing for which works really well with this recipe too.
Grilled romaine with roasted broccolini & spicy chickpeas
Ingredients
1 can chickpeas
2 tsp smoked paprika
400 g tenderstem broccoli (broccolini), or purple sprouting broccoli
3 cloves garlic, thinly sliced
Juice of 1 lemon
Olive oil
Salt and pepper
2 large heads large
1 avocado, sliced
Lemon zest, for garnish
Dressing
2 heads roasted garlic
3 Tbsp olive oil
2 Tbsp almond milk
Juice of 1 lemon
½ tsp dijon mustard
1 tsp capers
1 half clove of raw garlic
1 Tblsp ground almonds
Salt, to taste
Instructions
First, make the dressing by mixing together all of the ingredients in a hand blender or mini food processor. Set aside to allow the flavors to develop while you get on with everything else.

Pre-heat the oven to 200C / 400F.

Prep the chickpeas. Rinse, and then get them as dry as possible with paper towels. The drier they are, the crispier they will be!

Use a large baking tray or dish to roast your chickpeas; you don't want any overlap. Empty the chickpeas into the pan and toss with olive oil, salt, pepper and a few teaspoons of smoked paprika.

Now place on the top shelf of the oven to allow them to start roasting while you prep the broccoli. You want the chickpeas to have a 10 minute head start on the broccoli.

Chop the hard stems off the ends of the broccoli.

Lightly oil a baking sheet and place the broccoli on top. Brush with a little extra oil and sprinkle with salt, pepper, lemon juice and sliced garlic.

Add to the oven. While you're at it, remove the chickpeas and give them a quick shake before putting them back in.

Allow to roast for 20 minutes, at which point the broccoli should be tender with crispy tops and the chickpeas should be crunchy.

In the meantime, prep your lettuce. Slice the Romaine heads in half lengthwise. Brush with olive oil and sprinkle with salt. Place on a baking tray.

Remove the chickpeas and broccoli from the oven when finished, and set aside.

Immediately change the oven setting to grill / broil on a medium heat. Once ready, place the lettuce underneath the grill for 2-3 minutes, until it starts to brown and crisp on top.

Assemble the salad. Top the romaine heads with broccoli stems, chickpeas and sliced avocado. Drizzle the dressing on top, add a twist of ground pepper and a pinch of lemon zest.

Serve while still warm.