Oh, hiiiiiiiiii!
Is this the mug cake party?
I seem to be late.
Oh, well. I showed up, and just in time for Christmas!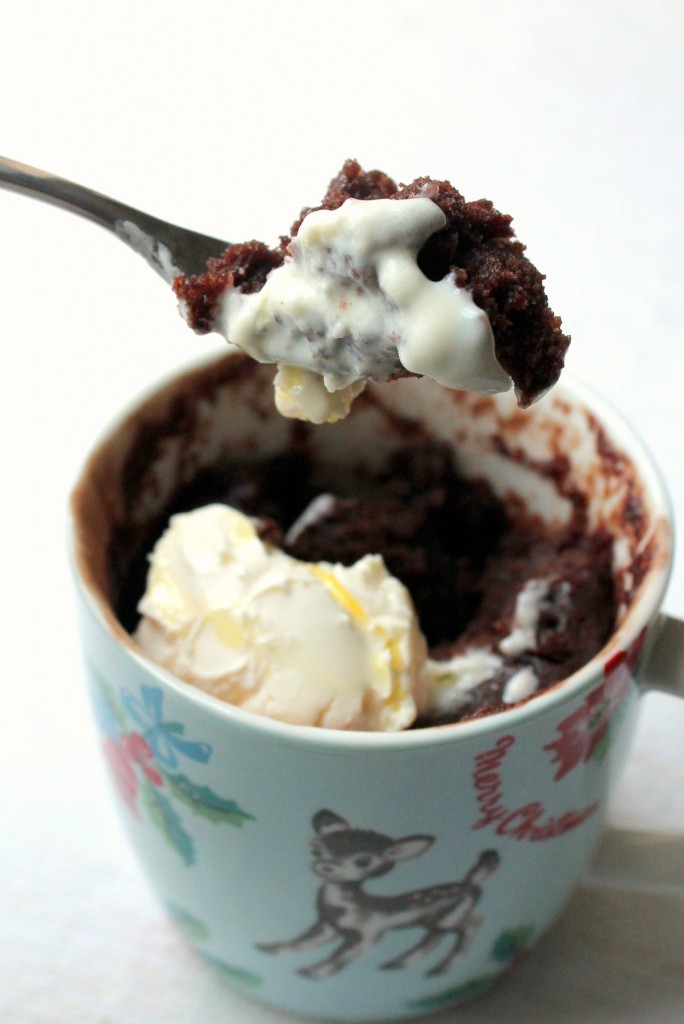 And I am just soooo glad to be here. Because mug cakes, oh my god. So easy. So, so easy.
Why on earth didn't I get on this trend sooner?
Well, I am making up for lost time now because this is the first of two mug cake recipes that I've written in, like, 2 weeks.
Wa-hoo!
So what finally convinced me to try it?
Well, that would be hosting a dinner party on a Friday night.
Friday is not the ideal night to host a dinner party, if we're being honest, because getting home from work and then having like 30 minutes before people arrive = stressful.
I wanted an easy dessert, a dessert with minimal dishes and fuss, and then I remembered all the mug cakes I'd seen on Pinterest.
So I made 6 of Julie's chocolate mug cakes from the Table for Two blog, and it was a total success. A-ma-zing.
Julie worked very hard on her chocolate mug cake recipe and it shows. It's perfect, absolutely perfect. Some people have commented on her blog that it needs more sugar. I disagree. I really like a pure, rich, dark chocolatey taste, and she nailed it.
So I must give Julie most of the credit for this because her perfect chocolate mug cake formula is what is powering this recipe. I've just tinkered with the flavours and the filling to make something a little bit festive and deceptively fancy. (Deceptively, because it is still ridiculously easy to make.)
And yep, this is going to involve pouring olive oil on top of your mug cake.
Let me explain!
The lovely team at The Extra Virgin Shop sent me some samples of their deliciously flavoured olive oils to try out. This was a very happy day for me, because the only thing I love more than gourmet ingredients to play with, is gourmet ingredients with gorgeous packaging to both play with and look pretty on my shelf.
Tick, tick.
Orange flavoured olive oil was the one I found hardest to come up with an idea for, initially. And then I remembered. Those mug cakes used oil in the batter. If that oil were flavoured… the cake would be flavoured… with no additional effort. Magic.
And if that flavour were orange, then we'd have a chocolate orange cake, which is perfectly Christmasy (if you're in the UK where Terry's chocolate oranges are everywhere at Christmas time… otherwise, just take my word for it and give it a try).
Mascarpone cheese features twice here. There's a dollop in the middle, which turns into an oozing custard when it cooks, and then another dollop on top, which starts to melt a little too. Mascarpone is a beautiful, rich and subtly sweet soft cheese which sits perfectly with the chocolate and citrus flavours, and some additional orange olive oil drizzled on top just rounds the whole thing off.

If you can't get your hands on any orange olive oil, that's OK! You can just add a couple drops of orange essence into the batter, or even some orange zest. Simple!
I definitely recommend this oil if you're interested in trying some high quality flavoured oils, or if you are looking for a gift for a foodie friend. The orange flavour is very natural and will work seamlessly in both sweet and savoury dishes. Having tried three of their oils now, I can really vouch for the quality of this brand. The range is available to buy on their website and on Amazon if you're interested!
I think you should totally make this for your Christmas day dessert. It will be easy on the chef, easy on the dishwasher, and will totally delight everyone. Especially if you have Christmasy mugs!
Mascarpone Chocolate Orange Mug Cake
Ingredients
¼ cup plain white flour
2 Tbsp unsweetened cocoa powder
2 Tbsp caster sugar
¼ tsp baking powder
⅛ tsp salt
1 Tbsp orange flavored olive oil, plus additional for topping
1 Tbsp vegetable oil
¼ cup + 1 Tblsp milk
1 Tbsp mascarpone, plus additional for topping
Instructions
Whisk flour, cocoa powder, sugar, baking powder and salt in a small bowl.

Add oil and milk and whisk to form a batter.

Pour into mug.

Add 1 Tblsp of mascarpone to the top of the batter and push down with the spoon to ensure it sinks in.

Microwave for 1 to 2 minutes (this will depend entirely on your microwave so you should try for 1 minute initially, and then put in for longer if it's not cooked). It will be cooked when the top appears dry and springy. It's OK if some of the batter in the middle is still a little melty- in fact, it's delicious!
Notes
If you don't have any orange flavoured oil, use 2 Tblsps of vegetable oil and a few drops of orange essence / a spoonful of orange zest
While photographing this, I kept getting distracted and taking snaps of our tree and decorations. I have no idea if this is interesting to you, but oh well, here is a little glimpse of Veggie HQ this Christmas 🙂
(At the moment I have a problem with my galleries not being full-width on desktop computers, so sorry if this looks awkward, but we're working on it!)