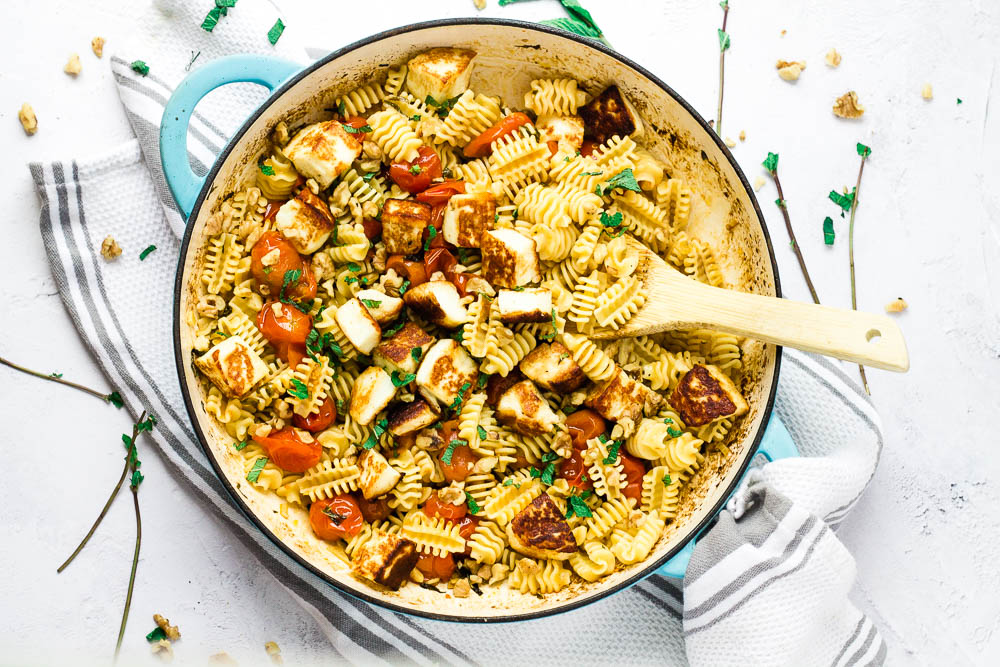 Halloumi Pasta with Cherry Tomatoes & Mint
This halloumi pasta recipe is a total delight. With little effort and very few ingredients, you can create a crowd pleasing dinner full of flavor! Roasted cherry tomatoes and halloumi cheese are paired with mint, garlic, and toasted walnuts to make this healthy vegetarian pasta meal. 
Alternative method - you could actually cook the halloumi and walnuts in the oven too. About 15 minutes before the tomatoes are done, you would put the halloumi cubes on a baking tray, coat with oil and cook them alongside the tomatoes. You could then add some walnuts to another baking tray and toast them in the oven for the final 5 minutes. I tried this method a couple of times and personally just preferred the pan fried halloumi's texture (because in a crowded oven at the appropriate temperature for the tomatoes, you end up with a less crisp result) but you could try this if you prefer to have everything cooking in the oven rather than using the stovetop.