Pasta. Oh, pasta.
My true Valentine.
Sometimes I am totally without inspiration for what to cook, despite my epic Google doc with almost 100 random recipe ideas that have popped into my head, and despite my Pinterest boards, I am that person who stares into a fridge full of food and whines "We have nothing to eat."
(Or is that only a cliché when applied to closets and clothes? I dunno. But I do that too.)
Inevitably, those days I gravitate towards the jars of pasta. Probably because I spend so long thinking that I get a blood sugar dip and require carbs pronto. Or maybe because pasta is the best, and I don't really need a reason or an excuse, and everyone needs to stop bullying pasta for being carby and whatnot.
Mr. Veggie is even worse. I ask him what he wants to eat, and he says "pasta" without even blinking. Even if we had it the day before, even if he had it for lunch, which to me is Against The Rules.
What I'm trying to say is, we like pasta. And even though I keep telling myself I must space out the pasta recipes on my blog, I am starting to wonder how much I really need to fight this… considering my blog's most popular recipes are generally the pasta ones.
Maybe this is what I do best?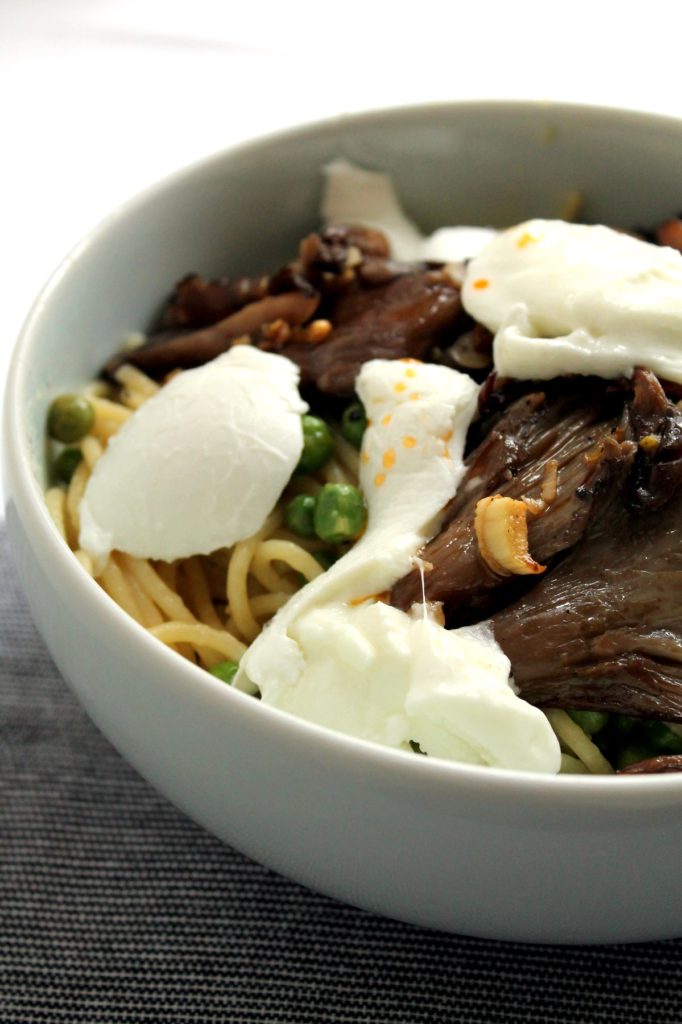 I'd love to know what you think. Do you love pasta as much as we do? Leave me a comment and make me feel better about myself!
Today's pasta is a sort of mish-mash of ingredients but oh so perfect ones, with a focus on different textures.
It looks a little plain but it's super tasty. The spaghetti and peas are coated in butter and lemon juice so they carry a bit of flavour. The mushrooms are roasted and crispy with a generous amount of garlic. The fresh mozzarella is super soft and creamy, and it's all given a kick from a drizzle of chili oil and a LOT of cracked black pepper.
Every bite is a little bit different. You have sweetness from the peas, savory from the mushrooms and garlic, heat from the chili oil and cooling creaminess from the mozzarella. Every combo of ingredients you put on your fork gives you something new. I love that about this recipe.
I think you'll love it too.
When I first tried this, it was quite different – and vegan. I used olive oil instead of butter and topped it with avocado. It was incredible that way, too. Definitely try that if you're vegan, or if you happen to have an avocado instead of fresh mozzarella to hand. <--- Likely.
My chilli oil is from the Extra Virgin Shop, who sent me some gorgeous samples. It's a delicious oil with a real kick and I am dying to try their green chilli oil next- I have never come across green chilli oil before and it sounds awesome. (As a side note, I have no idea whether to spell it "chili" or "chilli" because it varies by country, so pardon my inconsistency.)
If you like pasta, you're in the right place. My pasta archives will serve you well.