This is the famous Dishoom black dal recipe adapted to be made in the slow cooker! Using a slow cooker makes this recipe a little easier to make at home and much more hands-off than the stovetop version. We are using the real recipe from Dishoom's own cookbook to make sure the flavor is perfect – it really is the ultimate dal makhani!
Dishoom dal! Have you tried it? This might be a little niche – I know Dishoom restaurants are only in a few major cities in the UK but have worldwide fame in the foodie world so see lots of visitors passing through. They are amazing for vegetarians! And the House Dal, a black dal makhani, is one of their most treasured dishes.
I would have had no idea where to start trying to recreate this, but I didn't have to! Because they published the recipe in their cookbook and subsequently in the Guardian. Though I have to be honest with you and say that several hours of cooking time with regular check-ins is tricky for me as a parent of two littles. So what we're doing today is taking their recipe and sticking to it as faithfully as we can, while making it in the slow cooker.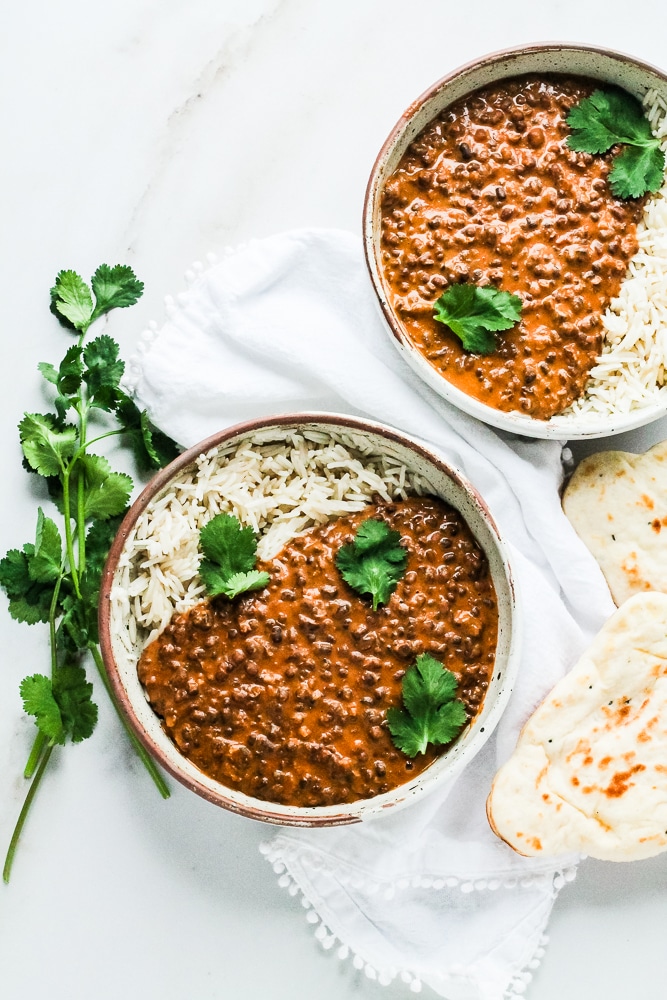 The Ingredients
This has a surprisingly short ingredient list, so it's important to keep everything just right. Since my goal here is to keep the recipe as authentic as possible while tweaking the method, I didn't want to further compromise anywhere else. So we are sticking to the ingredients in Dishoom's recipe to the letter. You may need to visit a specialist shop (or Amazon) to make this recipe but if you want it to taste like Dishoom's dal, you just… kinda have to do that.
Black lentils (urad dal): I rarely see these in supermarkets so this was an Amazon buy for me. For this reason it was a little pricer than the green lentils in the supermarkets here but you do really need them. No other lentils would turn out quite right for this recipe.
Tomato puree / paste: What the US calls tomato paste and the UK calls tomato puree.
Ginger and garlic puree: I bought tubes of high quality refrigerated garlic and ginger puree for this recipe so that I knew I would be getting the quantities exactly as Dishoom intended, but if you'd rather use fresh, the recipes notes section has approximations for that.
Deggi mirch: This bright red chili powder is essential for getting the flavor right, as well as the subtle reddish color, so I would not swap it for anything else. Another Amazon buy for me, as I've never seen it in the supermarket, but it's not expensive.
Garam masala: Ideally you want a high quality blend that packs a punch.
Unsalted butter: And a lot of it!
Double / heavy cream: For that smooth finish. If you're looking to reduce the fat and calories in this recipe, I think you could get away with using a little less than the recipe calls for, though I've never tried.
The Process
While this is a slow cooker recipe, it's not a "dump and go" one. It requires a little tending, but you have the flexibility to walk away for hours at a time between steps without the risk of it drying out. This is because the slow cooker keeps all the moisture inside of the pan. There is a risk of the dal sticking in the final hours, which is why I say you need to tend it a little, but it's still really flexible.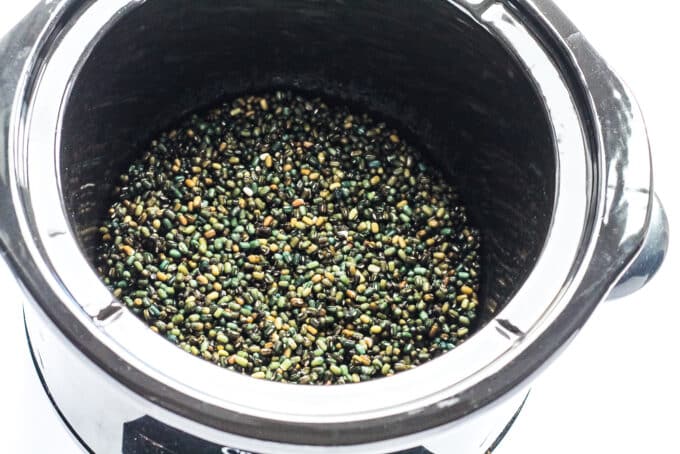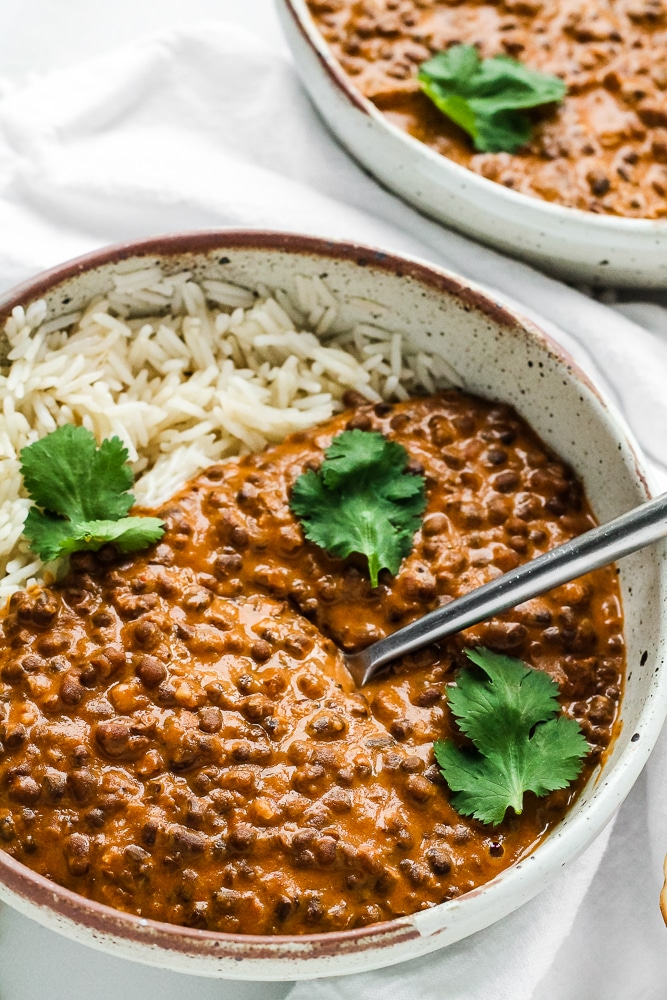 Tip – know your own slow cooker
I developed this recipe in a Crockpot Digital Slow Cooker, testing it 5 times in total, to get it exactly right. However – your slow cooker may be different from mine. So there is some flexibility needed here.
My slow cooker, on high, is actually quite hot – it is hot enough to simmer the water. If yours doesn't seem to bring the lentils to a simmer, the lentil cooking stage could take longer (this will be mitigated if your lentils are soaked).
For the second half of this recipe I turn my slow cooker to low, to reduce the risk of it sticking, but if you feel your slow cooker is taking too long at cooking the lentils, keep it on high throughout.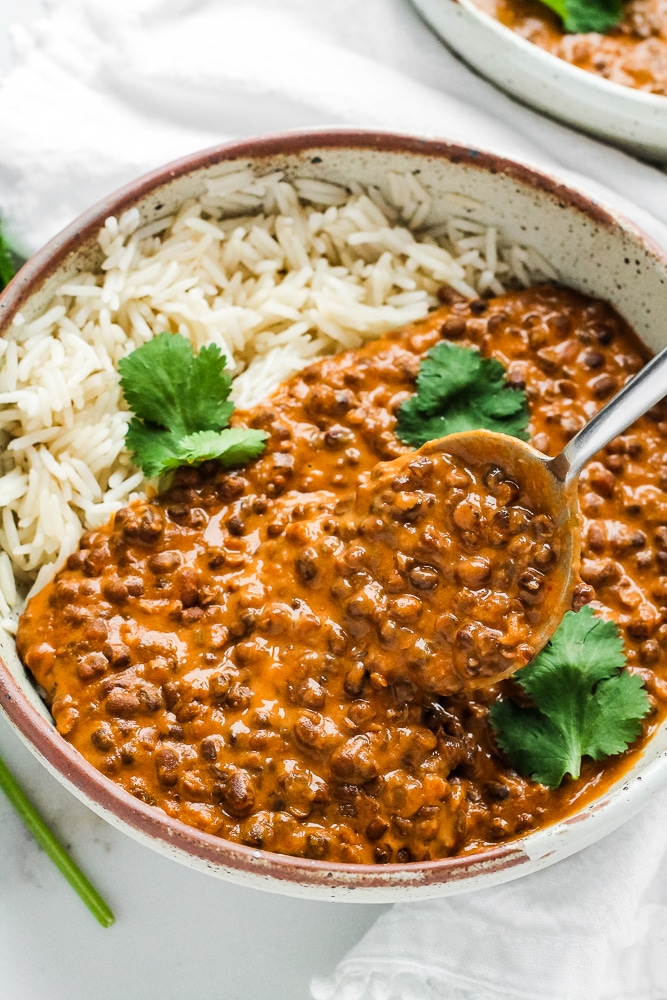 FAQ
Do I really have to drain the lentils and change the water halfway through?
Nope – you don't have to. You can leave it in the same water that the lentils cooked in, and just add your tomato-spice mix and carry on. I made it this way a few times and it was still great, but I definitely did prefer the result when the water was changed. The flavors were brighter and it allowed the red tones to shine through a little more, so it looked a lot nicer too.
Do I really have to soak the lentils?
Again, no, in fact the Dishoom recipe doesn't include soaking. However we are cooking over a lower heat than their recipe and soaked lentils cook a lot faster so it's a great head start. I was still able to make this using non-soaked lentils, but it just doesn't end up as thick and creamy because the lentils don't get as much time to break down.
What happens if I reduce the butter and/or cream?
So you already know I wanted to stick very faithfully to the Dishoom recipe here, and that's what I recommend, but if you're wanting to lighten it up, the obvious way is to cut down on the butter or cream. Personally, I think the butter is fairly essential at developing the flavors here (it's a big part of the reason why this is so good despite so few ingredients) and you could end up with a bland dal if you cut back too much. However, I think reducing the cream should work out fine. I tasted a spoonful of it before adding the cream, and I found it was still a beautiful texture, but more spicy with a more pronounced chili flavor from the deggi mirch.
Why is everything measured in weights?
Dishoom give the recipe in weights only for most ingredients, and I highly recommend using them. I am offering spoon measurements for those who need them but I have to be honest that the common conversion amounts did not tally with the brands I used. Different brands of garlic, ginger and tomato puree could be more or less dense and the same volume could weigh different amounts from brand to brand.
The deggi mirch isn't happening. What should I use instead?
If you reeeeally must – just swap in plain chili powder. Be aware it won't be as bright in color and won't have that same Dishoom flavor but it will be super tasty nonetheless.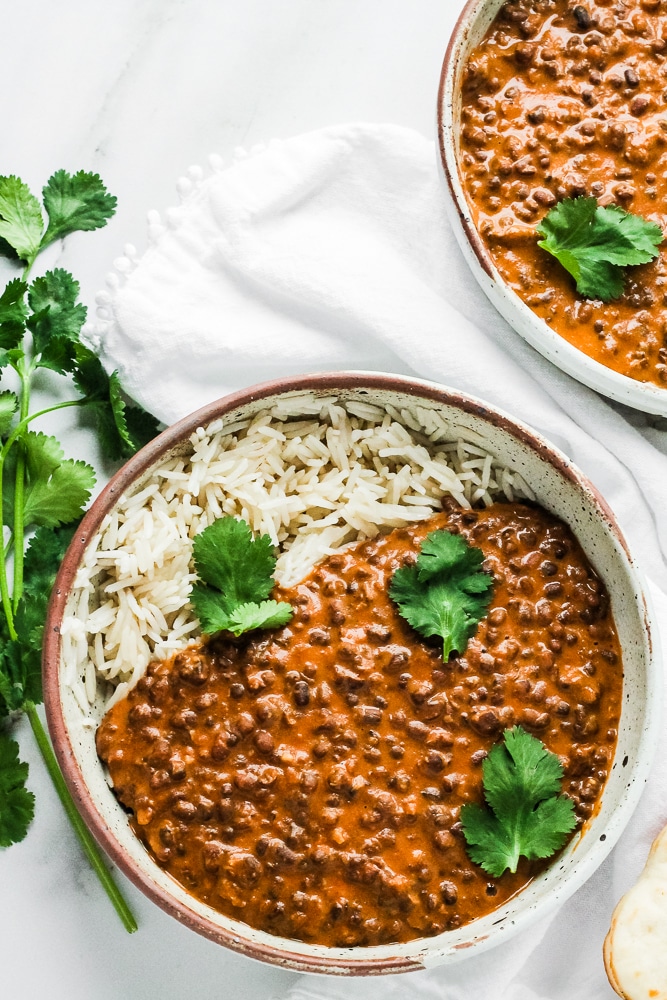 Make Ahead Tips
You may find this method doesn't suit you to make in the same day you want to eat it. But you can break it up over two days. Your options would be
Cook the lentils on day 1, then drain and store in the fridge overnight. The next day, put them back in the slow cooker and proceed from Step 4.
Cook the dal almost to completion (up to step 8) on day 1. The next day, put it back in the slow cooker and add 1/3 cup of hot water (it will have thickened overnight, so this will loosen it back up again). Once heated, add the cream (Step 9).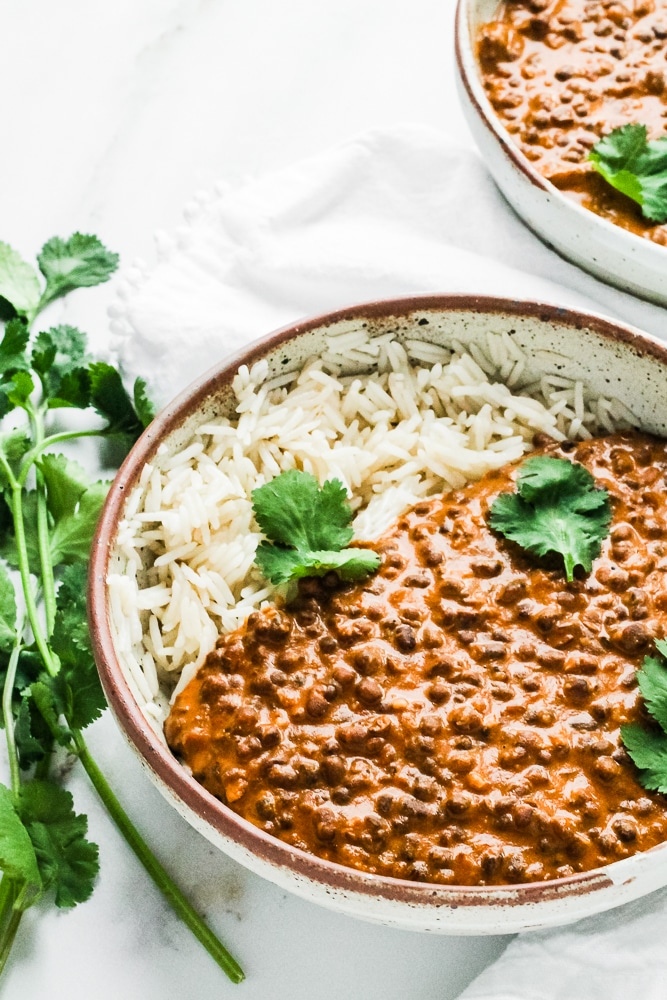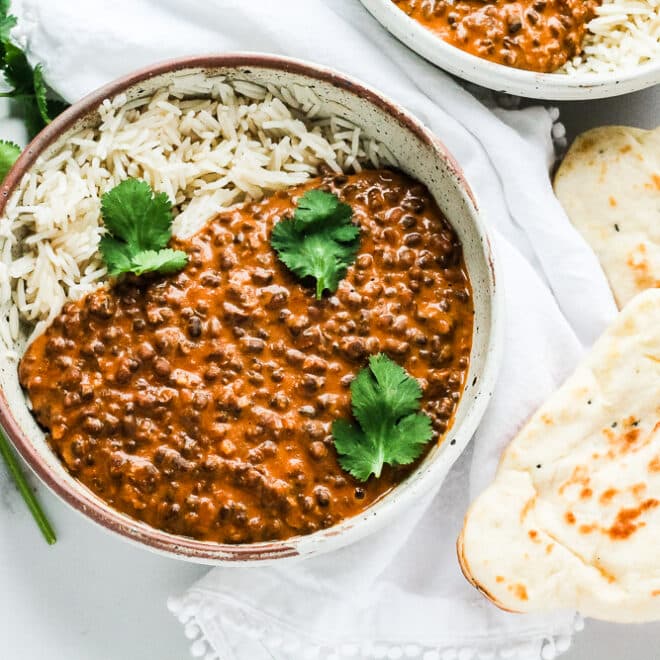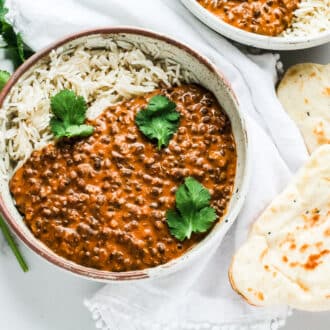 Dishoom Dal in the Slow Cooker
This is the famous Dishoom black dal recipe adapted to be made in the slow cooker! Using a slow cooker makes this recipe a little easier to make at home and much more hands-off than the stovetop version. We are using the real recipe from Dishoom's own cookbook to make sure the flavor is perfect – it really is the ultimate dal makhani!
Ingredients
300 g (1.5 cups) dry black (urad) lentils, thoroughly washed and soaked overnight
70 g (4.5 tbsp) tomato puree (tomato paste)
12 g (2 ¼ tsp) garlic puree
10 g (1 ¾ tsp) ginger puree
8 g (1 Tbsp) salt
⅔ tsp deggi mirch
⅓ tsp garam masala
90 g (6 Tbsp) unsalted butter
90 ml (⅓ cup) double cream (heavy cream)
1 litre (4.5 cups) water
Instructions
To prepare your lentils, rinse them extensively and soak overnight. The next day, drain and rinse them until the water is clear.

Add the lentils to a slow cooker with the water and cook on HIGH for 3-4 hours, until they are soft and cooked through.

Drain the dal from the slow cooker pan. No need to rinse, just drain it through a sieve so that most of the cooking water runs out.

Return to the pan and top up with about 450ml (just under 2 cups) of fresh water (I recommend boiled water to make sure that the pan heats up quickly again). Enough that all of the lentils are just submerged. Cook on HIGH until the lentils are bubbling in the new water, which shouldn't be long if you used boiling water, but will take some time if you added cold water.

Meanwhile, mix together the tomato puree, garlic puree, ginger puree, salt, deggi mirch and garam masala.

Once the lentils are bubbling again, add the tomato mix and the butter. Cover and cook for 5 minutes so that the butter warms up and starts to melt.

Lift the lid and stir until the butter and tomato mix are melted through the dal.

Cover again and reduce the temperature to LOW, then cook for another 3-4 hours. You may wish to open the lid stir once or twice during this time to make sure it isn't sticking. In the end, you should have a thick dal with lots of broken down lentils as well as whole ones.

Add the cream, then cover and cook for another 20 minutes or so, just to make sure it's heated back up again, then you can serve it immediately.
Notes
To swap in fresh ginger, use 2 teaspoons of minced or finely chopped fresh ginger.  To swap in fresh garlic, you can use 3 cloves, minced. 
Calories: 326kcal, Carbohydrates: 28g, Protein: 13g, Fat: 18g, Saturated Fat: 11g, Polyunsaturated Fat: 1g, Monounsaturated Fat: 5g, Trans Fat: 0.5g, Cholesterol: 49mg, Sodium: 631mg, Potassium: 149mg, Fiber: 11g, Sugar: 2g, Vitamin A: 843IU, Vitamin C: 5mg, Calcium: 58mg, Iron: 4mg