Welcome to Happy Veggie Kitchen
We have a simple goal here – to help anyone find vegetarian recipes they can get excited about, no matter their starting point. Whether you're a vegetarian or vegan yourself, a meat reducer, someone who loves or loathes their greens, you are very welcome here! Let's see what we can do for you.
Hi, I'm Christine!
I am the owner, recipe writer, do-er of all the the things around here. I live in central Scotland (via London and the USA) with my husband and two kiddos. As you can see, I run on coffee.
Me and vegetables weren't always friends
I turned vegetarian at the age of 9, but my family loved to refer to me as the "vegetarian who doesn't like vegetables."  And they had a point. Vegetables did not do it for me, nor did any vegetarian protein source that wasn't cheese or the earliest forms of faux meat.
Over time, I learned to enjoy my vegetables! I became weirdly obsessed with lentils. I just needed to find my own style.
I want to make vegetarian cooking more interesting
I strive to find the yummiest possible ways to eat your veggies, beans, legumes and other random healthy stuff that you know you should probably eat more of… Even if it isn't always love at first bite.
(Spoiler alert – I'm going to need you to step away from the steamer.)
The world has moved on a lot since I was 9, and you can eat really well as a vegetarian or vegan foodie these days, especially in the big cities. But we all need a bank of simple, supermarket staple recipes to make at home too. Recipes that borrow ideas from other cuisines, fancy restaurants, trends across the globe – but ultimately come together easily at home.
I make recipes for real life, in real kitchens
The word "happy" is in the title for a reason. I don't just consider what will be tasty, I consider how to minimize stress while cooking.
Sometimes that means quick and easy, sometimes that means recipes with a bit of downtime, or minimal ingredients. I love to cook from scratch but I use shortcuts such as ready rolled pastry or ready made pesto when it feels right for the recipe.
So What Will You Find Here?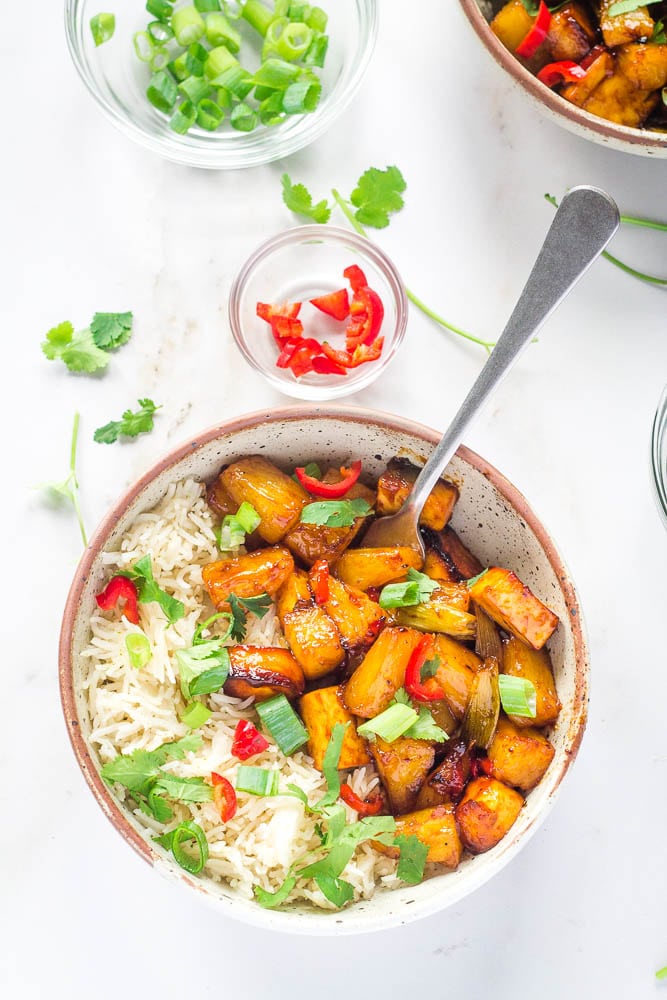 Internationally inspired (read: not very authentic) recipes. I love Indian, Mexican and Asian flavors. These are cuisines that know how to treat their veggies right! But I take advantage of the range of foods available in the UK and I feel free to break traditions, fuse cuisines, and not do things properly (Try my Pineapple Teriyaki Paneer or Burrata Tacos if you want to see what I mean!)
All the Cheese. I do not hold back on the cheese, and I have a big collection of halloumi recipes. Top Tip: Halloumi is an easy way to win over those who aren't terribly excited by meatless recipes.
Baby & Toddler Recipes. I loved creating healthy vegetarian meals and snacks when my kids were babies and I have a whole hub of recipes for parents of little eaters. I have a series of recipes for older picky kids in progress because it turns out the baby / toddler days were the easy ones!
Happy Veggie Kitchen is a Small Business
And we appreciate your support. The time you spend on this website pays me in ad revenue, and allows me to do this for a living.
Before my daughter was born I worked for many years in media and publishing in London, so running my own website is a bit of a dream job. Thank you for being here and giving me this opportunity.
If you are a business interested in collaborating, I'd love to hear from you at [email protected]. Please note that I don't accept guests posts or paid links, and my advertising space is sold exclusively via AdThrive (CafeMedia).
Subscribe
The best way to stay keep updated with my recipes is to sign up to my newsletter! You will get an email every time I post a new recipe. I also have a Facebook page and Pinterest account that you can keep up to date on, but algorithms mean you're unlikely to see everything I share, so I definitely recommend the newsletter.
Get in touch
E-mail me at [email protected]