A delicious and hearty vegetarian sheetpan / tray bake dinner! Caramelized roasted sweet potato, mushrooms and peppers with pesto rice, topped with grilled halloumi. Everything comes together easily in one big roasting dish for a simple dinner.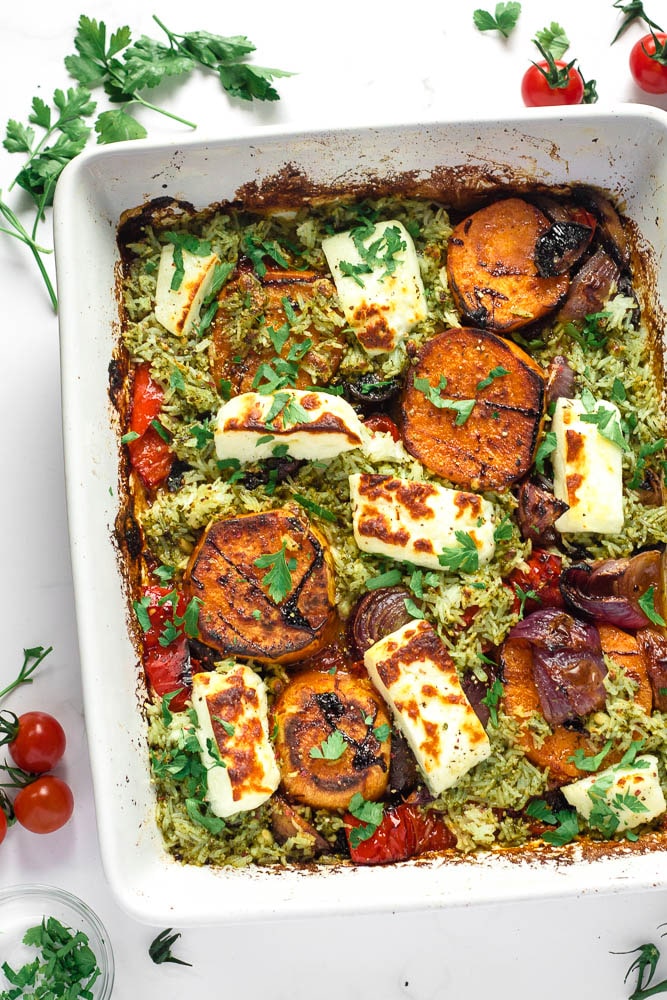 Oh, this traybake, I love it. Mr. Veggie loves it. You're going to love it too.
So comforting, so veg packed, so many tastes and textures. So much going on without needing to make a load of different things in different pans.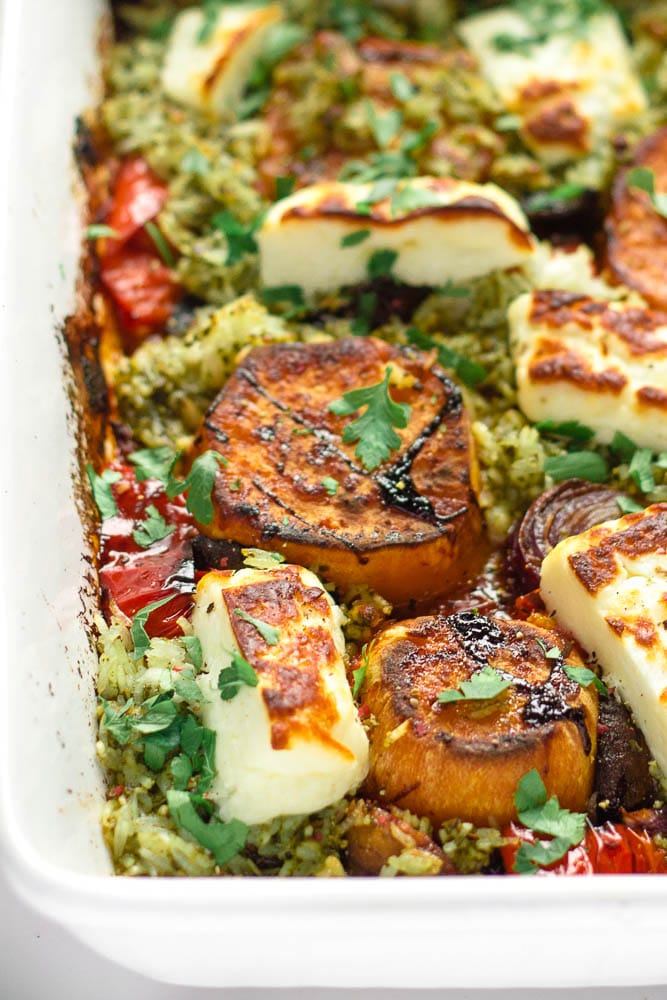 We have:
Big rounds of sweet potato which are soft and melty on the inside.
Salty, squeaky halloumi that's crispy on top
Pesto rice
Balsamic roasted onions, peppers and mushrooms dotted around
Though it adapts to the contents of your fridge and to your favourite foods. There is no need to follow the recipe perfectly and it always turns out great.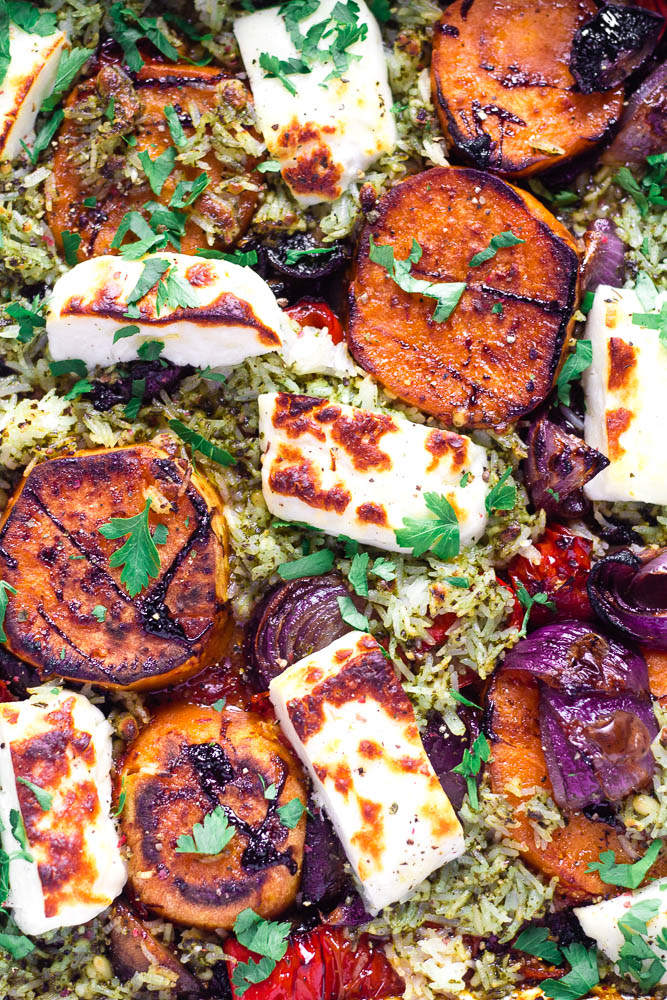 I said in the blurb there that it's a simple dinner, which it is, but it's not quick. It's going to be a little over an hour start to finish, but a lot of that time is hands off.
That is the joy of the sheet pan dinner / tray bake / whatever you refer to it as. You dip in and out of it, and the timings don't need to be followed to the letter. It suits some situations well.
Like when there are unpredictable kids to supervise. Or when the kids are in bed and there is a glass of wine and someone to chat with.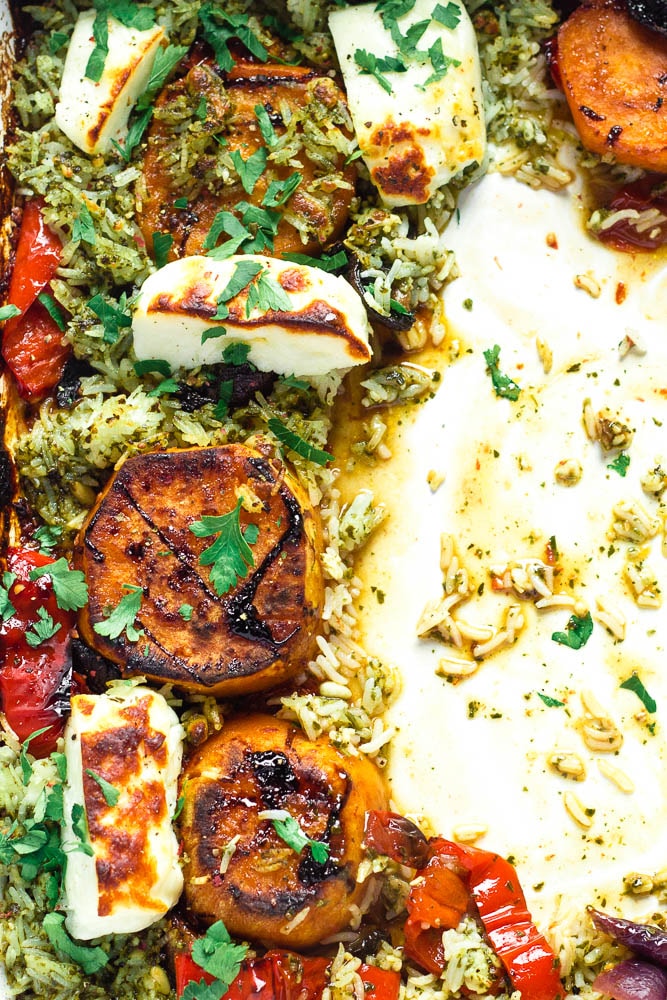 Planning Ahead
To make this as easily as possible you would need a few things to hand that you may not always have available:
Precooked rice. 250g or 1 cup. That is just the amount you'd get from a microwave rice pouch so feel free to use one of those to speed things along. If you're planning your menu ahead, just make a meal using rice the night before and make extra.
Ready made pesto, I like the fresh stuff from the deli over jarred but that's up to you. Use your fave. Make your own if you want to and have time (I have a zillion pesto recipes right here.)
Bottle of balsamic glaze. If this isn't in your cupboard already, you can just use balsamic vinegar. See the recipe notes for more info.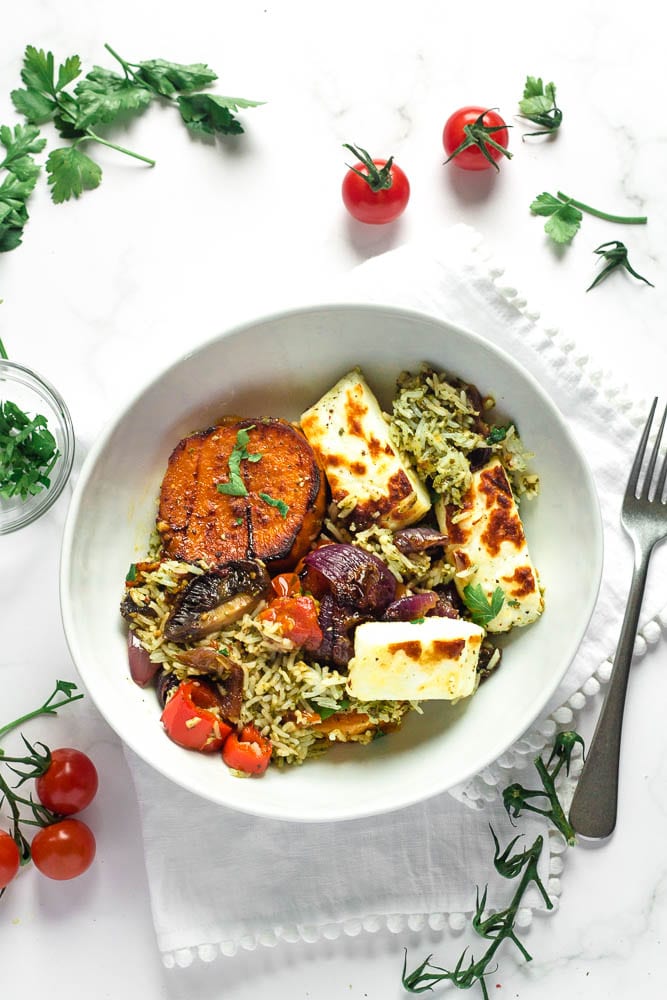 Additions & Substitutions
I highly recommend serving this with a dollop of hummus, and am annoyed with myself for forgetting to include it in the photos!
You can swap around the vegetables but make sure that anything you include can roast in 30mins or so, and make sure you have something soft in the pan like tomatoes or zucchini that can leach some liquid, since this recipe assumes you'll have a nice amount of tomato and mushroom juices floating. If you are using mostly drier vegetables, you may find you can add some lemon juice or extra pesto to the pan when they're done roasting to stop it all from being too dry.
You can use another grain such as quinoa or couscous if preferred. Couscous can be made up easily if you don't have anything precooked.
No halloumi? Try feta!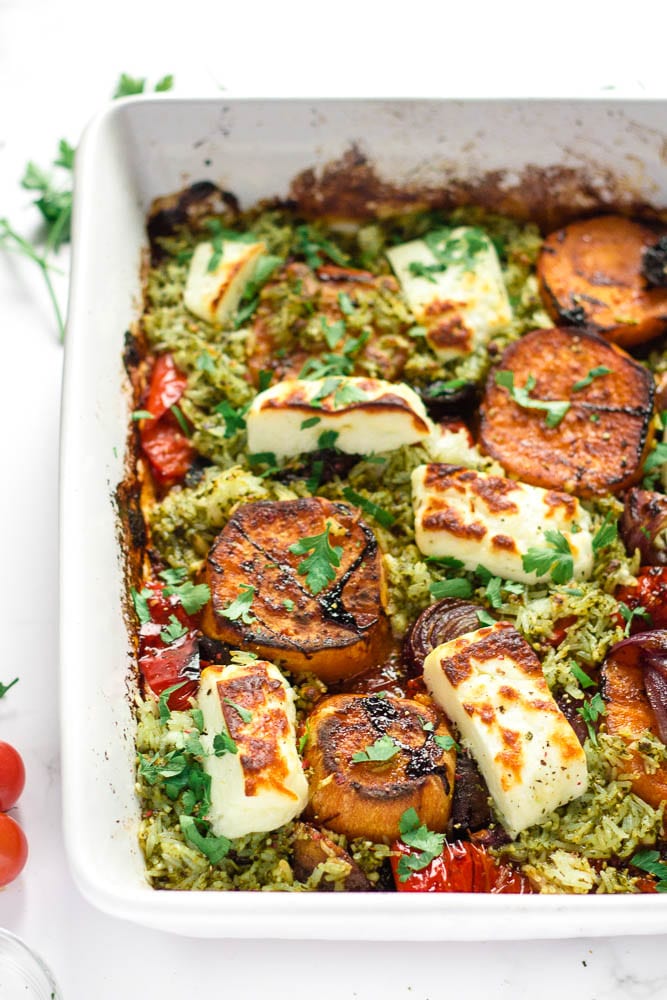 Step by Step Pictures
A little visual run through, followed immediately by a printable recipe card…
I do hope you'll give this one a try, make it your own and leave me a comment to tell me how you found it! Enjoy!