A tasty, flexible casserole filled with potatoes, cheese and vegetables. You can make this your own with your favorite veggies and use it to clear out the fridge! Mixed herbs and spices, plus a few different types of cheese make sure it's as tasty as can be, and it works as a main or side dish.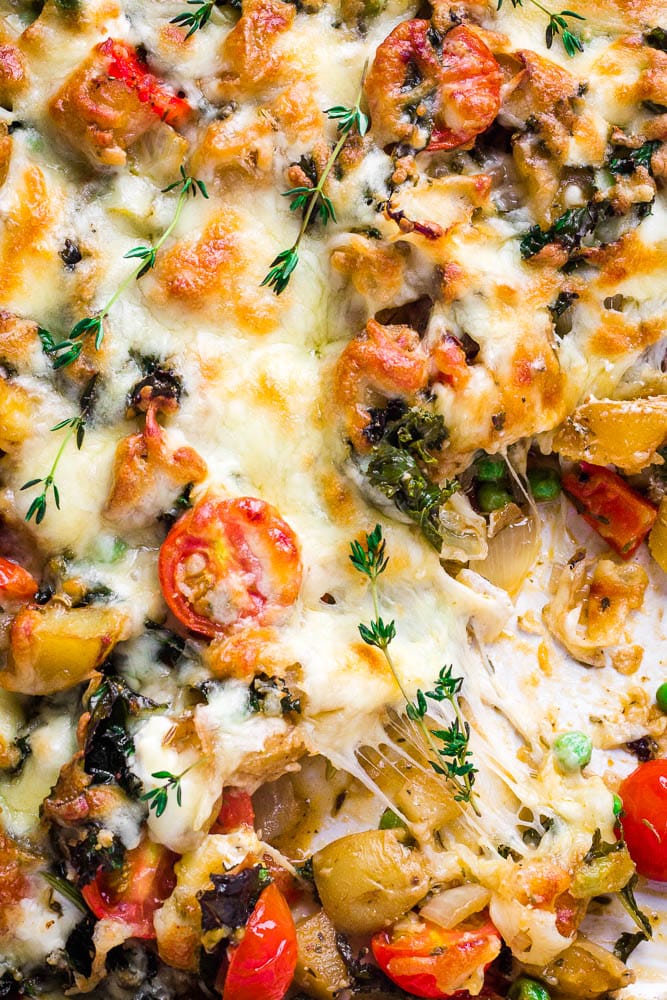 It's another fridge clearer-outer today! We had a huge haul of potatoes from our garden this year, and this potato bake helped us to use up quite a few of them alongside whatever other vegetables we had in the fridge at the time. Winning!
This recipe can be a side dish or potluck recipe, or a main meal alongside some fried eggs or another vegetarian protein source.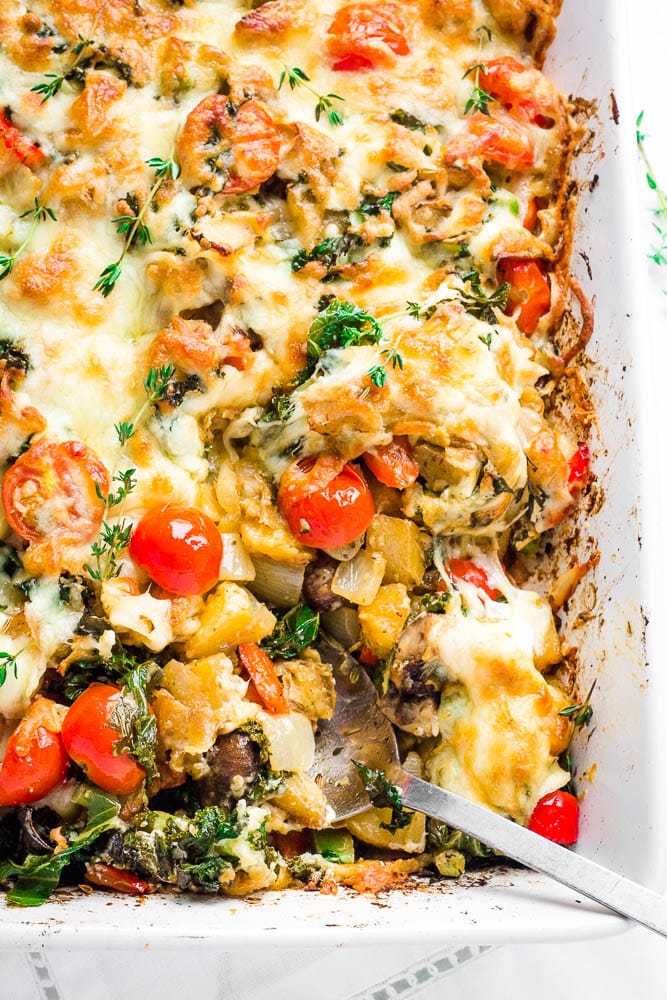 We use a combination of spices and cheeses to make sure this has enough flavor, and we're mindful to use a combination of dry and more liquidy vegetables to make sure it comes out right.
There is a lot of flexibility here but you want to be careful to get enough flavor, and the right amount of moisture into the dish.
Sooo let's explore that a little more: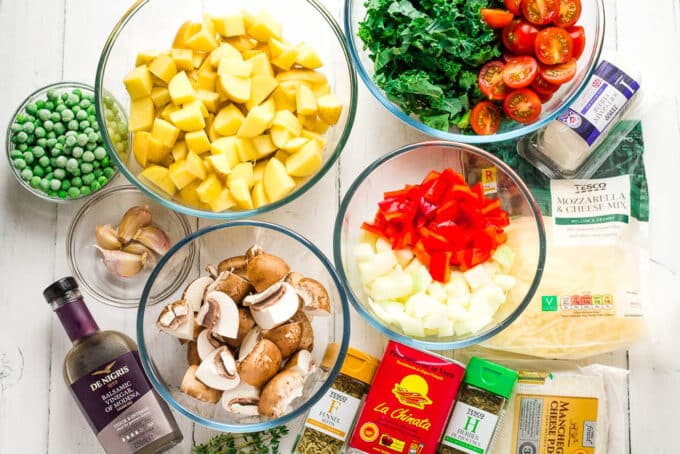 Choosing Your Vegetables:
For me, the main consideration when choosing vegetables for this casserole is that they aren't easy to ruin. It is essential that our potatoes are cooked well and are soft, but then the remaining ingredients are things that will taste OK even if they're cooked a little more or a little less than would be optimal.
This is what my recipe includes:
Potatoes: a more floury potato will turn out best in here. I like the softer, creamier result and the contrast of texture this provides against the vegetables. But really all potatoes are welcome, the whole point is to use up what you have. Waxy potatoes will turn out a little differently is all, the pieces will be more distinct and a little less soft but that's OK too. If you use waxy potatoes you could consider upping your cheese.
Onions and peppers: Essential flavor boosters, and the kind of vegetables you often end up with extras of, if you buy multi packs.
Greens: I love kale in this, for the texture, but spinach works great too. Any leaf that doesn't need extensive cooking will slot in well here. A tougher leaf such as cabbage would be fine, but you would want to saute it to soften before adding.
Mushrooms: I love mushrooms in this recipe, they have a great texture and they add some concentrated flavor and moisture. You can use any kind of mushrooms but chestnuts and portobellos would be my top picks. If you don't like mushrooms, either add more tomatoes or swap in zucchini (courgette) or eggplant (aubergine).
Cherry tomatoes: Tomatoes are important for this recipe as a source of moisture and sweetness, so try not to leave them out. If you don't have cherry tomatoes, just chop normal sized tomatoes into smaller pieces. If the tomatoes are being left out consider other high moisture veggies to add such as more mushrooms, zucchini or eggplant.
Peas: Frozen peas. You almost certainly have some knocking around in your freezer right now.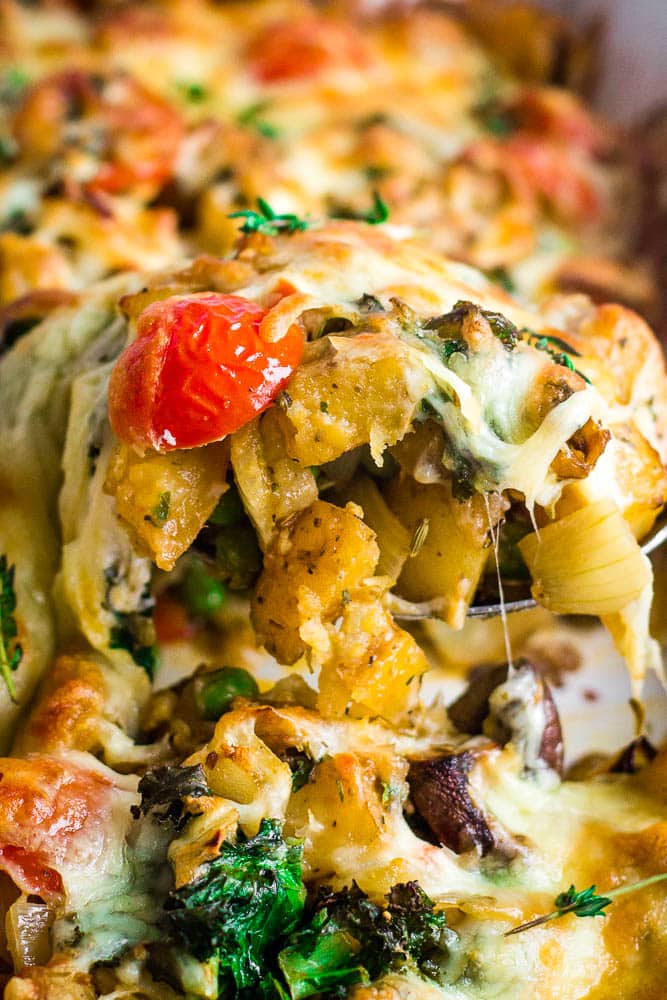 And here are some other veggies you could add, and how to go about it. Because ingredients are added to this casserole in three different stages, I refer to the Steps in the recipe card when recommending when to add these veggies into the dish.
Sweet potato: I'd say this recipe would turn out even better with a mix of regular potato and sweet potato, making it less prone to dryness. In larger chunks, add them right at the start with the potatoes (Step 2) and in tiny chunks, you could add them in Step 3.
Squash: Other squashes can slot in too – cooking time for squash varies, so make a judgement based on how long the recommended cook time would be for roasting that particular squash. If it's similar to the roasting time for a potato, add it in Step 2. If it's much less, add it in Step 3.
Cauliflower: I'd add cauliflower florets in Step 3. They will get a little roasted, which is always good.
Zucchini and Eggplant: I just… don't love these veggies… but if you do, they should both cook well in this casserole, being added in Step 3.
Broccoli: In small pieces, in Step 4. Broccoli can become fairly unappetising when it's overcooked, which is why I'd give it less time in the oven. I'd rather it be a little al dente than mushy.
Asparagus: Chopped asparagus could also be added! In larger, thicker pieces, you would add this in Step 3. In smaller, thinner pieces, you could wait until Step 4.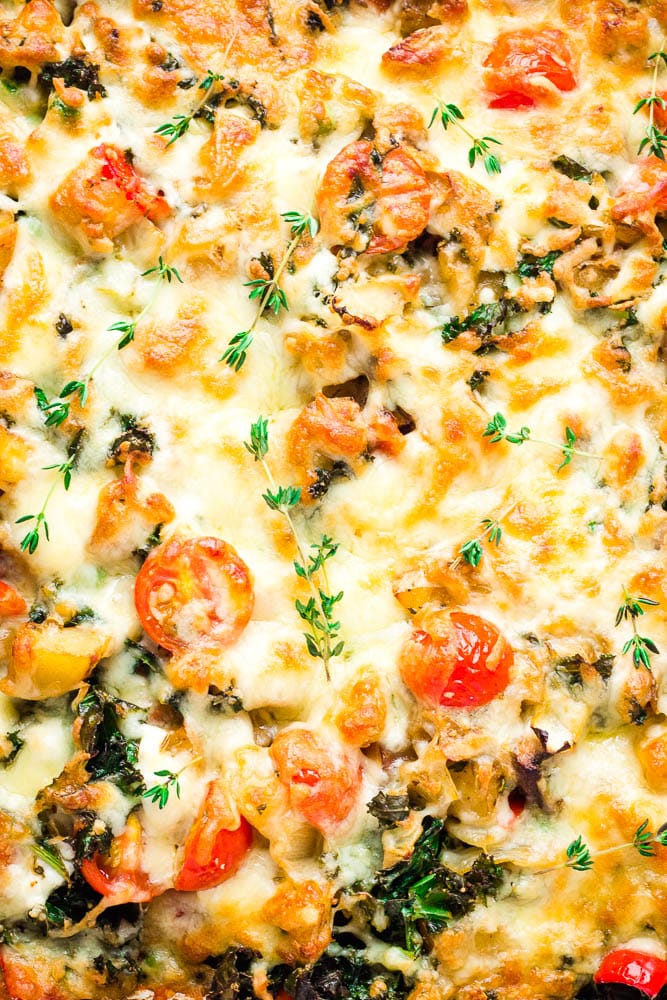 How to add flavor
It's all very well throwing a bunch of potatoes and vegetables together – how do we make the dish flavorful and cohesive?
Cheese! Cheese adds much needed richness and umami to the dish as well as a little hit of protein. I use three different cheeses here. Some hard cheese (parmesan style) mixed in with the vegetables, some dollops of creamy goat cheese throughout, and a mozzarella topping for crispy, stringy goodness. You can absolutely play around with the combination of cheeses in this dish. Everything is welcome!
Spices and herbs! I go for some mixed dried herbs + smoked paprika + fennel seeds which probably seems really random but I just love how these work together. My choice of Mixed Dried Herbs is a Herbs de Provence blend which I LOVE, mainly for the hit of tarragon. You could use any mixed herbs, or an Italian style blend, but if you do this I encourage you to add a little teaspoon of dried tarragon if you have it. Other ideas: Fresh thyme is a lovely addition too if you have it (add in Step 3), and depending on the season you can add whatever fresh herbs you have available. More delicate herbs such as basil or parsley would be better added in Step 4.
TOP TIP: I would encourage you to increase the herbs and spices in some cases. If you follow the recipe as written, the seasonings add a subtle flavor but still keep this dish flexible to serve alongside other things. If this is going to be your main meal, or if you aren't serving it alongside something else that is super flavorful, you could double the dried herbs and add an extra 50% of the fennel seeds and smoked paprika to give it more "oomph".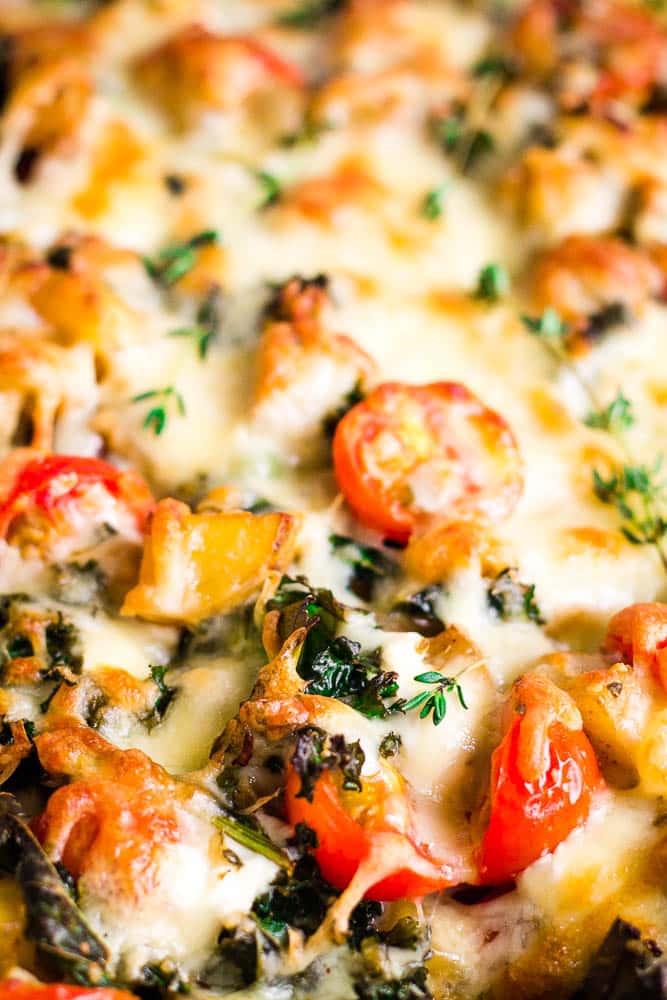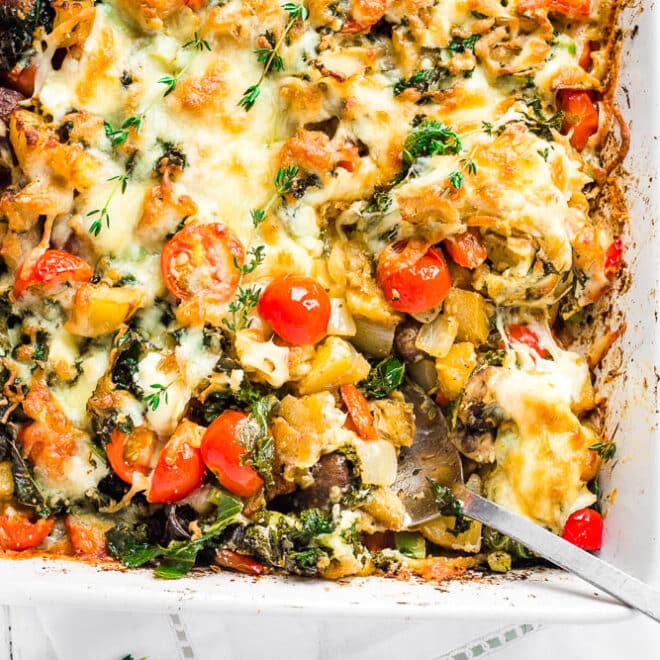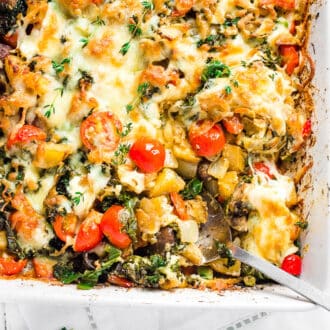 Cheesy Veggie Potato Bake
A tasty, flexible casserole filled with potatoes, cheese and vegetables. You can make this your own with your favorite veggies and use it to clear out the fridge! Mixed herbs and spices, plus a few different types of cheese make sure it's as tasty as can be, and it works as a main or side dish.
Ingredients
800 g (1.75 lb) potatoes, chopped into small pieces (1/2 inch – 3/4 inch)
2 Tbsp olive oil, you may need more
1 red bell pepper, diced
1 red onion, diced
1 Tbsp mixed dried herbs, I like a Herbs de Provence mix
1 Tbsp fennel seeds
1 tsp smoked paprika
8-10 chestnut mushrooms, quartered
5 cloves garlic, minced – divided
1 tsp balsamic vinegar
100 g (3.5 oz) cherry tomatoes, halved
2 handfuls kale, chopped
130 g (1 cups) frozen peas
50 g (0.5 cups) grated parmesan or Italian hard cheese
125 g (0.5 cups) goat cheese
250 g (2 cups) shredded mozzarella or cheese mix
Instructions
Heat the oven to 200C / 400F.

Add the potatoes to a casserole dish and drizzle generously with olive oil, mixing to ensure that they're all coated. Bake for 20-30 minutes until the potatoes are starting to brown, and soft enough that a spatula goes through them without much resistance. You want them almost ready to eat.

800 g potatoes, 2 Tbsp olive oil

Now we'll get the mushrooms marinating while they wait for their turn to go in the oven. Put the sliced mushrooms in a bowl and drizzle with balsamic vinegar. Add half of the garlic, and mix to combine. Set aside.

8-10 chestnut mushrooms, 5 cloves garlic, 1 tsp balsamic vinegar

Once the potatoes have softened, remove from the oven and add the next batch of vegetables: the balsamic mushrooms, peppers and onions. Also add the seasonings and remaining garlic to the dish and mix them through with the potatoes. Add another drizzle of olive oil to the dish if it seems to be drying out. While you mix, feel free to be rough with the potatoes – you can smush some of them up a little with the spatula – doing so means they'll absorb a little more flavor. Return to the oven for another 20 minutes until the vegetables are reduced and a little browned.

1 red bell pepper, 1 red onion, 1 Tbsp fennel seeds, 1 tsp smoked paprika, 1 Tbsp mixed dried herbs

Next add the peas, tomatoes, kale, and parmesan. Mix everything through.

100 g cherry tomatoes, 2 handfuls kale, 130 g frozen peas, 50 g grated parmesan or Italian hard cheese

Add the goats cheese in small dollops over the top of the dish, then use a spatula to gently rotate the ingredients and push the dollops further down into the casserole. You don't want it fully mixed together, you just want little pockets of melty goats cheese within. This doesn't have to be perfect though.

125 g goat cheese

Cover with the mozzarella mix and return to the oven for another 15 minutes until the cheese is browning.

250 g shredded mozzarella or cheese mix

Allow to sit for 10 minutes or so before cutting in. Serve immediately.
Notes
Note on prep time: The 15 minute prep time stated is only what is required before the casserole first goes into the oven. More prep will be done while the casserole is in the oven.  Because ingredients go into the dish in stages, you can use the gaps to prepare the ingredients which go in next. 
Calories: 412kcal, Carbohydrates: 35g, Protein: 21g, Fat: 22g, Saturated Fat: 11g, Polyunsaturated Fat: 1g, Monounsaturated Fat: 8g, Cholesterol: 51mg, Sodium: 414mg, Potassium: 966mg, Fiber: 7g, Sugar: 6g, Vitamin A: 2730IU, Vitamin C: 77mg, Calcium: 391mg, Iron: 3mg