Black Bean & Kale Tacos
Lightly spiced, creamy black beans meet sauteed lime and garlic kale in these simple 30 minute tacos. An ideal weeknight dinner, with beans and greens making a super nutritious duo for a meatless taco dinner.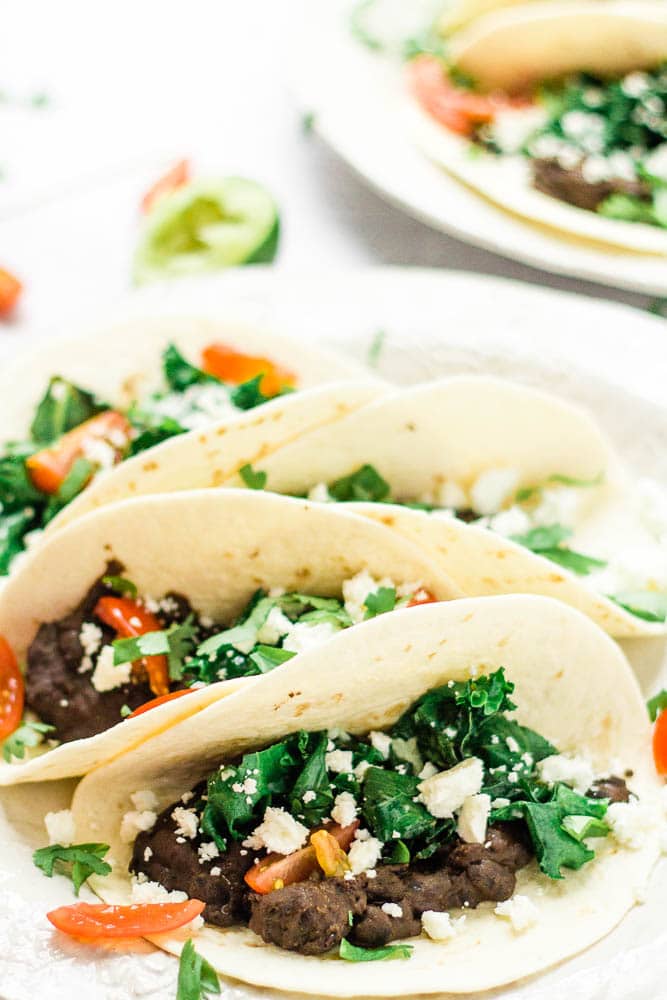 These tacos are simple enough that they might seem a little unexciting, but trust me with this one! If you are someone capable of getting excited over tacos (I certainly am), these black bean tacos have hidden depths.
They are also the perfect, easy supermarket staple based dinner. While I drool over taco recipes that I see on Pinterest, there are so many Mexican ingredients we can't easily get in the UK. These tacos, while inauthentic, are easy to achieve.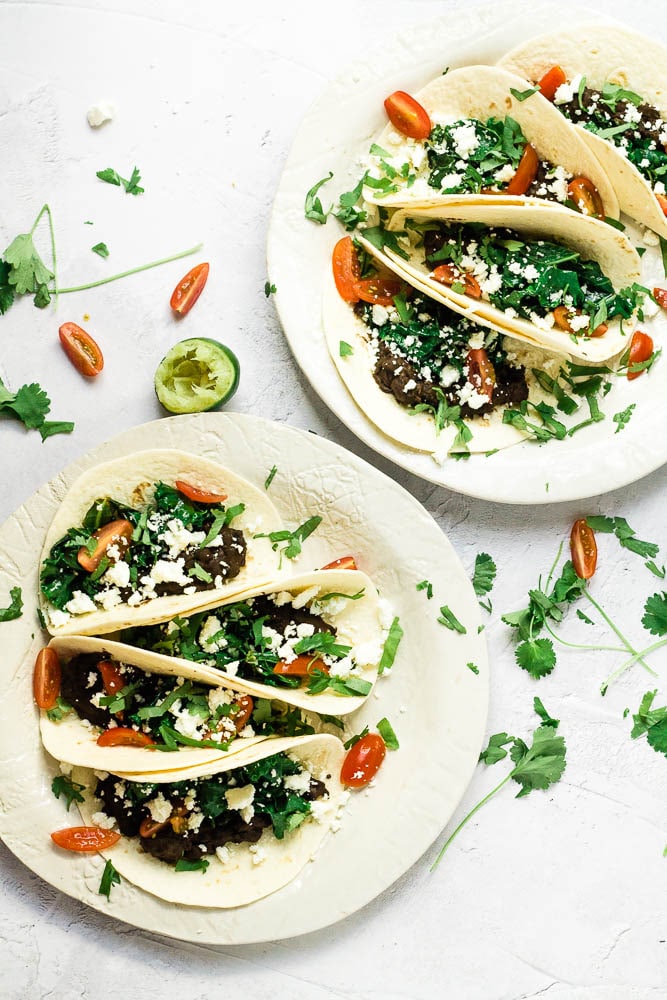 We start with a can of really nice quality black beans. The quality is important because we are going to cook them in the cooking liquid from the can, and I personally notice some difference when using higher quality beans.
I don't mean we need to go super fancy, but I like to skip the store brands for this one and use something like Epicure or Mr. Organic.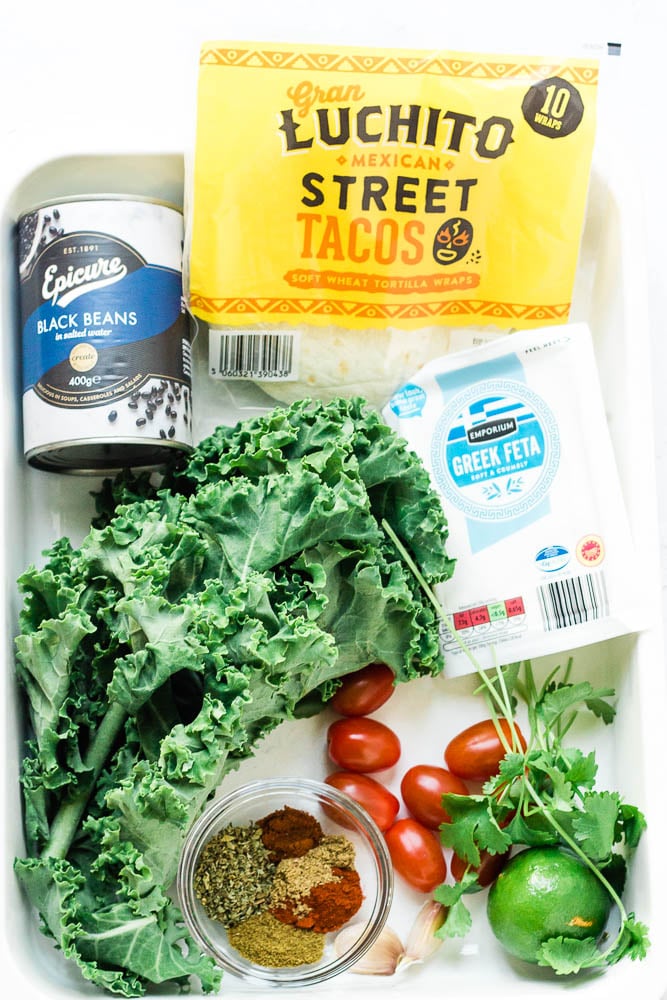 We will cook those beans, liquid and all, in some garlic and spices. We will get them going while we prep the rest of our ingredients, so they have a decent amount of time to start to break apart and thicken.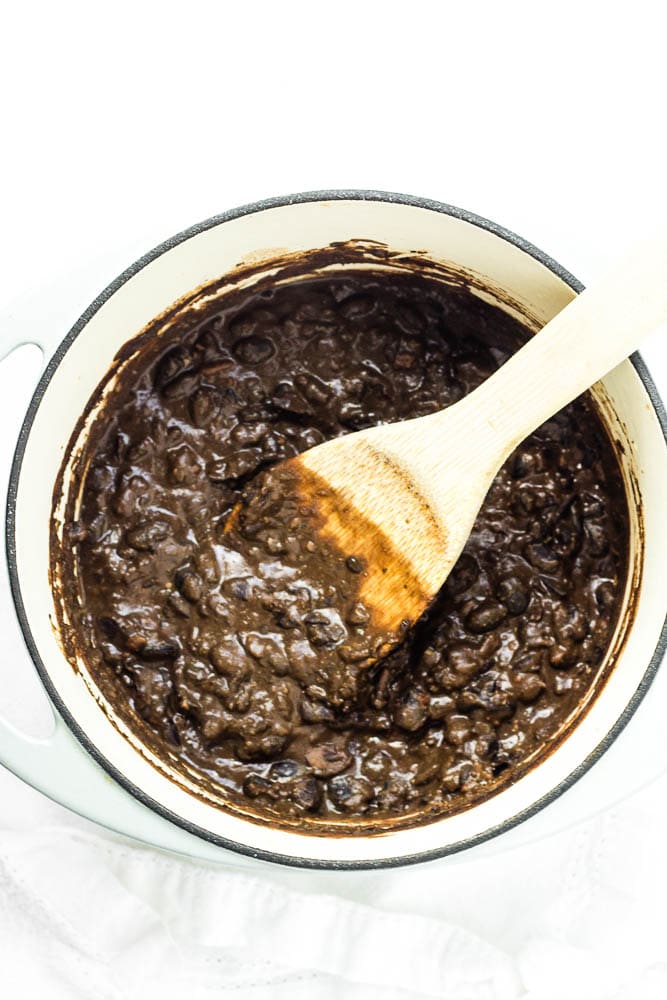 As an aside, cooking them in the liquid made me nervous at first, because I am just so accustomed to draining and rinsing beans and I am still weirded out by the whole aquafaba thing… Just in case anyone thought that to run a food site for a living you had to be fearless in the kitchen!
In any case, I was soon reassured. These beans get a beautiful creamy, melty texture: just as though the beans had been slow cooked from dried.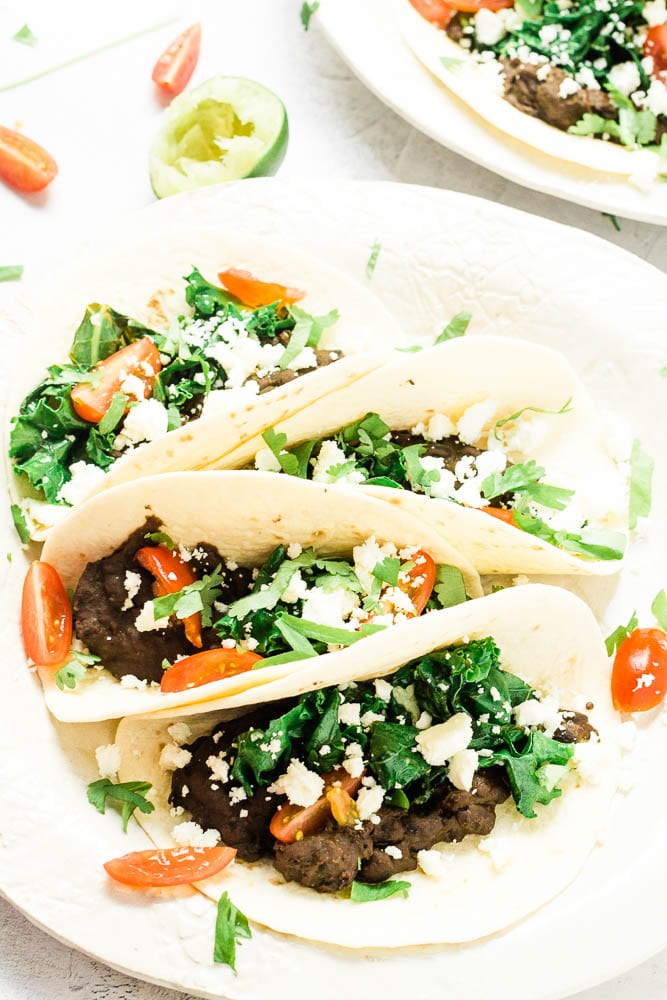 While the beans cook, we will saute some kale in garlic and lime juice for our topping. Traditionally you would use a raw cabbage slaw as a taco topping, but I love how this juicy, chewy kale topping works as an alternative. It also keeps the taco temperature a little warmer, perfect for cooler evenings.
Crumbled feta cheese, juicy cherry tomatoes and fresh coriander (cilantro) finish things off perfectly, though you could vary your toppings if you have a favourite salsa, or if you believe that guacamole is non negotiable when it comes to taco toppings.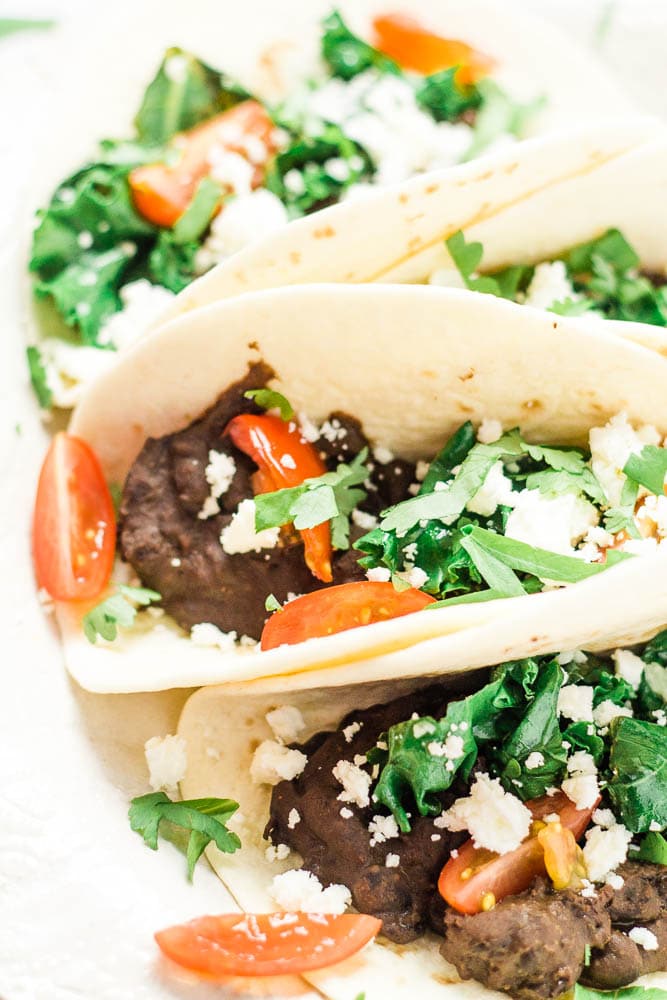 How to Make these Vegetarian Tacos Go Vegan
If you're vegan, it's only the cheese standing in your way of these tacos. You could just leave it out, but I think the salty creamy feta adds something you would miss. You have options though!
Ashley from Blissful Basil has a cauliflower feta recipe and Melanie at A Virtual Vegan has a well reviewed tofu feta. A non dairy soured cream could work well too, just to add some something creamy.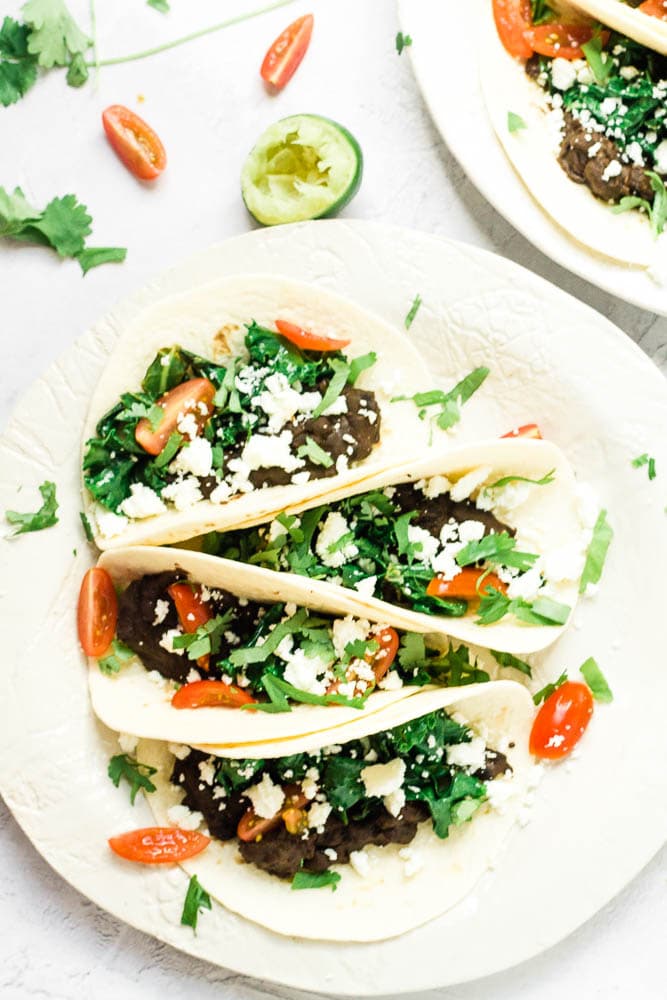 Other Greens To Try in These Tacos
No need to stick to kale! Keep it local and seasonal. Swap in green cabbage, cavolo nero (black kale), chard or any ol' greens you have to hand which I may not know exist.
Spinach could be swapped in. It wouldn't be my top pick because I prefer the chewiness of a more robust green against the creamy beans background. But if that's all you have, just saute it very lightly so that it is only just starting to wilt, and don't add the lime juice to the cooked spinach. Instead, serve with lime wedges to squeeze on top.