A quick and easy spinach & paneer curry for weeknights! Fresh cherry tomatoes give this spin on palak paneer (saag paneer) a sweet and juicy finish. With fresh spinach and no cream, it's a nutritious, light and vibrant dinner that will get everyone loving their greens.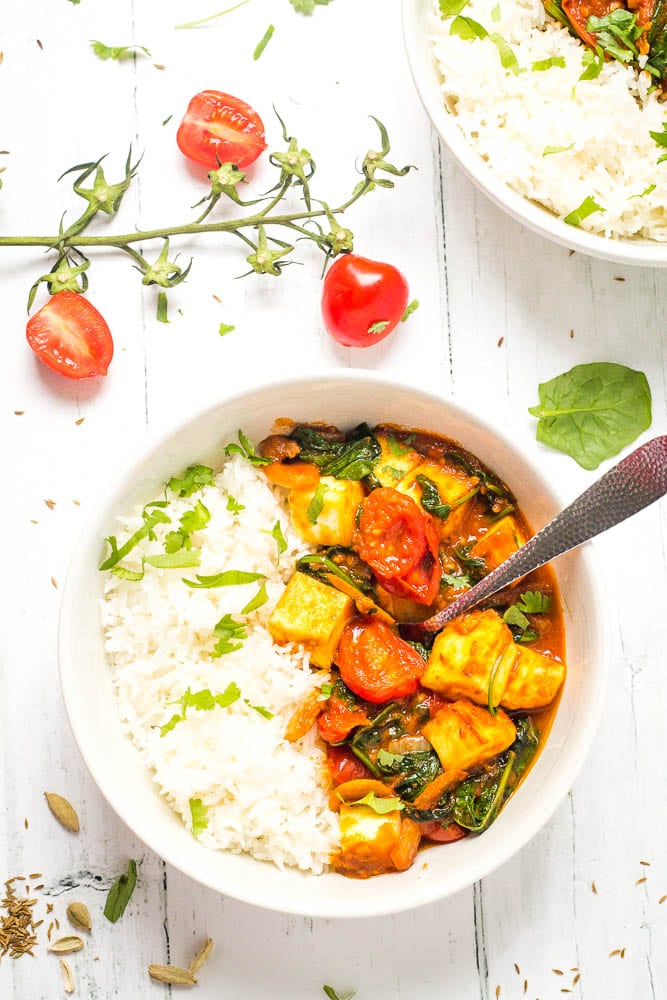 So this isn't an authentic palak paneer (saag paneer) recipe, it's a spin off which also happens to feature spinach and paneer. It's a fresh and easy curry that can be made in 15 minutes flat.
We do take some shortcuts. The spinach leaves are wilted in the pan and left whole. So you don't need to boil or blanch the spinach and there is no blender required. We use cherry tomatoes to add a nice burst of juicy sweetness and we don't bother peeling them, alongside some tomato puree (tomato paste) to create a sauce.
There is no cream, and the result is fresh, light and zingy.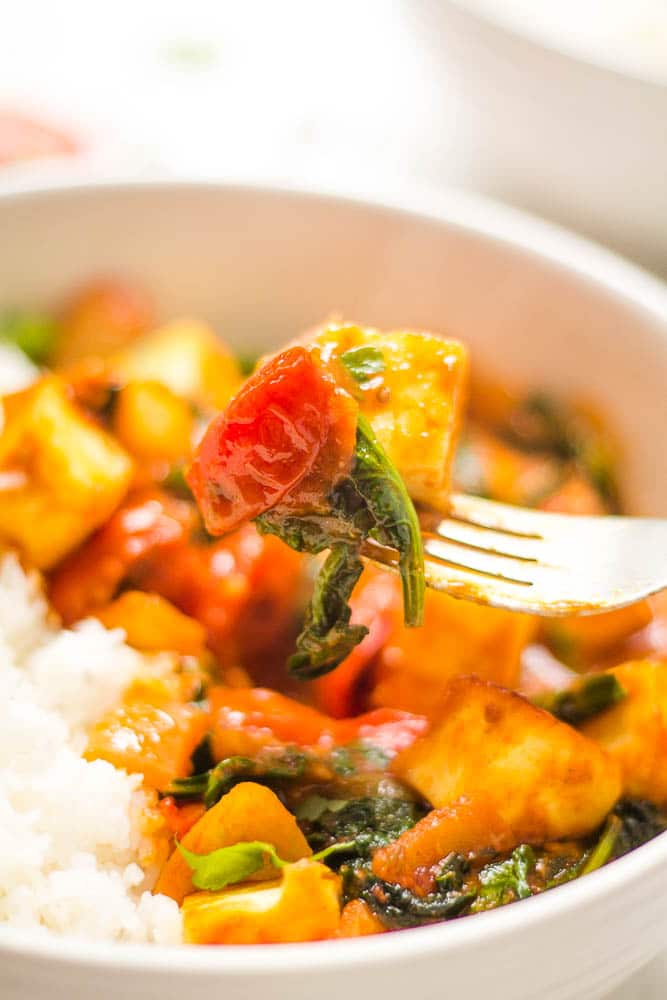 I always thought I liked really thick, rich, creamy curry sauces (like this butter halloumi) but I gave this a try because I'm buying excessive amounts of fresh tomatoes at the moment and want to use them in everything. The result surprised me.
Despite my devotion to the thick creamy sauces, I absolutely love the mix of textures and the juiciness we get from a lighter approach here. And it's so much easier to make. Win/win.
Let's talk ingredients
More good news: this curry doesn't need a whole lot of ingredients.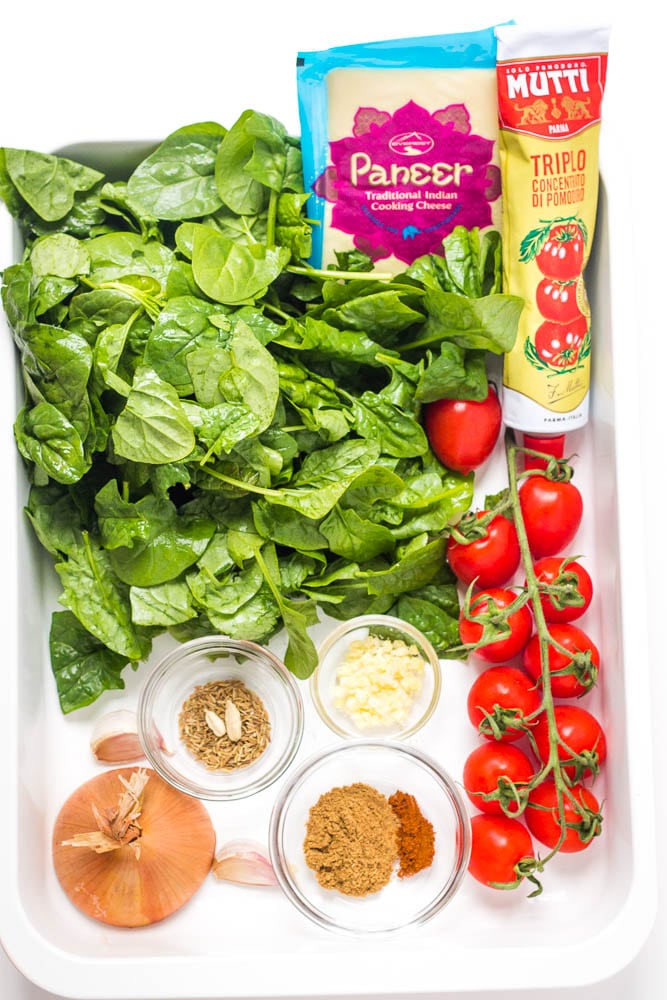 The only potentially awkward thing to find is, unfortunately, one of the headline ingredients, paneer. It is one of those things that some Western grocery stores won't carry, but the dedicated among us can generally find it somewhere. (I personally get it from Ocado.)
This fresh Indian cheese is a dream to cook with. Like my fave halloumi, it doesn't melt and can be grilled or pan fried, but it's less salty and more milky. You can swap in halloumi or farmer's cheese if you can't track any paneer down.
I say cherry tomatoes in the title of this recipe but you can swap in baby plums (grape tomatoes, which is what I actually used in the photographed recipe) or any small tomatoes. I prefer to use all red tomatoes purely for the visual effect, but if you have mini heirlooms, they will taste great too.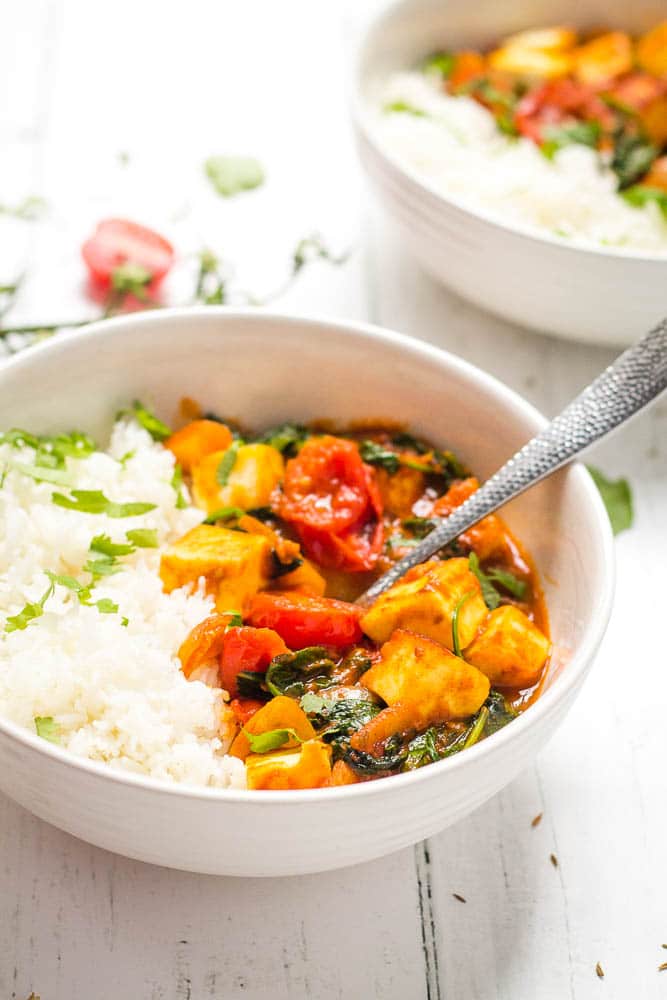 Whether you need the super high quality tomatoes is up to you. I have made this curry with a range of options.
If I am using higher quality tomatoes, I will take more care to leave them intact and not let them break down too much, so I get a burst of that sweet taste in some bites.
If my tomatoes aren't stellar, I might let them break down a bit more to mix with the tomato puree and form a more consistent sauce. It still tastes great, and I wouldn't hold out on making this dish if I couldn't find or afford the super nice tomatoes.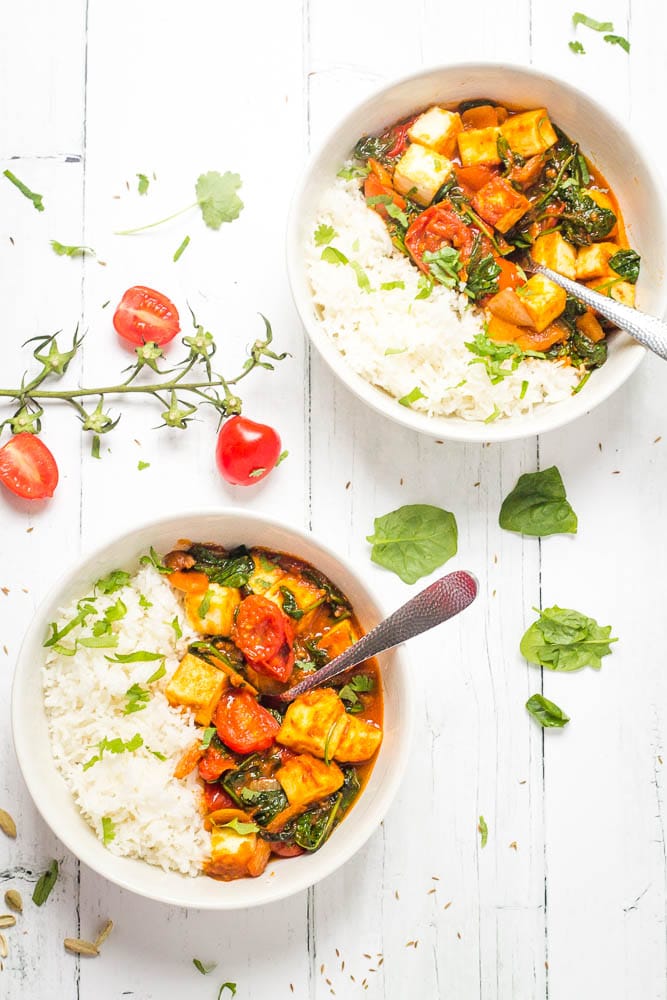 This is a truly simple weeknight dinner, coming together in not too much more time than it takes your rice to cook, so I absolutely recommend having it printed on your fridge for the next time you're craving curry but can't be bothered with anything too elaborate.