This caprese pizza takes a few simple ingredients and turns them into something amazing. The easy no-yeast buttermilk pizza dough requires no proofing, and turns out deliciously crisp and flavourful.
Would you believe me if I told you that one of the best pizzas we ever had was in Ghana?
To be fair, it was made by Italians and Italians are Italian anywhere they go.
(And yay for that, because everyone on every continent needs good pizza.)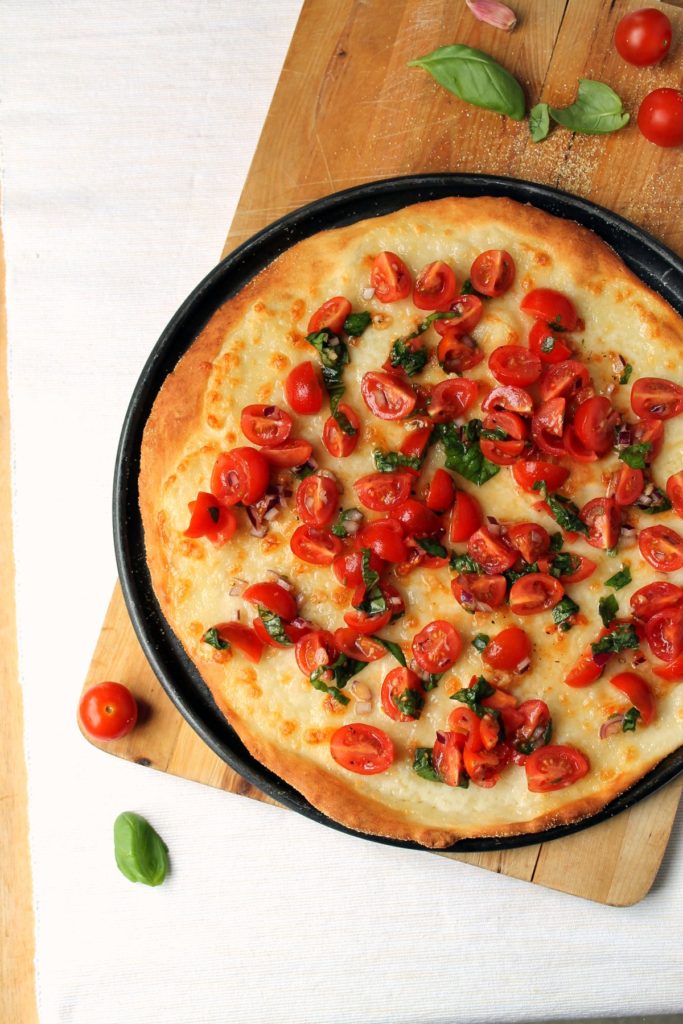 So, it's 2009 and we have gone to visit friends in Ghana. We are hanging out in a popular travelers spot, and there is a a pizza restaurant nearby called Kokrobite Garden. And oh. my. god. It was so good we ate there two nights in a row and have been talking about it ever since.
On both occasions we ordered one pizza each and shared both of them, because there were just so many we wanted to try. One of the pizzas we tried was the caprese pizza. The dough was baked with mozzarella, and then the tomatoes were added afterwards, cold.
And it was just so perfect. Every ingredient was fresh, full of flavor, and generally the best version of itself. Proving to me once and for all that mozzarella, tomatoes, garlic and basil are really all you need to make the most incredible pizza.
Not gonna lie. It really is hard to recreate that perfection with supermarket ingredients and a regular oven, though it won't stop me trying!
In the search for the ripest, juiciest tomatoes I tend to default to small cherry tomatoes. They are mixed with minced red onion, garlic, fresh basil and olive oil- a classic mix of strong flavors which pop against the plain mozzarella base.
If at all possible, opt for a great quality imported buffalo mozzarella to take this pizza closer to it's perfect state. It can be an expensive option so to be honest I will usually use a ball of the cheaper stuff, and it's still great – but if you treat yourself, you will notice the difference.
The base is a buttermilk pizza crust, from a recipe I found on The Butter Factory website. It carries a nice taste and goes fairly crispy in the oven. It's nothing to do with the original pizza I'm trying to recreate, I just really love this recipe because it is minimal effort and requires no yeast or proofing.
This caprese pizza has been a regular meal in our home for many years now and we just love it. It is an easy, relaxed pizza to throw together on a Friday night. Make the pizza dough (5min), make the topping (5m), let it rest while you pick what to watch on Netflix (45m and can I recommend Bloodline? OMG.), assemble the pizza (5m), bake while you mix up your drinks or open your wine (10m), add the topping and EAT!
Don't worry if that made your head spin, the proper instructions are below…