Rice cooker cheese & broccoli quinoa casserole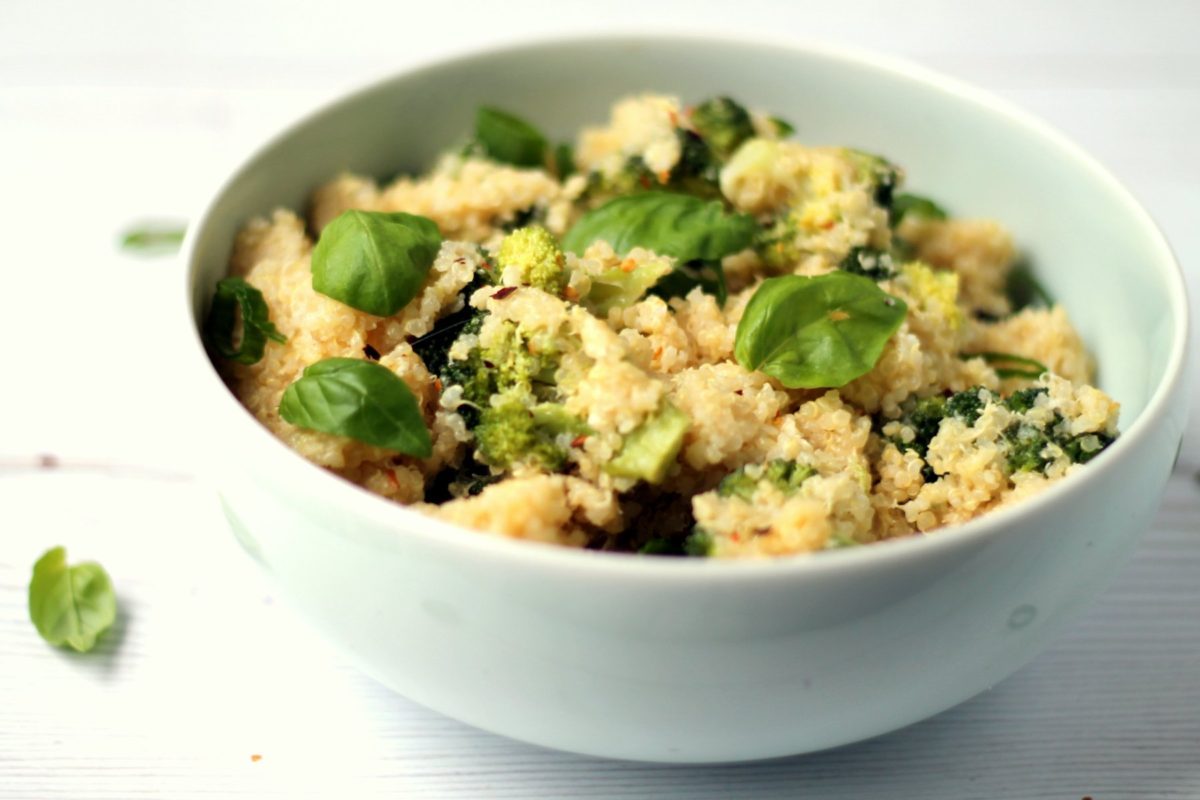 This is a lazy, lazy dinner and I love it for that.
I know I'm a food blogger, but sometimes, mid-week, I really do lose the will. I whine about not having any food in the house. I whine about not wanting to cook. I whine about wanting to get takeout but knowing that we can't get takeouts on weekdays (an important rule but I can't remember why). Why can't it be the weekend? Waaah. Woe is me.
Anyway, I know that's how a lot of people feel about cooking all the time. Too. Much. Effort. And so when I feel that way, it's great if I can channel it into making up a super lazy recipe to share with the world. It's been known to happen (Exhibit A, Exhibit B).
(To be clear, the part where I actually share it comes on a much less lazy day when I can be bothered to take out my camera.)
So, lazy cooking. I have just the thing.
For Christmas last year, my brother bought me the super-cute mini rice cooker with a steaming lid that you see above. This is a fantastic addition to our lives because our gas hob is a little on the aggressive side- not so into the "light simmer" thing. But I find myself wanting to use this rice cooker for as many things as possible. There is something very pleasing about making dinner without turning on an oven. It somehow feels easier and less intrusive on one's evening. When I'm feeling lazy, taking that little machine out of the cupboard and knowing that it's the only thing I'll need makes me breathe out a sigh of relief. Everything feels contained and manageable.
This recipe uses the steaming function of the rice cooker too. I cook the quinoa in the bowl with some garlic and lemon juice, while steaming the broccoli on top. I then tip in the broccoli and cheese at the end. If yours doesn't have a steaming basket, I have two suggestions
1) If you have a larger rice cooker, you can just add the broccoli on top of the rice once you've done your mid-cook stir.
2) If not, microwave the broccoli. Whatevs.
A bowlful of this is a balanced meal with grains, greens and protein. It doesn't have a lot of ingredients, but they are all strong players. Lots of garlic, lemon juice and a strong cheddar cheese add so much flavor. The cheese has to be strong though. I know I always say this but it's important to emphasize that I cook with extra mature English cheddar cheese. I know that across the pond, the cheese can be more mild. So if you've only got a milder cheddar, add something like parmesan!
If you're having it as a complete meal, I would definitely recommend adding some toppings to the bowl. Whatever is lying around. A little chili oil or some chili flakes, with some fresh herbs like chives, basil or spring onions, maybe some greek yogurt… Just raid the fridge and throw stuff in.
Have you noticed that you can print my recipes in a nice format without all my ramblings? There's a little button on the recipe card, on the right hand side, below the photo. This would be a great one to print out and put on your fridge, because the next time you're feeling lazy, you may not even want to get out your phone or laptop to find it. I know I wouldn't!
Enjoy 🙂