Simple, filling, cheap and so comforting… this cheese and potato pie recipe is my spin on the humble British classic, using three British cheeses for maximum flavor and texture. Your whole family will love having this for dinner with just a few simple side dishes.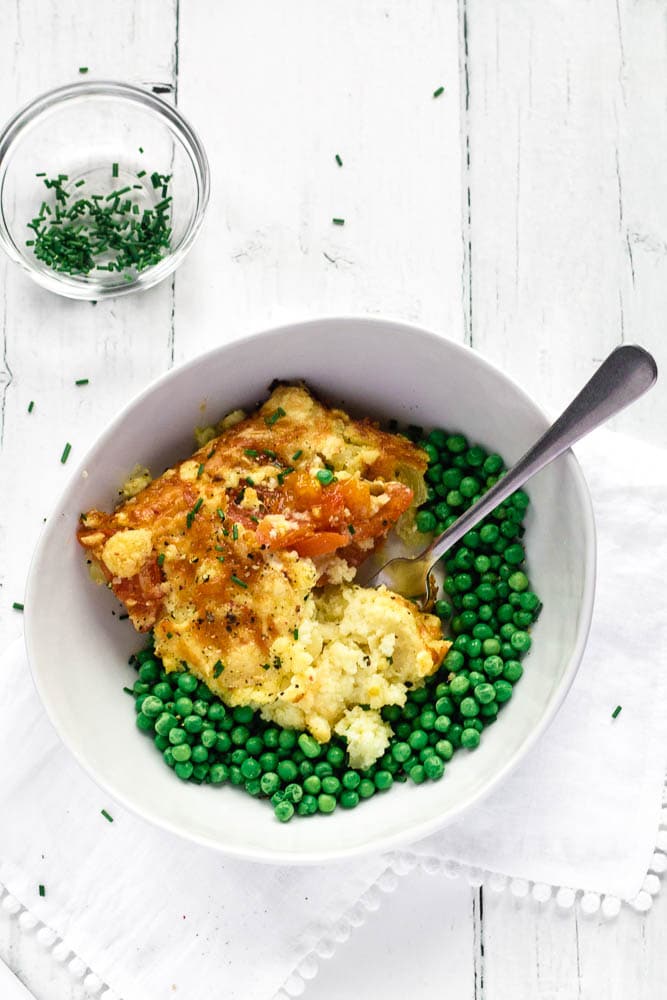 Ah, cheese and potato pie. I did not grow up with this as some of you will have (having grown up in the US), but when I first discovered that it was a thing I was ridiculously happy. Cheese and potato pie is kind of my perfect food.
It apparently originated as an inexpensive but energy loaded meal for workers, more of a Northern English dish. There seem to be a lot of variations. Sometimes there's onion, sometimes there's pastry, sometimes there's other root vegetables, sometimes a tomato topping.
I have no personal history with this dish, so I am just kinda doing my own thing with it. I have kept it very simple and focused on creating a really moist, fluffy and flavorful result.
I add caramelised onions, plus lots of garlic for umami flavour. I don't use pastry, because I don't think it adds enough to be worth the hassle. I do go for the tomato topping, because it adds a moisture and sweetness that is important. And my pie is alllll about the cheese. We use three British cheeses to get the right mix of textures and flavours.
The Cheese Line Up
I tried this several, several times and came to the conclusion that within the potato pie, it's best to just use a very mature cheddar with a bit of mustard to boost it up. The other cheeses, something crumbly like Lancashire or Cheshire and creamy goat's cheese, are in the topping.
I initially wanted to use a lovely crumbly tangy Cheshire cheese within the pie itself but the taste didn't come through quite enough. It's just that tiny bit too mild when it's all melted in with mashed potato. It works perfectly as a topping though, I choose to crumble it so that it's in distinct pieces and adds texture, and it really shines here.
How Long Does it Take?
This is not my quickest recipe. It's not hard, it's just a process. You'll want to give it an hour and a half. Sorry! It is what it is.
Not all of that time is active, so pour yourself some wine and just get comfy in the kitchen.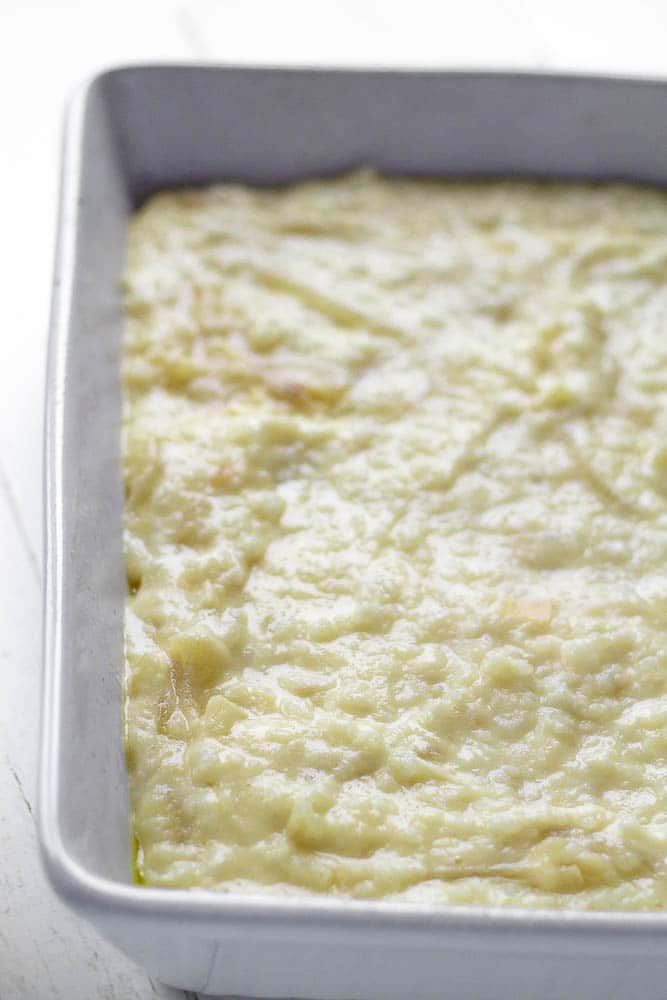 You can save a little time if you don't do the caramelized onions, and instead skip straight to boiling the potatoes. It's tasty either way but I personally think it's worth spending a little extra time on those onions if you can.
Please also take note of how the recipe is written to use your time most effectively. This recipe could easily take over your whole evening if you try to prep everything before starting any cooking.
I suggest you set the onions cooking before you even begin to peel and chop the potatoes. Then once the potatoes are boiling, you have free time to prep your cheeses.
Basically, read the recipe in full before you start cooking.
How to serve your cheese and potato pie
For the uninitiated, this looks like a mashed potato bake to serve as a side dish but that's not what it was intended for and you can most certainly make a meal out of it.
To serve this for dinner you'll just want the right side dishes. The pie is stodgy and heavy, and packed with carbs and protein, so the best side dishes would be lighter and greener.
You can't go wrong with frozen peas here, but a big salad or sauteed spinach or kale would be a dream too.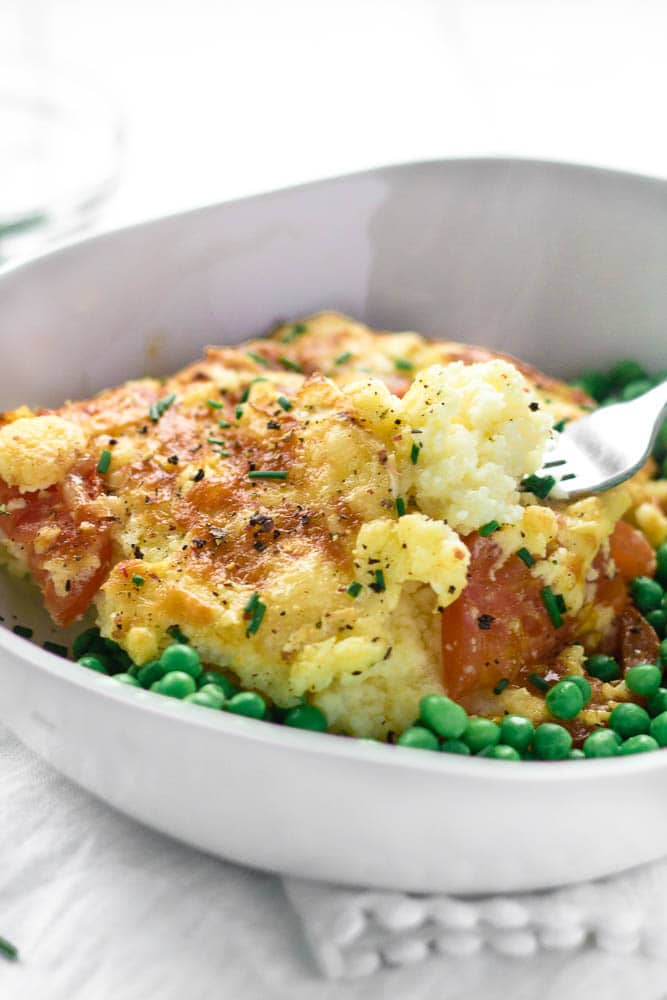 If you want to add even more warming, comforting elements to the plate, roasted tomatoes and/or mushrooms do the job nicely (and can cook in the oven alongside). Check out this recipe which goes perfectly with the pie.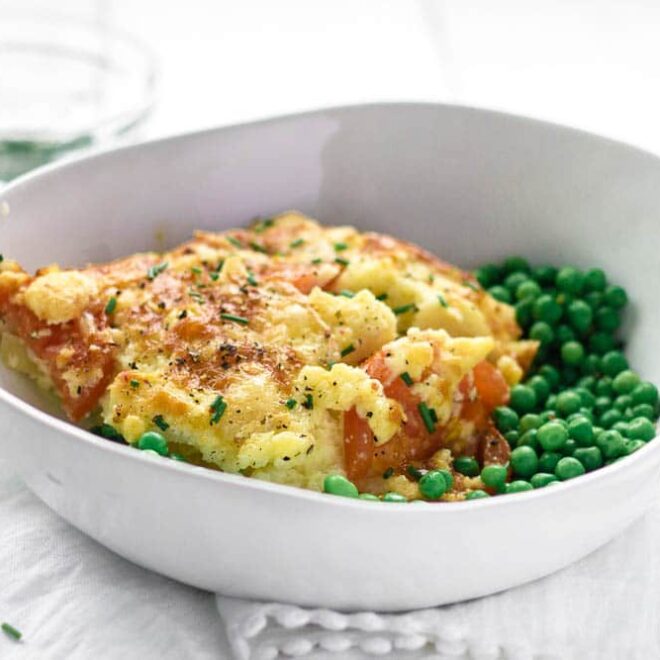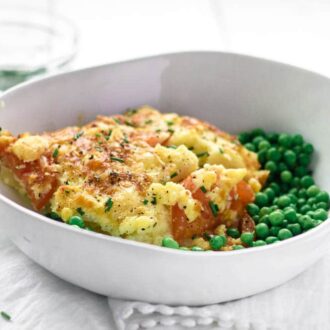 Three Cheese & Potato Pie
Simple, filling, cheap and so comforting… this cheese and potato pie recipe is my spin on the humble British classic, using three British cheeses for maximum flavor and texture. Your whole family will love having this for dinner with just a few simple side dishes.
Ingredients
2 white onions, sliced thinly
6 cloves of garlic, minced
1 tsp brown sugar
1 kg white potatoes, peeled and chopped
50 g (3.5 tbsp) salted butter
1 tsp English mustard
125 ml (½ cup) whole milk
2 eggs
300 g (11 oz) grated cheddar , you want a mature / vintage cheddar
100 g (3.5 oz) 3.5oz Lancashire or Cheshire cheese, finely crumbled
100 g (3.5 oz) 3.5oz Goat's cheese, sliced
4 Tomatoes, sliced
Salt and pepper, to taste
Instructions
The first thing to do is start caramelizing your onions. Get them going before you even start to prep anything else, as they take a while and you don't want this to hold you up later. Heat a little olive oil in a saucepan and add the onions. Saute until they begin to soften and then add the sugar and garlic. Leave them cooking, covered, on the lowest possible heat, while you prepare everything else. Go in regularly to stir them and make sure they don't stick to the bottom (if they do start to stick, add a little water to the pan to loosen things up)

Peel and chop your potatoes and then add to boiling water in a large saucepan. Simmer for 15-20 minutes, until soft. Use the time they are cooking to grate, slice and crumble your cheeses.

Preheat the oven to 200C / 390F.

Drain the potatoes and add them back into the pan. Add the milk, mustard and butter. Use a hand mixer* to mix everything together until smooth, before adding the eggs and whisking them in too, followed by the cheddar cheese (setting aside a handful of the cheddar for the topping). Add salt to taste. (*It's fine if you don't have a hand mixer, just use a potato ricer or masher and stir in the other ingredients with a wooden spoon.)

Finally, add the caramelized onions in to the potato mixture and stir through. (The onions may not be cooked enough by this point, so if they're still soggy and watery in the pan just turn up the heat, add some extra oil, and get them a little browner and stickier before adding them.)

Pour the mixture into a greased baking dish. The mixture will be runny – that's OK because the eggs will help it to firm up and set when it cooks.

Add the tomato slices, crumbled Lancashire and sliced Goat's cheese to the top of the pie.

Place in the oven and bake uncovered for 30 minutes, until the top is nicely browned.

Let it sit for 5-10 minutes before slicing in and serving it.
Notes
You can cut time off this recipe by leaving out the caramelized onions, but I'd still recommend sauteeing the garlic to add at the end. You can do this while the potatoes are boiling.
Serving: 1g, Calories: 345kcal, Carbohydrates: 44g, Protein: 12g, Fat: 14g, Saturated Fat: 8g, Polyunsaturated Fat: 5g, Cholesterol: 97mg, Sodium: 261mg, Fiber: 5g, Sugar: 6g