An easy recipe to use up leftover cheese! Macaroni cheese cooks easily in the slow cooker, requiring only milk, butter, macaroni and whatever cheeses you have to hand!
The cheeses in this dish are not really supposed to be in mac and cheese. They are lovely, hand picked, fine cheeses, which were, just last night!, displayed on a fine cheeseboard at a little get-together with our neighbors.
Turns out, our neighbors don't eat as much cheese as we expected.
So we wake up to a tupperware full of leftovers. Which is not a bad problem to have.
But we just really need to get rid of them, because they don't have their individual wrappers anymore, and we don't really have cause to make up another cheese board any time soon, and there's all this cross-contamination where people used the same knife on multiple cheeses, and even though they started out all premium cheese-like, it's all just a mess now.
Oh but you know what else is a mess? Our kitchen. It's going to take us all day to run everything through the dishwasher so I am not going to be cooking on the stove any time soon.
And this is how I came to discover crockpot mac and cheese.
Slow cooker mac and cheese has been done before, plenty of times, using a similar principle to the one pot mac and cheese concept, where the pasta is cooked in milk to create that creamy and starchy sauce.
The crockpot version generally calls for condensed milk to be used. I didn't have any, but because so much of my cheese was soft anyway, I figured we were going to be OK without it. I was right.
I can't even describe the deliciousness of this mac and cheese. It was the richest I've ever tasted. A little mascarpone gave it a slightly sweet, creamy kick, and a little blue cheese added huge flavor (without overwhelming).
Somehow throwing all this random cheese in the pot ended up tasting like a combination of cheeses I might have spent years trying to perfect. I think it's just what happens when you combine a bunch of cheeses that just so happen to be really awesome?
Oh, and the Port Salut didn't really melt fully, probably because the slow cooker didn't ever get hot enough for this type of cheese. But it was just awesome that way. Every now again you'd get a bite of stringy, stretchy Port Salut. I mean, yeah. I'm very, very OK with that.
Macaroni and cheese will cook nicely in your slow cooker, but there are a lot of factors that will determine the final result if you decide to try it.
1) The thickness of your macaroni. The thicker it is, the more it will be able to hold it's shape. Otherwise it might just kind of fall apart. Mine fell apart a little, there were not distinct macaronis floating around. It was really similar to a baked mac and cheese, where it was just a big mass of deliciousness. Not a bad thing at all. But if you prefer a saucy stovetop mac and cheese, this may feel too rich and too dry for you.
2) How hot your slow cooker gets. I think mine might be hotter than average, because it cooked faster than most recipes would have called for. You may need longer than me.
3) The type of cheese you use. I'd recommend using at least 50% soft cheeses. About a third of my cheese came from a big block of hard cheddar. The rest was made up of very soft and creamy cheeses. I had a creamy blue cheese, boursin, port salut and mascarpone. I think the mascarpone and boursin added a lot to the texture so if you have some cream cheese, quark, or anything like that- be sure to use it!
This recipe is not very prescriptive, because the beauty of it is in combining cheeses that you have chosen, but if you follow my general guidelines and keep a close eye on your slow cooker throughout the day, I am confident that you're going to wind up with something awesome.
Ready?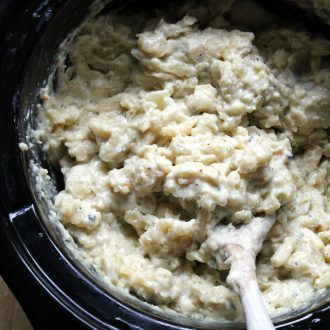 Slow Cooker Mac & Cheese
An easy recipe to use up leftover cheese! Macaroni cheese cooks easily in the slow cooker, requiring only milk, butter, macaroni and whatever cheeses you have to hand!
Ingredients
700 g (4.5 cups) dried macaroni
950-1400 ml (4-6 cups) milk
50 g (3.5 tbsp) butter
Assorted cheeses, aiming for at least 1/2 of the volume of your cheese being soft and creamy – I used cheddar, boursin, mascarpone, port salut and Saint Agur creamy blue cheese.
Optional: if your cheeses aren't as strongly flavored, you should throw in a spoonful of dijon mustard for extra oomph
Instructions
Put the milk (starting with 4 cups / 950ml), butter and the macaroni on high for 1 and 1/2 hours. About halfway through, open the lid and stir. It may be a little clumpy and need to be broken up. Add some extra milk if it's too clumpy.

After 1 and 1/2 hours, your macaroni will be almost cooked. Open the lid, stir again, and then start adding the cheese. Start with the creamiest (mascarpone in my case), adding the hardest at the end, stirring constantly throughout. At this point it should be very saucy and creamy so if not, add some extra milk.

Turn to low and cook for another hour, stirring once throughout, while the cheese fully melts through.
Notes
I don't have an exact weight or volume measurement for you but refer to my photo to get a sense of how much I put in. More or less would have been OK, it doesn't need to be too exact. Nutritional data is very approximate since the cheeses and amounts will vary!
Calories: 531kcal, Carbohydrates: 25.3g, Protein: 29.2g, Fat: 34.9g, Saturated Fat: 20g, Fiber: 0.6g, Sugar: 12.9g