I had to see if Jennifer Aniston's "perfect salad" lived up to the hype … and it does! This herby bulgur based salad is a simple make-ahead meal that you'll be happily feasting off all week. As healthy as it is delicious, this salad is here to get you out of your lunchtime rut.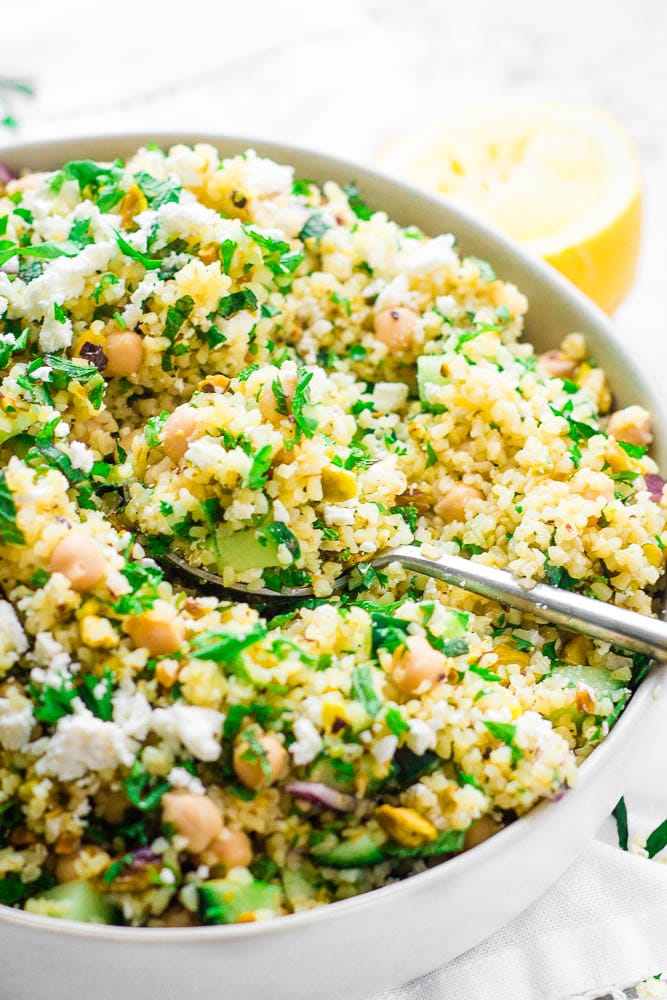 Maybe you've seen mention of the Jennifer Aniston salad recipe on social media, maybe you are here feeling puzzled as to what Jen has to do with salad, either way, you are in for a treat.
OK, not a treat treat, but a really solid make-ahead lunch recipe that will get you out of your sandwich rut and make you feel like you're bossing it.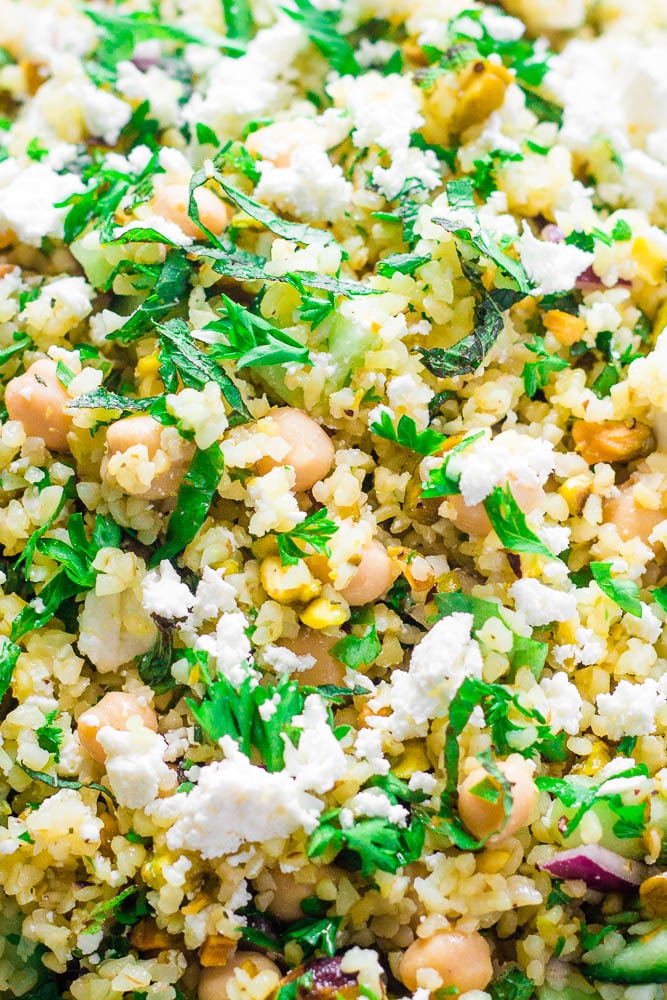 So where did this salad recipe come from?
Jennifer Aniston did a social media takeover for beauty brand Living Proof in which she documented her life for a day, including her meals. While the footage itself is long gone, People magazine captured some snippets including a picture of her lunch, which was her "perfect salad". Since then, the salad has been recreated across Tik Tok and has reached viral status.
And I am sharing it here for those who don't know how to find things on Tik Tok. Like, err… myself.
Does it live up to the hype?
I discovered this salad while on a mission to stop eating bread and wraps for lunch every day, and it was exactly what I needed. So yes I totally get the hype for this salad. It isn't fancy, it is simple in the best possible way and you'd struggle to not enjoy it.
You've got a great mix of flavors here which work their way through the fluffy bulgur base with ease. You don't need a dressing, just some oil and fresh lemon juice, which makes it a breeze to make and a breeze to store. It keeps beautifully, which means a batch made at the start of the week will keep you going a while.
Ingredient Notes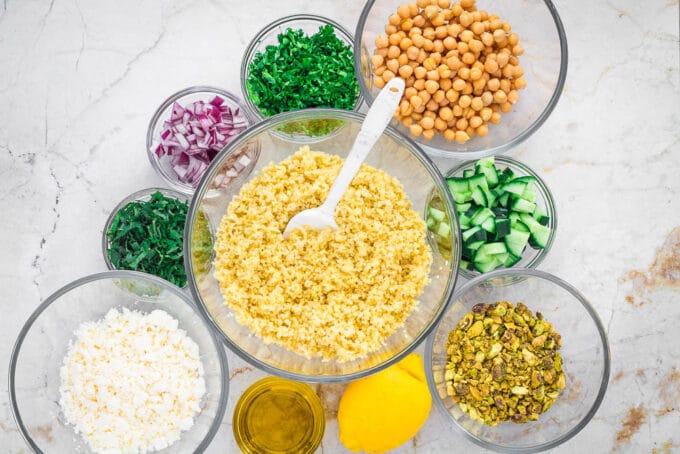 Bulgur wheat: I highly recommend using the bulgur, it's got a fluffy nutty quality that's just very nice. I like to cook it in my instant pot. But some people use quinoa so if that's your preference, go for it.
Chickpeas: I use a can of chickpeas, but if you've got a batch of freshly cooked ones (lucky you) that is around 1.5 cups worth. Anywhere up to 2 cups would be good, but any more than that you will want to scale up some of the other ingredients.
Mint and parsley: these herbs add so much fresh flavor, as tabbouleh lovers will already know. We're using a lot of herbs here, and I would encourage you not to scale them down at all because they add so much flavor. My personal favorite way to finely chop them is using a special herb chopping scissors with four blades. It's a breeze!
Red onion: could be swapped for spring onion (green onion) if you wish.
Pistachios: I just use plain raw pistachios here. Another nut would swap in fine if you need to trade, I'd love to try pecans.
Feta Cheese: I've used half a block of feta in this, crumbled fairly fine. Feta lovers would be welcome to use a whole one and crumble it a little thicker to make more distinct chunks.
Cucumber: I used half of a large cucumber, and I don't think you need to bother peeling or de-seeding unless it's important to you.
Olive oil and lemon juice: makes for an easy peasy dressing.
Nutritionally, this salad is quite impressive
The Jennifer Aniston salad has around 400 calories per serving, but it is very filling, so it's an ideal recipe for someone looking to lose or maintain their weight. It's not "light" food, it's just got naturally low caloric density.
It's also beautifully balanced with all three macros present. A super healthy all rounder.
While nutrition and diets aren't my blog's expertise, these things are worth pointing out because they are one of the reasons the salad has taken off so much across nutrition and wellness accounts on social media.
To Make it Vegan
If you omit the feta cheese, this will be vegan. I'd suggest adding avocado and olives to compensate for the loss of the feta. Avocado will add some creaminess and olives will add some saltiness.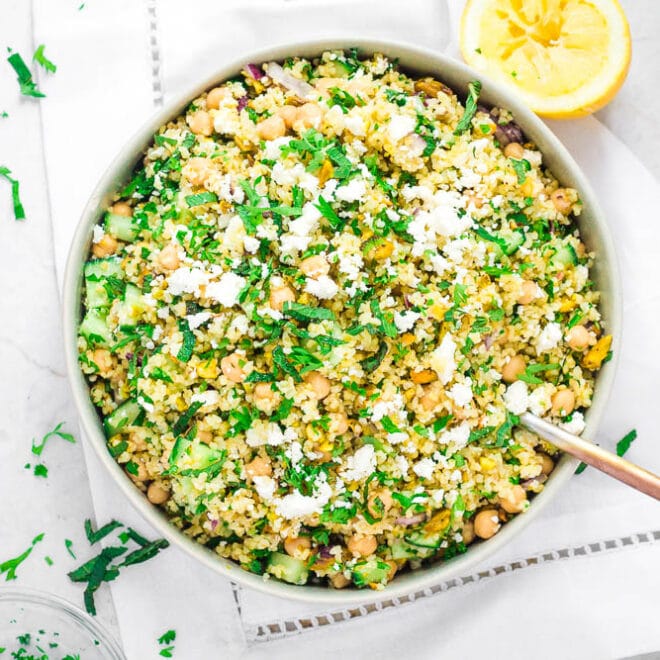 The Jennifer Aniston Salad Recipe
I had to see if Jennifer Aniston's "perfect salad" lived up to the hype … and it does! This herby bulgur based salad is a simple make-ahead meal that you'll be happily feasting off all week. As healthy as it is delicious, this salad is here to get you out of your lunchtime rut.
Ingredients
1 cup (140 g) dried bulgur wheat, or 3 cups prepared
½ medium red onion, diced
1 can chickpeas, drained and rinsed
3.5 oz (100 g) feta cheese, crumbled (around 1 cup once crumbled)
⅓ cup (25 g) mint, finely chopped
⅓ cup (30 g) parsley, finely chopped
½ cucumber, cubed
½ cup (60 g) pistachios
1 lemon, juiced
4 Tbsp extra virgin olive oil
Instructions
Cook the bulgur wheat according to package instructions.

1 cup dried bulgur wheat

Once cooked, put the bulgur in a large bowl and add chickpeas, herbs, cucumber and onions. Mix.

1/2 medium red onion, 1 can chickpeas, 1/3 cup mint, 1/3 cup parsley, 1/2 cucumber

Add the lemon juice and olive oil. Mix.

1 lemon, 4 Tbsp extra virgin olive oil

Mix in the pistachios and feta until just combined.

1/2 cup pistachios, 3.5 oz feta cheese

Serve!
Notes
Herb Measurements
If you're using weight measurement for the herbs, note that the weight is before removing the stems – it's the usual size of supermarket herb packets so get a packet of each and you're good to go.
If you're using the cups measurement, the volume amount is after chopping. 
You don't have to add the ingredients in any particular order – I just choose to hold back the pistachios and feta until after the salad is dressed, so that the pistachios don't soak up too much lemon juice directly and the feta doesn't get put through too much mixing which might make it break up too much.
Calories: 401kcal, Carbohydrates: 41g, Protein: 13g, Fat: 23g, Saturated Fat: 5g, Polyunsaturated Fat: 4g, Monounsaturated Fat: 12g, Cholesterol: 18mg, Sodium: 238mg, Potassium: 462mg, Fiber: 11g, Sugar: 4g, Vitamin A: 618IU, Vitamin C: 20mg, Calcium: 163mg, Iron: 3mg