A delicious Kalette pasta recipe with avocado, sundried tomato and pine nuts. Kalettes, also known as kale sprouts, are a hybrid of kale and Brussels sprouts – and like both of those vegetables, they taste amazing roasted! This is an easy, healthy and completely vegan dinner full of Mediterranean flavors that comes together in less than 30 minutes.
Kalettes! Have you tried them?
What are Kalettes?
That's what I'd have said a month ago! I had no idea they existed. Well. Kalette is a leafy green vegetable, a hybrid of kale and Brussels sprouts. Some people call them kale sprouts.
I've never been a big fan of the Brussels, but I am loving Kalettes since discovering them at the supermarket earlier this year.
Looking for a Simple Kalette Recipe?
Discovering a new veggie is always fun isn't it? But also kind of intimidating because it's like… what do I do with this thing?
You want your first encounter with a new veggie to be easy and to showcase its taste and texture.
This pasta was my first experiment with kalette, and it was perfect.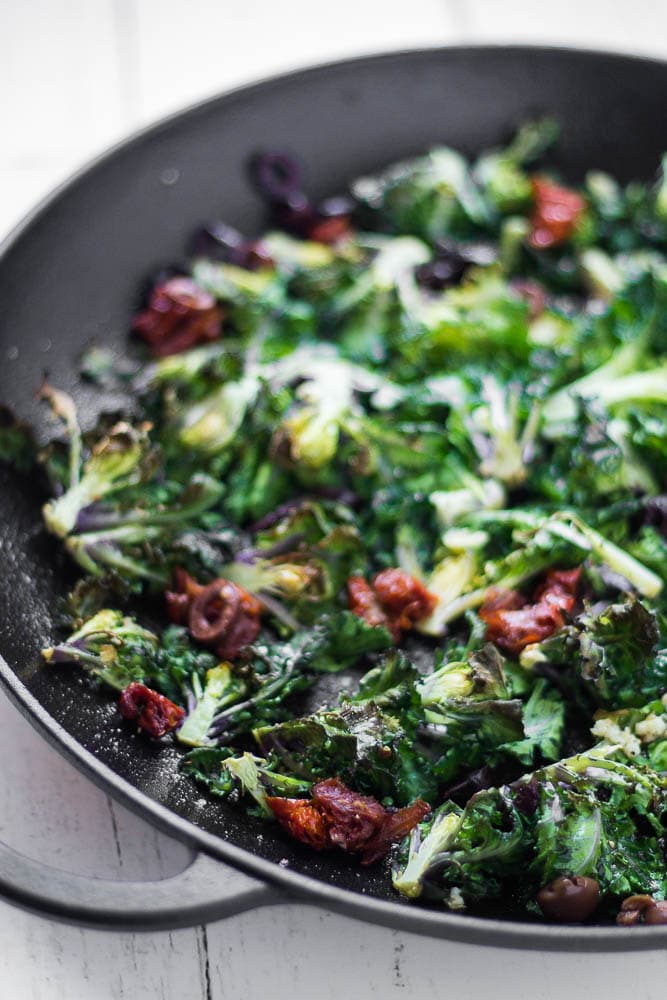 How to cook Kalettes
You can do whatever you like best. Boil, steam, roast, saute, grill? I decided to roast them, because roasting is THE way to go with Brussels sprouts and works nicely for kale too.
Roasting a big pan of Kalettes alongside some other flavor boosters like sundried tomato, garlic and olives proved absolutely fantastic.
The Kalettes go soft and ever so slightly crisp on the edges, without getting all crunchy.
And it's fast! Kalettes roast in 8 minutes flat. We add some pine nuts, basil and avocado on top when they're done. I opted for one avocado here, but you could definitely add two to boost the creamy factor if you like.
In fact, this would make a nice side dish, but today we'll be making a meal of it by mixing in some pasta!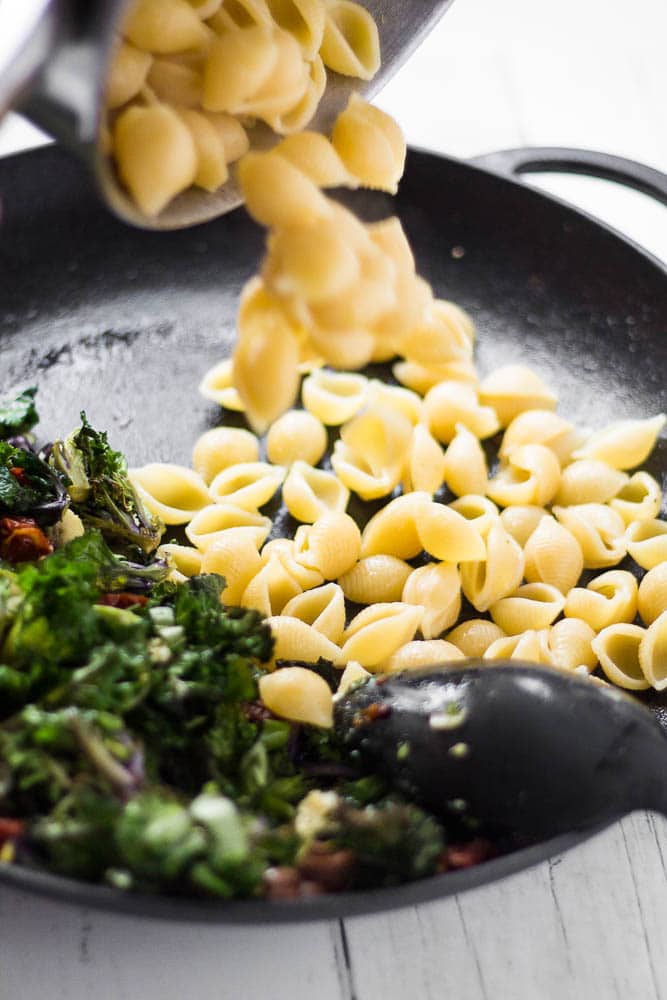 Then we stir it until the avocado starts to warm and smush in a little.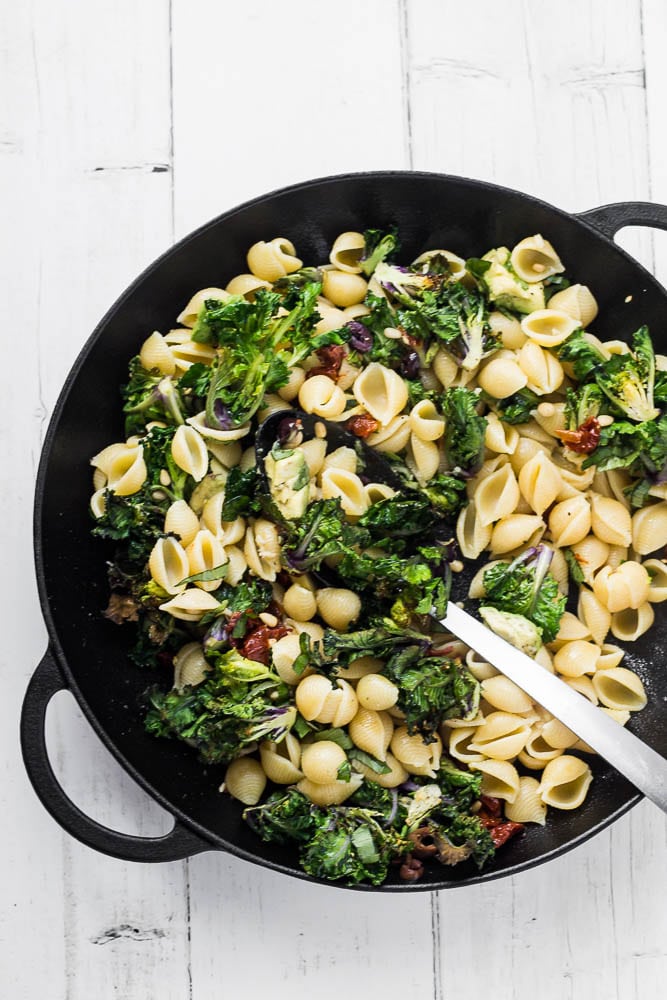 And then serve right away while the Kalettes still have a little crisp to them!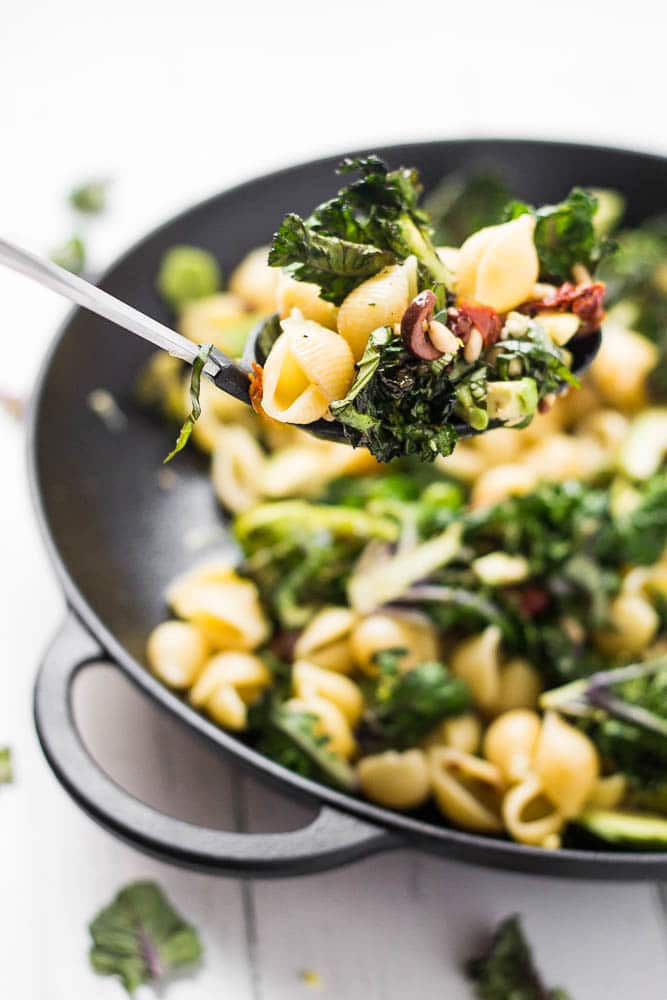 Some Variations on this Kalette Recipe
I decided to make this a fully vegan recipe, but you could add grated parmesan cheese or crumbled feta cheese to the top if this isn't important to you.
I used pasta shells but this works well with a variety of pasta shapes. Fusilli, orecchiette or penne would be equally good choices.
Want to add a little kick? A de-seeded, sliced red chili or two would be a great addition. Throw it in the pan with the Kalettes at the beginning.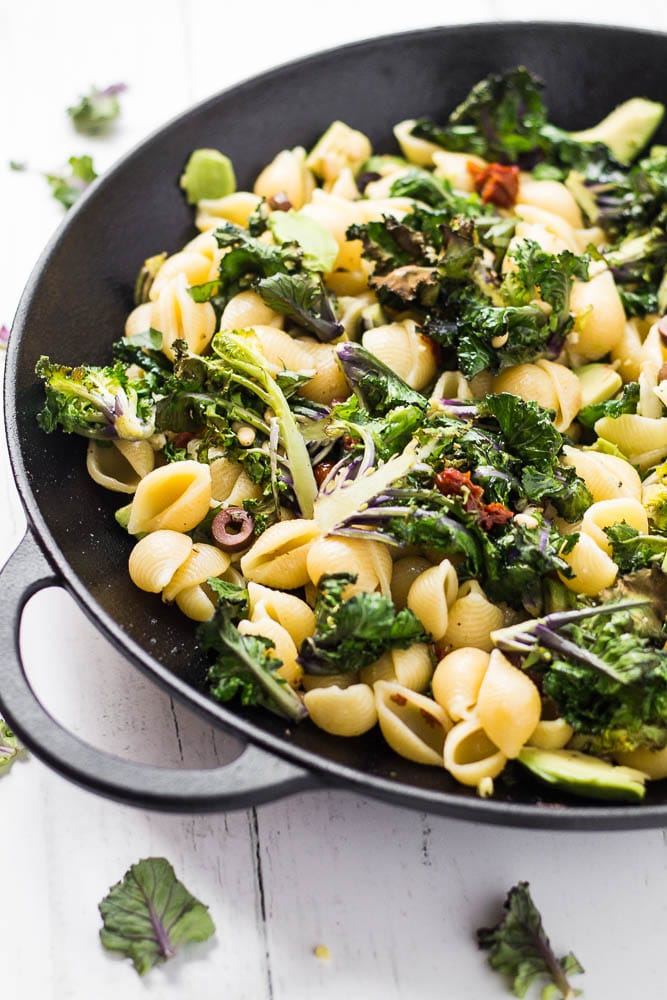 Does this kalette pasta reheat / freeze OK?
This saves in the fridge or freezer and reheats just fine. But it's ideal to eat it right away, while the Kalettes is at it's finest texture.
I wouldn't make it ahead on purpose, but I have been happy enough to gobble leftovers.