A simple  Mafalde (Mafaldine) pasta recipe with broccoli and pine nuts, in a light lemon parmesan sauce. A deliciously simple, fresh vegetarian pasta that comes together in a breeze and tastes amazing.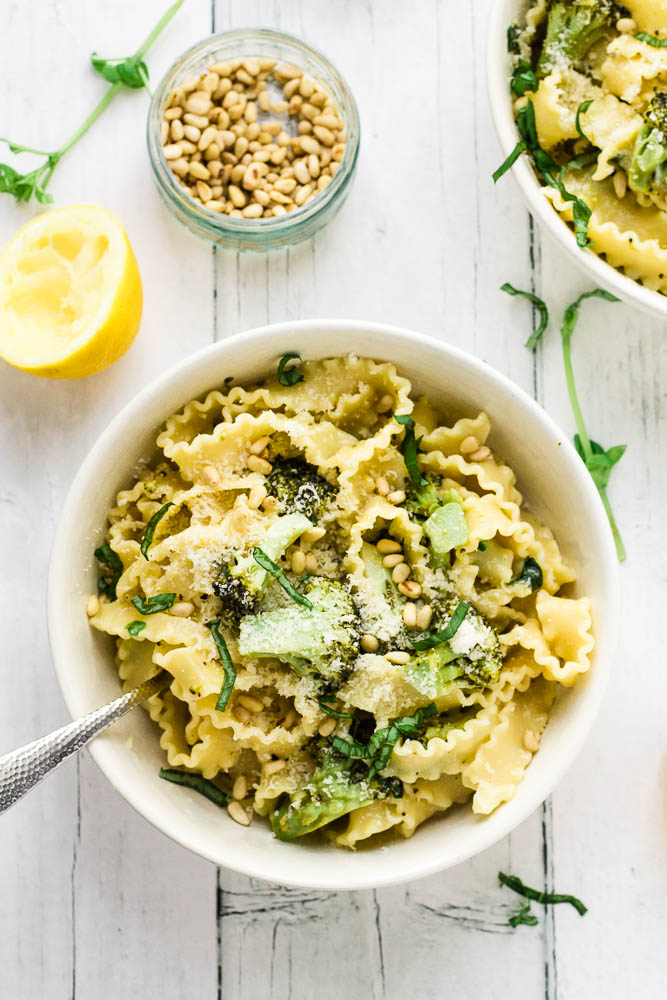 I love trying out new pasta shapes, and although I often play it safe on this blog and share spaghetti or penne or whatever, in real life I am always scouting for interesting pasta shapes. Why not branch out?
Meet Mafalde Pasta!
Have you tried Mafalde pasta yet? Wider than tagliatelle, not as wide as parpadelle, and with curly edges like the fancy lasagne sheets.
Due to the size and texture of this pasta, biting into a forkful of al dente Mafalde just feels good. I like to pair it with a light but strongly flavored sauce that just coats the pasta strips and doesn't make the experience overly messy.
Meet the Lemon Sauce!
This amazing lemon sauce is just a combination of lemon juice, lemon zest, olive oil and grated parmesan. When mixed in with cooked pasta, it forms a really light and delicate (and just a touch creamy) sauce.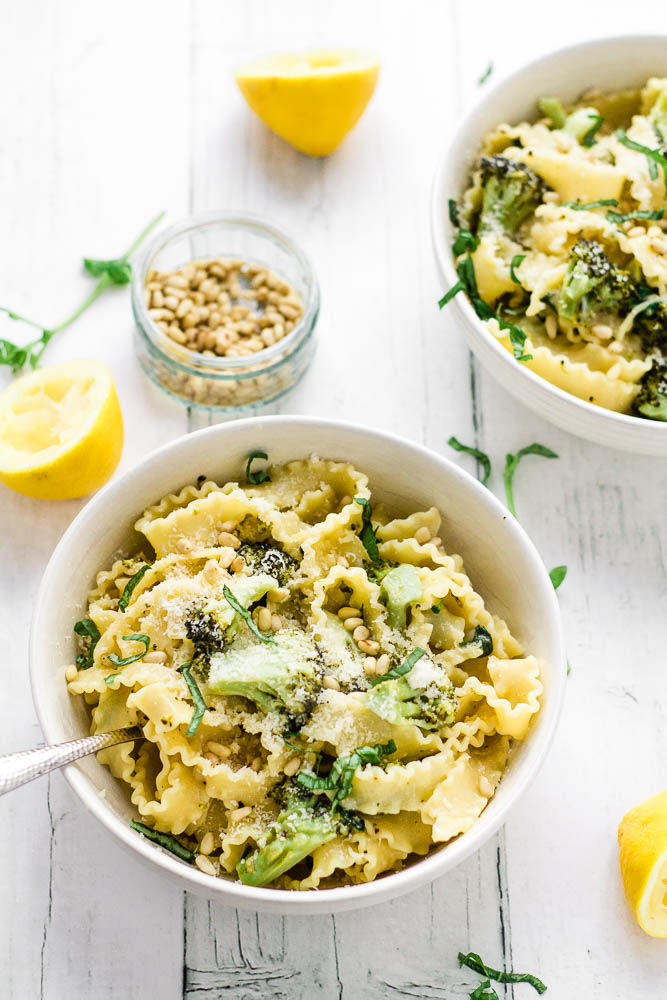 It pairs really nicely with basil and broccoli. The broccoli cooks in the pasta water alongside the Mafalde pasta, making this a really easy dish to put together.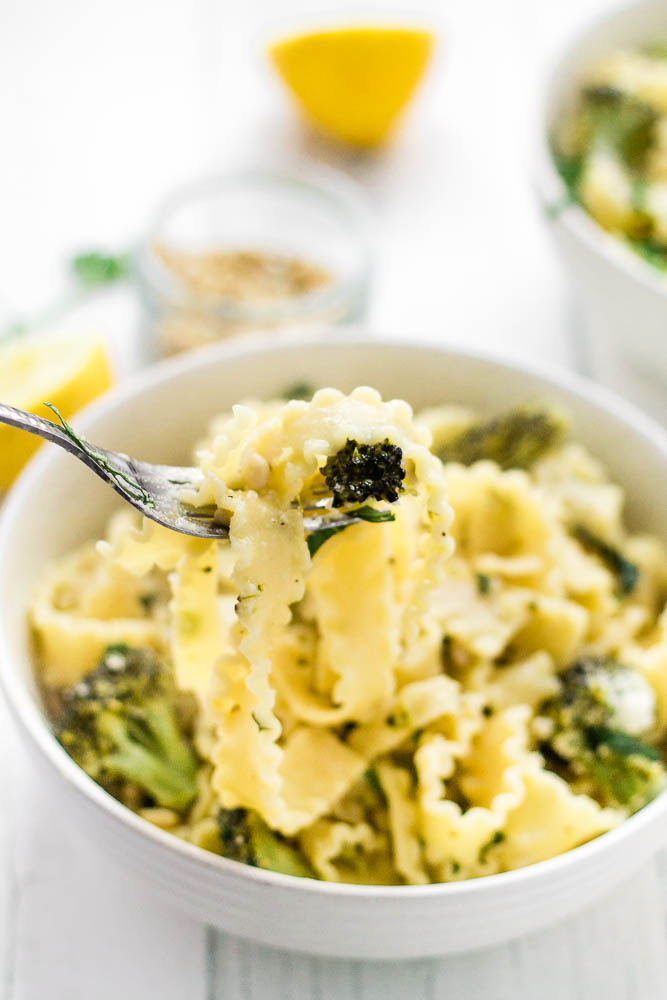 And toasted pine nuts finish it all off. They're optional, but a really nice touch to add some texture and additional flavor.
Where to buy Mafalde Pasta
Obviously you can make this sauce with a standard pasta shape like tagliatelle, so there's no need to go out hunting down Mafalde if you aren't inclined. But if you are…
Mafalde pasta is made by the Garafolo brand, so should not be too hard to track down around the world. Here in the UK, I get it from Ocado. Garafolo also make Mafalda Corta, a short version of Mafalde, which looks great too and comes in a gluten free variety.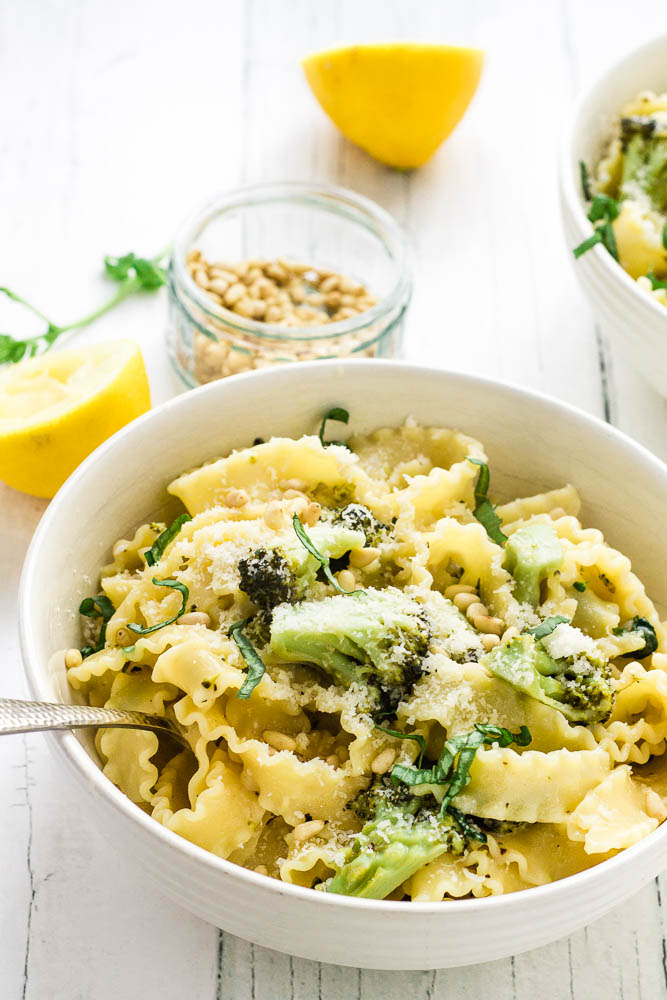 Barilla makes it too, under the name Mafaldine, and they call the short version Mafalde Corte.
All these A's and E's swapping around… I have no idea if there's any differences, or if it's just how different brands Anglicise (or don't) the Italian names?
Is this even an interesting line of conversation for normal people? I have no idea.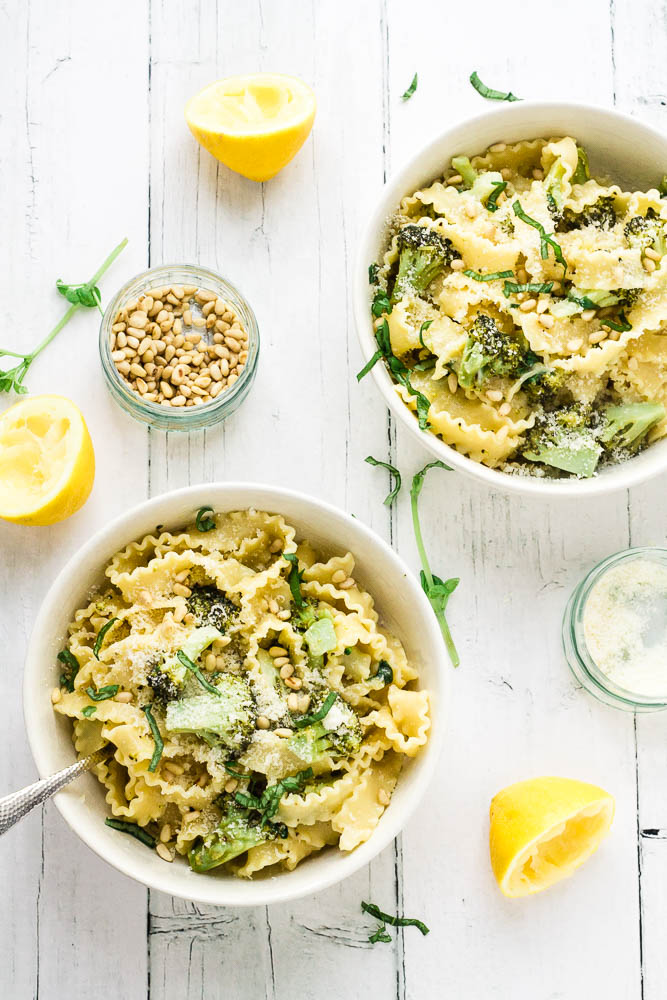 Adaptations and Variations to this Recipe
If you'd like to ditch the parmesan make a vegan version, add some nutritional yeast to the sauce to mimic the cheesy flavour.
Not a fan of broccoli? Try peas! Add them to the water a couple minutes before the pasta is done cooking. You may want to replace the basil with mint.
No pine nuts? Try crumbling and toasting some walnuts instead.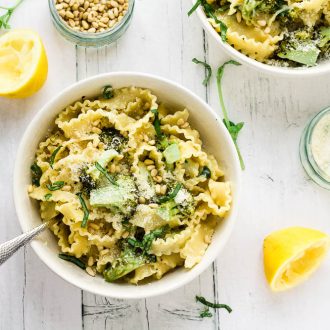 Mafalde Pasta with Broccoli, Lemon & Pine Nuts
A simple Mafalde (Mafaldine)pasta recipe with broccoli and pine nuts, in a light lemon parmesan sauce. A deliciously simple, fresh vegetarian pasta that comes together in a breeze and tastes amazing.
Ingredients
500 g (18 oz) dried Mafalde pasta
Florets from 1 head of broccoli
1 bunch basil, loosely chopped
4 Tbsp pine nuts
Lemon Sauce
3 large lemons
6 Tbsp olive oil
125 g (4.4 oz) finely grated parmesan cheese
Instructions
Put your pasta to boil according to package instructions.

Meanwhile, prepare your lemon sauce. Juice all 3 lemons and zest 1. Add the juice and zest to a bowl. Whisk the grated parmesan and olive oil in.

When there is 4 minutes remaining on your pasta's cooking time, add the broccoli florets to the pan.

Quickly toast your pine nuts. Toss them around on a hot frying pan (with no oil) until they just begin to toast. Immediately remove from the heat to stop them burning and set aside.

Drain your pasta and broccoli and return to the pan.

Add the lemon sauce and mix through over a low heat until the parmesan has begun to melt and the sauce has given the pasta a creamy coating.

Remove from the heat. Add the basil and mix through, then portion into bowls and top with pine nuts.
Notes
Parmesan cheese famously uses animal rennet in its production, making it unsuitable for vegetarian diets. I like to use a vegetarian friendly "Italian hard cheese," which is made without animal rennet.
Serving: 1g, Calories: 588kcal, Carbohydrates: 51g, Protein: 19g, Fat: 36g, Saturated Fat: 8g, Polyunsaturated Fat: 25g, Cholesterol: 27mg, Sodium: 571mg, Fiber: 5g, Sugar: 3g