A homemade, oven baked spin on Tacos de Papa! Spiced mashed potatoes make a flavorful, economical taco filling alongside crispy fresh red cabbage slaw and tangy feta cheese. Oven baked instead of fried, these crispy mashed potato tacos are a fun and easy dinner that the whole family will agree on for Taco Tuesday.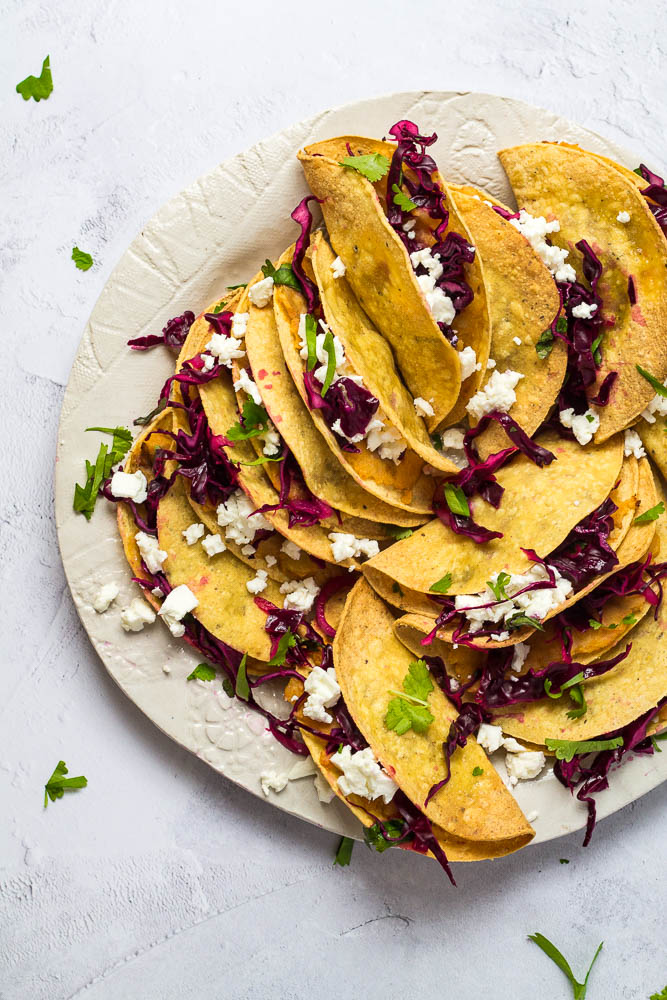 Since this is the year of strange vegetarian taco concepts here on Happy Veggie Kitchen, I think these mashed potato tacos are going to feel right at home. And as we look ahead to cooler weather, stuffing your tacos with potato is going to feel like the right way to go about things.
It may sound a little crazy, but mashed potato tacos have a legit origin. Tacos de Papa! A Mexican street food taco with a crushed potato filling. Tacos de Papa are usually deep fried and then topped with some cooling, crunchy toppings and perhaps some cheese.
My own mashed potato tacos were dreamt up and cooked in my London kitchen, and I won't make any claims to legitimacy here. But they are an easy, delicious and healthy dinner that I am excited to share with you!
Let's break it down.
I decided to oven bake my tacos, because it's an easier and healthier way to achieve that crispy shell that you would expect from a legit potato taco.
I added a simple red cabbage slaw for the crunch factor; this is an essential part of the recipe for me — even as a mashed potato lover, I felt we needed to break up the carbs and add something fresh!
Feta cheese tops off the taco, adding a nice hit of salty, tangy flavor. Traditionally you'd use cojita cheese, but that's hard to track down here, and anyway, I love the extra flavor feta brings.
How to make mashed potato tacos
This isn't a 30 minute dinner, but it's not too time consuming or laborious either.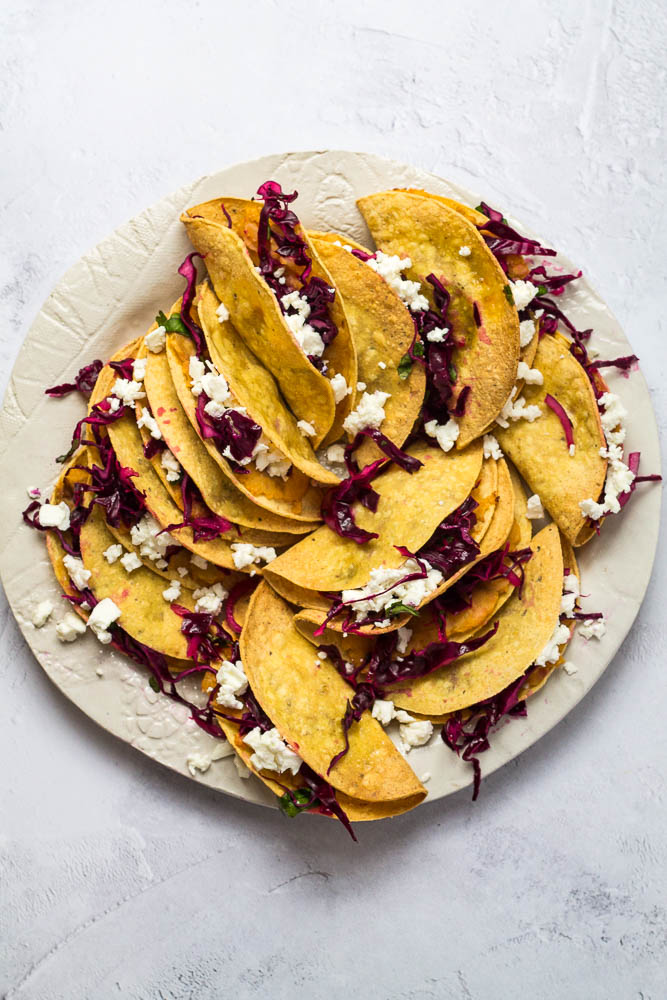 You'll prepare your mashed potato filling by simply boiling some potatoes and mashing them with spices and lime juice. Easy. While the potatoes are boiling, you will have had time to crumble your feta and prepare your slaw.
There's only a few ingredients in the slaw. Chop, mix, done.
Once the toppings and filling are ready, you can assemble the tacos. You will warm the tortillas, spread potato filling across half of them, fold and line up on a baking tray. Brush them with oil on both sides, and bake for about 10 minutes until they're crispy.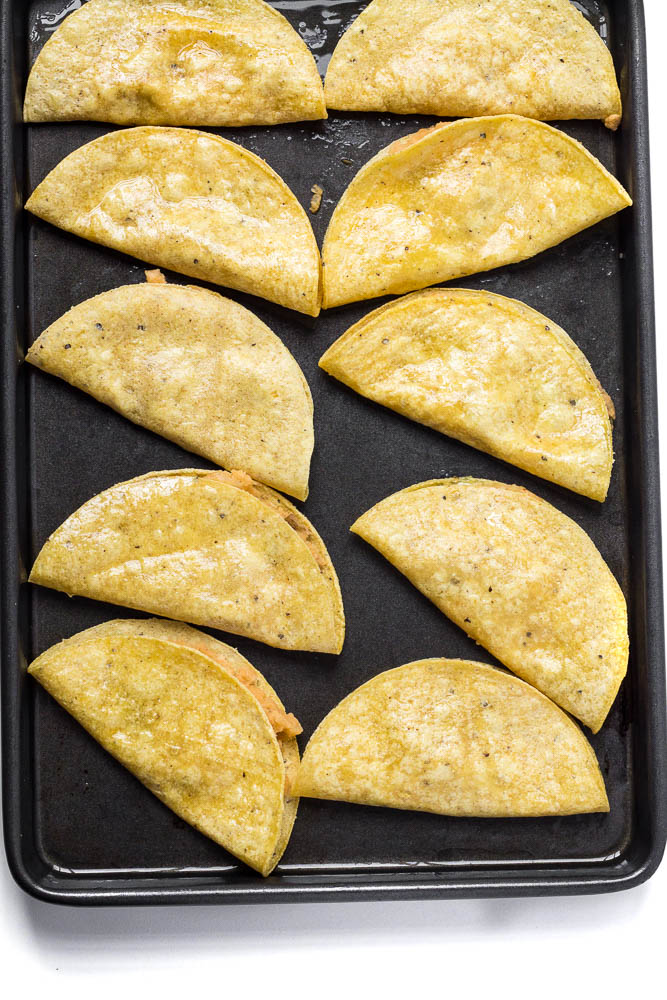 Making your tacos with leftover mashed potato tacos
Do you have leftover mashed potatoes that you'd like to use for this recipe? Great idea! You will want around 1 and a half cups of mashed potatoes to make the full recipe. Add the spices and lime juice in, you may or may not need the sour cream depending on how much your mashed potatoes have dried out in the fridge.
How to eat your mashed potato tacos
So this is where Mr. Veggie and I diverged. And from what I can see of other Tacos de Papa recipes online, they can be served in different ways.
I chose to treat them like any other taco and get all the fillings inside the shell. Once ready, I carefully peeled back half the shell and stuffed them with slaw and feta before closing them back up and eating with my hands.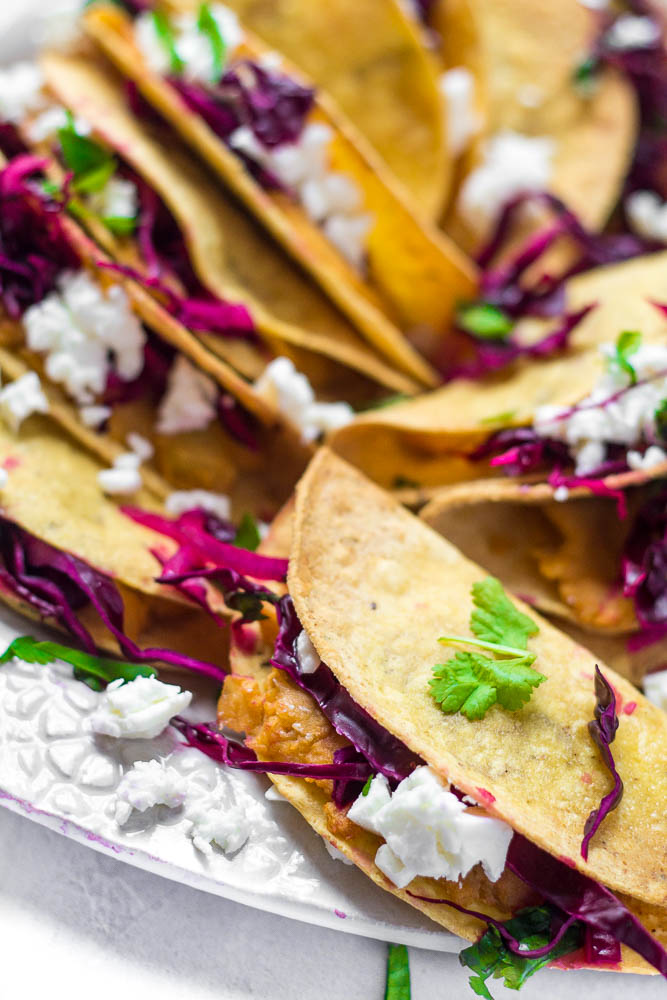 Others will line up the fried tacos and put all the toppings on the outside, covering the shell. This will work great with smaller, street food sized taco shells. Mr. Veggie preferred this method.
I will leave this up to you, but one thing is for sure: it's a pretty messy dish. Embrace it!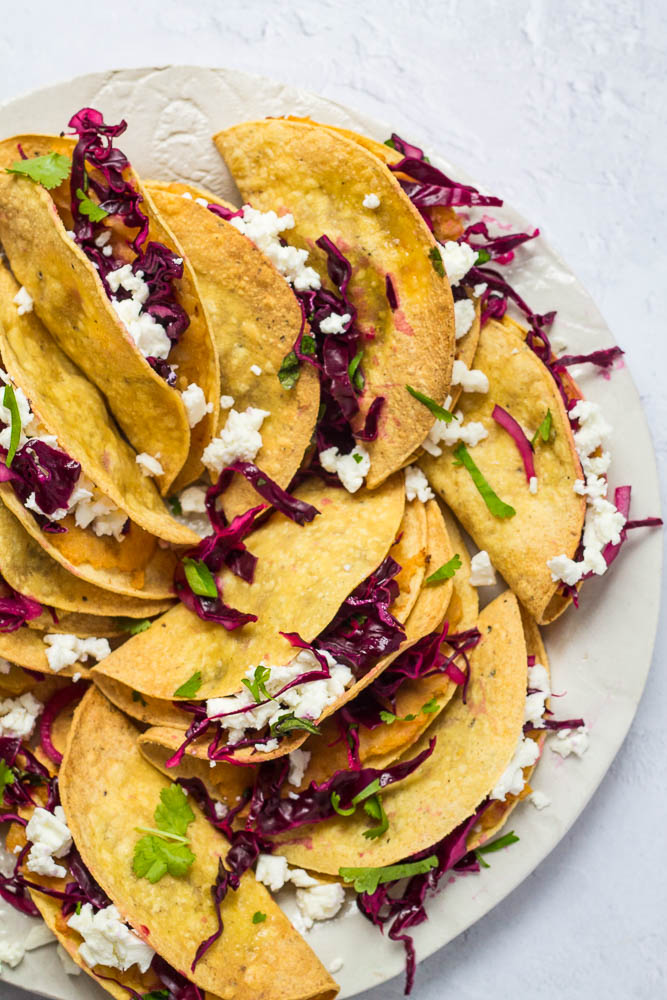 Love experimenting with vegetarian tacos?
I have some others that may interest you!
Love cooking with potatoes?
Me tooooo! Check out these other concoctions: