An easy to make puff pastry braid with a deliciously tasty spanakopita filling! If you're craving spanakopita (spinach and feta pie) but don't want to use filo pastry, this is a great alternative that will hit the spot. This is an easy choice of recipe to feed a crowd or bring to a gathering – spanakopita pie is a favorite amongst vegetarians and non vegetarians alike.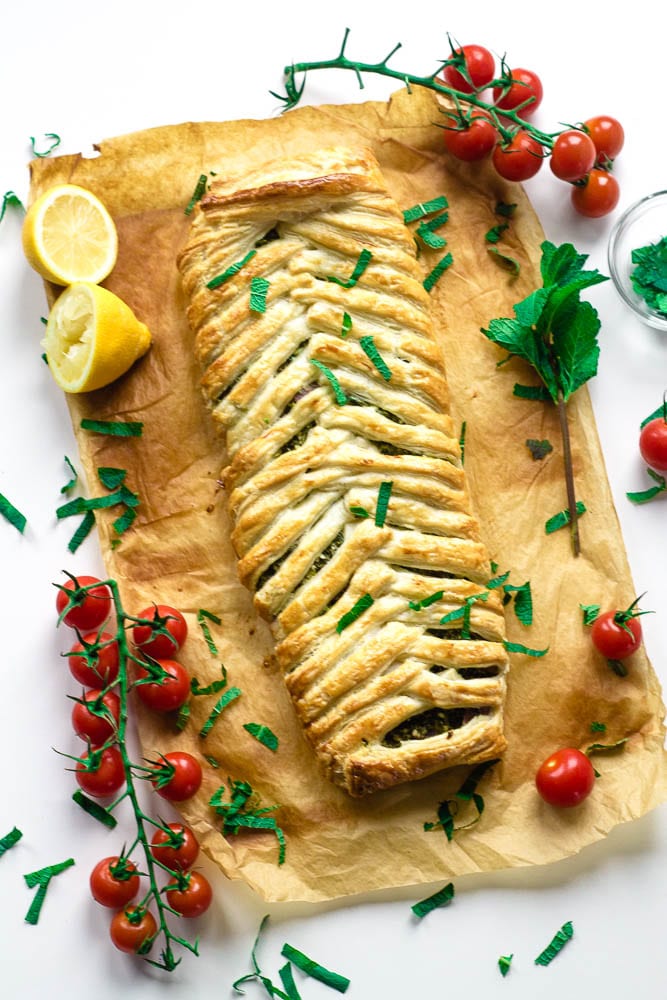 Spanakopita is one of Greece's best gifts to vegetarians, with this cheese and spinach pie being loved universally. Today we are taking a classic spanakopita filling, but instead of making a pie with filo pastry, we are going to pair it with puff pastry for something a little different.
Tips for The Best Spanakopita Filling
Spinach and feta are the defining ingredients of spanakopita, but they are nothing without the supporting ingredients of lemon juice and mint.
Some recipes use parsley, and you can add some parsley alongside the mint, but the mint is absolutely essential for me. Don't skip it!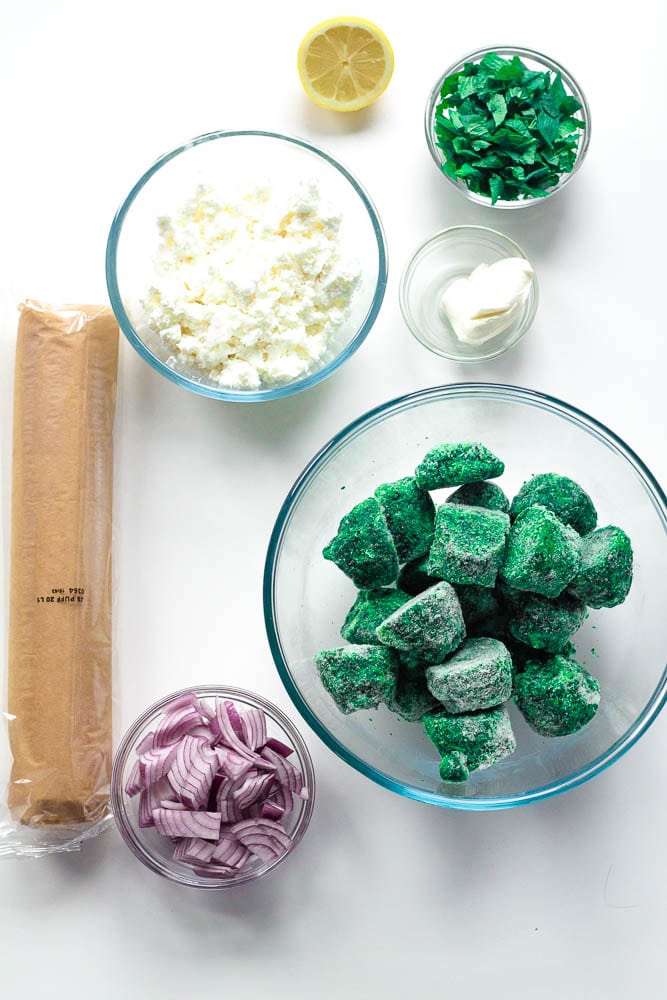 See those weird blocks of green ice? For the uninitiated, that's frozen spinach. The spinach needs to be frozen. I tried to resist this one. I tried to make fresh spinach spanakopita and I couldn't make it work. Too much liquid. Too stringy. You needed waaaay too many leaves. Washing the leaves left even more liquid. Too hard. Frozen is much easier to work with here.
You also want chopped frozen spinach as opposed to whole leaf. For some reason I had a hard time finding this in stock so I made it quite a few times with whole leaf spinach and it was always just stringy and hard to eat. If you must use whole leaf, you'll want to chop it once it's defrosted and squeezed. See the notes in the recipe card.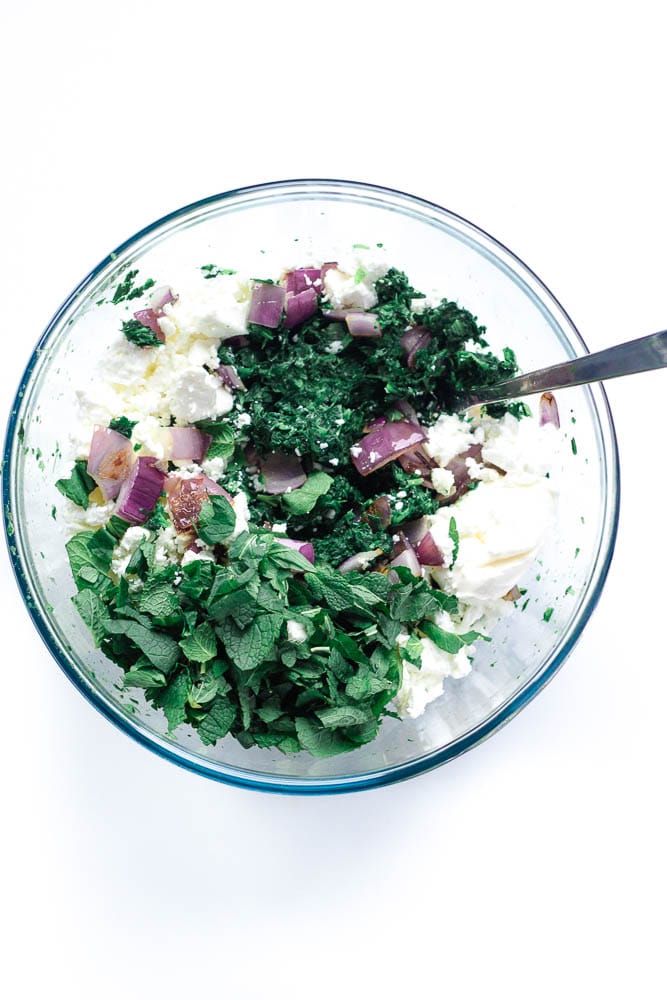 To make the mixture a little creamier and bring things together nicely, I add some cream cheese. Not very authentic, but it adds a lot. You could use ricotta but I prefer the finish with cream cheese.
I don't add any egg, as many recipes would, because we don't need the filling to bind and be sturdy in this recipe as you might for a larger pan pie.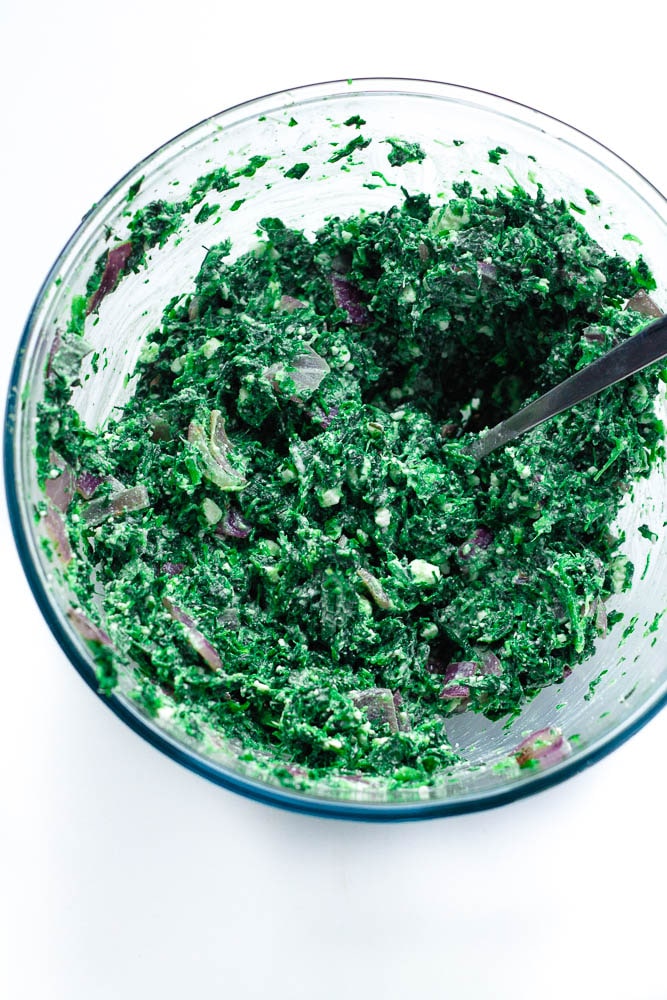 Why use puff pastry for spanakopita?
So I realize that by using puff pastry it's not technically spanakopita any more. I am taking some liberties here because it's what best describes the filling and it's still a pastry / pie situation after all.
So the reasons one might do this are multiple:
Filo pastry is harder to come by in smaller shops.
Sometimes you have all the ingredients for spanakopita except the filo, but you do have puff pastry because it's a little more universal.
Not everyone loves filo pastry's texture and not everyone loves working with it.
For me, it's usually the second reason. I just never have filo lying around.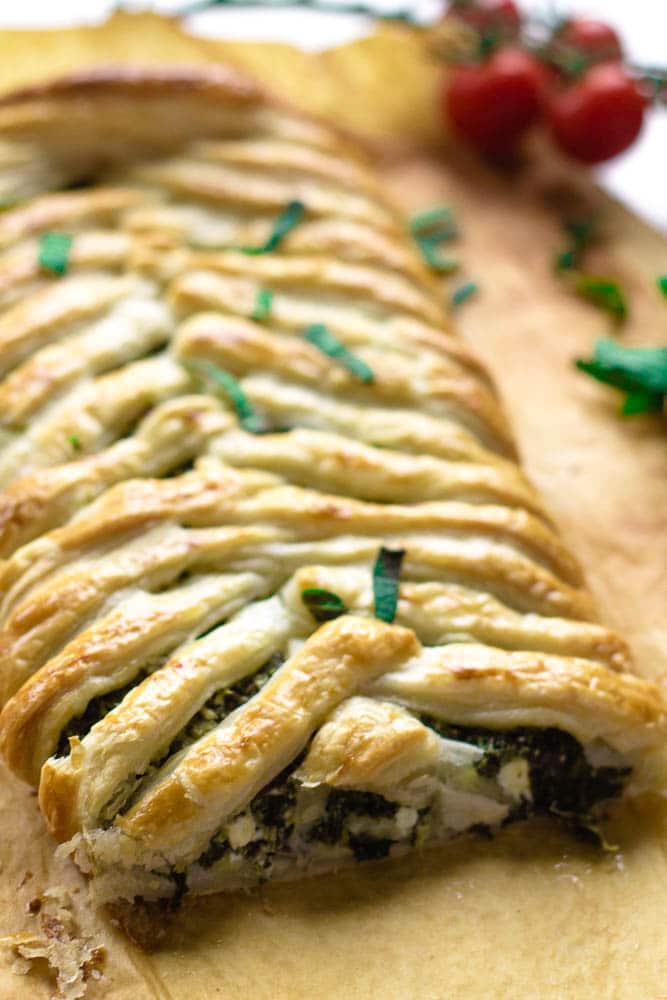 If this is a route you want to go down, you could still make a more traditional spanakopita pie with your puff pastry by simply spreading your filling between two sheets of puff pastry and baking them. I have tried this and it does work.
But I much preferred making it into a braid. With the braided top you get more texture from the pastry, and it's just more interesting to eat.
How to make a puff pastry braid – Easy but Imperfect!
It's not as hard as it sounds if you're not trying to impress anyone. I kinda just hack it together and it's not perfect but it's good enough for me. Take a look.
I cut the pastry into strips on both sides. I cut in a little less than 1/3 on either side.
Fold the bottom ones straight across, then fold the rest of them a little upwards, overlapping in the middle, to make the braid shape.
Some guides suggest slicing them at the diagonal, which makes sense – I just always mess that up.
You'll end up with some excess on the side you didn't start braiding on – just fold it up and let that end be crustier.
If I sound overly relaxed, it's because I kinda like the rustic-ness that imperfections give you with pastry.
Serving Suggestions
A simple tomato salad would be my go-to accompaniment for spanakopita.
If it's going to be a heavier meal though, I'd throw together a plate of balsamic roasted vegetables (my fave combo being peppers, cherry tomatoes, mushrooms and sweet potato cubes). They can bake in the oven for 15 minutes before you add the pastry in, then move to the bottom to finish cooking alongside.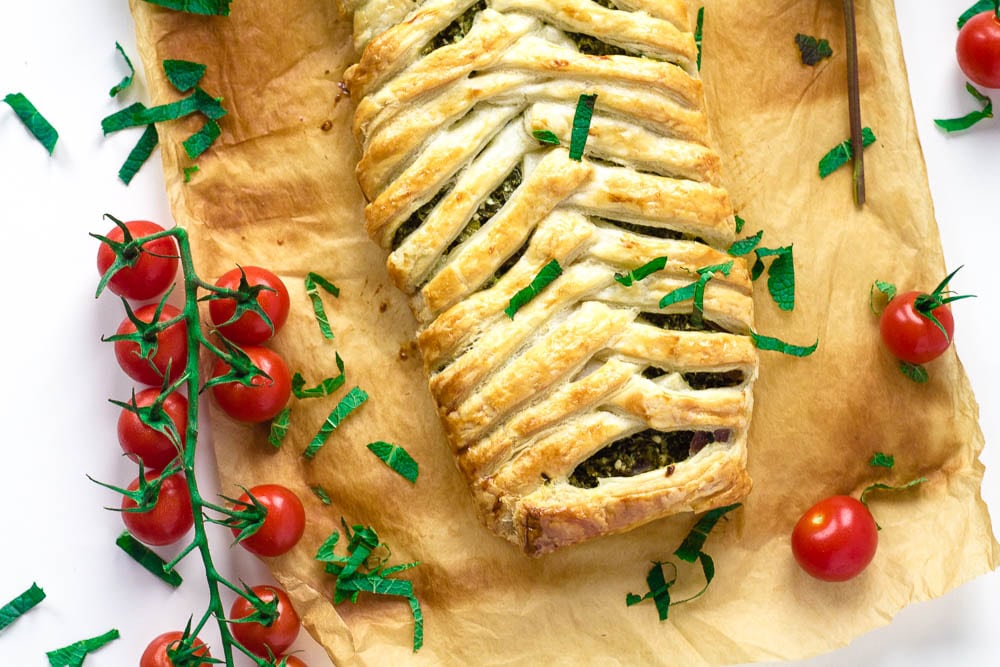 This recipe makes two spanakopita braids
Just a note before you see the recipe – this is enough for TWO. If you only want to make one, you can save half the filling for another day or another recipe (spanakopita quesadillas? spanakopita stuffed potatoes? lots of fun to be had!) or you could freeze a whole prepared braid (just add 15mins or so to the cooking time when you go to cook that one).
You can also just halve the recipe.
I've done it this way because for me, the filling is a little awkward to scale down. I like to be able to use the whole block of feta, a whole lemon half, and most of the packet of mint I get from the store. You could easily cut it in half if that suits you better.
Puff Pastry Spanakopita Braid
An easy to make puff pastry braid with a deliciously tasty spanakopita filling! If you're craving spanakopita (spinach and feta pie) but don't want to use filo pastry, this is a great alternative that will hit the spot. This is an easy choice of recipe to feed a crowd or bring to a gathering – spanakopita pie is a favourite amongst vegetarians and non vegetarians alike.
Ingredients
2 rolls of ready made puff pastry
1 egg, whisked
Filling
500 g (18 oz) frozen chopped spinach
200 g (7 oz) feta cheese
2 Tbsp of cream cheese
Handful of mint leaves, chopped
1 small onion, minced
Juice of 1/2 lemon
Salt and pepper to taste
Instructions
Preheat the oven to 180C / 360F. Prepare your spinach. First, defrost it. Either leave it out to thaw for a few hours at room temperature, or use your microwave's defrost setting for a few minutes. It doesn't need to be warm or completely thawed, you just want to loosen up the blocks of spinach enough to be able to squeeze out moisture. To do this, I like to put all the spinach into a sieve or colander and use a heavy bowl to press down and squeeze out as much liquid as possible.

Place the spinach into a large bowl and set aside.

Heat a little oil in a frying pan and saute the onion until soft.

Add the onion into the bowl with the spinach and mix in the feta, cream cheese, lemon juice and mint. Add a little extra cream cheese if needed to bind everything together into a nice creamy filling.

Time to prepare the braid. There are images of process in the blog post above. Unroll your puff pastry to lay flat on a baking tray lined with baking paper (your pastry may come rolled in baking paper that you can use).

Use kitchen scissors or a knife to cut slices (just under 1/3rd of the way in) on either side. Scoop your filling (1/2 per braid) in the middle and bring the pastry strips on either side up to cover the filling, allowing them to overlap in the middle.

Whisk an egg thoroughly in a small bowl and brush over the top of the spanakopita braids.

Bake for 25 minutes or until the top is crisp and golden.
Notes
This recipe is enough for TWO braids – if you're only making one, you can either halve the filling recipe or save half of the filling. Slices of this keep reasonably well to serve cold, or place in the oven for a few minutes to warm and crisp back up a little. You'll never the crisp back as easily with reheated puff pastry, but this is your best shot. You can freeze for 6 months. Defrost fully before warming up. If you're using whole leaf spinach, you will need to chop it up as best you can once it's been defrosted and squeezed. Try kitchen scissors or a food processor for the least messy option!
Serving: 1g, Calories: 165kcal, Carbohydrates: 15g, Protein: 8g, Fat: 9g, Saturated Fat: 5g, Polyunsaturated Fat: 4g, Cholesterol: 49mg, Sodium: 395mg, Fiber: 3g, Sugar: 6g