A tasty spanakopita dinner from scratch – cooked in the air fryer! These crispy spinach and feta stuffed jumbo rolls are meal sized and easy to make with a little help from your air fryer. Delicious and healthy, served with a salad to round off the meal.
A while back our oven broke, and it took three separate people from the repair company over one month to fix it. It was a sad time! Oven baked dinners are my faves. The upside is, I got better acquainted with the capability of my air fryer, and so this recipe was born.
Making a couple of spanakopita rolls in the air fryer was super fast and convenient – they cook in just 15 minutes .
Wanting this to be a proper dinner recipe, at first I attempted to make a more classic spanakopita pie within a mini baking dish that sits in the air fryer basket. I just couldn't get it to cook evenly enough.
These spanakopita rolls worked much better. They're almost like spanakopita burritos. Large and substantial, with a great ratio of that creamy spinach filling, they are proper meal sized portions. But really easy and foolproof too.
How to Make them – in Pictures
Full printable recipe to follow but this visual run through will show you what you're signing up to.
Recipe Tips & Ingredient Swaps
I use the same filling recipe here as for my spanakopita braid, and I talk quite a lot about it there if you really want the run down on this filling recipe, but the main points are as follows:
It is best to use chopped frozen spinach, not whole leaf, for the optimal texture.
Don't skip the mint! The mint is so important for that proper Greek flavor. You can add parsley too, but don't swap it.
Since this is meant to be a super convenient easy recipe, you may not feel like sautéing an onion first. I love it best with sautéed onions, but there is a very suitable swap to be made if you'd rather skip this step – just swap the onion for a green / salad / spring onion instead. Chop it finely and mix it in the bowl with the other ingredients, no pre cooking needed.
Please note that this recipe makes FOUR large spanakopita rolls. My smaller air fryer can only cook two at a time, but larger ones could do a full batch.
If you don't need that much, you could save some of the filling for another day / another recipe, or you could pre-assemble a couple of rolls to cook another time. Or you can just halve the recipe.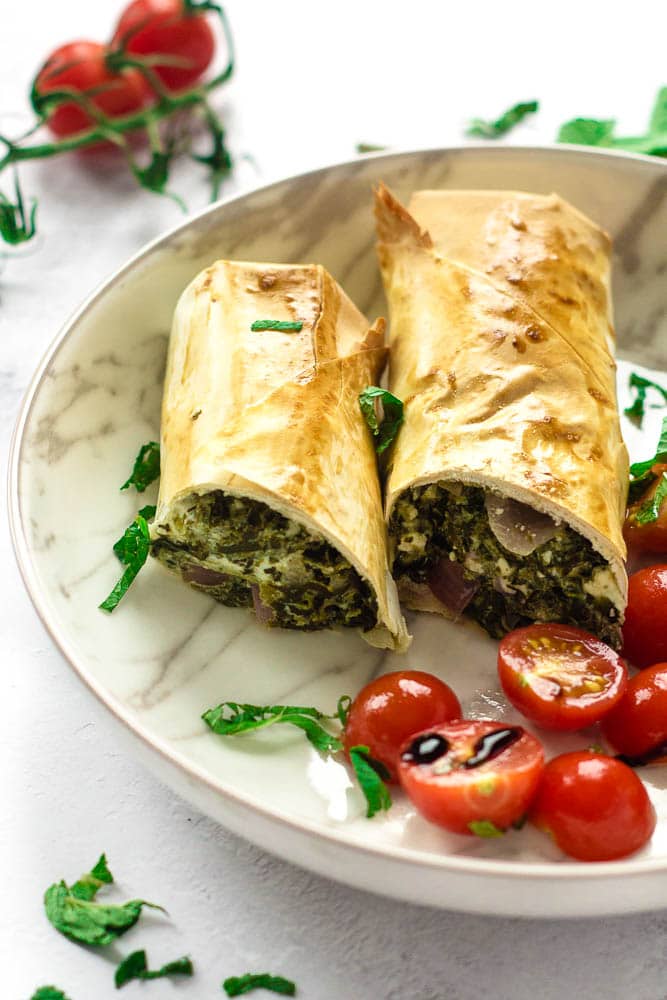 What to Serve with Your Spanakopita
If you want a lighter meal or lunch, a simple tomato salad is my favorite accompaniment.
If you'd prefer to bulk out your rolls to a full dinner, you could have a more substantial grain salad and/or roast some veggies in the air fryer once the rolls come out (air fried broccoli takes just a few minutes so your rolls won't get cold!)
Air Fryer Spanakopita Rolls
A tasty spanakopita dinner from scratch – cooked in the air fryer! These crispy spinach and feta stuffed rolls are meal sized and easy to make with a little help from your air fryer. Delicious and healthy, served with a salad to round off the meal.
Ingredients
4-8 sheets filo pastry*
1 egg, whisked
Filling
500 g (18 oz) frozen chopped spinach**
200 g (7 oz) feta cheese
2 Tbsp of cream cheese
Handful of mint leaves, chopped
1 small onion, minced (you can swap with 1 thinly sliced green onion if you like, which would avoid any pre cooking)
Juice of 1/2 lemon
Salt and pepper to taste
Instructions
Prepare your spinach. First, defrost it. Either leave it out to thaw for a few hours at room temperature, or use your microwave's defrost setting for a few minutes. It doesn't need to be warm or completely thawed, you just want to loosen up the blocks of spinach enough to be able to squeeze out moisture. To do this, I like to put all the spinach into a sieve or colander and use a heavy bowl to press down and squeeze out as much liquid as possible.

Place the spinach into a large bowl and set aside.

Heat a little oil in a frying pan and saute the onion until soft. (alternatively you could air fry the onion for a few minutes if you have a small pan to insert into the frying basket)

Add the onion into the bowl with the spinach and mix in the feta, cream cheese, lemon juice and mint. Add a little extra cream cheese if needed to bind everything together into a nice creamy filling.

Preheat your air fryer to 180C / 360F.

Whisk together an egg in a small bowl to use as an egg wash.

Time to make the rolls. Lay out 1-2 sheets of filo (see notes) and scoop the filling along one side. Brush the pastry with a thin layer of egg along the edges. Fold the sides in and roll it up, burrito style.

Brush the outside of the roll with a light coat of egg wash.

Place two rolls in the air fryer basket and cook for 15 minutes. The pastry should be very golden and crispy with the filling inside warmed through.
Notes
*How many sheets you need will depend on the size of them. If you have shorter square pieces like mine (which you can see in the pictures above), double layer them. If yours are much longer you could just use one sheet per roll. ** If you're using whole leaf spinach, you will need to chop it up as best you can once it's been defrosted and squeezed. Try kitchen scissors or a food processor for the least messy option! This recipe is enough for FOUR rolls – if you're only making two, you can either halve the filling recipe or save half of the filling. These keep reasonably well to serve cold, or microwave them and then place back in the air fryer for a few minutes to crisp back up a little. You'll never get the crisp back as easily with reheated pastry, but this is your best shot. You can freeze prepared uncooked rolls for 6 months. Defrost fully before cooking.
Serving: 1g, Calories: 202kcal, Carbohydrates: 22g, Protein: 7g, Fat: 10g, Saturated Fat: 5g, Polyunsaturated Fat: 3g, Cholesterol: 71mg, Sodium: 302mg, Fiber: 3g, Sugar: 12g