This delicious plant based side dish combines crispy roasted potatoes with melt in the mouth sweet cherry tomatoes! It all cooks in the oven at the same time, and gives you an easy base for a simple, low cost and tasty meal.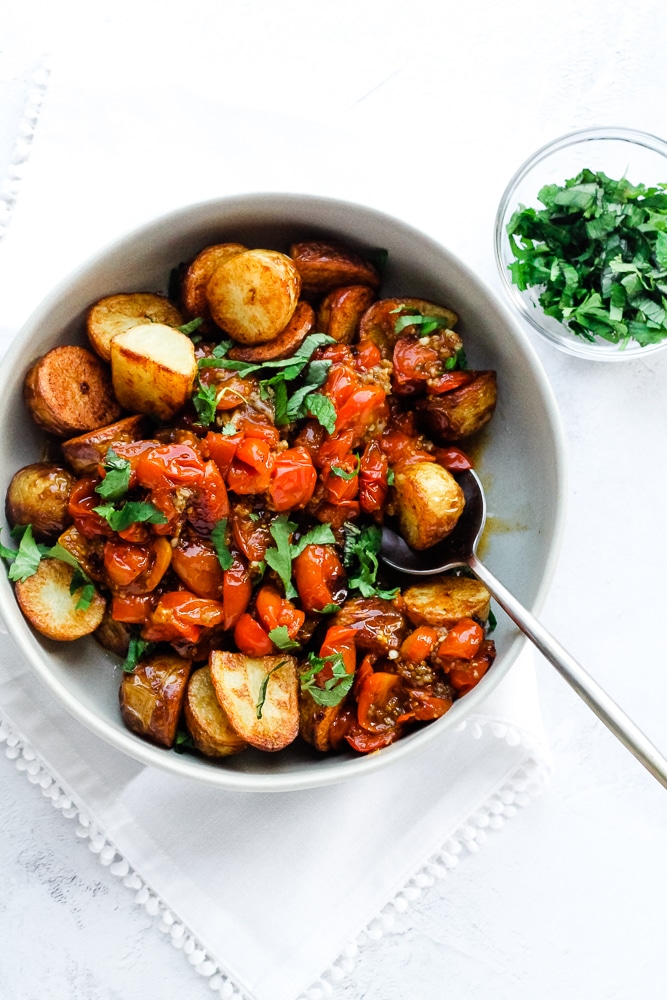 How did I ever not spoon roasted cherry tomatoes over my roasted potatoes? This wonderfully simple idea has been made a lot this winter at Veggie HQ, and we are loving it.
I think we can all agree that a roasted potato is a thing of beauty, but you may want something saucy on the plate too. The roasted tomatoes here offer that, and negate the need for a gravy or other sauce, so you are well on your way to a tasty meal here.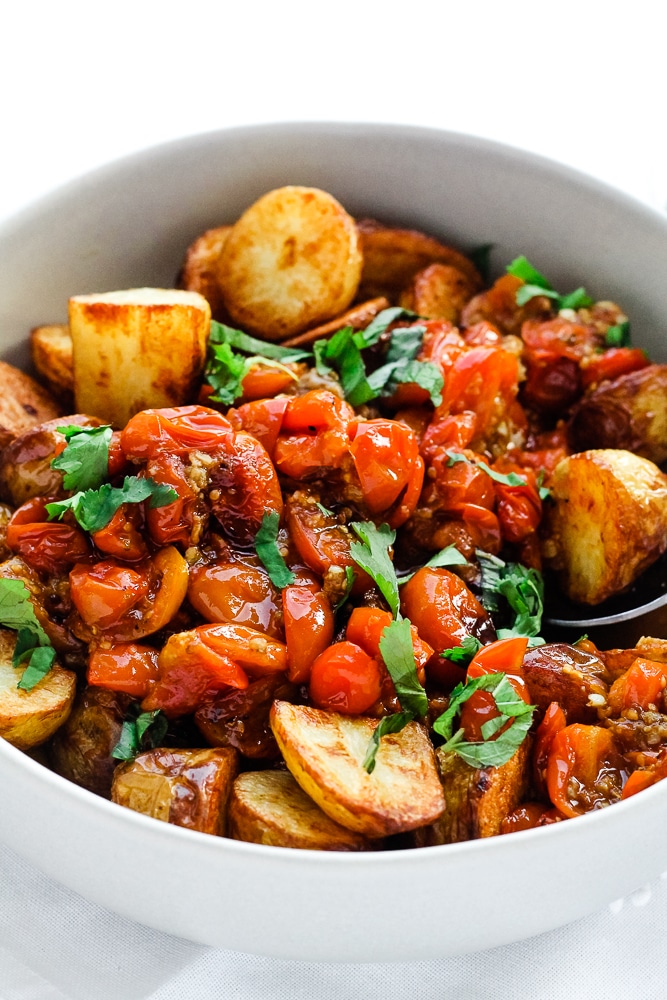 My favorite way to serve it is by adding some fried halloumi (of course) though vegan sausages or roasted chickpeas are also excellent ways to keep things fully plant based. Broccolini, kale or frozen peas will add a touch of green.
This can also be part of a larger roast dinner style meal, or at a gathering served with other dishes tapas style.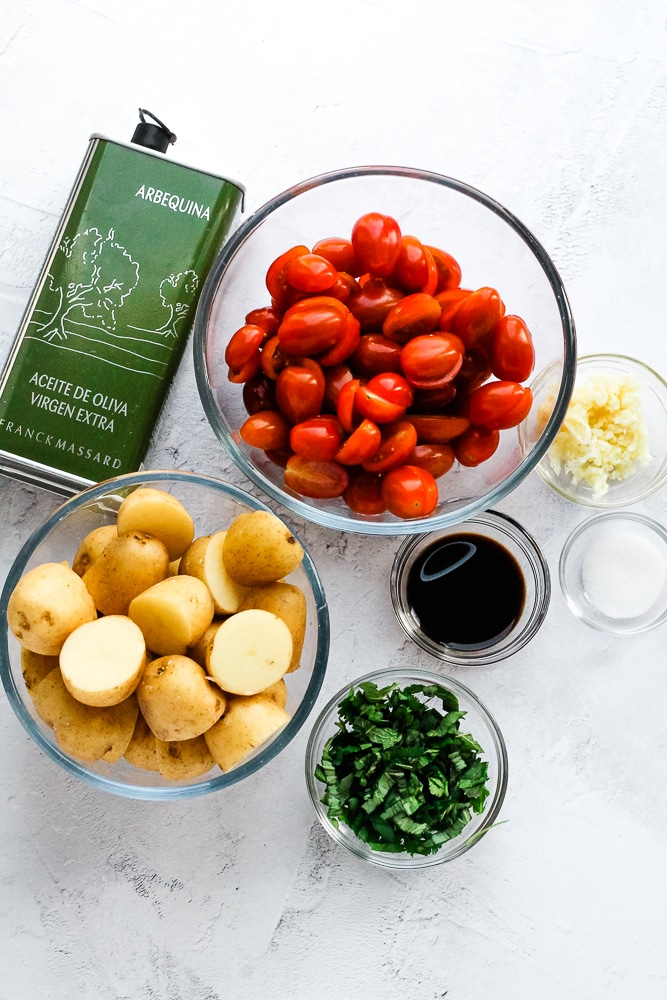 Ingredient Notes and Recipe Tips:
This recipe is super simple, budget friendly and flexible. Let's discuss:
Potatoes can either be baby potatoes, as pictured, or larger potatoes cut up into smaller chunks.
Cherry, grape (baby plum) or any small tomatoes will work just fine here. And because they're roasted with lots of balsamic and sugar, it's OK if your starting point is cheaper or winter tomatoes.
There is lots of flexibility with the green herbs. You can stick to basil, which is a nice easy pairing for tomatoes, but I also love this with mint, parsley and cilantro (fresh coriander). The herbs you choose can help you tie this into the wider meal; for example, if I'm serving it with Mediterranean ingredients I like to include mint. If you don't have or want to use these more summery herbs, you could sprinkle some fried sage on top for a more wintery feel.
There is some flexibility in the quantities here. My recipe is pretty generous with the tomatoes, so I wouldn't hesitate to add some extra potatoes to the tray, without needing to increase the tomatoes, if you need a bigger batch.
The potatoes roast at the top of the oven while the tomatoes roast in the middle shelf, underneath. The cook times tend to work out the same – though there are some variables. The potatoes need to be fairly small, with lots of space between them on the tray, to make them cook as quick as possible. The tomatoes need to be a little more crowded in their pan, to stop them cooking too fast and losing too much of their juice (I use a 9×11 inch pan which is perfect). Sometimes it doesn't fully align so the tomatoes cook a little quicker and need to be taken out early – they can sit, covered, until it's time.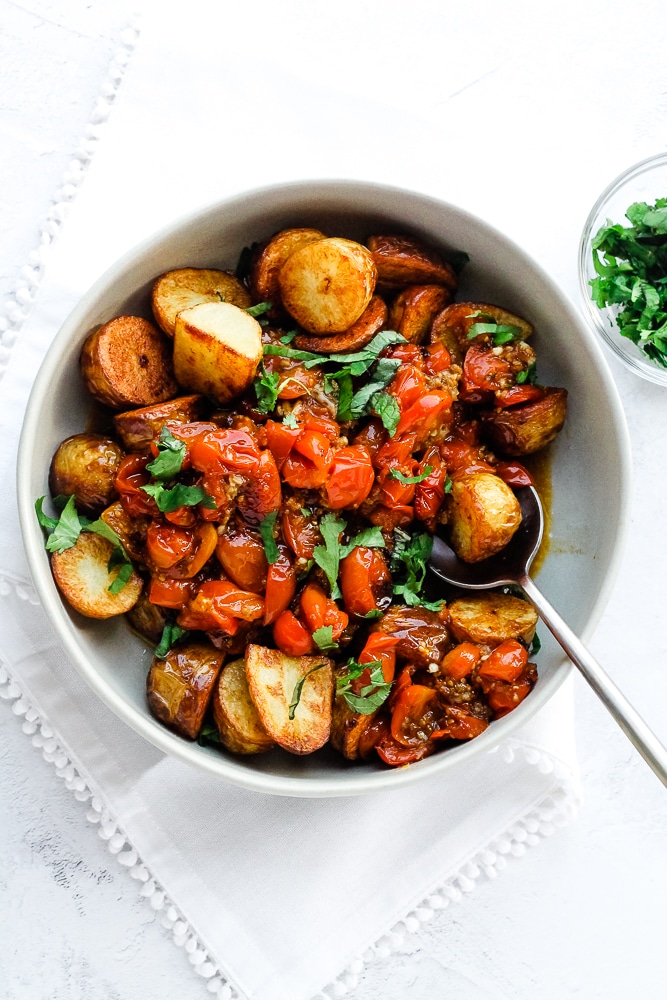 Make ahead tips
While this needs to be served fresh to be at its best, there are a couple of ways you can prep ahead:
The potatoes can be parboiled and then stored in the fridge until it's time to roast them.
The cherry tomatoes can be pre-cooked and then reheated. Part of the benefit of this recipe is that the tomatoes and potatoes roast together in the oven, so it doesn't save time, but it would save oven space if that was a concern.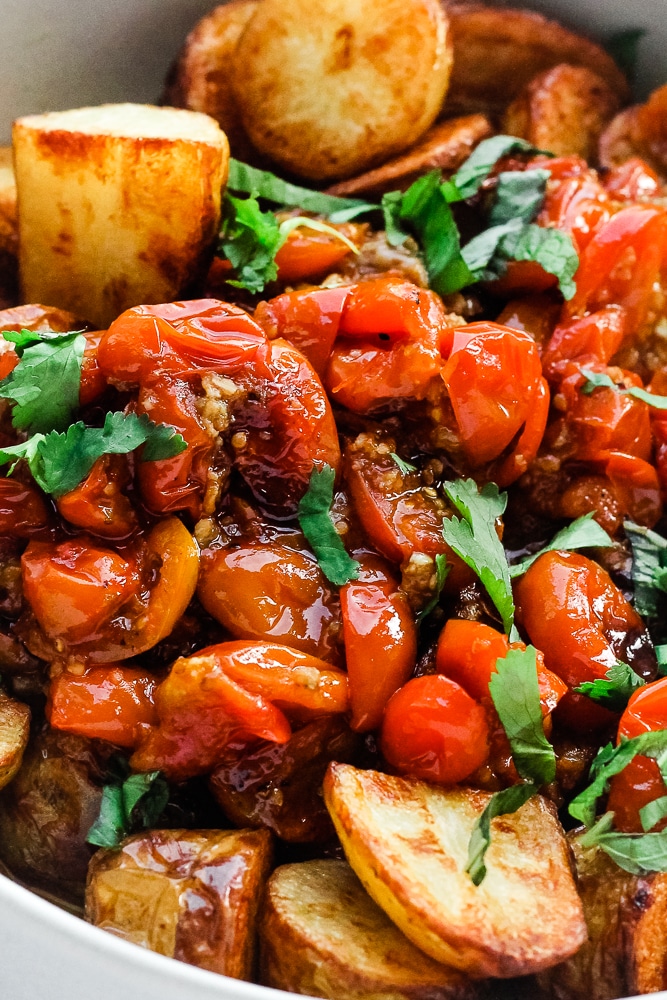 How to use up your potatoes
If you bought a big haul of potatoes and didn't quite use them up with this recipe, these recipes might help you work your way through them!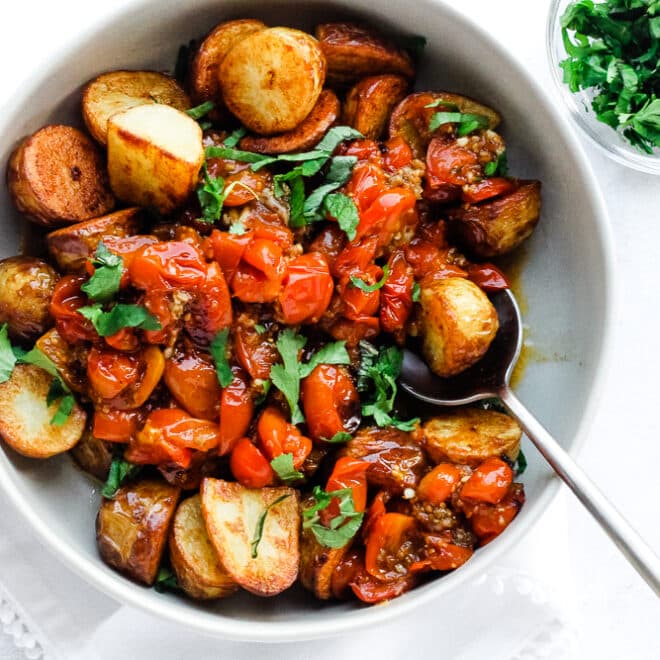 Roasted Potatoes with Tomatoes
This delicious plant based side dish combines crispy roasted potatoes with melt in the mouth sweet cherry tomatoes! It all cooks in the oven at the same time, and gives you an easy base for a simple, low cost and tasty meal.
Ingredients
600 g (1.3 lb) baby potatoes, halved
400 g (14 oz) baby tomatoes, sliced in half
3 Tbsp olive oil, + more for roasting the potatoes in
1 Tbsp balsamic vinegar
2 tsp sugar
4 cloves garlic
1 handful chopped green herbs such as mint, cilantro, basil or parsley
Instructions
Preheat the oven to 200C / 390F.

Parboil the potatoes in boiling water for 5 minutes. Drain, toss in olive oil (just enough for all of the potatoes to be coated) and scatter on a large baking sheet with lots of space between them. Place in the top shelf of the oven.

In a large bowl, mix the cherry tomatoes with 3 Tbsp olive oil + the balsamic vinegar, sugar and garlic until well combined. Pour into a deep roasting dish and add to the middle shelf of the oven

Allow to cook for about 35 minutes, until the potatoes are well browned and the tomatoes have caramelized and created a thick juicy sauce around them. If the tomatoes are finished first, remove from the oven and leave to sit covered until the potatoes catch up!

Assemble. Place your potatoes on a serving dish or bowl, and spoon the tomatoes on top and around them.

Serve immediately.
Calories: 304kcal, Carbohydrates: 34g, Protein: 4g, Fat: 18g, Saturated Fat: 2g, Polyunsaturated Fat: 2g, Monounsaturated Fat: 13g, Sodium: 16mg, Potassium: 887mg, Fiber: 5g, Sugar: 6g, Vitamin A: 863IU, Vitamin C: 44mg, Calcium: 36mg, Iron: 2mg