Fried halloumi cubes combine with avocado, tomatoes and a drizzle of honey to make the ultimate toast topper for sourdough or other fresh bread. This brunch cafe favorite is easy to make at home for a weekend treat or a simple dinner.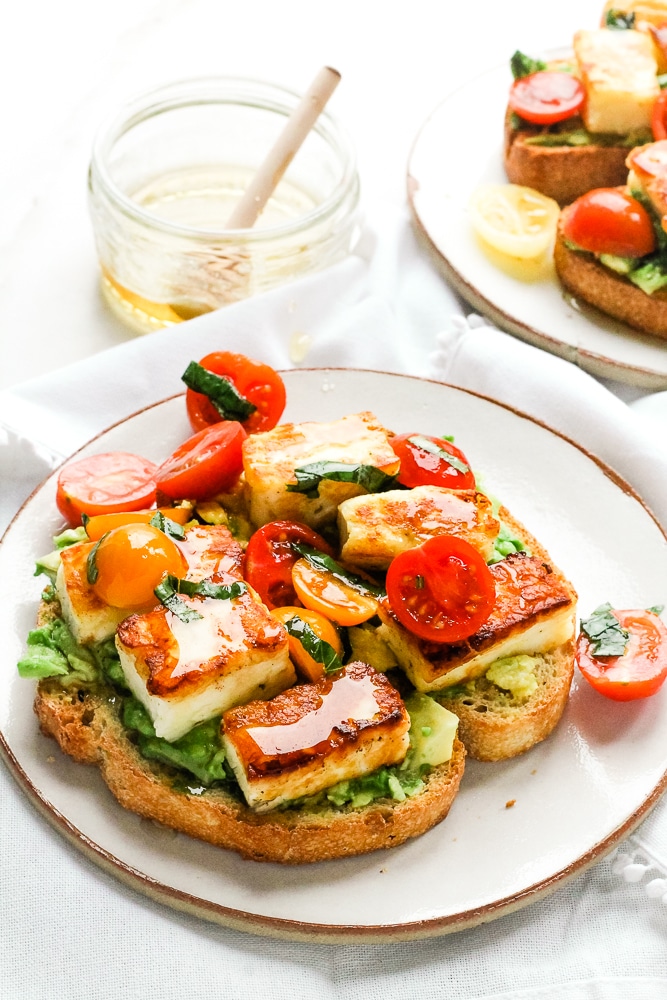 I work halloumi cheese into all sorts of dishes but it certainly doesn't need to be so complicated. This recipe is a simple way to enjoy your halloumi. Fried. On toast. With honey. We add a creamy base in the form of avocado, and a refreshing tomato-basil topping. Perfection.
Making this for a weekend brunch or lunch is a great way to treat yourself at home, especially if you're trying to cut back on your cafe visits. I'd also recommend it as a simple weeknight dinner – you'll be eating in 15-20 minutes and it's filling with a great balance of nutrients.
Ingredient & Shopping Notes
Halloumi – the star of the show! In the UK, feel free to use the budget halloumi, it works fine here. In the US, feel free to try a locally made halloumi-style cheese if you don't want to splash out on the imported stuff. Sometimes these versions are unpredictable and might melt – but it can be worth trying to find one that works for you (see the FAQs in my halloumi guide for more on this)
Baby tomatoes and basil – these give an important juicy contrast and stop it from feeling too heavy or dry – I wouldn't skip them. I used baby heirlooms for the photos, but you can use cherry, plum, or grape. Mine were winter tomatoes, so not at the top of their game, but after marinating in olive oil with some salt and a clove of garlic, they still did their job well. Fresh summer tomatoes would be EPIC.
Avocado – This is the base of the toast and gives a lovely backdrop. I don't think I need to sell anyone on the benefits of putting avocado on toast! But I wouldn't hesitate to make this without avocado if I needed to. I might use a little more tomato in that case.
Bread – In my mind, sourdough is unbeatable but I can imagine ciabatta being a close second. Any fresh loaf that you enjoy toasted will work here.
Honey – This is the "something special" that makes this recipe soooo good. You either want to use runny honey, or microwave a little set honey to make it drizzly (which is what I did).
A note on serving sizes
It's a little tricky to estimate how many slices of halloumi toast you'll get from this recipe because it totally depends on the size of your bread and how densely you want to pile the toast with toppings. My sourdough slices were pretty small so we get 5-6 slices. If you have larger bread, you will want to go for 3-4 slices.
This recipe uses an the entire 225g / 8oz block of halloumi. If you're scaling down the number of servings, only cook what you will use today. Don't fry it all up now with the intention of saving some, because halloumi doesn't keep very well after being cooked.
All of the quantities here are really flexible so don't worry too much if you end up with less or more of something.
The nutritional information is based on 4 smaller lunch / brunch sized servings, each having 1 average sized slice of sourdough and 1/4th of the other ingredients each. This comes to around 500 calories per serving. You could condense this to make 3 dinner sized servings.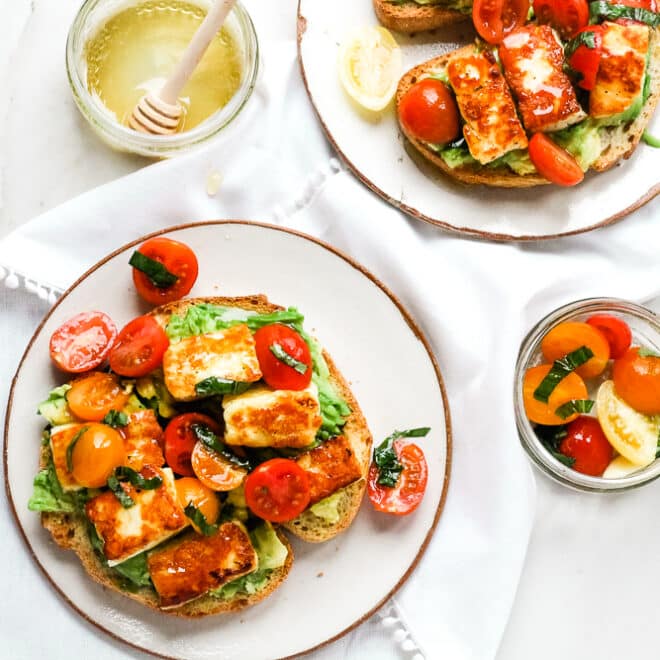 Halloumi Toast with Avocado & Honey
Fried halloumi cubes combine with avocado, tomatoes and a drizzle of honey to make the ultimate toast topper for sourdough or other fresh bread. This brunch cafe favorite is easy to make at home for a weekend treat or a simple dinner.
Ingredients
3-6 slices fresh bread, depending on the size of your bread and how high you want to pile it
1 large avocado, chopped
225 g (8 oz) halloumi, cubed – cut into 12 or 16 pieces
100 g (⅔ cup) baby tomatoes, halved
5 leaves basil, chopped
2 tbsp honey, if your honey is set, microwave it for 15 seconds to make it thin enough to drizzle
2 tsp olive oil, + more for cooking
salt and pepper, to taste
Instructions
Prepare your tomatoes. In a small bowl, add the halved tomatoes, chopped basil, olive oil and salt and pepper to taste. Slice your garlic clove in half and add to the bowl, mixing through. (This is just to add flavor – you won't actually serve the garlic slices) Set aside while you prepare everything else. If it's possible for you to make this an hour or two before you are going to eat, then definitely do that, because the flavors will have more time to come to life.

Pan fry your halloumi. Heat a small layer of oil in the pan, at a medium-high heat, then add the halloumi and cook for a few minutes on each side until golden brown. This is usually about 2 minutes on each side. Remove from the heat and set aside.

Toast your bread and then it's go time! Add avocado to the bread, using a fork to smash it in. Add cubes of halloumi on top, followed by spoonfuls of tomato + a drizzle of honey. Focus the honey on the halloumi cubes but don't worry if it strays to the other ingredients. Serve immediately.
Calories: 504kcal, Carbohydrates: 48g, Protein: 21g, Fat: 27g, Saturated Fat: 12g, Polyunsaturated Fat: 2g, Monounsaturated Fat: 11g, Sodium: 1066mg, Potassium: 385mg, Fiber: 5g, Sugar: 13g, Vitamin A: 315IU, Vitamin C: 9mg, Calcium: 606mg, Iron: 3mg