The cosy flavors of sage bring an expectedly delicious twist to this simple pasta dish, topped with sweet roasted tomatoes and feta crumbles. Minimal ingredients make this an easy meal to throw together on a weeknight.
This is an early autumn delight, when you still have fresh tomatoes but start to crave the savory autumnal flavors of sage… turns out, they make a surprisingly tasty pair!
I love love love all the summer herbs, and when there is an abundance of basil and mint I use them in pretty much everything. But now autumn has arrived, it's time to back off and rediscover the glorious green sage.
Squash would be the typical best veggie friend to sage, but I am breaking some rules here and loving the results, because I think sage needs to spread its gifts a little more widely.
This is an easy one!
Overall, the process here is super simple! Very little chopping, very little fuss, it just takes a little while for the tomatoes to roast but it's time not energy that this recipes demands from you.
I am going to walk you through how to build this pasta in photos before taking you to the full printable recipe card…
The Base : Sage Butter Pasta
The sage butter pasta (I like to use bucatini or linguine) is the base of the dish.
We cook some sage and garlic in a brown butter sauce until it's smelling roasty toasty and the sage is a little crisp, and that's our easy sauce.
I like to put the sage pasta in my bowl as the base, and have the tomatoes and feta as a topping, but some people might wish to mix it all together in the pan. Up to you!
The Toppings: Roasted Tomatoes & Feta Cheese
I was cooking this when the tomatoes weren't quite as good as they were back in the summer, but slow roasting tomatoes in olive oil, with a little balsamic vinegar, can really bring bland tomatoes to life.
Which is why this is such a perfectly autumnal dish.
By the way, when I say slow roasting, I am not talking about a four hour stint in a barely on oven, I am talking 50 minutes at 160C / 320F. It's probably not "officially" slow roasting, but I they come with the super sweet jammy situation that I'd expect from slow roasting so let's just go with that.
The feta cheese crumbles just add a nice texture and contrasting salty kick to this bowl, and I'd say that you don't need to use the best or most expensive feta for this one, or even a "real" feta. It can be a more mellow, cheaper "salad cheese" – you wouldn't use those for a Greek salad, but for this dish we don't need the strongest feta.
See? That was pretty straightforward. And this one is easy to personalise with different cheeses (something smoky? something blue?), additional vegetables (spinach would be great!) or extra protein (veggie sausages?) … so go forth and build on it if you wish.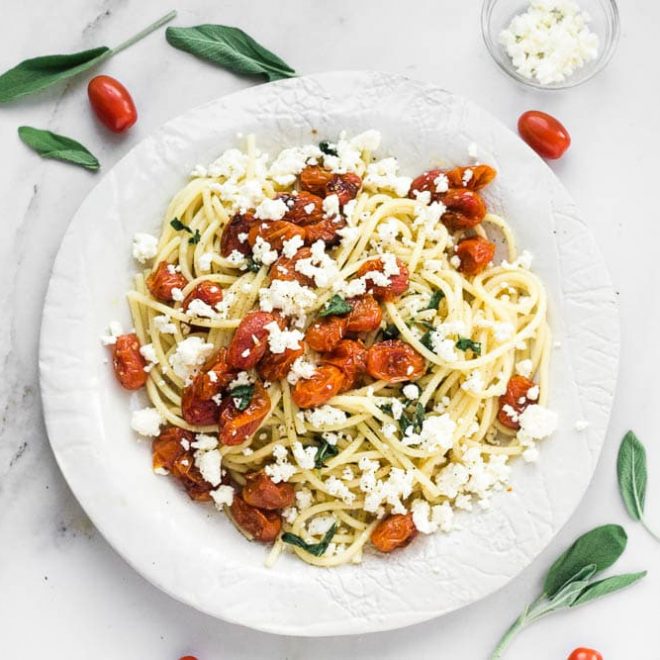 Sage Pasta with Roasted Tomatoes & Feta
The cosy flavors of sage bring an expectedly delicious twist to this simple pasta dish, topped with sweet roasted tomatoes and feta crumbles. Minimal ingredients make this an easy meal to throw together on a weeknight.
Ingredients
300 g (10.5 oz) pasta, see notes
450 g (16 oz) cherry tomatoes, a little more or less is fine
1 teaspoon balsamic vinegar
100 g (3.5 oz) feta cheese, crumbled
2 cloves garlic, crushed
50 g (¼ cups) salted butter, a little more is fine too
20 g fresh sage*, leaves removed and roughly chopped
Instructions
Roast the tomatoes. Heat the oven to 160C / 320F. Scatter your cherry tomatoes on a large baking tray, cover with olive oil and balsamic vinegar. Use a spatula to move the tomatoes around on the plate and ensure they are all coated in the oil. Sprinkle with salt and pepper to taste. Roast for 50 minutes, until the tomatoes are reduced, jammy and a little browned. Set the oven timer – it will help you figure out when to start preparing the rest of the ingredients.

When there's only 15 minutes left on the oven timer, set your pasta boiling according to package instructions.

While the pasta is cooking, prepare your sage butter sauce. In a small saucepan, melt the butter until it's slightly bubbling. Add the garlic and let it cook for about a minute. Keep it bubbling, but ensure the heat isn't any higher than it needs to be to keep bubbling. Add the sage and cook for a further 4-5 minutes until the sage is crisp and everything is smelling toasty. Again, making sure the heat is high enough to bubble and cook but no higher.

Mix the sage butter sauce into the pasta. Toss to ensure it's evenly coated.

Dish out the pasta into bowls, then top with the tomatoes and feta cheese. Serve immediately.
Notes
Pasta Shapes – I love long, thick pasta shapes such as bucatini, linguine or tagliatelle for this dish. Amount of sage – 20g of sage will give you about 70 individual sage leaves, and the roughly chopped leaves will be about 1/3rd of an imperial cup's worth. 
Calories: 614kcal, Carbohydrates: 83g, Protein: 20g, Fat: 22g, Saturated Fat: 14g, Polyunsaturated Fat: 1g, Monounsaturated Fat: 5g, Trans Fat: 1g, Cholesterol: 66mg, Sodium: 514mg, Potassium: 596mg, Fiber: 4g, Sugar: 8g, Vitamin A: 1291IU, Vitamin C: 35mg, Calcium: 228mg, Iron: 3mg