Deliciously spiced lentils take the place of sausage in this vegetarian version of Zuppa Toscana! A creamy, filling and extra tasty soup – no one will miss the meat!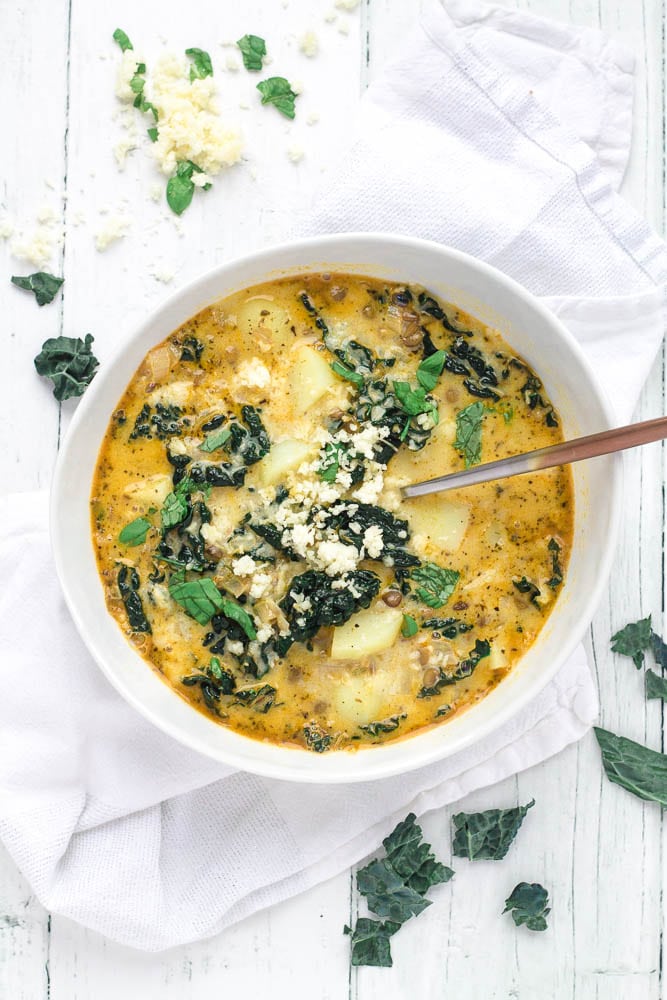 First up, what actually is Zuppa Toscana?
So, Zuppa Toscana is a potato, sausage and kale soup from the Olive Garden chain restaurants in the USA.
Full disclosure, I have never had this soup (vegetarian since the early 90's here) but the copycat recipes are all over the place. And they sure look good. So what I have done here is try to vegetarianize the concept.
It's not gonna be super legit, but it will hit the spot if you are craving a meatless soup along those lines. And if you have no knowledge of / interest in the OG version, then just know that this is a creamy lentil, kale and potato soup with smoky, Italian-ish vibes. Sound good?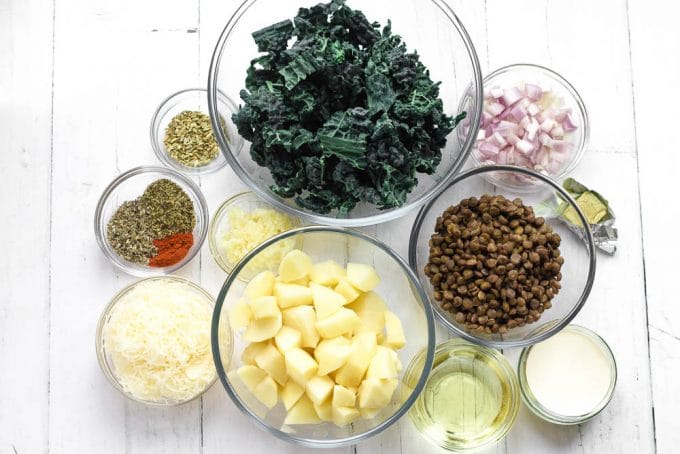 How to replicate sausage for a meatless Zuppa Toscana
So lots of recipes that vegify this soup will simply leave out the meat, and others will rely on the increasingly authentic range of replica meat products available. But I just can't quit with the lentils, so that is our protein of choice today.
One of my favorite things to do this year has been to turn green lentils into a substitute for spicy sausage crumbles. By sauteeing the cooked lentils in a bunch of sausage-y seasonings (think smoked paprika, fennel seeds, sage) you end up with a crumbly protein that hits the spot in a similar way.
No, it's not going to fool anyone, but it works well to fill the protein and flavor gaps when we take the meat away.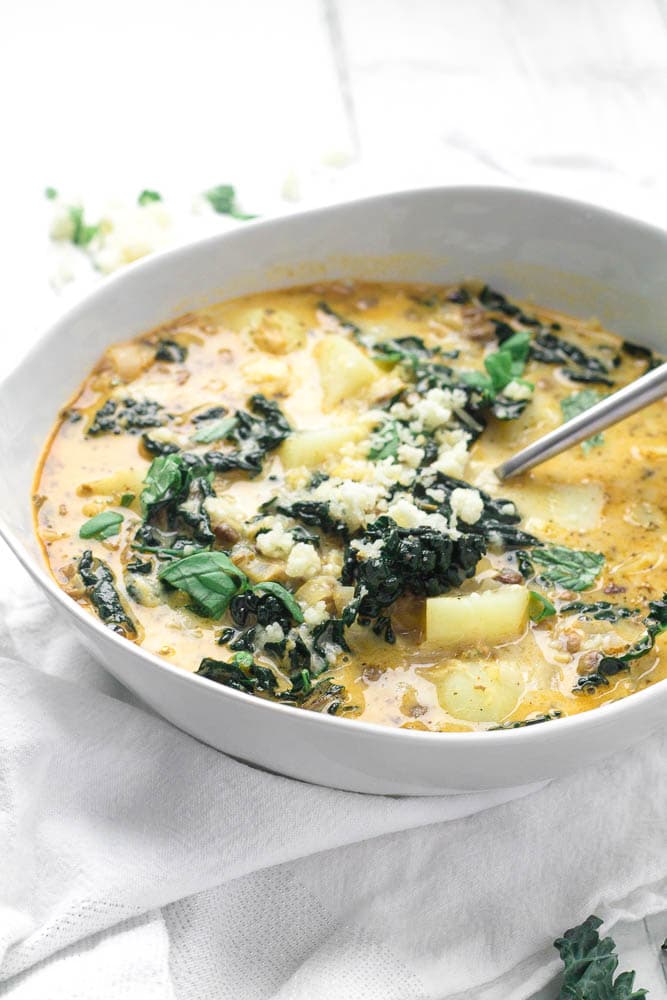 Spices are essential here!
This only works if we don't skimp on the spices. We have potatoes and lentils in this soup, neither of which bring any significant flavor of their own, like meat would have. We therefore need a LOT of herbs and spices to carry this soup.
Our spice and herb line up is
smoked paprika – a must to recreate the smokiness of bacon and some sausage
fennel seeds – essential for recreating that Italian sausage vibe
dried sage – more savory sausage flavor coming at ya
chili or red pepper flakes – if you want a hit of spice
a mixed Italian herb blend – these will typically include basil, oregano, marjoram, sometimes some extras such as garlic powder or red pepper flakes. It's not too important what's in it. This is just a general flavor booster.
We have other tactics up our sleeves too with this one. Loads of garlic, some parmesan (or parmesan style cheese) and white wine in the broth, and all of it contributes.
And yeah, it ends up very tasty!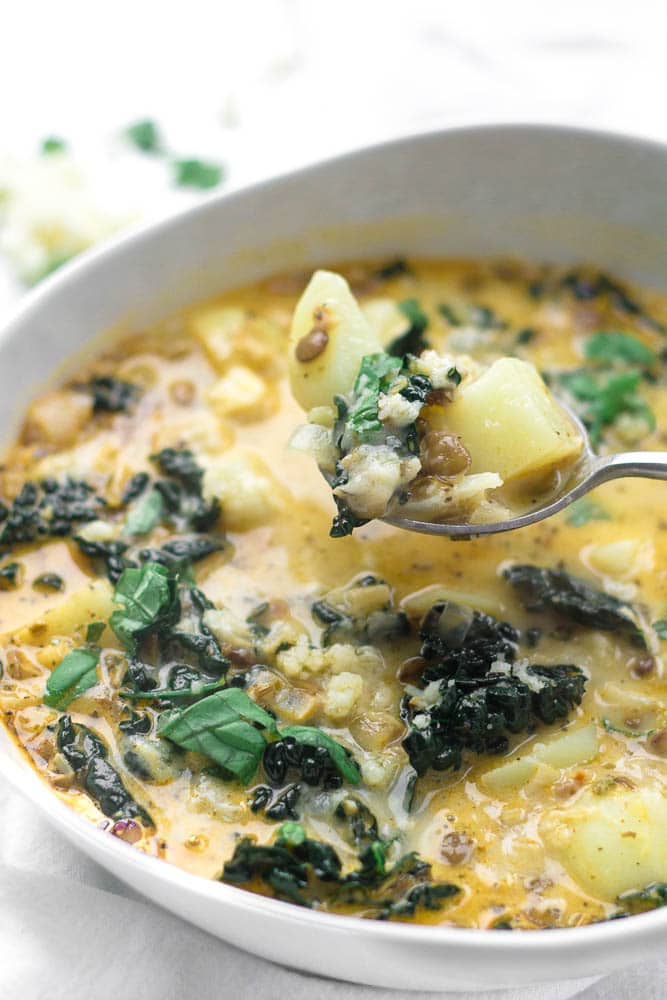 Serving Suggestions
This soup is perfect for cooler weather, and is extra special served with fresh bread (foccacia anyone?) or even a frozen garlic loaf would be perfection (I have a recipe for garlic bread in the air fryer, if that's something that interests you!)
Let's talk toppings. I like to throw some additional cheese on there, and if it's available, fresh basil is a delicious addition to this soup – but it really is optional because soup season isn't really the same as "my garden is overrun with basil" season. I also think some fresh, chopped cherry tomatoes could be excellent here.
Above all, remember this is a flexible recipe! You can add things like carrot or celery to the base, any other veggies you want to bring to the party are welcome. You can use more or less lentils or potatoes if you need to (particularly if you are using canned lentils, you will have more than you need in one can so If you don't want to save a tiny amount, feel free to put that whole can in!) It is allllll good.
You may also like…
If this soup looks right up your street but you don't have or want to use potatoes, I also have a fantastic Vegetarian Tortellini, Kale & Lentil Soup which has a lot in common with this one – similar spices, similar vibe – but features tortellini and tomatoes.
And if you are drawn to this soup because you are a lentil lover (high five!) I should also point you in the direction of my Green Lentil Taco Soup and Green Lentil Dal Makhani – these are entirely different genres, but warming lentil goodness all round.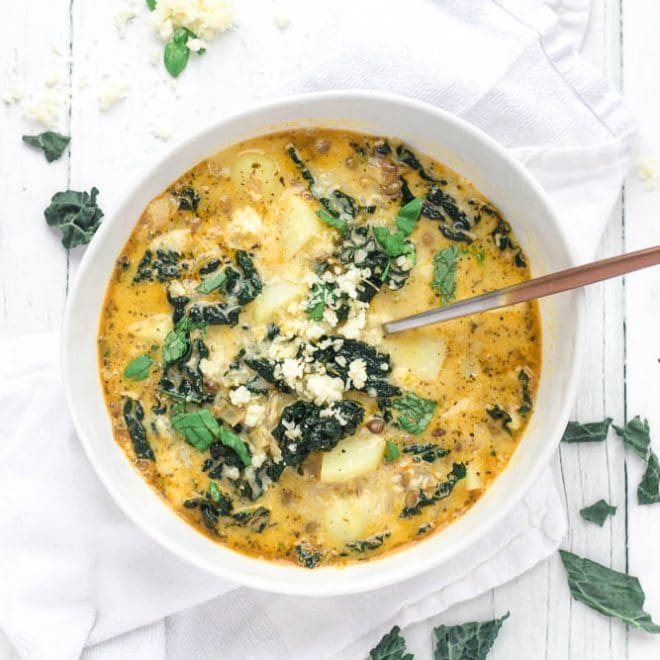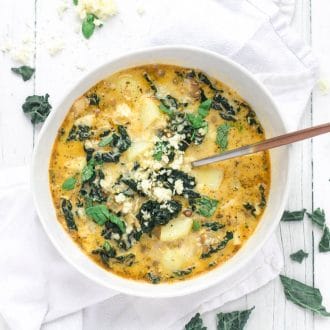 Vegetarian Zuppa Toscana with Lentils
Deliciously spiced lentils take the place of sausage in this vegetarian version of Zuppa Toscana! A creamy, filling and extra tasty soup – no one will miss the meat!
Ingredients
4 small shallots, minced (this will be around 1/2 cup or 8 tablespoons)
5 large cloves garlic, minced
1 cup (200 g) cooked lentils*, green or brown
2 tsp fennel seeds
2 tsp smoked paprika
1 Tbsp dried sage
1 Tbsp mixed Italian herbs / seasoning
1 pinch chili or red pepper flakes, optional
½ cup (120 ml) dry white wine
1 lb (450 g) potatoes, peeled and cubed
3.5 oz (100 g) kale or cavolo nero, chopped finely with stems removed
2.5 cups (590 ml) vegetable broth**
¼ cup (60 ml) heavy cream, aka double cream
½ cup (8 tbsp) parmesan or other Italian hard cheese*, more for topping
1 handful fresh basil, optional, if it is available
Instructions
First things first, if you are cooking the lentils from dried, start them off first – they can cook while you prep your other ingredients.

When you're ready to roll, heat a little olive or coconut oil in a large soup pan. Saute your shallots until soft, then add the garlic and continue to saute until they are fragrant.

Add the fennel seeds for a few moments until you can smell them toasting and then quickly add in the lentils and the rest of the spices (smoked paprika, Italian seasoning, sage, optional chili or pepper flakes).

Cook the lentils in the spices for a minute or two, adding a little extra oil if the pan gets too dry, until they are nicely coated and fragrant. Add salt and pepper to taste – I'd recommend being generous with both!

Add the white wine and let it bubble and cook down a bit until your lentil mixture is a little saucy but not overly wet.

Now add the potatoes and vegetable broth. Bring to a simmer and leave for 15 minutes or until the potatoes are cooked – if you prefer to have the potatoes a little softer and breaking apart, you can cook them a little longer.

Once the potatoes are cooked, mix in the kale until wilted.

Add the parmesan cheese and then, finally, the cream. Turn off the heat, but stir until the soup is creamy and the cheese is melted in.

Serve immediately with additional cheese and optional fresh basil for topping.
Notes
*If you're cooking the lentils from dried, your starting point would be just shy of 1/2 a cup of dried lentils. I'd always recommend making a bigger batch and saving some though! If you're using canned lentils, you'll want about 2/3rds of the can but I wouldn't hesitate to just use the whole can here, it's a flexible enough recipe to accommodate some extra lentil goodness! **If you're using a bouillon / stock cube for this, don't hesitate to mix it with a little extra strength for this soup. 
Calories: 324kcal, Carbohydrates: 43g, Protein: 14g, Fat: 10g, Saturated Fat: 6g, Polyunsaturated Fat: 1g, Monounsaturated Fat: 3g, Cholesterol: 29mg, Sodium: 818mg, Potassium: 986mg, Fiber: 8g, Sugar: 6g, Vitamin A: 3658IU, Vitamin C: 57mg, Calcium: 261mg, Iron: 4mg