This homemade sag aloo is super easy to make in the slow cooker, and this recipe uses a special method to add extra depth of flavor with no additional effort. Sag aloo is a healthy and economical vegan dish, and an essential part of any Indian meal!
I don't know about you, but sag aloo is a fairly essential component of my perfect Indian meal. What I love about this hands-off slow cooker method is that your sag aloo can cook effortlessly in the hours leading up to dinner time, so if you're making it as a side dish you have all your attention to give to the main course. Or, if you're having the sag aloo as the main dish, it's just a very easy dinner.
For all their brilliance, slow cookers do have their limitations. Slow cooker curries can lack depth and authenticity, unless the onions, garlic and spices are fried before being transferred to the slow cooker. This process is essential to getting the right flavor. I wasn't prepared to compromise on that and throw everything in raw, although some recipes do suggest doing so, I knew it wouldn't have the taste I'm after. Equally, I rather begrudge pre-cooking when I'm making a slow cooker recipe! Luckily, I've found the best of both worlds.
To start this sag aloo off, you'll put the onions, garlic, spices and raw potato in the slow cooker for 60 to 90 minutes in a little bit of oil, without any other liquids. On a high heat, it will crisp and fry within the slow cooker and those flavors will develop just as they should. You'll stir it a couple times to prevent sticking. Then you add the liquid ingredients, and the potatoes will cook through.
Still a lazy option, but without any compromise! The flavor in this dish is incredible, if I do say so myself.
If you have an instant pot, feel free to use it here? You can achieve the same result by using the sauté mode and then the slow cooker mode.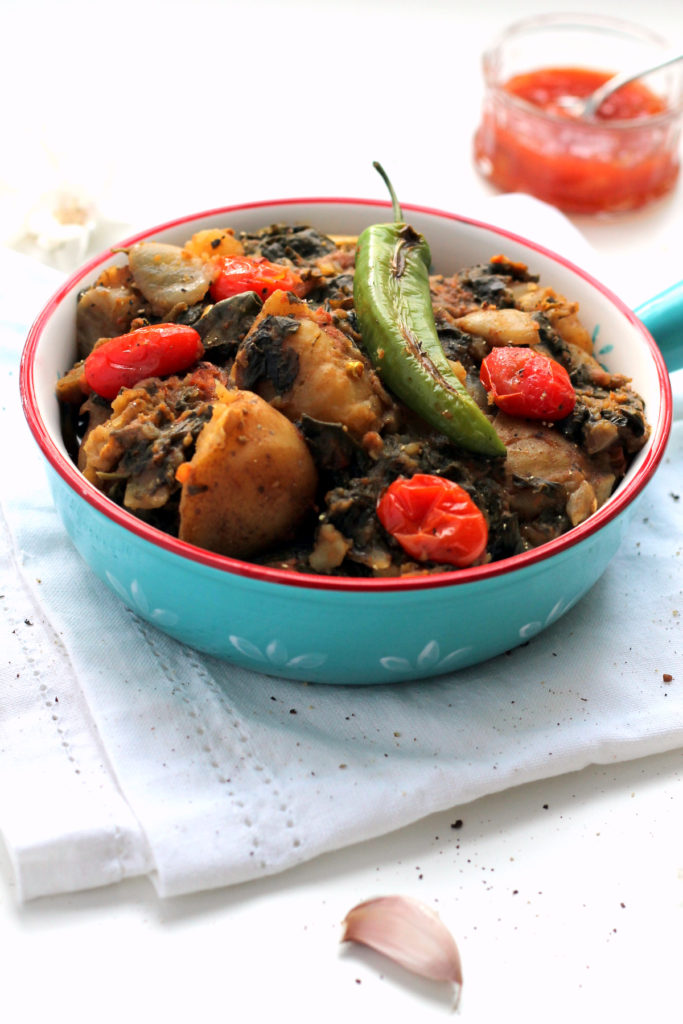 I personally love to serve this alongside a tomato based dish such as this easy paneer curry, but it would also work as a main dish with some naan bread and rice!