Smoky Root Vegetable Soup with Goat's Cheese
A vegetarian root vegetable soup with a difference! This amazingly tasty dish is easy to make, economical and filling. Root vegetables are roasted with smoky spice, then blended into soup with creamy and tangy goat's cheese.The result is intensely flavorful, delicious and warming!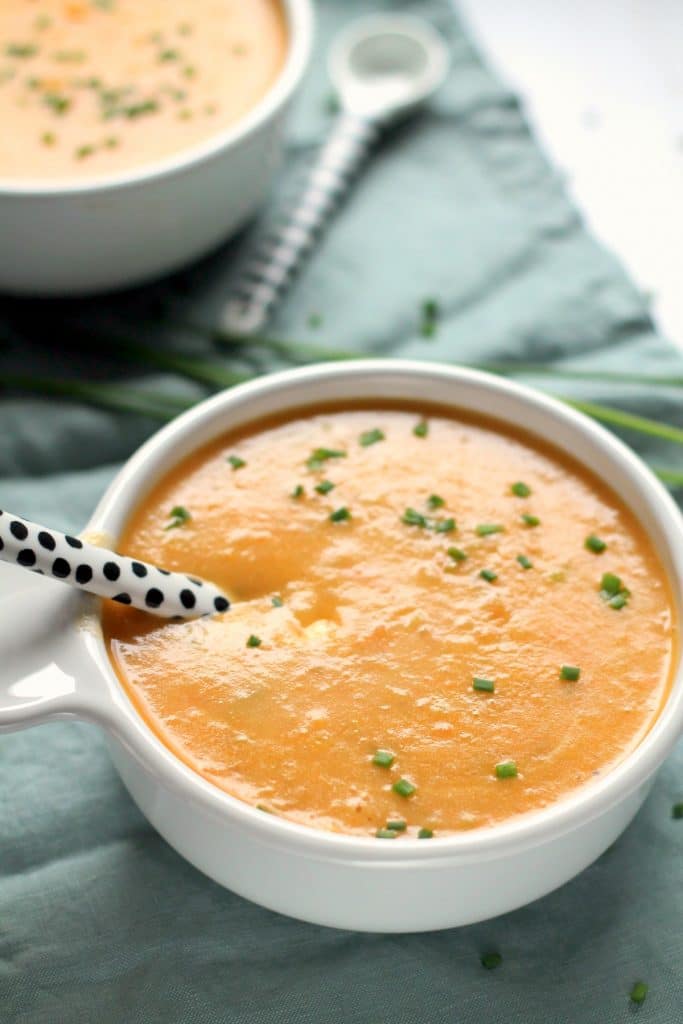 It has been soup weather for sure in London these last couple of weeks! Snow, snow and more snow. Just the perfect opportunity to roast some root vegetables and make them into a hearty soup.
I like my soups to have a lot of depth of flavor, and this recipe delivers. The root vegetables and garlic in this soup are roasted with smoked paprika, giving them a beautifully rich, smoky flavor. They are blended into a soup with creamy, tangy goat's cheese which complements that deep smoky flavor perfectly.
But this recipe wasn't made just for the love of using smoked paprika in all the things.
It's my entry to the Centrepoint Big Broth competition, which gives anyone in the UK the chance to have their own soup recipe produced by Yorkshire Provender and sold in Waitrose supermarkets. Proceeds from the sale of the winner's soup will be donated to Centrepoint UK to fund their work with homeless young people.
As we are just coming out a spell of below freezing temperatures, it feels more important than ever to support those who are working to change the lives of this vulnerable population. If you love food, and have a soup recipe up your sleeve, why not enter? And if you aren't a cook, do consider helping us spread the word and raise awareness of the competition and Centrepoint UK with your friends and family.




I received a seasonal, organic vegetable box from The Organic Pantry to aid me in coming up with a recipe for this competition. Being seasonal, it was chock full of the tastiest root vegetables and I chose potatoes, carrot and jerusalem artichokes to feature in this soup.
But you could absolutely change things up when you're cooking this based on what is available to you. The jerusalem artichokes may be an obscure ingredient for some of you so why not throw in a sweet potato, small squash or celery root instead? It's incredibly flexible.