A one pot, no roux stovetop mac and cheese with sweet potato. This is perfect for kids, babies and toddlers with a creamy texture, a sweet taste and a serving of veggies in the sauce!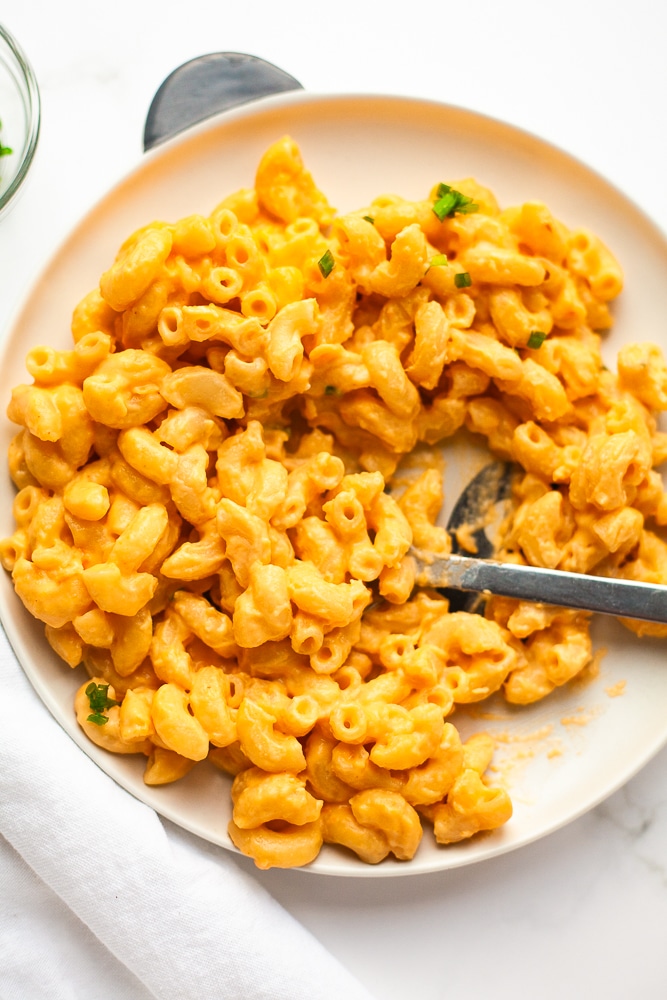 This recipe was originally published in 2018, but has been updated for 2023 with a new method. More information and a link to the original recipe can be found here.
Sweet potato mac and cheese is staple around here, and this recipe is as easy as it gets, while being flexible and adaptable to suit your needs. It is a one pot recipe, made in the same way my easy kids mac and cheese recipe is made. We boil the pasta, add cheese and heavy (double) cream to form the sauce. There's no roux and no cooking the pasta in milk, so it's a lot easier. And with the starch from the sweet potato, the sauce is still really thick and satisfying.
For my kids, this is the perfect way to serve mac and cheese. They get a serving of veggies right there in the sauce, which is ideal for them since they don't tend to enjoy veggies plain. The sweet potato isn't hidden, you can definitely taste it in the sauce, but if it's well pureed it doesn't compromise the creamy texture. My kids (honestly) prefer this to normal mac and cheese thanks to it's subtle sweetness and less rich result, so I make it as often as time allows.
For me, this is best with some roasted garlic (which was included in the original version of the recipe), a handful of pecorino thrown in, and some roasted mushrooms on top. It's a base recipe that you can make endless adaptations to, so have fun with it!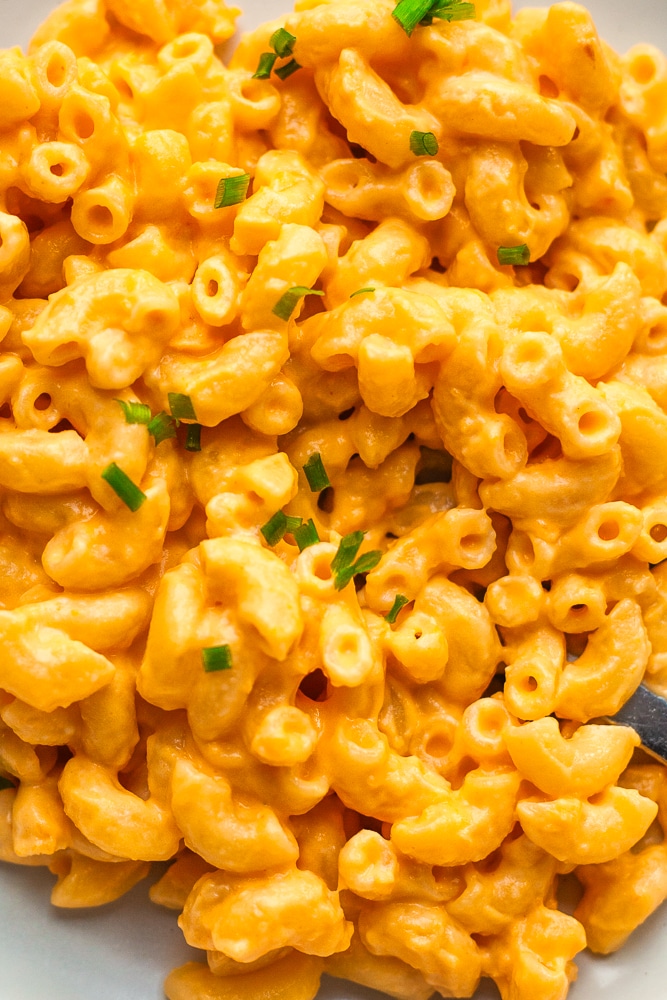 Why this works so well for babies, toddlers and kids
Grown ups can definitely enjoy this one too, and many will appreciate the lightness it offers, but I'm putting it my the kids category a few reasons:
The simple creamy sweetness just works especially well for young ones. Both the taste and texture have always appealed to my kids from being young babies to toddlers to bigger kids, and it's such a win/win considering the sweet potato is adding extra nutrition.
It's great for baby led weaning! Soft, easy to pick up, easy to eat.
It also mashes down really easily, to spoon feed to a younger baby.
It's got such an easy, relaxed process that it's not too onerous for evenings when you need to cook the kids their own meal. It doesn't need too much babysitting, too much precision, and it's OK if you need to stop and start a little.
What You Need…
Macaroni or shells or whatever small pasta shape you wish.
Cheddar cheese: I use a mature white cheddar, grated off the block, rather than pre-shredded. The pre-shredded can give you a different (less creamy) texture but it's up to you whether that's a worthy trade off.
Heavy (double) cream is how we get a thick, rich sauce with no roux.
A medium sweet potato, which we will roast and then mash or puree.
Dijon mustard and smoked paprika are great additions, helping the cheesy flavor along, though optional.
Variations
You don't have to fully puree the sweet potato, if you prefer a more chunky texture you can just mash it. If you mash it, you may end up needing more cream to keep it saucy enough, so consider adding an extra 1/4 cup.
This is mild and sweet, but you can make it punchier by replacing some of the cheddar with a stronger cheese: think parmesan, pecorino or a generic Italian style hard cheese.
You can also add more "adult" cheeses: replacing some of the cheddar with a more mature option such as gruyere or brie will shift change the flavor palette quite a bit towards the grown up side. Just taste as you go to get the flavors right. You may use more cheese overall.
Other adds ins such as roasted garlic or truffle oil will also lend a more sophisticated flavor.
Sage pairs nicely with sweet potato, especially in the autumn and winter months, so consider a little fried sage as a garnish.
Easy Sweet Potato Mac & Cheese
A one pot, no roux stovetop mac and cheese with sweet potato. This is perfect for kids, babies and toddlers with a creamy texture, a sweet taste and a serving of veggies in the sauce!
Ingredients
1 medium sweet potato
2 cups (375 g) dried macaroni
½ cup (950 ml) heavy (double) cream
3.5 oz (150 g) grated cheddar cheese
2 pinches smoked paprika, optional
¼ tsp dijon mustard, optional
Instructions
The first thing to do is to get your sweet potato baking. Slice it in half, then brush with olive oil and place each half face down on a baking tray. Bake at 200C (390F) for about 30 minutes, until it's soft throughout. It may need as long as 40 minutes, depending on its size. Once it's ready, remove from the oven and leave to cool while you start on the mac and cheese.

Boil the macaroni according to package instructions.

While the pasta simmers, mash or puree the cooked sweet potato.

Once the macaroni is cooked, drain and return to the pan. Over a very low heat, mix in the cream, cheese, mustard and smoked paprika until a sauce is formed and the cheese is melted through. The sauce will be quite light at this point.

Mix in the pureed or mashed sweet potato. Assess the texture and add in a little more cream if you feel it needs it (it will depend on how much sweet potato you ended up with, your pasta shape, etc).

Serve.
Notes
Store leftovers in the fridge for 3 days or freezer for 4 months. Reheat in the microwave or on the stovetop, and add in a little extra cream to bring the sauce back to life. 
Serving: 1g, Calories: 298kcal, Carbohydrates: 35g, Protein: 10g, Fat: 13g, Saturated Fat: 8g, Polyunsaturated Fat: 1g, Monounsaturated Fat: 3g, Cholesterol: 39mg, Sodium: 139mg, Potassium: 244mg, Fiber: 2g, Sugar: 3g, Vitamin A: 5965IU, Vitamin C: 1mg, Calcium: 150mg, Iron: 1mg
2018 – 2023 update
A printable version of the original recipe can be found here. Changes include:
Make it more of a versatile base recipe – instead of adding roasted garlic as a necessary part of the recipe, it's now one of a few optional extras.
The method has changed: instead of cooking the pasta in milk, we cook the pasta on its own, then mixing in the sweet potato and heavy cream at the end. This is the method I use nowadays because I find the mac and cheese will keep much better in the fridge without all the starch in the sauce, and is a more hands-off cooking method. Win / win!
Finally, I changed the emphasis of this recipe to a baby, toddler and kid recipe – I noticed that lots of people coming to the recipe from Google had been searching on recipes for toddlers so I wanted to better meet the needs of those visitors.