Fill your freezer with a big batch of this healthy, filling risotto for babies and toddlers! This is a part rice / part quinoa risotto which means extra nutrition, protein and texture. With creamy tomato sauce, peas and fresh mozzarella, this is a healthy meal which the whole family can enjoy. Freeze leftovers in baby or toddler portions and you'll have a nutritious lunch or dinner in minutes.

Tomato and cheese based meals tend to be crowd pleasers and I think this risotto is perfect as one of the family meals for your baby to join in on.
So whether you're doing baby led weaning or just starting to introduce your older baby to textured table foods, this is an excellent starting point.
Making This Risotto for Babies
Risotto is a fantastic meal for babies once they have embraced texture. You can pack in lots of veggies and hide some extra grains in with the rice if you're so inclined (like I've done with quinoa today!).
Both spoon fed and self-feeding (baby led weaning) babies can eat risotto.
The sticky texture makes it easy to grab little bites to feed themselves. This is Odette's strong preference, because she has almost never taken textured food off a spoon, needing to feel and examine textures before putting them in her mouth.
The mozzarella cheese is mixed in at the end, giving the risotto a super fun stringy effect! This does make it harder for smaller babies who might find it too sticky in their mouths.
So your Tot should be comfortable on thick, textured foods – if not, make it without the mozzarella and add a little cheddar instead.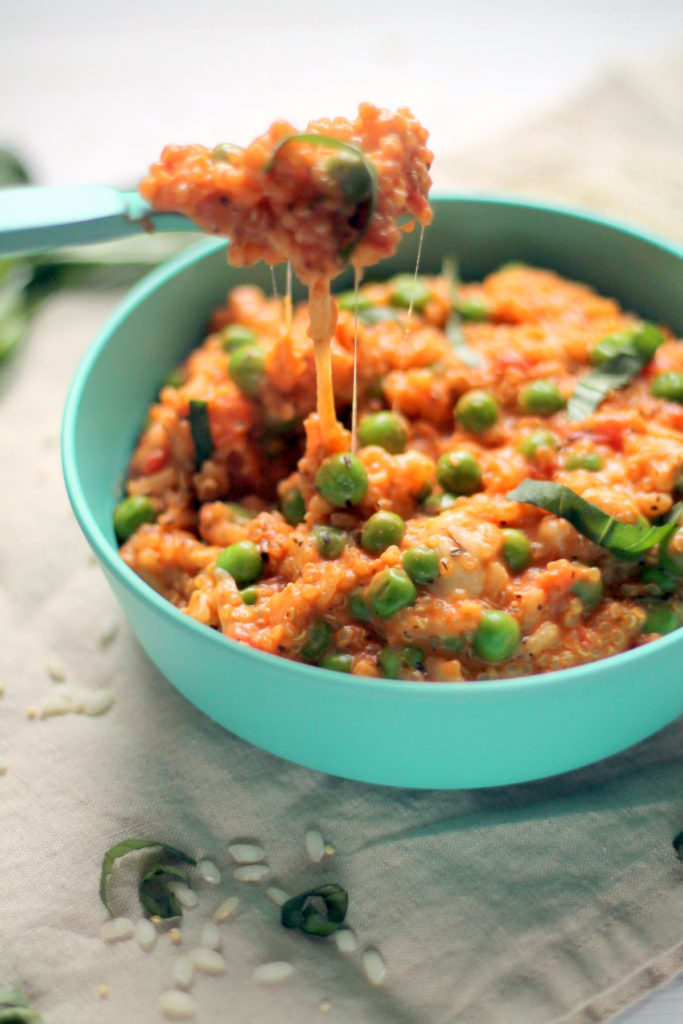 Quinoa for Babies
I've packed some quinoa into this risotto, which adds an extra bit of texture, but more importantly it adds major nutritional points.
Quinoa is one of the only plant based complete proteins. This makes it a great choice for everyone, but quinoa is especially wonderful for vegetarian babies and toddlers.
Making this Risotto For Toddlers and Small Children
If you're well beyond those years and looking for a toddler / child friendly meal, this risotto will serve you well too. Fussy toddlers and younger children often still like tomato sauce and white carbs, after all. As I said – its a crowd pleaser!
But at this age you can afford to add a few more flavor sources, because sodium is less of a concern than with the under 1's.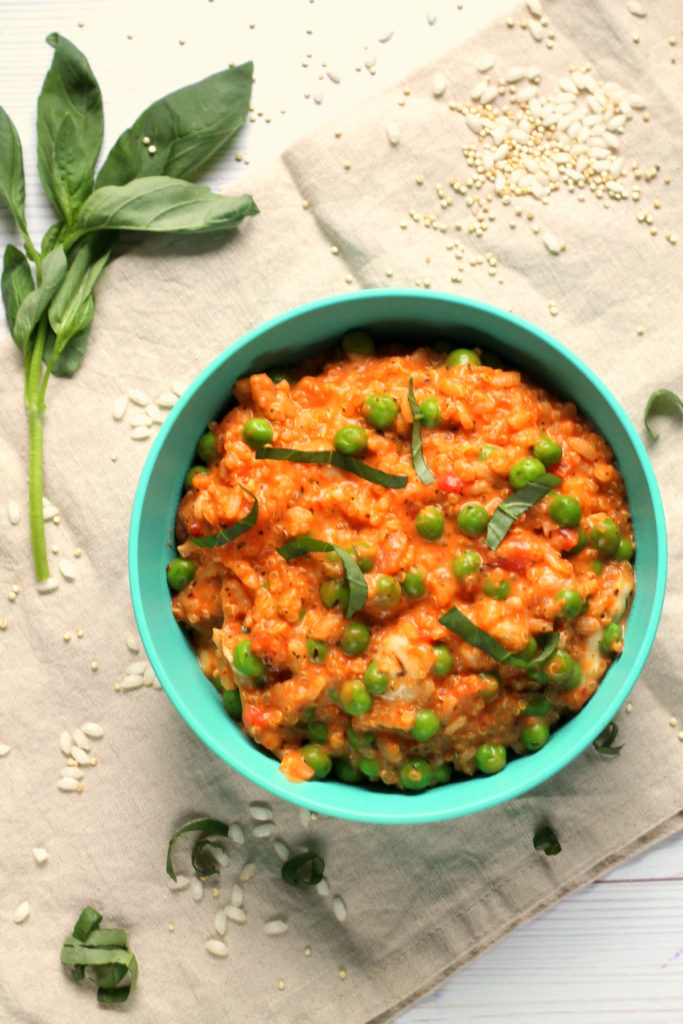 Variations on this Tomato Mozzarella Risotto
And if you have a baby who enjoys stronger flavors…
Use gruyere instead of mozzarella – you still get the fun stringy effect!
Splash in some balsamic vinegar.
Add a little tomato paste to enhance the tomato flavor.
If no one at the table is under 1, sodium is less a concern so the following variations are appropriate and delicious!
Use a vegetable stock instead water, and add a little salt or salted butter during the cooking process.
Add a few tablespoons of sundried tomato paste or red pesto.
Add in a few handfuls of parmesean cheese.
And if you're making this for adults or older kids with awesome tastebuds…
Add some white wine.
Add blue cheese and/or brie.
Skip the peas and add roasted broccolini.