A creamy and mild introduction to palak paneer curry for babies, toddlers and kids! This has an abundance of flavor and fun textures; perfect for babies who love bolder tastes!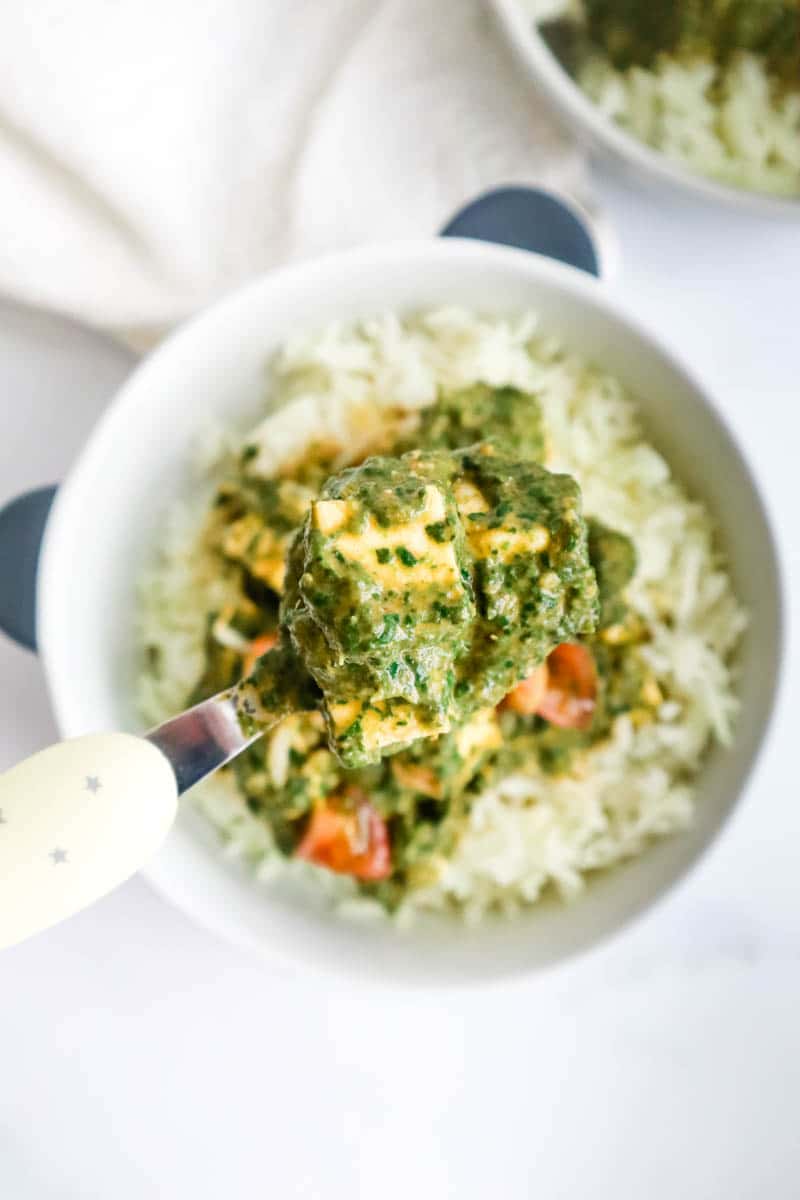 This palak paneer curry (also known as saag paneer) is an amazing food for babies and toddlers. It's an excellent source of iron, calcium, protein, fats, and carbohydrates. There's no added sugar or salt.
Curry for Babies Though?
You may be skeptical about curry for babies. I was too! I prepared it for Odette because I was desperate to get some greens down her, and I figured I'd go for broke. I expected it to end up entirely on the floor.
Well, she couldn't get enough of it. The spinach purees into a silky, sweet sauce with coconut and tomato and she is too young to be put off by color alone! (If yours hates the color green, I can not help you here!)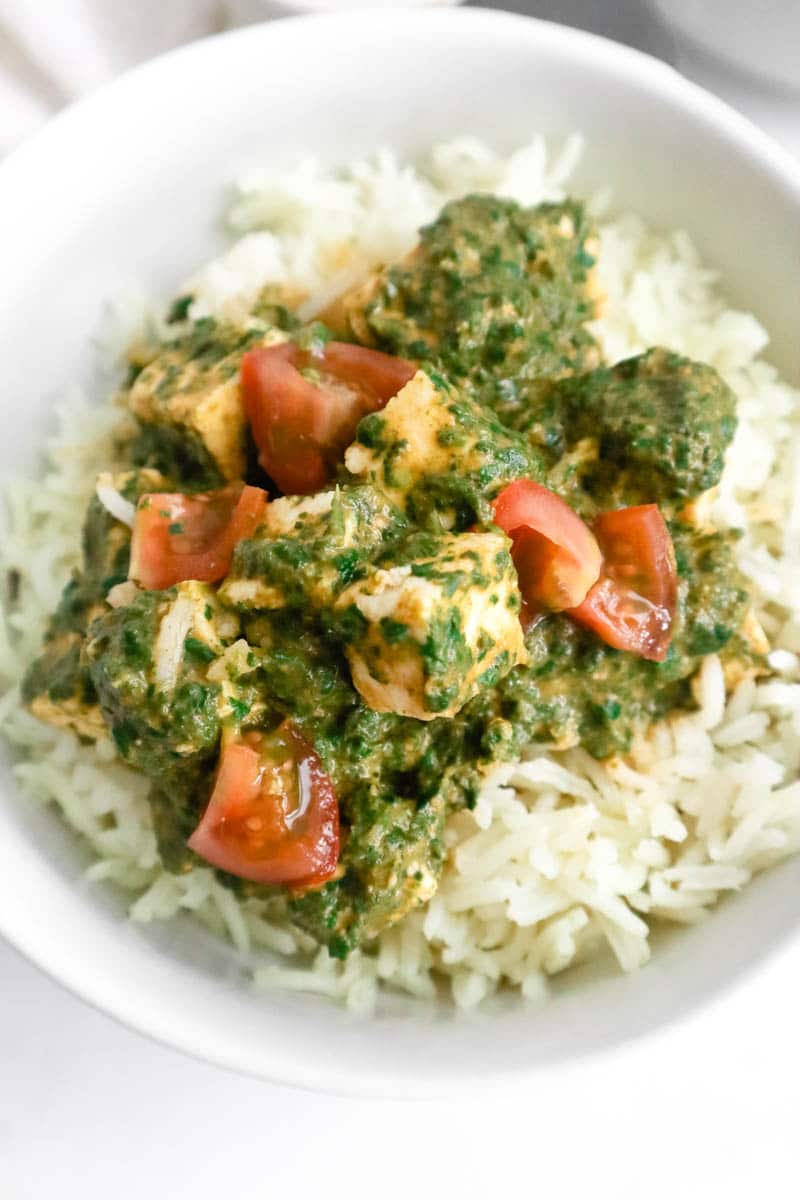 With this baby friendly curry, the spices are very mild, and there is no heat or chili to bother sensitive little tummies. Just some aromatic spices which will tempt those babies who enjoy lots of flavor.
But is it really OK to give my baby curry?
Yes! But please don't take my word for it, I'm just a random blogger. What do I know?
In this article on Live Science, five experts weighed in to answer the question of whether spicy foods were OK to feed a baby. The consensus is that:
Breastfed babies whose mother's eat spicy foods will probably enjoy those tastes. (So that explains Odette's love of this dish because I ate nothing but takeout curry for months after she was born!)
There is a distinction to make between hot spices (chili, cayenne pepper which contain capsaicin and can stimulate pain receptors) and aromatic spices (coriander, cumin, ginger, etc – which simply add flavor). There's no need to hold back on the aromatic spices (which is what flavors this recipe). Hot spices are worth holding back on, though note that many cultures around the world are introducing chili peppers at a pretty young age too.
Some would recommend introducing new spices one at a time to test for adverse reactions.
Make sure your spices are not old and out of date! We are all guilty of letting infrequently used spices linger on our shelves and expire.
Focus on homemade curries for your baby or toddler. Takeout curries can cause digestive issues due to excessive grease rather than spice.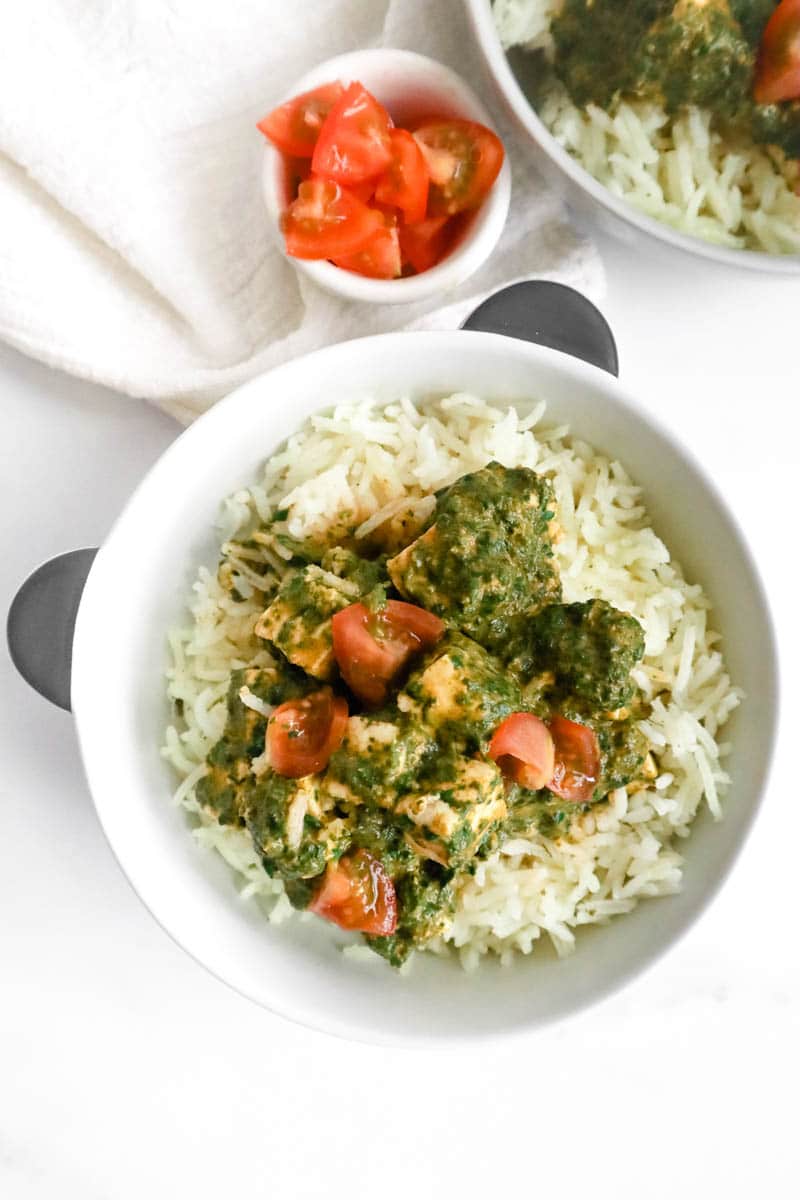 How to make it
I'm going to make this fairly easy for you, because cooking for babies and toddlers has a lower success rate than cooking for adults and who has time to get super complicated with it?!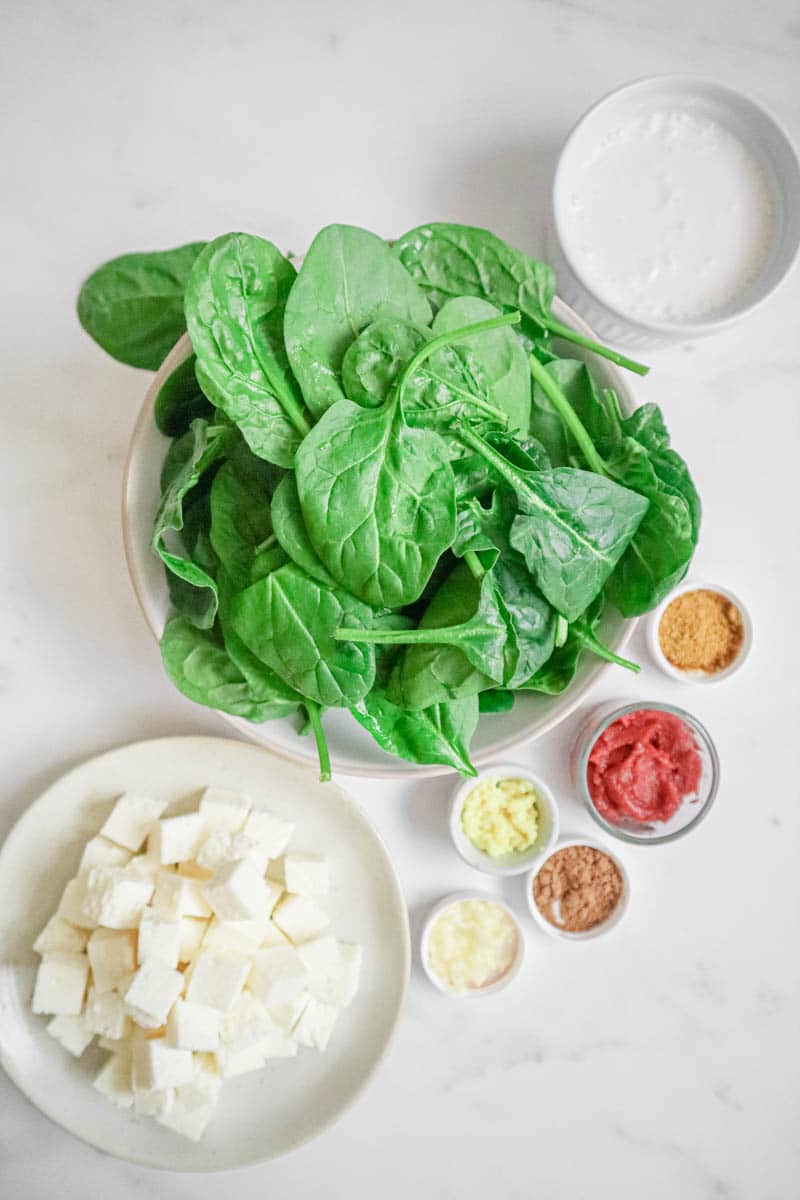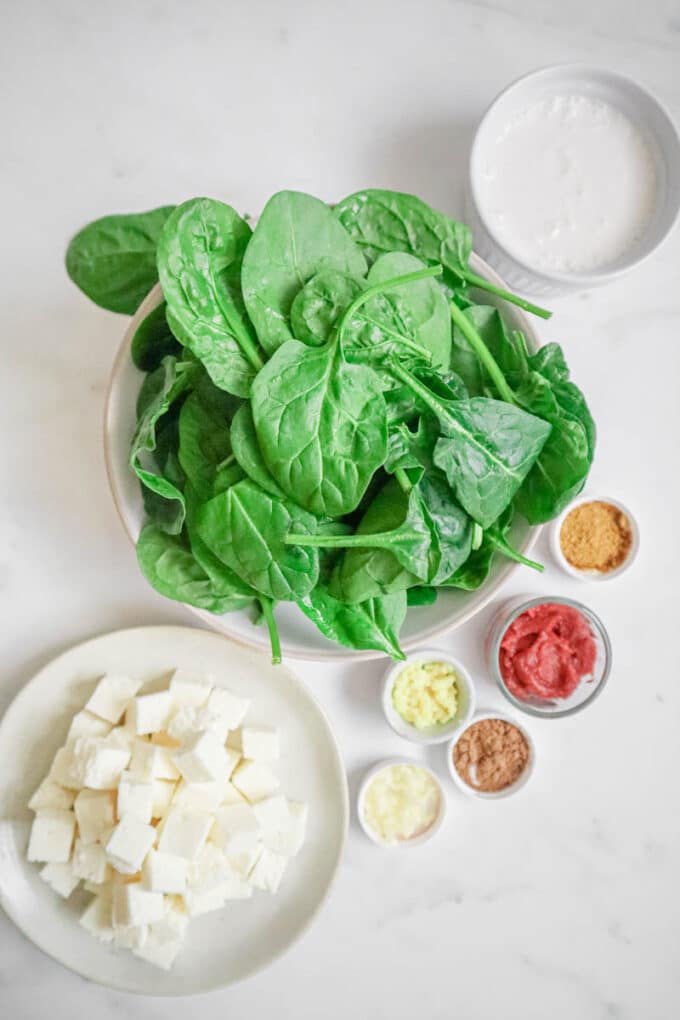 These are your ingredients! For spice, we use a mild curry blend spice mix and garam masala. If you don't have any mild curry blend, just use additional garam masala and some cumin to make up that extra 1/4 teaspoon.
And here we go – we just make our sauce, add our spinach, puree our sauce
How to make the spinach sauce
Putting it together
Now that you have your sauce, just add the paneer to it. If your baby likes cherry tomatoes, they make a lovely garnish (quartered! always quartered to avoid a choking hazard)
How to prepare the paneer for babies
I don't personally pan fry the paneer for babies, because it's easier to eat when it's softer. For older toddlers and kids they might like it crispy.
You do want to be mindful of the size and shape the paneer cubes are, to minimise choking hazards. For the youngest babies you have two options.
Baby led weaning style – you would slice the paneer into larger strips than the ones pictured so they could pick them up and gum on them. Choose a soft, crumbly paneer for this, not a rubbery one.
Smaller pieces for babies with pincer grasp / grabbing fistfuls / learning cutlery – I personally prepare the curry as shown (because it keeps and reheats better at this size) but then cut the pieces of paneer smaller in the bowl when serving to get them under the size where they would present a choking hazard.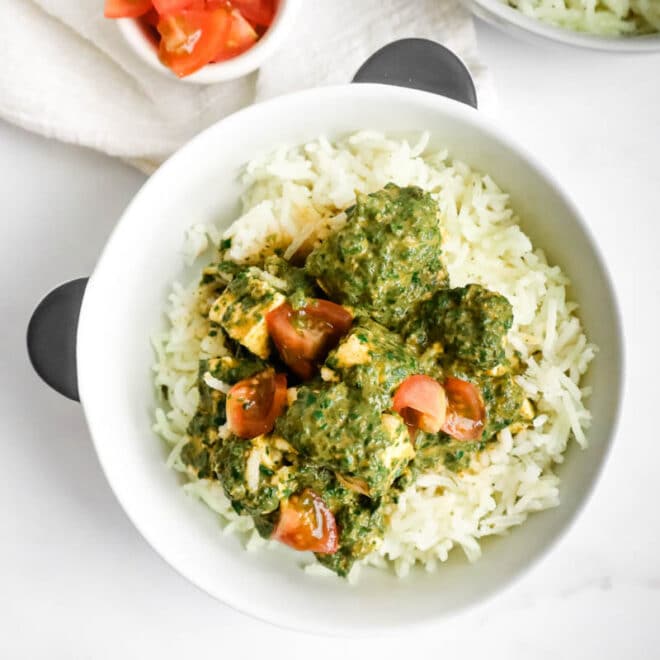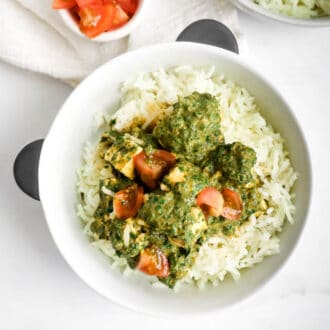 Palak Paneer Curry for Babies, Toddlers & Kids
A creamy and mild introduction to palak paneer curry for babies, toddlers and kids! This has an abundance of flavor and fun textures; perfect for babies who love bolder tastes! Self feeding babies can eat this with their hands if you mash the paneer.
Ingredients
½ tsp minced ginger
½ tsp minced garlic
¼ tsp mild curry powder
¼ tsp garam masala
1 Tbsp tomato paste
6 Tbsp coconut milk
150 g (5 oz) fresh spinach, washed
225 g (8 oz) paneer cheese, chopped into small cubes
Instructions
In a small saucepan over a low heat, gently sautee the garlic and ginger until soft.

Add the curry powder and garam masala and sautee until fragrant.

Add the tomato paste and coconut milk, stir until a sauce forms.

Add the spinach, handful by handful, and stir into the sauce until it has all wilted.

Using an immersion blender or food processor, blend the sauce until it's a smooth puree.

Add the paneer cubes and mix through until heated.

Serve with rice or another favorite grain.
Notes
When served with rice, this makes 4 large child portions, 10 smaller baby portions, or any amount in between depending on your little one. Nutritional info is based on a single baby portions (1/10th of the recipe).
Serving: 1g, Calories: 90kcal, Carbohydrates: 2g, Protein: 5g, Fat: 7g, Saturated Fat: 5g, Polyunsaturated Fat: 2g, Cholesterol: 16mg, Sodium: 182mg, Sugar: 1g