The best creamy mushroom tortellini recipe for busy weeknights! Everything cooks in one pan for minimal washing up, while a few key ingredients transform this from basic to restaurant level. It's super flexible to fit what is in your fridge and can be made budget friendly too.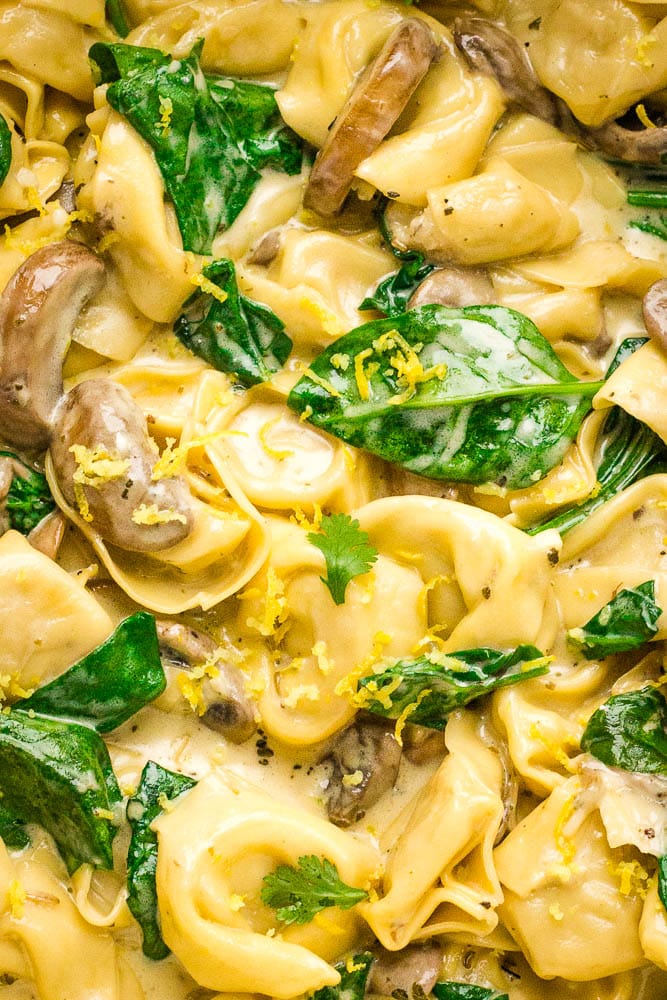 This is one of those perfect recipes where the easy factor doesn't take anything away from the delicious factor, and it will be a bright spark in your meal plan. Good enough for a date night, easy enough for a busy weeknight, and it can be really affordable depending on where you shop.
To make a one pot tortellini, we simply add the uncooked pasta right into the creamy sauce, and it cooks within a couple of minutes. The starch given off by the pasta while it cooks helps to thicken the sauce and bind it to the tortellini.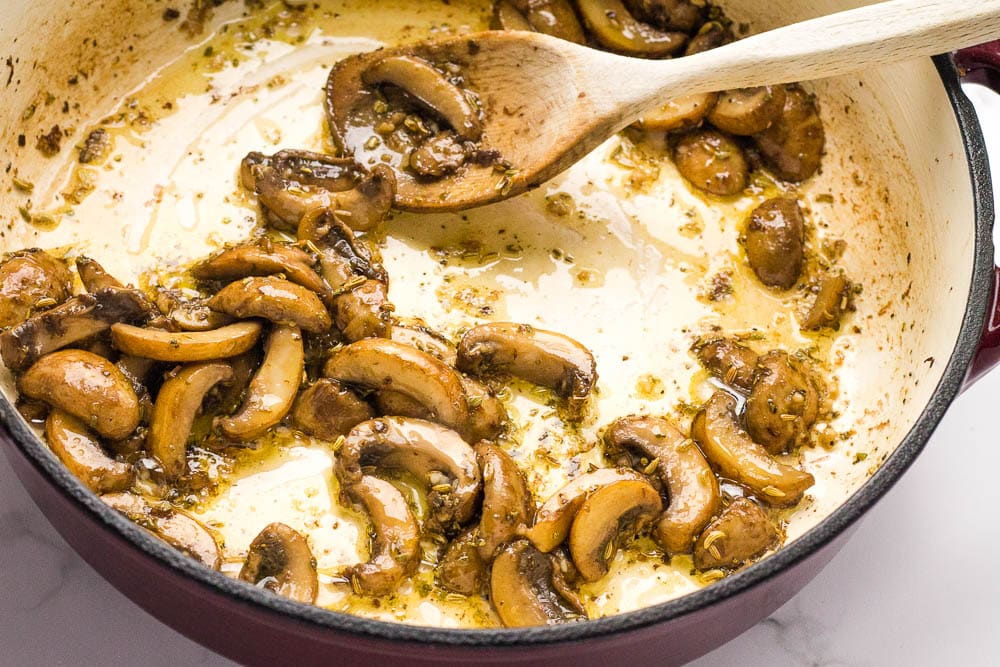 You now have one pan to clean, and no draining to deal with, and life is good.
Ingredients: What You Need + What is Flexible
This recipe can be used as a template to adapt to your own preferences, and as you learn the process for cooking the tortellini in the pan with the sauce, you will be able to create your own versions.
I promised you "restaurant level", which was bold! For me the kicker is the butter and the mix of herbs, so if you want that really special and luxurious edge to the dish, please do honor that aspect of the recipe. Otherwise, we are super flexible. I am going to dissect the recipe for you in the list below to give you the insight you need to adapt it to your needs…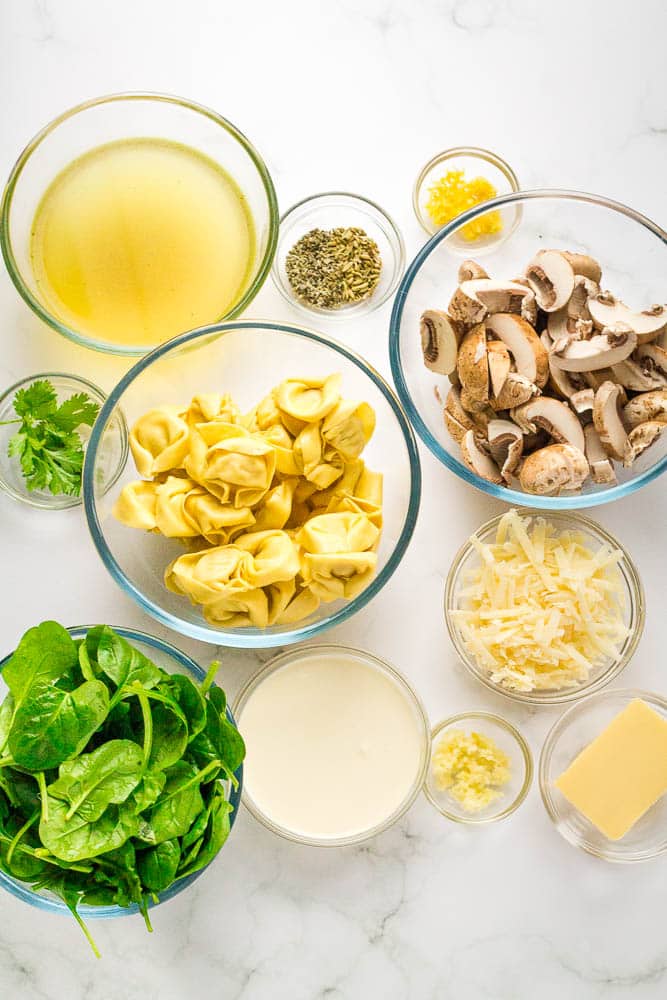 Tortellini: I use fresh tortellini, the kind you get in the refrigerator section that cooks in 2-3 minutes. I used a cheese tortellini but you can use any flavor you like.
Mushrooms : Chestnut mushrooms are my choice here, but any kind will do. If you use something larger such as portobellos, just cut them into chunks.
Garlic : I used a few cloves of minced garlic which is enough, I feel, to give a nice savory taste to the sauce and offset the mushrooms. Half of a minced red onion, or a couple of small shallots, are also excellent additions which work well in this dish, so definitely add those if you want to.
Seasonings : I love to use fennel seeds and dried sage in this recipe. Those ingredients evoke a sausage-y flavor which feels at home here. I do highly recommend this combination for the "restaurant style" flavor I promised, but I've also tried this with herbs de Provence, dried Italian herbs, fresh sage, and you can't go too wrong – but whatever you do, I highly encourage you to throw some fennel seeds in. They're just so perfect.
Salted Butter: is added alongside the seasonings just to carry the flavor and add richness to the mushrooms and the sauce. If you want to leave this out, go ahead, but add some salt and pepper to make sure it's not ending up too bland. For me, the butter, fennel seeds and sage are what can really tip this dish into having a restaurant style flavor, although I appreciate that everyday cooking needs to be lighter sometimes.
Cream + Vegetable Stock / Broth : is what makes the sauce. At first it's very runny, but then as the tortellini cooks it thickens right up. I used double (heavy) cream; you can lighten this up with a single cream / half and half if you wish, but it will be a little thinner and runnier.
Cheese : We don't use a huge amount of cheese here, but a handful of strongly flavored cheese does add a lot of delicious flavor. I go for an Italian hard cheese (parmesan style) but I have also tried it with a mature cheddar and that worked well too, so no need to go out and buy a new block of cheese.
Greens: I use baby spinach – it is a totally optional mix in. You could also throw in some finely chopped kale. If you don't have any fresh greens to hand but want something green, add some frozen peas! Just mix them in at the end and give them a minute or two to thaw.
Lemon Zest: Totally optional, but I love this as a little garnish at the end. If you have lemons to hand, especially if you need lemon juice on another occasion in the same week, then it's really worth including.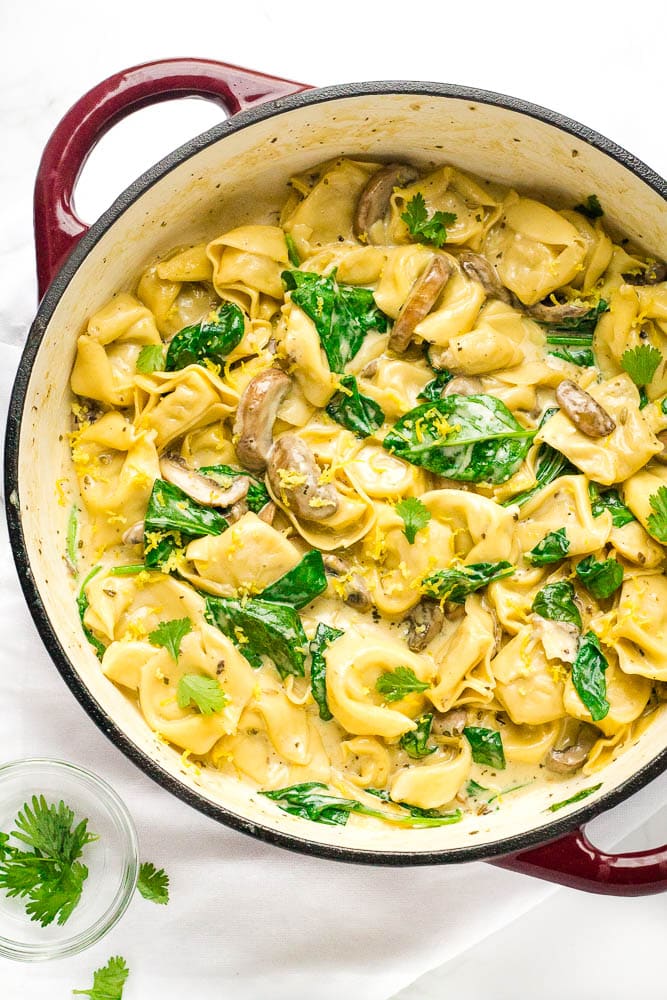 How to make this on a budget
This recipe can be very budget friendly, though you need to have access to the right supermarkets to get the cost as low as possible:
The cost of the tortellini is what will make or break your budget. I highly recommend Aldi tortellini if you have one locally. Their packs of tortellini are substantially cheaper than anywhere else, and really high quality. Failing that, in the US I believe Costco is good bet for buying tortellini in large batches.
Feel free to use the cheapest button mushrooms, given that we saute them in so many flavors it won't let the dish down at all.
Replacing the spinach with frozen peas is a great way to get some greens in for less. While I haven't crunched the numbers on fresh spinach versus frozen peas cost per portion, I do know that using frozen vegetables eliminates the possibility of wastage, doesn't leave you with a partial bag to plan another meal around, and that flexibility can help immensely when cooking on a tight budget.
A low cost cheddar will do nicely for the cheese. I barely noticed a difference when I tried this with cheddar, though you may just want to up the salt a little if it's not a very mature / vintage block.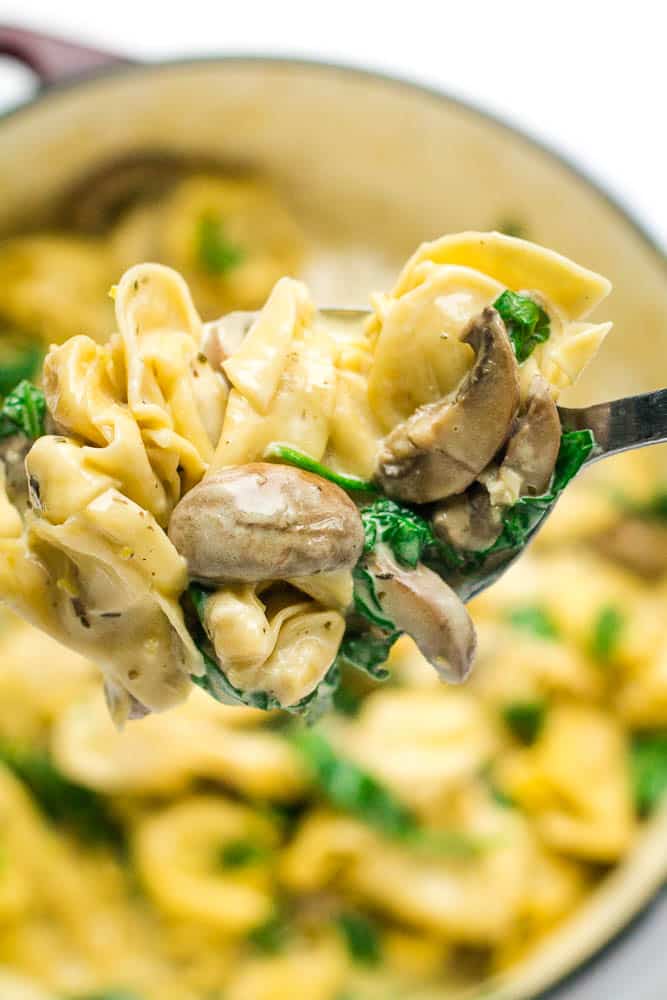 More Easy Mushroomy Meals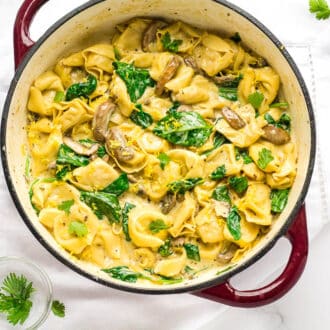 One Pot Tortellini with Mushrooms
The best creamy mushroom tortellini recipe for busy weeknights! Everything cooks in one pan for minimal washing up, while a few key ingredients transform this from basic to restaurant level. It's super flexible to fit what is in your fridge and can be made budget friendly too.
Ingredients
300 g (10 oz) tortellini, fresh tortellini – see notes if you're using a different kind
250 g (9 oz) chestnut mushrooms, sliced
3 cloves garlic, minced
15 g (1 tbsp) butter
1 tsp fennel seeds
2 tsp dried sage
120 ml (0.5 cup) double cream
360 ml (1.5 cups) vegetable stock, you might need more
50 g (0.5 cup) parmesan style or cheddar cheese, grated
1 tsp lemon zest, optional
1-2 handfuls baby spinach, optional – you can also add use frozen peas
Optional garnish – fresh herbs
Instructions
In a deep sided frying pan or shallow casserole dish, heat a thin layer of olive oil to a medium heat. Add the mushrooms and saute until they are reduced and the juices have all evaporated away.

Add the garlic, fennel seeds, dried sage and butter to the pan. Continue to saute until the mushrooms are browned and everything is fragrant.

Add the cream and vegetable stock to the pan, followed by the tortellini. Bring to a simmer and turn the heat down to very low.

Cook, covered, for 3-4 minutes, until the tortellini is al dente and a sauce has formed. If the tortellini gets too dry, add an extra splash of vegetable stock. If the sauce feels too runny, don't worry, proceed with the remaining steps and let allow the dish to sit off the heat for a couple of minutes before serving – it will thicken.

Stir in the cheese until just melted.

Add the spinach and lemon zest and mix through gently. The spinach will wilt quickly but be gentle so the tortellini doesn't break.

Garnish with fresh herbs if using, and serve immediately.
Notes
Quantities : Packs of tortellini can vary in size. Don't worry if your pack has a little more or a little less than stated, you will just need to use a little more or less vegetable stock if that is the case.  Type of Tortellini : I use fresh, refrigerated tortellini which has a very short cooking time. You can swap in dried tortellini; however, the cooking time would be longer and you would require more vegetable stock (start with 1.5 cups and add more if needed). You can swap in frozen but it would need a little longer to cook.  Portion size: I've said this makes two portions and this takes into account 2 hungry adults eating nothing else alongside it. If you add side dishes, this can feed more. The recipe can be doubled if you use a deeper dish. It will need longer for the mushrooms to cook, but the times will remain the same from then on. Cheese: I use a vegetarian Italian hard cheese for this, which mimics the taste of parmesan but doesn't use animal rennet like true parmesans do. 
Calories: 873kcal, Carbohydrates: 78g, Protein: 37g, Fat: 47g, Saturated Fat: 26g, Polyunsaturated Fat: 1g, Monounsaturated Fat: 9g, Trans Fat: 0.2g, Cholesterol: 158mg, Sodium: 1614mg, Potassium: 770mg, Fiber: 7g, Sugar: 10g, Vitamin A: 2938IU, Vitamin C: 9mg, Calcium: 609mg, Iron: 5mg