A super simple, tasty vegetarian dinner that will never let you down! Roasted garlic mushrooms are tossed with homemade (or store bought) pesto and topped with a dollop of soft ricotta cheese for an incredible mix of flavors and textures.
If you're a mushroom lover, then you already know how mushrooms and pasta are a match made in heaven and the perfect choice for a more "meaty" and substantial vegetarian pasta dinner.
In this recipe we roast them with some garlic to make them their best selves, and then we toss them into pesto pasta. And then we add a dollop of ricotta and some extra cheese if we're feeling inclined. Mmm.
This can be an easy 30 minute meal, or it can be made into something more fancy.
She'll be whatever you need her to be.
On the easiest possible side of the spectrum, you buy store bought pesto, pre-sliced mushrooms and pre-chopped garlic, and you'll barely notice that you're cooking.
On the other side, you could be making this with some fancy wild mushrooms and delicious home made pesto.
You're welcome to keep this a super healthy dish by making some kind of superfood pesto with lots of hidden greens. You're also welcome to make this indulgent by adding a ton of cheese.
Top Tip – this is a great family dinner with kids at the table!
I like this as a family meal with young kids, babies or toddlers. Even if the little ones don't like mushrooms they can have plain pesto pasta, or pasta tossed in ricotta, and it's not much more effort. And the grownups can have the full shebang and feel like they're not compromising. Wins all round!
Which mushrooms to use in this pasta
I use simple chestnut mushrooms which I can get in a large pack and are fairly inexpensive. They're great everyday mushrooms, and they roast well. I've tried it with chopped portobello mushrooms too, which also work beautifully.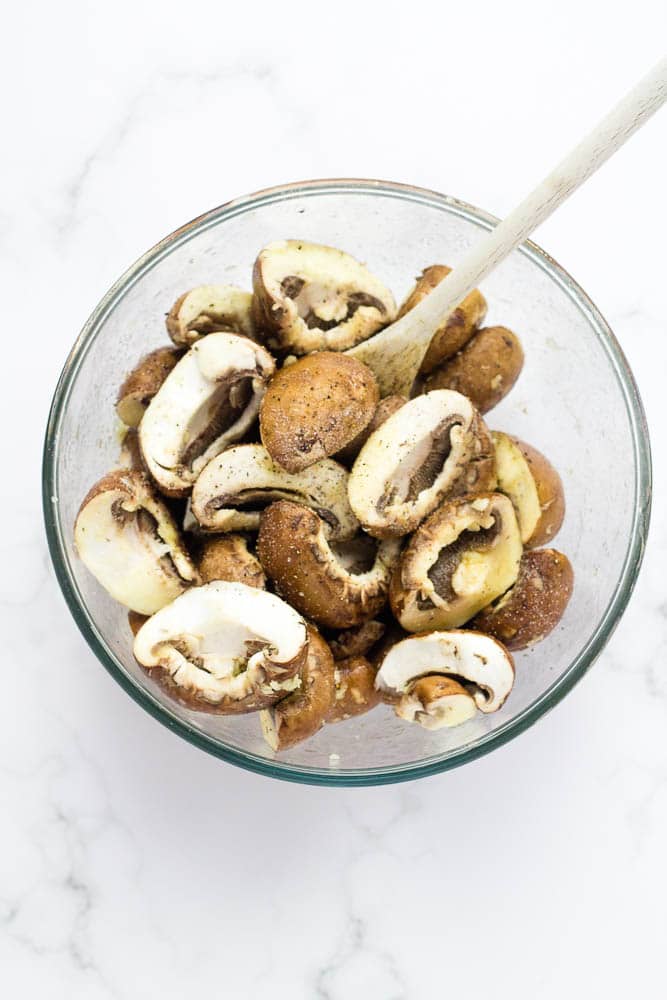 If you're wanting this recipe to be super quick and easy, you could use pre sliced mushrooms in whatever variety they're available.
If you're wanting to make an upgraded version of this recipe, try a mixed pack of wild mushrooms.
We roast the mushrooms at a high heat (220C / 430F) for 20+ minutes, until we get the texture we want. On one end of the scale you can go softer, still a little juicy- on the other end, you could roast them down to really caramelized status, and that would be grand too.
Which pesto to use in this recipe
To keep things on the quick and easy side, some ready made basil pesto works well, can't really fault a classic!
If you choose to go with homemade pesto, I have included my favourite pesto recipe in the card. This makes a big batch which will likely give you some leftovers too and gives you the option of using all basil, or a mix of basil and baby spinach.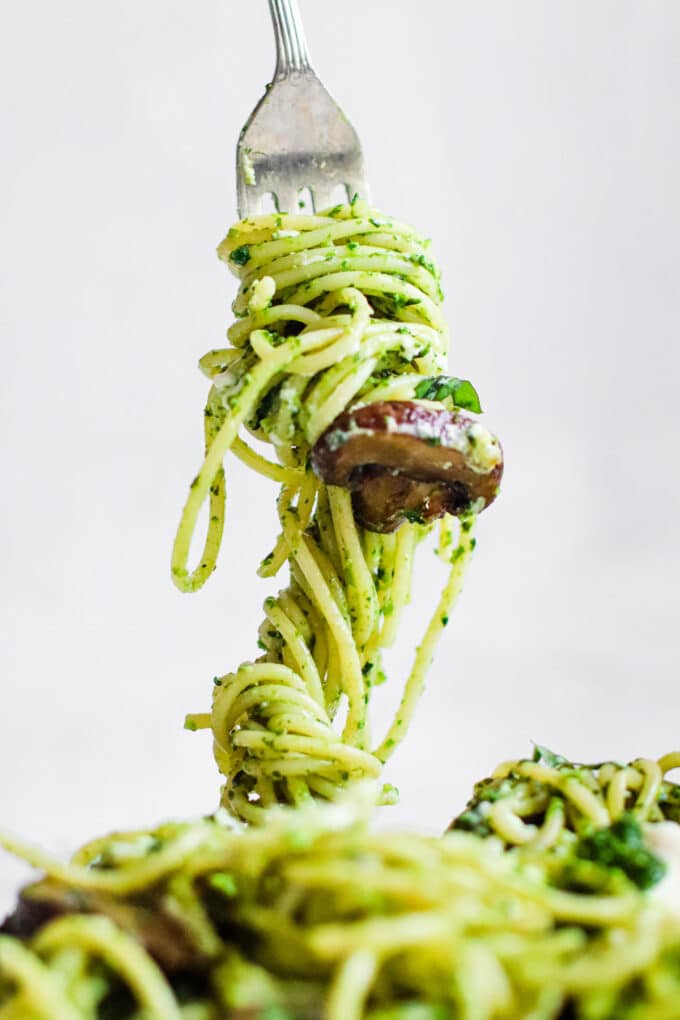 If you have the time and the inclination, I think this dish can really benefit from a pesto with extra greens thrown in just to round it off nutritionally. Some more ideas:
Other Recipe Variations
Make it creamy
I love this with really fresh, vibrant tasting pesto and I add a dollop of ricotta on top so that I can make some bites lovely and creamy. But if you're more of a creamy pasta sauce kinda human, you can make this work for you by using avocado pesto or by pouring a little cream into the pasta alongside the pesto.
You could also swap the ricotta for buffalo mozzarella, burrata or a dollop of mascarpone.
Make it vegan
And again I am pointing you to the avocado pesto which is a delightful vegan pesto! Though something like Ashley's Green Goddess pesto would work a treat too.
You'd also need to make a couple more adjustments. 1) Using vegan butter to roast the mushrooms and 2) Swapping the ricotta topping for something vegan, or just leaving it out.
More Easy Dinners with Mushrooms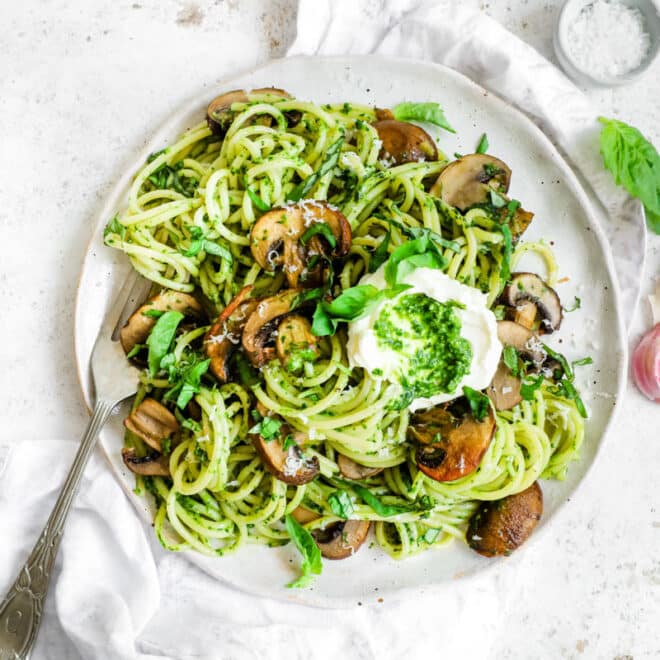 Garlic Mushroom & Pesto Pasta
A super simple, tasty vegetarian dinner that will never let you down! Roasted garlic mushrooms are tossed with homemade (or store bought) pesto and topped with a dollop of soft ricotta cheese for an incredible mix of flavors and textures.
Ingredients
500 g (18 oz) chestnut mushrooms, halved
50 g (3 Tbsp) butter
1 Tbsp olive oil
3 cloves garlic, minced
4-8 Tbsp pesto , The quantity is very approximate – see notes
300 g (11 oz) pasta, I used bucatini
125 g (½ cup) ricotta cheese
2 Tbsp Grated parmesan / Italian hard cheese, for topping
1 lemon, for juicing
Optional Pesto Recipe
3 Tbsp pine nuts
75-100 g (75-100 g) basil leaves, or a combination of basil and baby spinach
45 g (⅓ cup) parmesan or Italian hard cheese, grated
2 cloves garlic
1 lemon, juiced
80 ml (⅓ cup) olive oil, you may want more, up to 1/2 cup
Instructions
Heat the oven to 220C / 430F.

If you're making the homemade pesto, do it first while the oven preheats – Toast your pine nuts by heating a frying pan on a low heat, without any oil, and add the pine nuts for a minute or two, mixing regularly, until they're lightly browned and smelling toasty. Then add the garlic, spinach and MOST (about 2/3rds) of the basil, pine nuts and cheese to your food processor or mini chopper. Add a few grinds of salt and blend until finely chopped. Add the lemon juice and blend, slowly adding the oil to the mixture, until smooth. Now add the reserved basil, pine nuts and cheese into the food processor with the remaining oil. Pulse gently until these ingredients are incorporated into the pesto but in larger pieces. Add more oil if you think it needs it.

Prepare the mushrooms. Melt the butter in the microwave in a large mixing bowl. Stir in the olive oil, garlic and then the mushrooms. Toss to coat the mushrooms in the garlic butter, then add salt and pepper if desired.

Scatter on a baking sheet and place in the oven for 20+ minutes, checking in after 20 and leaving them longer if desired.

While the mushrooms are cooking, you can spend the first 5 minutes grating cheese and chopping herbs if desired for the topping, and then set the pasta boiling.

When the pasta is cooked, reserve a little cooking water and then drain.

Add pesto to the pasta, and some cooking water if needed to smooth it out (this may be necessary with a homemade pesto, likely not with a jarred pesto).

Add in the mushrooms and toss to combine.

Spoon into bowls and top with cheese, a squeeze of lemon juice and a dollop of ricotta if desired.
Notes
Pesto Quantities – it's really hard to give you a quantity for the pesto, because some homemade pesto is really chunky and thick, while a storebought pesto is more silky and oily and you'd go for a much lighter coating. Different pasta shapes will also need more or less. I'd approach this recipe with a fresh batch of pesto and enjoy leftovers if you have them. If you are using leftovers for this recipe and you find you don't have quite enough, maybe add a little cream or extra pasta cooking water, butter or olive oil to stretch things out.  Portions – I've called this three portions. Realistically, you'd either have two adult portions + leftovers for lunch the next day, or be able to divide between two adults and two children. It's not quite four adult portions, though scaling up the pasta and pesto quantities a little would easily make it so.  Nutritional information is based on a standard basil pesto.
Calories: 734kcal, Carbohydrates: 85g, Protein: 24g, Fat: 34g, Saturated Fat: 15g, Polyunsaturated Fat: 2g, Monounsaturated Fat: 9g, Trans Fat: 1g, Cholesterol: 61mg, Sodium: 417mg, Potassium: 1021mg, Fiber: 5g, Sugar: 6g, Vitamin A: 1045IU, Calcium: 214mg, Iron: 2mg