This decadent, creamy butternut squash pasta sauce has a hint of truffle oil to elevate it to luxurious perfection. It's dairy free and vegan, using cashew cream, and has amazing depth of flavor thanks to a few special ingredients. This is a healthier alternative to a dairy cream sauce with zero compromise on taste. You will love it!
I am basically addicted to creamy pasta sauces. Have you noticed?
This could be a problem for us, health-wise, if it weren't for the various coping strategies I have picked up over the years which allow us to indulge without eating much actual cream.
For instance I have made several recipes using avocado for creaminess, and in this case I am using cashews and butternut squash to make a creamy pasta sauce that I promise will not leave you feeling short changed.
Cashew cream is pure genius. Unsalted, unroasted cashews are basically flavorless. When soaked and pureed, they closely resemble a thick dairy cream. In a sauce, they will bring that same body and richness. You may not even notice the difference.
In this sauce, adding butternut squash makes the texture really silky, and the sauce has a pretty intense flavor from caramelized onions, wine and garlic, with a drizzle of truffle oil to boot. The roasted butternut provides a subtle, savory backdrop for all those flavors.
Except for the wine, these are all amazing, nutritious ingredients. But it tastes kind of naughty. The Holy Grail, in my book.
Why use cashew cream if you aren't vegan?
Some people find that heavy cream dishes makes them a little sick, or bloated, and this dish totally avoids that.
So even if you aren't vegan, making a dairy free cream sauce can be great way to mix things up from time to time.
And nuts are crazy good for you, so why not find new ways to eat them?
What pasta works best?
I made this with white penne cooled al dente, but you could also try tagliatelle or shells.
You should also feel quite free to use wholewheat pasta or gluten free pasta or anything you like. Or even zoodles, if you want to be all virtuous about it.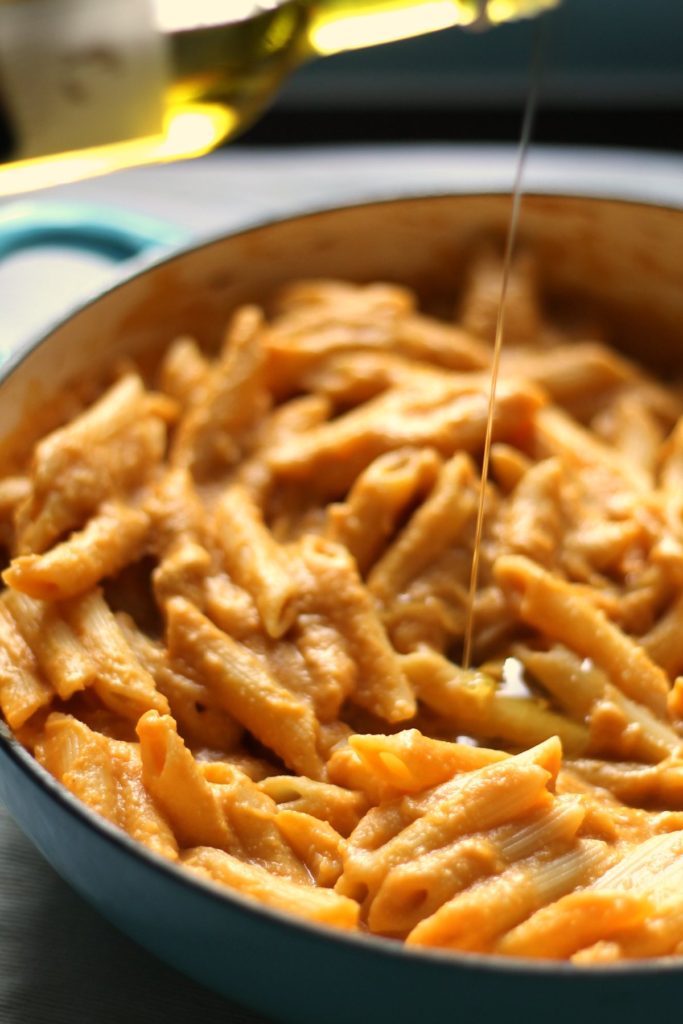 Can you make this into a paste bake?
Yes! You can bake it. We tried it once and it was beautiful! Just cook the pasta a little less time so it isn't completely soft – then add an extra cup of water and then bake for 45 minutes.
Sources: Inspired by the roasted butternut alfredo from The PPK.