Wine & Cheese Kale Mashed Potatoes
Juicy, garlicky, wine infused kale is mixed in with creamy, cheesy mashed potatoes for this decadent twist on colcannon! An amazing side dish packed with flavor and nutritious greens.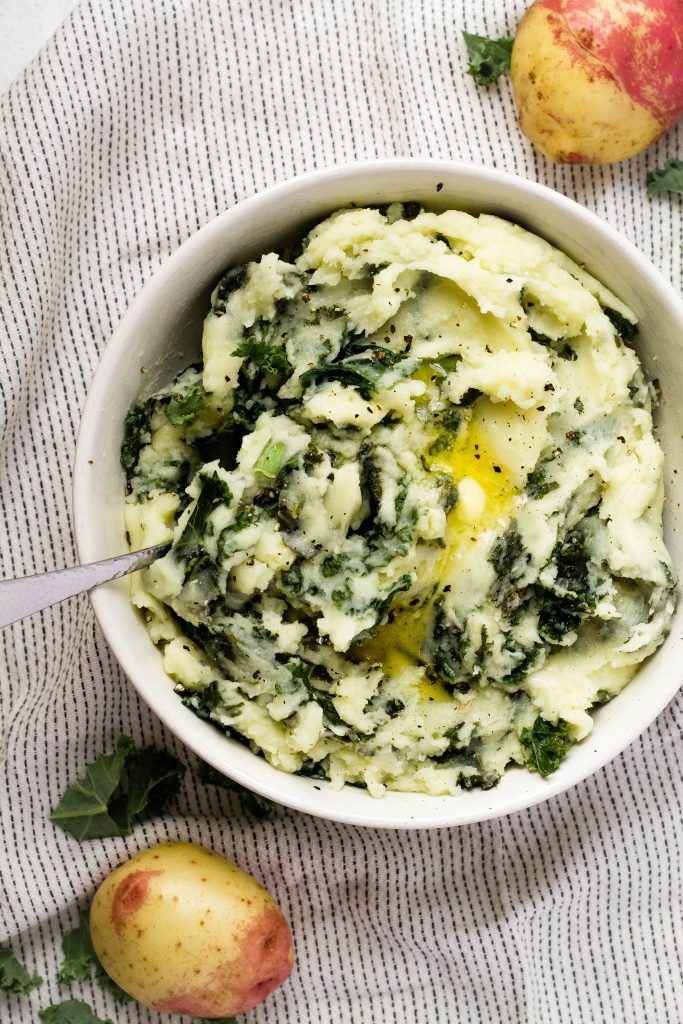 These kale mashed potatoes were originally posted in May 2015. I've updated this post with new and improved photos and additional information.
Soooo. I almost called these Irish Mashed Potatoes, because they are kind of a spin on Irish colcannon… with booze.
Colcannon is traditionally a mix of potatoes and cabbage, but kale is a delicious alternative. Its stringy, chewy leaves provide great contrast in the texture, and I find that kale is excellent at soaking up and retaining all the flavors you cook it in.
If you cook it in wine and garlic, each juicy bite is going to taste fantastic.
And when you throw that juicy kale in with some soft and creamy mashed potato, strong cheddar cheese and butter, you are in for a serious treat.
It is pure comfort food, but it has a really great fresh taste and all the nutrients from the greens.
Serving Suggestions for your Kale Mashed Potatoes
I ate it alongside a simple pan of roasted chickpeas and tomatoes with fresh herbs.
It would also be a great side dish for a veggie pie, or some big roasted field mushrooms.
You know it's a must have for Thanksgiving or Christmas dinner.
Personally, I think there is enough flavor going on that you do not need any gravy. But if you can not do mash without gravy, a light oniony gravy would be amazing.
Variations on your Kale Mashed Potatoes
I used a vintage cheddar cheese, but blue cheese or a gruyere could be quite magical here too. Just make sure that whatever cheese you use has a lot of flavor. A mild rubbery cheese won't do much for the taste.
If you're vegan, you could replace the cheddar cheese with some nutritional yeast and the butter with vegan margarine, or more olive oil.
My butter and cheese measurements are a little vague, I know, but it really comes down to how much butter and cheese you're willing to include! More is always tastier, but it's easy to make this incredibly fatty and you may not wish to do so. Use your judgement!