Juicy, garlicky, wine infused kale is mixed in with creamy, cheesy mashed potatoes for this decadent twist on colcannon! An amazing side dish packed with flavor and nutritious greens.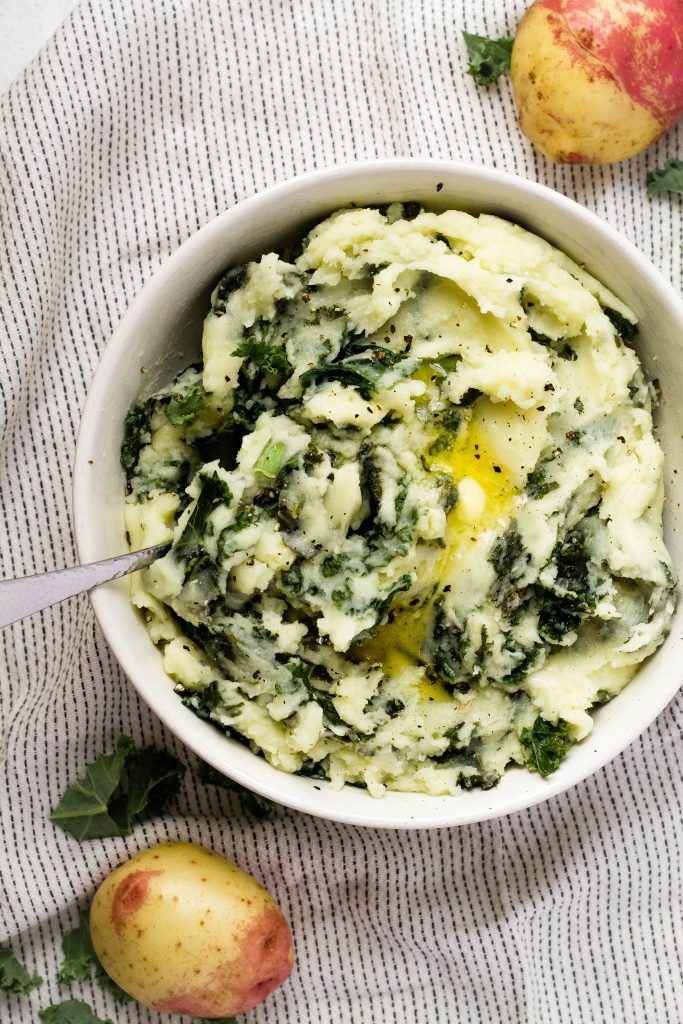 These kale mashed potatoes were originally posted in May 2015. I've updated this post with new and improved photos and additional information.
Soooo. I almost called these Irish Mashed Potatoes, because they are kind of a spin on Irish colcannon… with booze.
Colcannon is traditionally a mix of potatoes and cabbage, but kale is a delicious alternative. Its stringy, chewy leaves provide great contrast in the texture, and I find that kale is excellent at soaking up and retaining all the flavors you cook it in.
If you cook it in wine and garlic, each juicy bite is going to taste fantastic.
And when you throw that juicy kale in with some soft and creamy mashed potato, strong cheddar cheese and butter, you are in for a serious treat.
It is pure comfort food, but it has a really great fresh taste and all the nutrients from the greens.
Serving Suggestions for your Kale Mashed Potatoes
I ate it alongside a simple pan of roasted chickpeas and tomatoes with fresh herbs.
It would also be a great side dish for a veggie pie, or some big roasted field mushrooms.
You know it's a must have for Thanksgiving or Christmas dinner.
Personally, I think there is enough flavor going on that you do not need any gravy. But if you can not do mash without gravy, a light oniony gravy would be amazing.
Variations on your Kale Mashed Potatoes
I used a vintage cheddar cheese, but blue cheese or a gruyere could be quite magical here too. Just make sure that whatever cheese you use has a lot of flavor. A mild rubbery cheese won't do much for the taste.
If you're vegan, you could replace the cheddar cheese with some nutritional yeast and the butter with vegan margarine, or more olive oil.
My butter and cheese measurements are a little vague, I know, but it really comes down to how much butter and cheese you're willing to include! More is always tastier, but it's easy to make this incredibly fatty and you may not wish to do so. Use your judgement!
Print
Wine & Cheese Kale Mashed Potatoes
Author:

Prep Time:

5 minutes

Cook Time:

25 minutes

Total Time:

30 minutes

Yield:

Serves 4 as a side dish

Category:

Side Dishes

Method:

Stovetop

Cuisine:

European
---
Description
Juicy, garlicky, wine infused kale is mixed in with creamy, cheesy mashed potatoes for this decadent twist on colcannon! An amazing side dish packed with flavor and nutritious greens.
---
Ingredients
160g (5.6oz) kale
5 cloves of garlic, crushed
90mls (1/4 cup + 2 Tblsps) of white wine
3 large or 5-6 small potatoes
2 Tblsps of extra virgin olive oil
2-4 Tblsps butter
Milk, to taste
A few handfuls of grated cheddar cheese
---
Instructions
Chop your potatoes into quarters and drop into a saucepan with boiling water. Boil for 20 minutes, or until the potatoes are soft.
Meanwhile, prepare the kale. Heat a little olive oil in a deep saucepan or wok, and then stir fry the kale for a couple of minutes until it just starts to soften. Grind in a generous amount of salt and pepper followed by the garlic. Stir fry for 1-2 minutes, until the garlic is giving off lots of fragrance but is not yet browned. Finally, pour in the wine. Cover and allow the wine to steam the kale for about 5 minutes, or until it's cooked through. Lift the lid to stir every now and again, and if the liquid disappears too quickly you can add some extra wine.
Once the potatoes are ready, run them through a potato ricer or whip with a mixer to get them super smooth. Then add them to the pan with the kale. Over a low heat, add the butter, olive oil, milk and cheese to the pan and stir continuously while everything melts in. Use as much or as little milk to achieve the creaminess you prefer.
Eventually once the cheese and butter have melted, it should be very easy to stir and will come away from the side of the pan easily. I like this to be a little dense and sticky, but if you prefer more creamy and moist potatoes, add some extra milk.
Add additional salt and pepper to taste, if desired.
Keywords: kale mashed potatoes, colcannon