29 Fancy Vegetable Side Dishes for Your Holiday Table
Add some sparkle to your Thanksgiving or Christmas Dinner with these deliciously fancy vegetable side dishes. These recipes will help you twist up the classics and bring new veggies to the table. They'll delight your foodie family and friends, with consideration given to those following special diets too.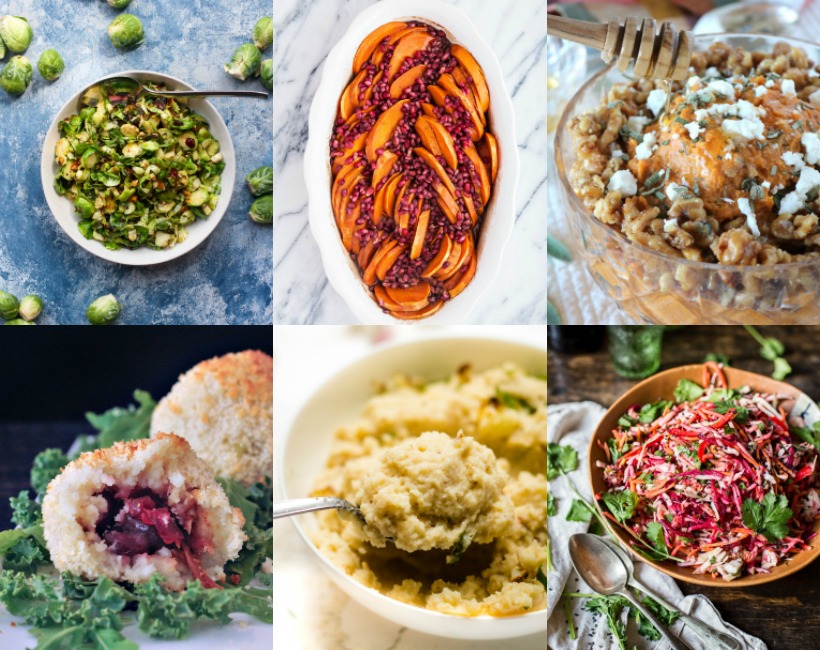 As a vegetarian in 2018, I don't usually feel like an outsider when it comes to food… I think we generally live in a world that understands and caters well to meatless diets. Until the holidays come. And then suddenly it's allll about the meat. And people tell me they feel sorry for us vegetarians, and I'm like, whaaaat? I forgot I wasn't "normal".
The funny thing is that the holidays are actually full of amazing vegetarian dishes. Like… all the sides. Everything else on the table that isn't the meat.
How 'bout we just… make all of that extra yummy!
So I am here to offer up some fun inspiration for your holiday meals this year. Ways to add a little something extra special to your table, and make those side dishes shine, so that anyone at the table, whether they be vegetarian, vegan, keto or paleo, has ample opportunity for decadence.
Please remember that this is a team effort!
I have zero interest in bashing traditional Thanksgiving and Christmas dinners, which are cooked with so much love and care. I am aware that it is not an easy thing to prepare the meat centerpiece AND a bunch of fancy vegetable side dishes. So…
If you're cooking for guests with speciality diets this year:
I hope this will help you find a couple of ways to delight those guests with something wonderful that everyone will enjoy sharing, without adding significantly to your workload. Several of the recipes included fit this description and are labelled "EASY".
If you're attending a holiday dinner at someone else's house:
.. and you or one of the other attendees is vegetarian / another specialty diet, why not make one or two of these dishes to take with you?
Some of these are a little more labor intensive than you can realistically expect the main cook to prepare on the day, but will keep + travel really well. These are labelled "MAKE AHEAD" for recipes that can be made and then reheated on the day, or "PREP AHEAD" for dishes that can be prepared in advance but baked on arrival.
If you're planning to bring a dish that will need re-heating, or if you bring along food that you've prepped but will need to cook in the oven on the day, remember to ask ahead for space to be made for this. Cooking for a crowd can be a logistical challenge, and showing up with an extra dish to work into the timelines can stress a cook out!
Fancy Potato & Sweet Potato Recipes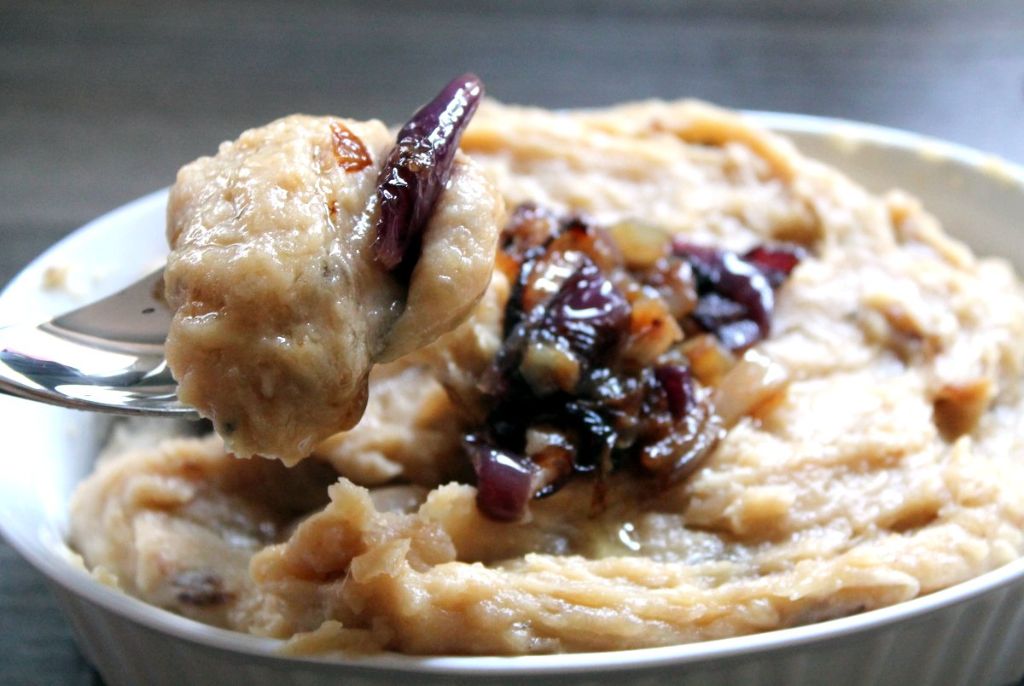 Caramelized Onion & Gruyere Mashed Potatoes | Make Ahead
Pure luxury here. Mashed potatoes with intensely flavorful melted gruyere cheese and caramelized onions. I challenge you not to eat the whole bowl.

Mashed Sweet Potatoes with Goat Cheese and Honey Walnuts by Kelly @ The Anthony Kitchen | Easy | Make Ahead
This amazing sweet potato mash is infused with the flavors of goat cheese, orange zest and an array of spices. Absolutely stunning, and sure to delight your foodie guests.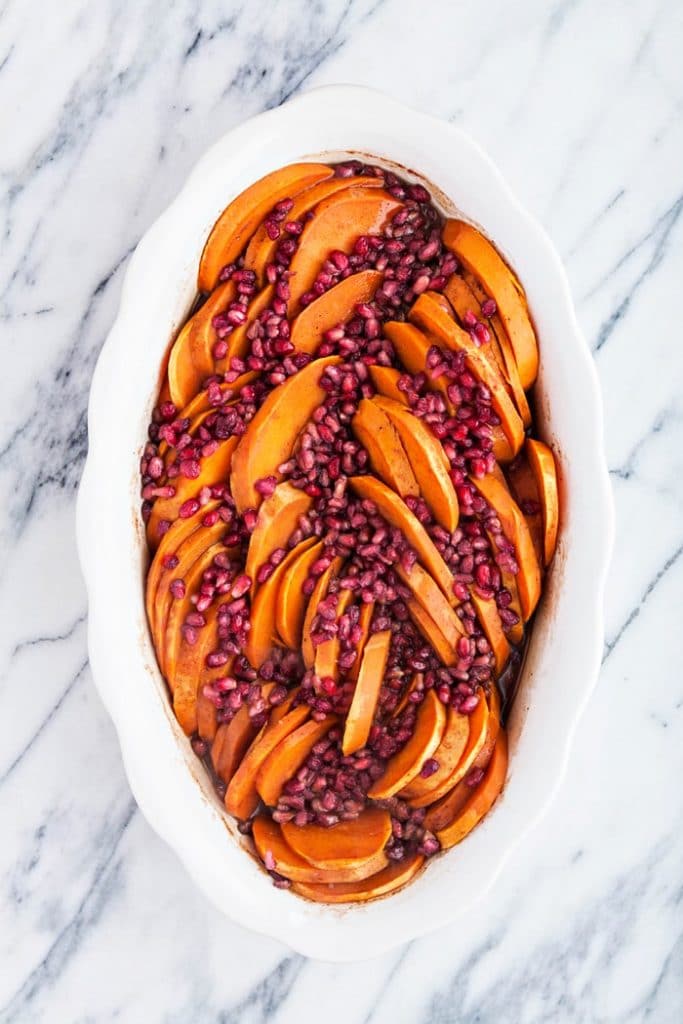 Baked Sweet Potatoes with Pomegranate by Katie @ Good Life Eats | Easy | Prep Ahead | Paleo Friendly
Sliced Sweet Potatoes are baked in a spiced orange maple glaze and sprinkled with juicy, bright pomegranate arils. Simple but stunning!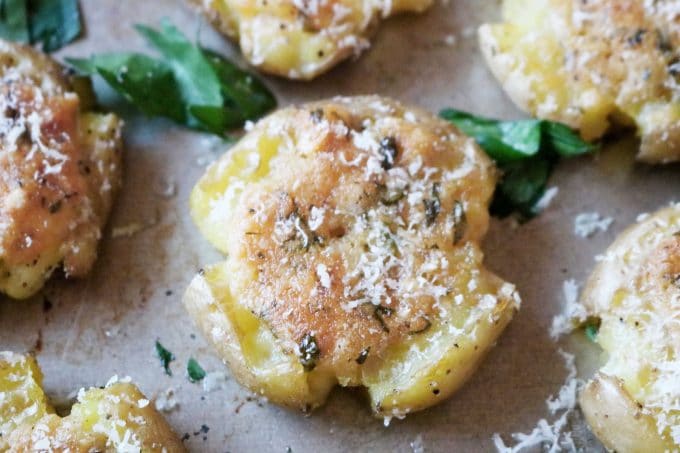 Garlic Parmesan Smashed Potatoes by Kelly @ The Anthony Kitchen | Easy | Prep Ahead
Switch things up by making smashed potatoes instead of your classic roasted ones! Smashed potatoes bring a whole new mix of texture to the table and these are made extra fancy with the addition of garlic parmesan butter.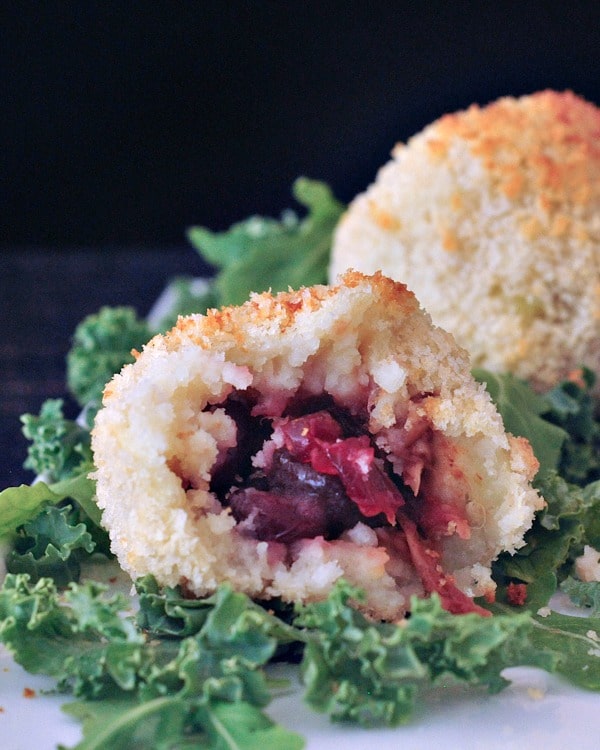 Crispy Maple Mustard Stuffed Potato Balls by Kristina @ Spabettie | Prep Ahead | Vegan
Crispy potato balls bursting with mustard jackfruit. Such a fun and flavor-packed addition to the table, or great as a holiday appetizer.
Goat Cheese & Kale Stuffed Sweet Potatoes | Make Ahead | Prep Ahead
Wine braised kale and goat cheese flavor these decadent twice baked sweet potatoes. If you're making this for the holidays, don't bother with the tahini sauce – just douse them in cranberry sauce at the table.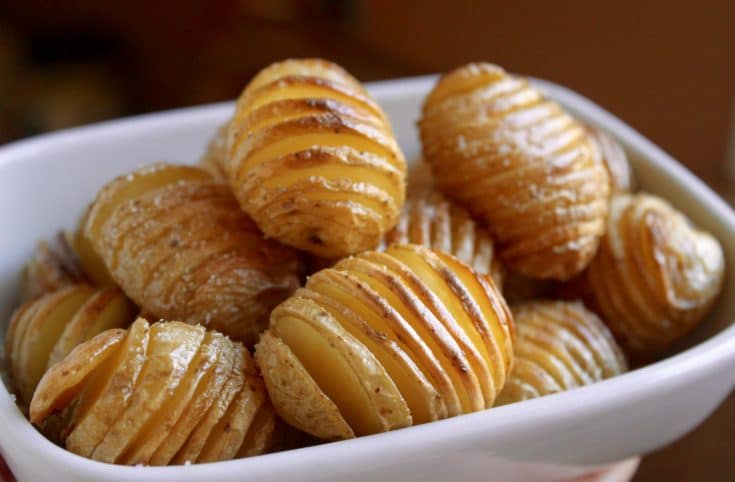 Tiny Truffled Hasselback Potatoes by Christina @ Christina's Cucina | Easy | Prep Ahead | Vegan
A hit of truffle gives these crispy mini hasselbacks the fancy factor. Preparing hasselback potatoes won't take much more time than chopping larger potatoes to roast, so all you need to do is buy a truffle product in advance and this is an easy win for your foodie guests.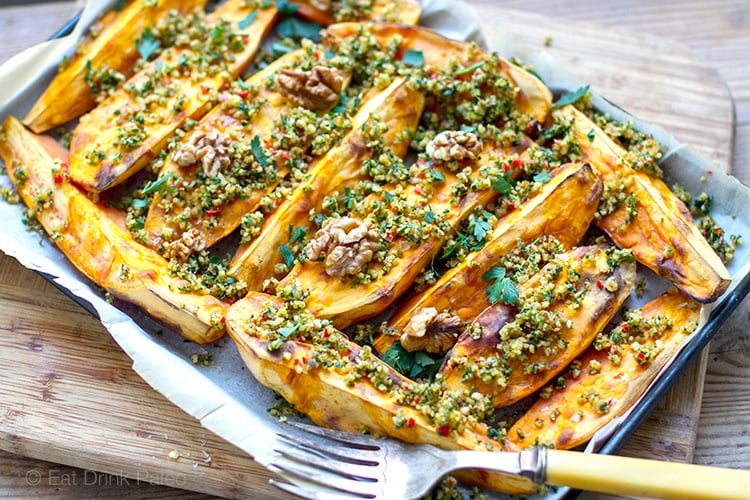 See that amazing topping on those sweet potatoes? You will be scraping every last bit off the pan. This recipe is simpler than it looks, and totally achievable for your fancy feast.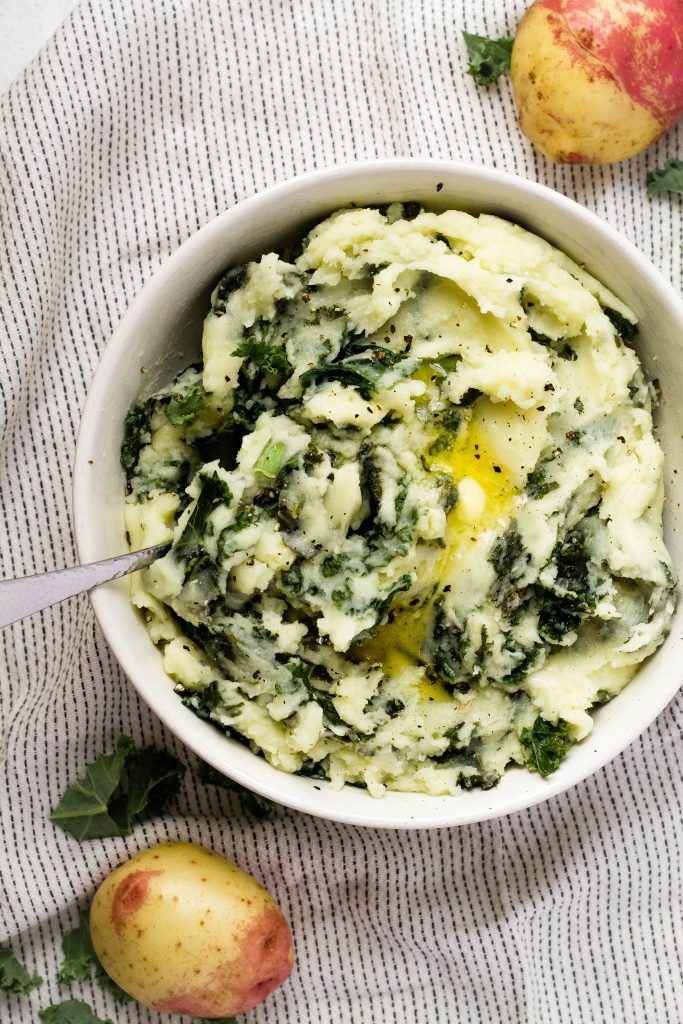 Well what could be fancier than adding wine and cheese to your mashed potatoes? Very little. Go on, you know it makes sense!
Fancy Green Vegetable Recipes
Roasted Tenderstem / Broccolini with Blue Cheese | Easy | Keto Friendly
A hit of strong, creamy blue cheese transforms these roasted broccolinis into something rich and heavenly, with almost zero additional effort.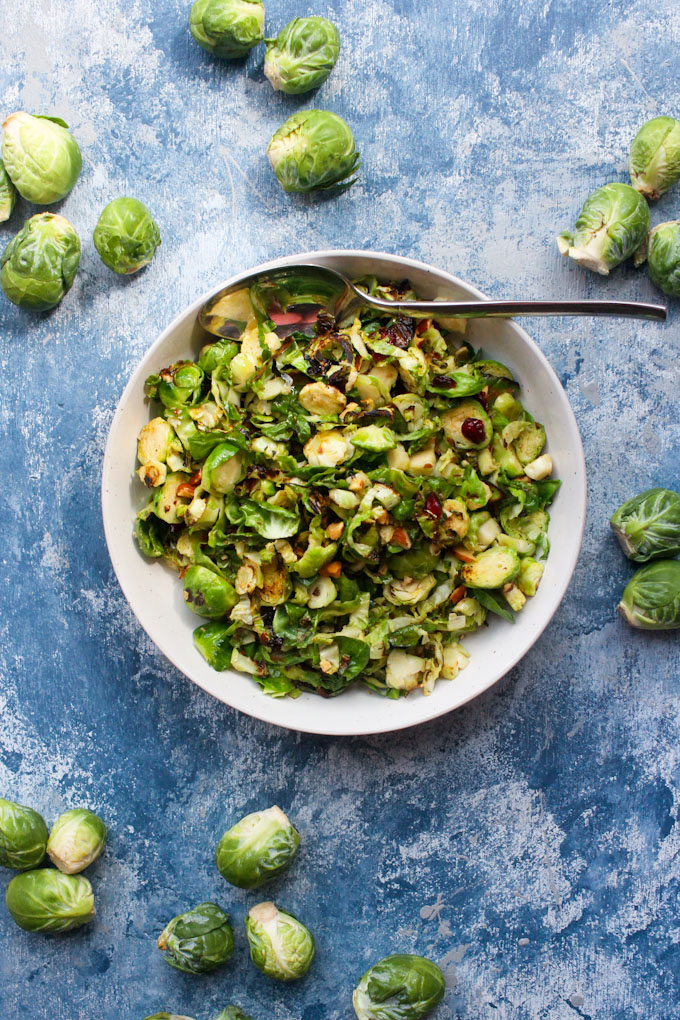 Shaved Brussels Sprouts Salad by Sarah @ Champagne Tastes | Make Ahead | Keto | Paleo
Sarah has the magic formula for converting brussels sprouts haters into lovers. You can't keep this one to yourself!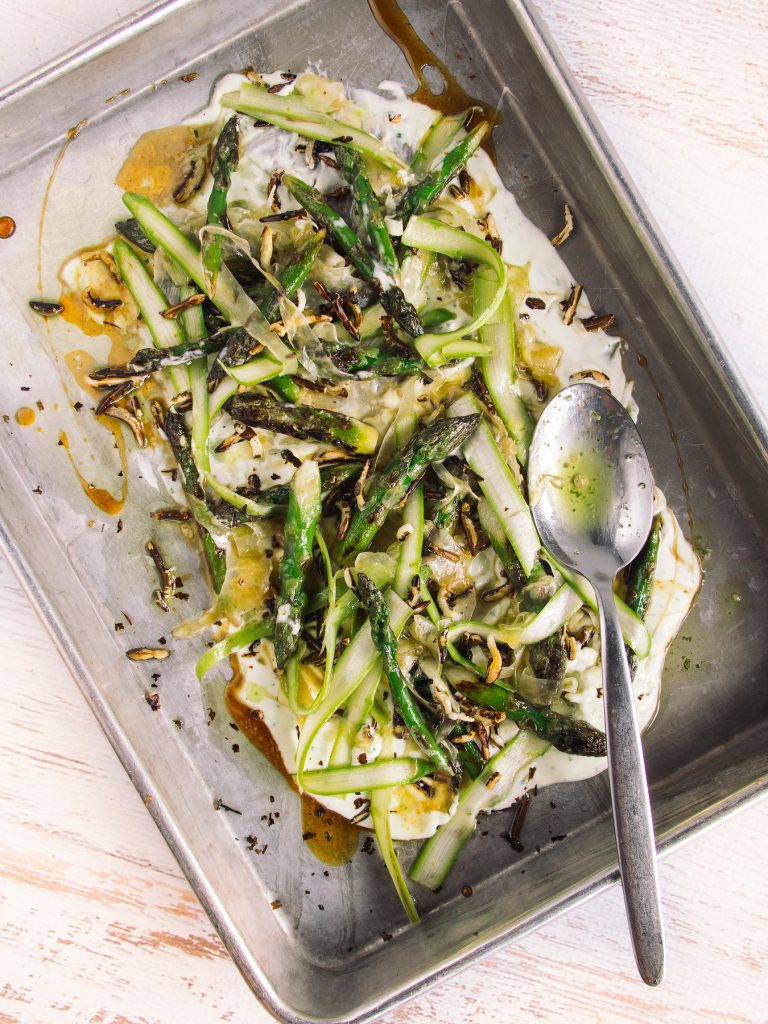 Oven Roasted Asparagus with Whipped Ricotta & Honey by Ayngelina @ Bacon is Magic | Prep Ahead | Keto Friendly
So much gourmet going on here! Ayngelina designed this dish so that each element can be prepped in advance. Show up, assemble, and wow the crowds.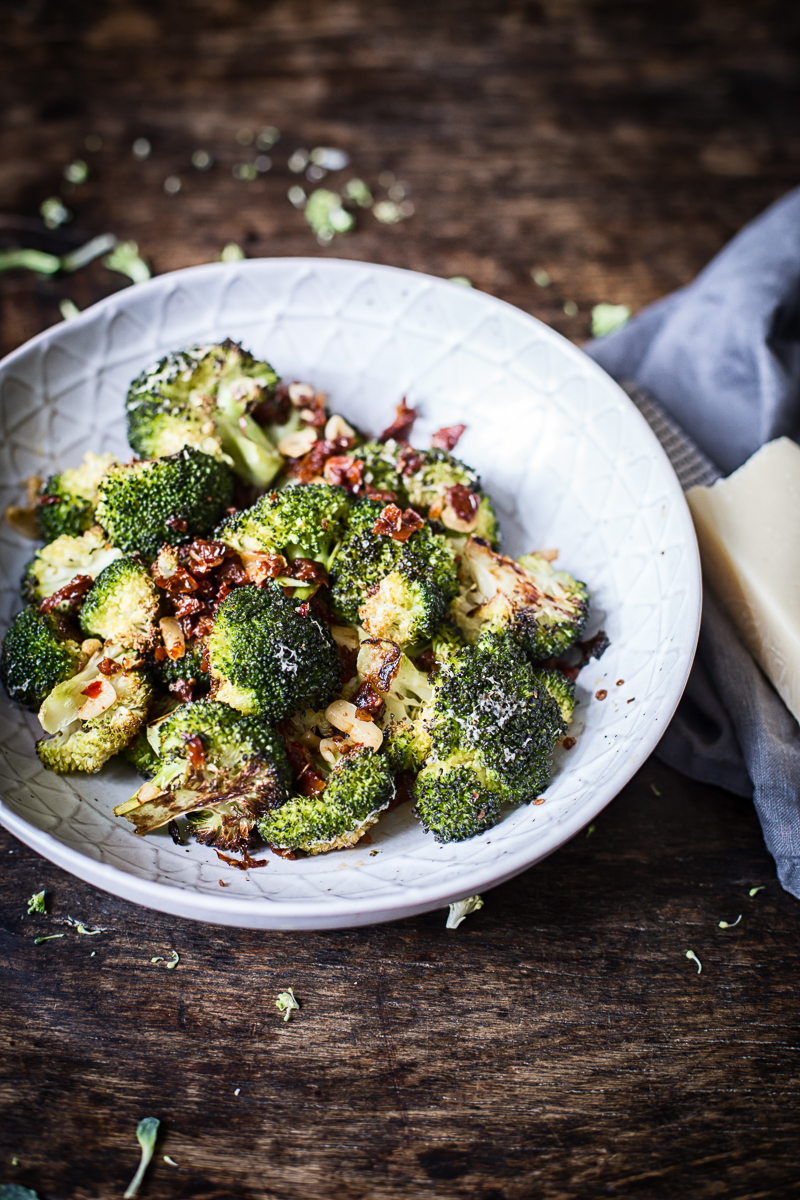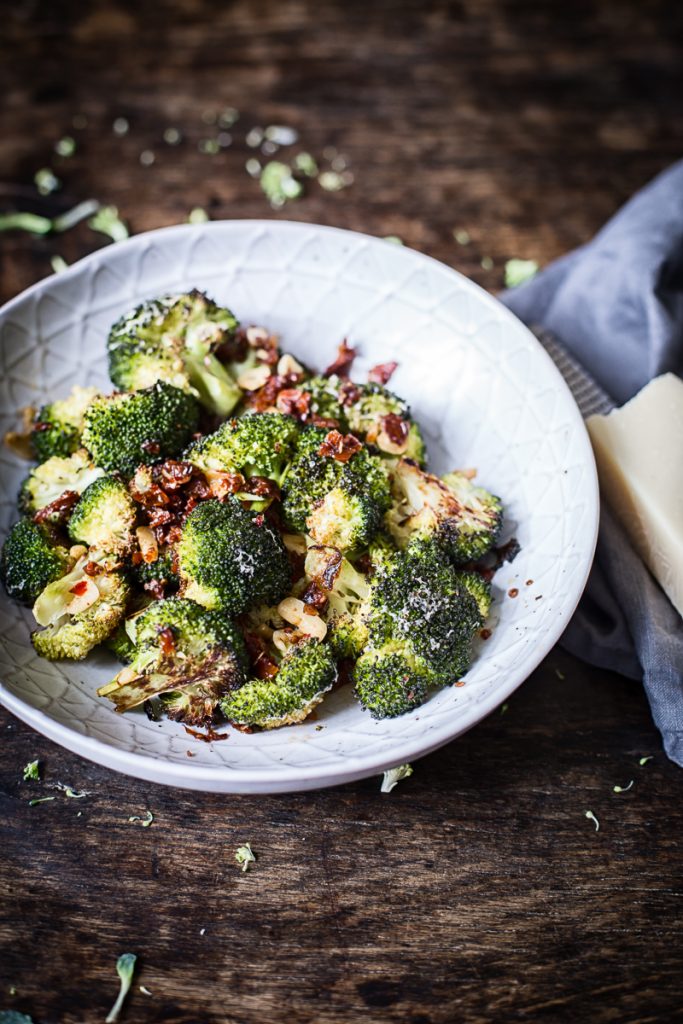 Roasted Parmesan Broccoli with Sun-dried Tomatoes, Garlic and Chillies by Julia @ Vikalinka | Keto Friendly
Well, here's a way to get everyone fighting over the broccoli. With so many umami boosters going on in this dish, no one will need reminding to eat their greens.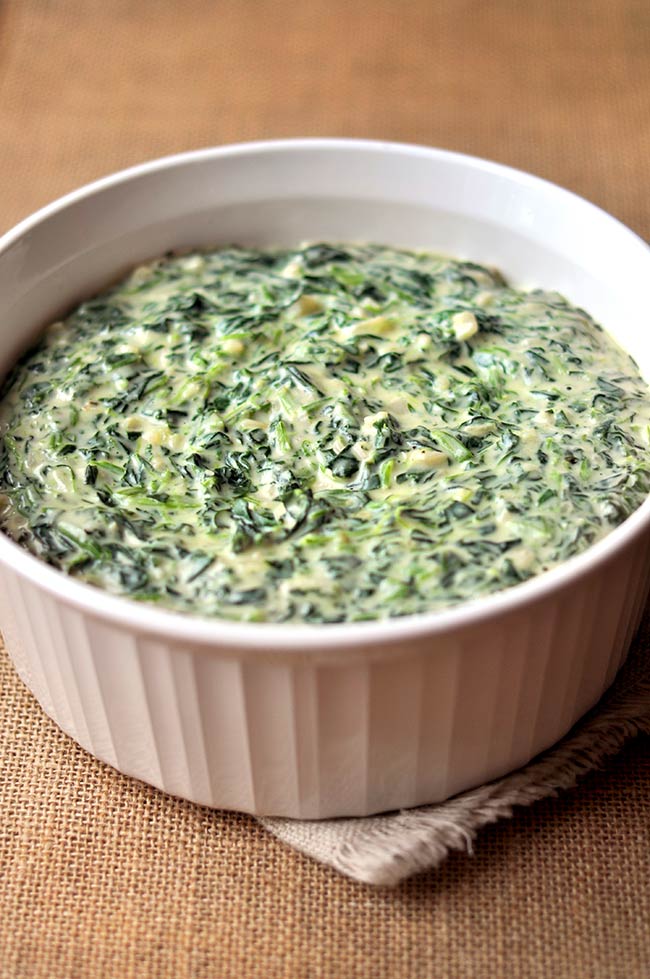 Easy Homemade Creamed Spinach by Angela @ Mighty Mrs | Make Ahead | Keto Friendly
You don't even need to love spinach to devour this amazing creamy dish. Angela's recipe has a secret ingredient for adding a little crunch to the texture of this casserole, making it that little bit more interesting too.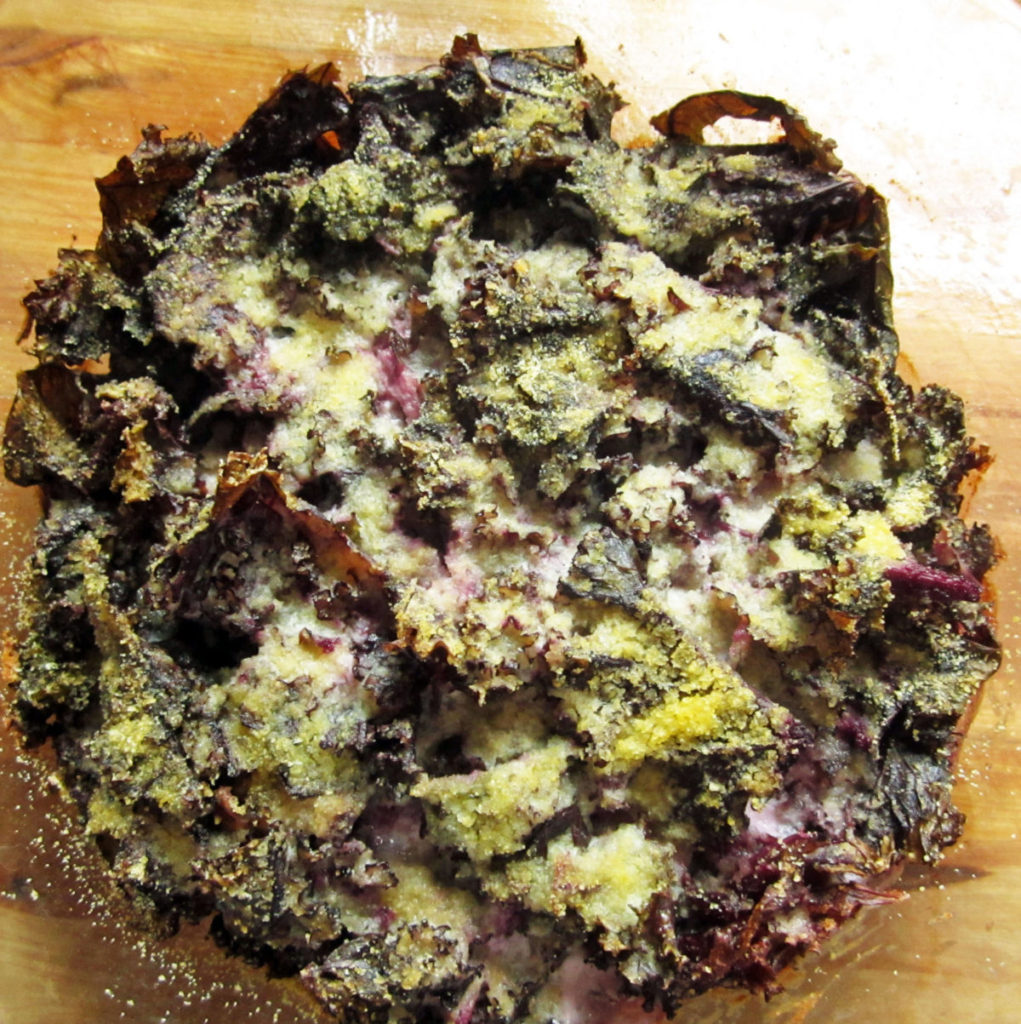 Vegan Creamy Kale Gratin | Prep Ahead | Vegan | Paleo Friendly | Keto Friendly
Purple kale baked in a mustard spiked cashew cream, perfect indulgence for the dairy free and vegan guests at the table. And everyone else too! Anyone who is skeptical about cashew cream hasn't tried this gratin.
Fancy Squash Recipes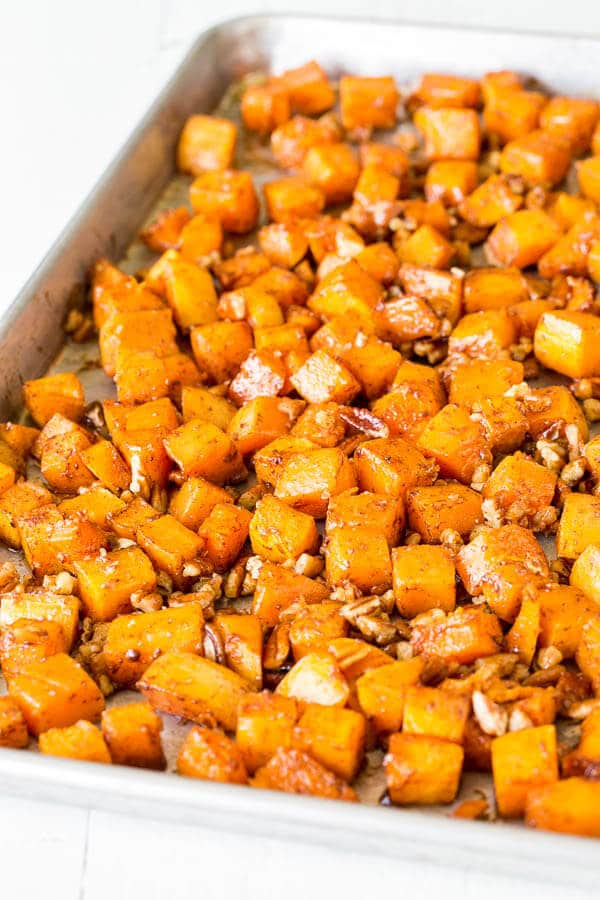 Caramelized Butternut Squash with Cinnamon & Nuts by Shinee @ Sweet & Savory| Easy | Prep Ahead 
Want flavor? Don't just roast… Caramelize! These incredible butternut squash cubes are intensely flavored and dotted with roasted pecans or walnuts for sensational textures.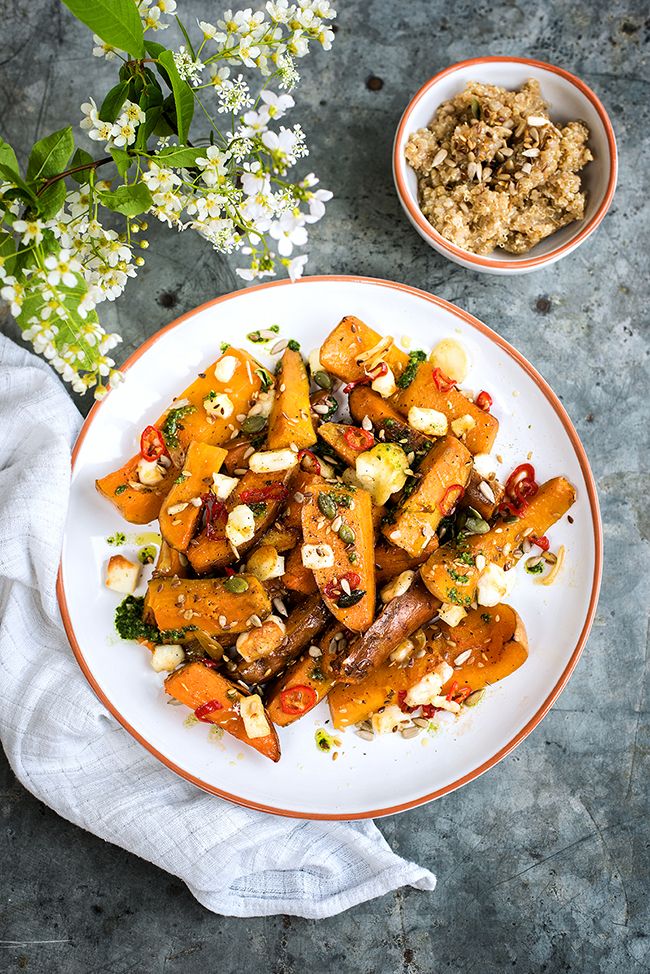 Honey-Roasted Sweet Potato and Squash with Halloumi and Basil Oil by Lucy @ Super Golden Bakes | Prep Ahead 
An amazing way to add some crowd pleasing halloumi to your holiday table… Everyone will be fighting over this one!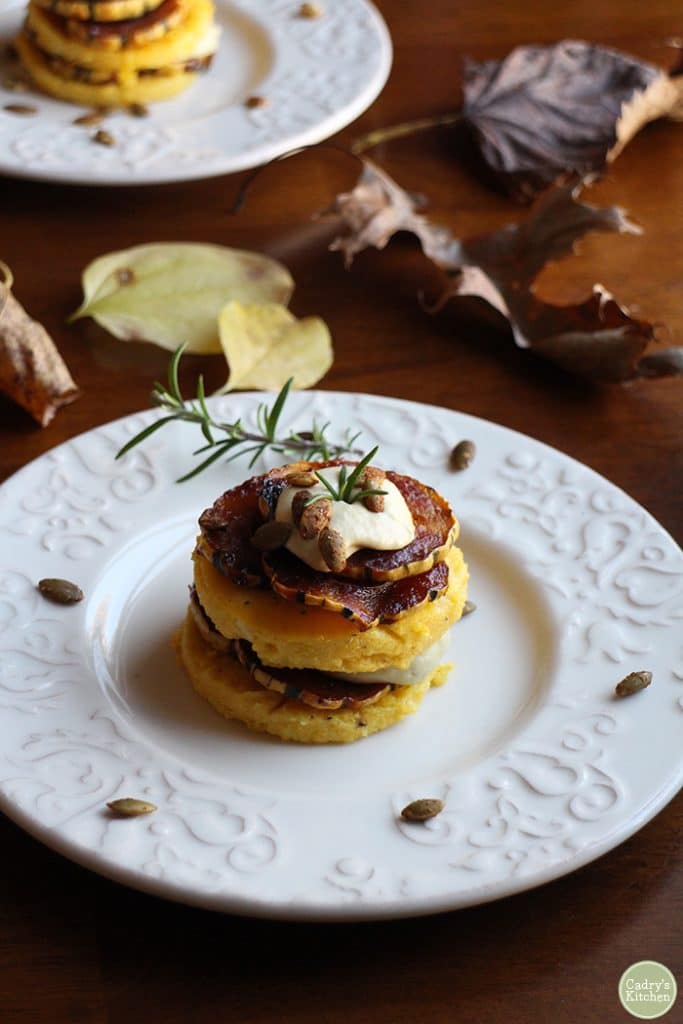 These fun polenta stacks will be a talking piece at your table, and bring a whole new taste to the party with the amazing barbecue squash.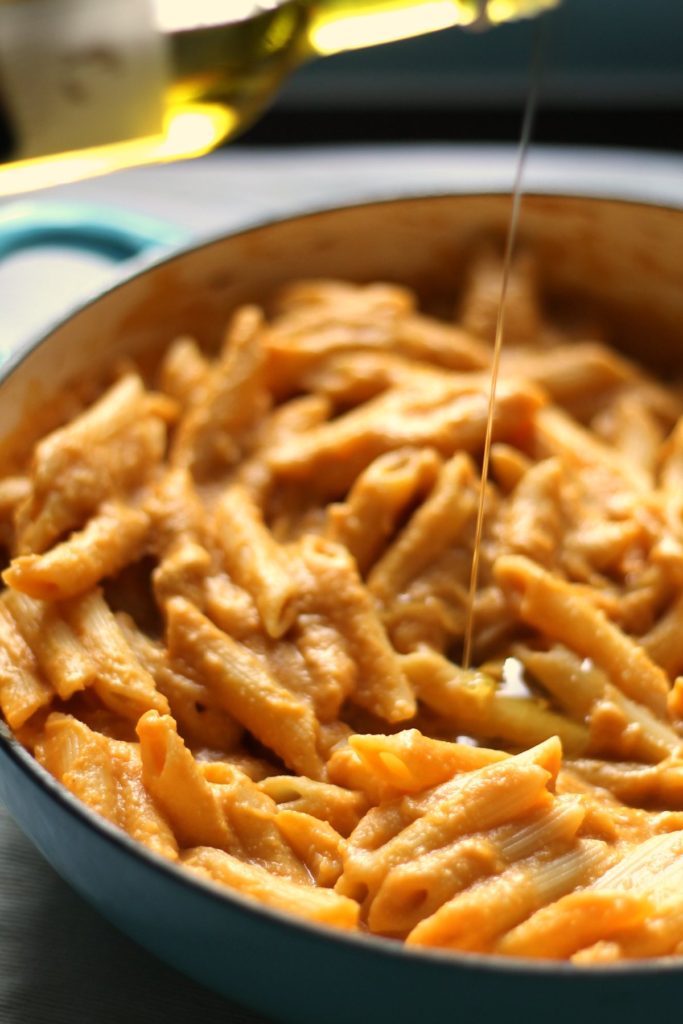 Creamy Butternut Pasta with Truffle Oil | Make Ahead | Vegan
A hearty and substantial fall side dish with a touch of luxury. It may be dairy free, but the cashew and butternut sauce will not be off-putting to your more traditional family members in the way that a soy or tofu based sauce might have.
Vegans, this pasta is an excellent dish to prepare yourself and bring along to an event when you're unsure how much vegan food there might be, because it's hearty enough to make up the bulk of your meal if needs be. You can add extra liquid and then bake it on arrival if you wish.
Roasted Amaretto Gingersnap Acorn Squash by Kellie @ The Suburban Soapbox | Prep Ahead 
A sweet and surprising hit of amaretto to liven your plate… Everyone will want to try this amazing dish.
Fancy Cauliflower Recipes
Roasted Cauliflower Mash | Make Ahead | Keto Friendly
Pureed roasted cauliflower with lashings of butter and cheese. The perfect mash for your carb conscious guests that still tastes like pure luxury.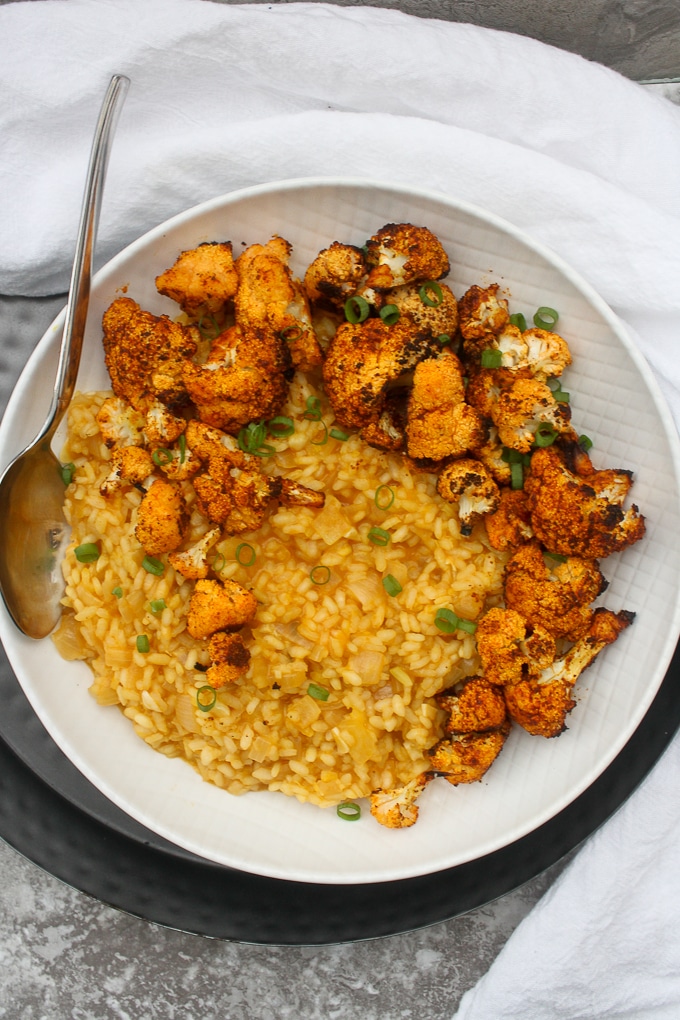 Lemon Risotto with Roasted Cauliflower by Sarah @ Champagne Tastes | Prep Ahead | Vegan
A hearty side dish that brings a whole new set of carbs to the table in the form of decadent risotto that contrasts perfectly with smoky roasted cauliflower.
This is another dish that vegans should consider bringing to a feast if they're unsure how much of the other food they'll be able to eat, since risotto is super filling if it ends up being the bulk of the meal!
Cauliflower with Brown Butter, Hazelnuts, Sage and Pears by Carolyn @ Umami Girl | Prep Ahead | Keto
Brown butter adds a touch of luxury wherever it goes, and in this amazing concoction it pairs with cauliflower, hazelnut sage and pears for a super fancy flavor explosion.
Fancy Eggplant & Mushroom
Roasted Eggplant Cubes with Balsamic Vinaigrette (by Gabriel @ One Clever Chef) | Easy | Prep Ahead | Vegan | Paleo | Keto
You won't be able to resist another spoonful of these crispy, perfectly seasoned, umami-laden eggplant cubes. If you've never thought to add eggplant to your holiday table, this is the year!
Stacked Ale Mushrooms with Arugula & Goat Cheese by Trish @ Rhubarbarians | Prep Ahead 
If you're trying to show your family that vegetarian eating isn't boring or fun… I give you these epic boozy mushrooms to make your case.
Fancy Salads & Slaws
Rainbow Slaw with Lemon, Garlic & Tahini Dressing by Julia @ Vikalinka | Easy | Make Ahead | Vegan | Paleo | Keto
An incredible winter slaw that will add some crunch and freshness to your holiday dinner. If you plan to serve a faux turkey or tofu, this would be an amazing topping.
Fall Fattoush Salad by Natasha @ Salt and Lavender | Make Ahead | Vegan
Bring some international flair to the table with this gorgeous autumnal twist on Lebanese fattoush.
So there you have it! Tons of ideas for fancy vegetable side dishes this holiday season. I hope this has helped give you some ideas for your own feasts. Let me know in the comments what other fun recipes and food ideas you're planning this year!