These air fryer baked potatoes only need an additional five minutes to transform into giant stuffed smashed potatoes! Perfect for those who enjoy twice baked potatoes but don't have the time. With endless options for fillings and toppings, this is a simple lunch that makes use of your air fryer's ability to crisp things quickly and easily.
One of the first things a proud new air fryer owner might try in their new toy is a baked potato (or jacket potato if you're on my current side of the pond).
Air fryers make amazing baked potatoes – nice crispy skins, fluffy insides, without having to run your oven for an hour.
A baked potato for one or two people becomes a more feasible lunch plan. And that's probably what I use my air fryer most for – my lunchtime baked taters, which I top with all sorts of different things.
This, however, is not a simple air fryer baked potato recipe, but rather a giant smashed baked potato. Hear me out.
You bake the potato, then open it up, flatten and smash it up a little, use a fork to mix in some butter and fillings into the potato flesh, then return it to the air fryer to crisp up again.
You get the nice creamy, crispy effect that you'd expect from a twice baked potato… but without all the time and hassle. This only adds an extra 5 – 10 minutes to your cooking time!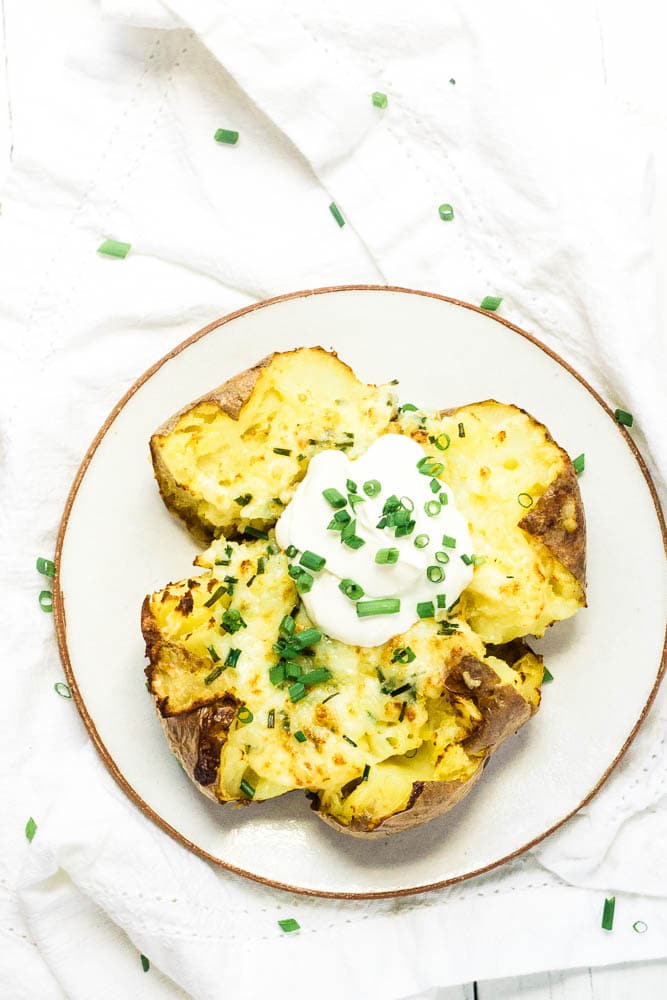 So it's sort of like a very messy, very lazy twice baked potato.
Or a giant stuffed smashed potato with toppings. It's hard to know how to pitch this one.
Toppings and Fillings
This is the fun part. There's an abundance of ways to serve these potatoes. Here are my favorites so far. I may add more as I experiment with new ideas!
Cheese & Chive (as pictured – full recipe in the recipe card)
Open the potato, mix in butter, cheese and chives, and then cook it until crisp. Add sour cream on top.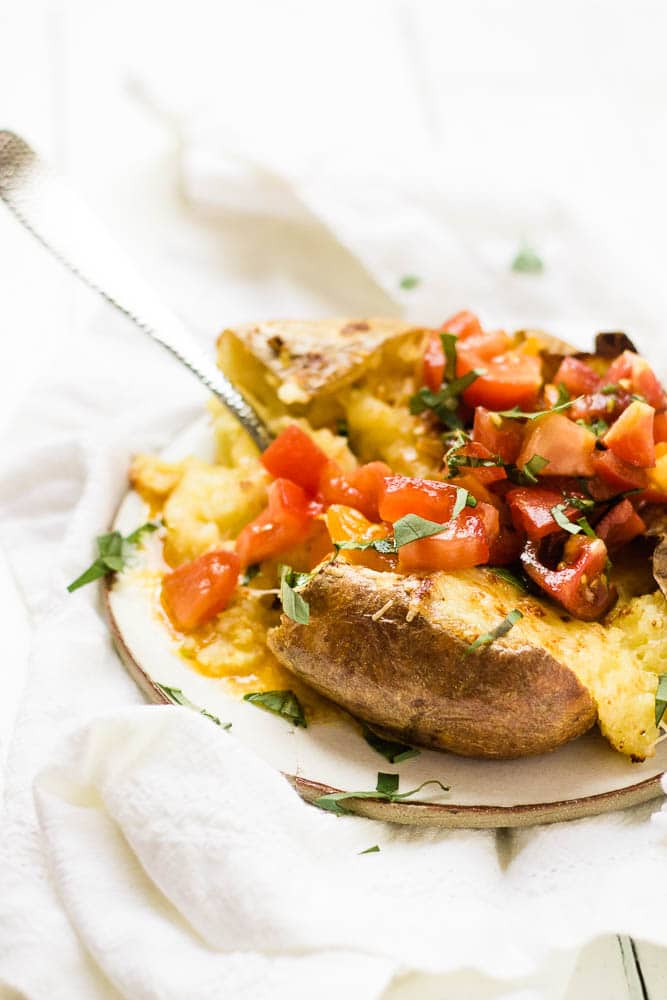 Fresh Tomato & Basil (as pictured above – full recipe in "Notes" section of recipe card)
This one is actually my fave! I wanted to give you the more classic cheese and chive recipe as the headline one, but THIS is my fave lunch right now. You will marinade some fresh chopped tomatoes in garlic, basil and olive oil. When you open the potato, mix in butter and a handful of grated parmesan, cook again until crisp. Spoon fresh tomato topping over it and make sure to pour all the juices on!
This recipe is included in more detail in the "Notes" section of the recipe card.
And some other ideas not pictured:
Brie. Open the potato, mix in butter and then top with some sliced brie. Cook until the brie is bubbling. You might even add the fresh tomato topping, as per the previous variation, too!
Broccoli & Cheddar. Finely chop a few broccoli florets and toss them in olive oil. When you take out the potato to smash it up, place the broccoli in the air fryer and cook it for about 3 minutes. Stir your butter into the potato, then take out the broccoli, place it on top and cover with some grated cheddar cheese. Cook for another 3-4 minutes until the cheddar has melted.
Leftover Chili or Dal. Prepared very plain with just butter as a filling, it makes a great base for saucy vegetables, beans or legumes. I particularly enjoy chilli or dal on mine.