A creamy, decadent green lentil dal makhani style curry that is simple to make at home in one pot! Serve this vegetarian delight with naan bread or rice.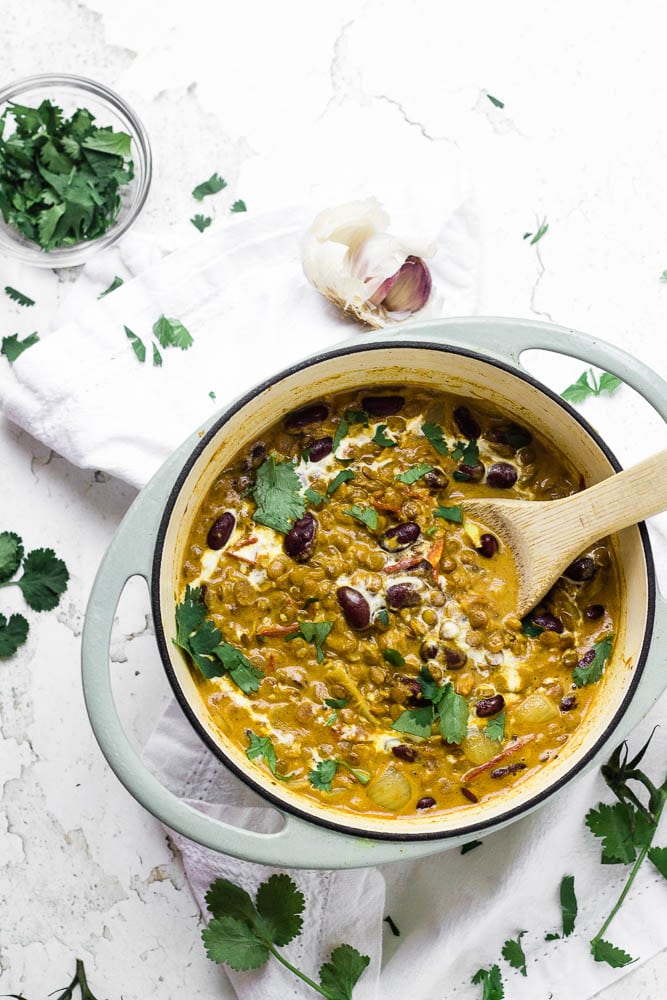 When eating in an Indian restaurant, or ordering takeaway, dal is an essential side order for me. Essential. Fresh naan bread dipped in dal makhani = pure bliss.
So I set out to make a recipe for a homemade dal makhani inspired curry that would hit the spot when we craved curry but didn't want to splash out on takeaway.
After several iterations, I think this one finally nails it.
This is not an authentic recipe, and the fact it is cooked quite quickly comes with an inevitable trade off on its depth of flavor. But I find this to be a great compromise for an inexpensive, tasty, warming meal made with supermarket essentials that I usually have to hand.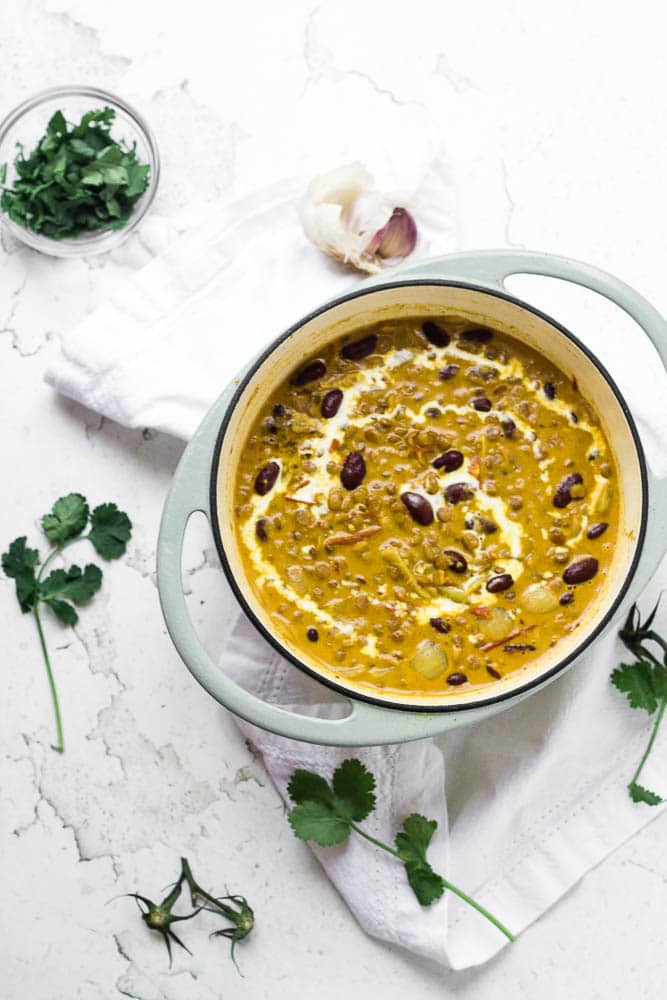 Why use green lentils for dal?
Typically, dal makhani is made with black lentils, which makes for a gorgeous visual finish. I accept that green lentils can't compete with that!
Black lentils also hold their shape better and bring slightly more texture to the dish, whereas green lentils go quite soft and melty after cooking for a long time.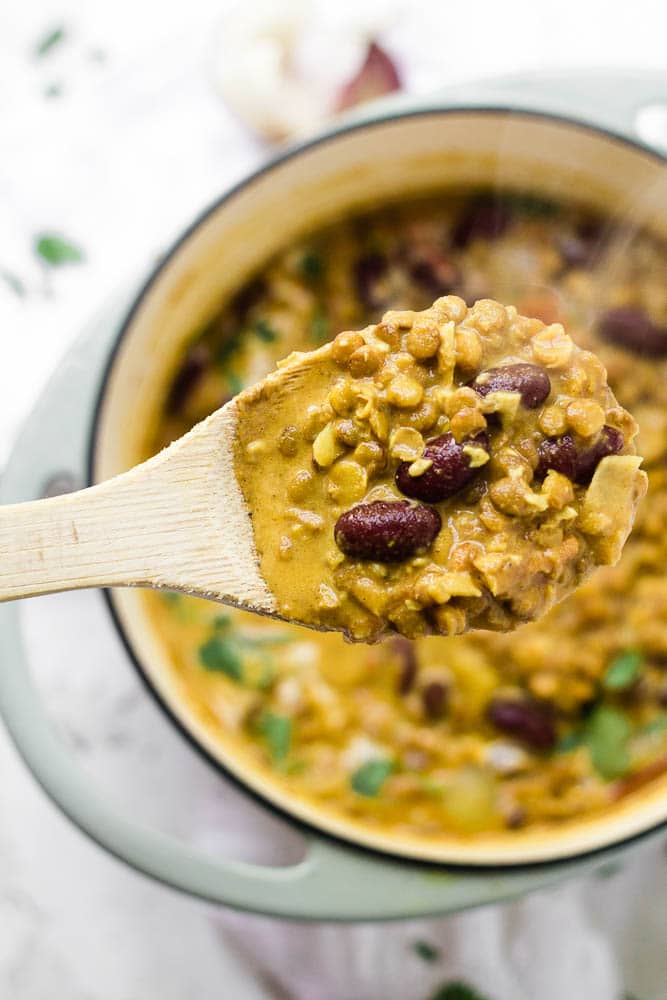 They don't melt completely like red lentils, but the longer they cook the more uniform they'll become.
So black lentils may be the classic choice for dal makhani, but we compromise here for convenience, with green lentils being the dominant ones available in UK supermarkets and cooking more quickly from dried. I also do love the silky finish they bring to the table, it's sort of a halfway point between a chana dal and a black lentil dal.
If brown lentils are more available to you, I have tested this recipe with brown lentils too and they swap in just fine!
Ultimately there's a lot to be said for recipes which do their best to recreate a restaurant favorite with the ingredients you know you will always have to hand… especially when you can have it ready within the hour.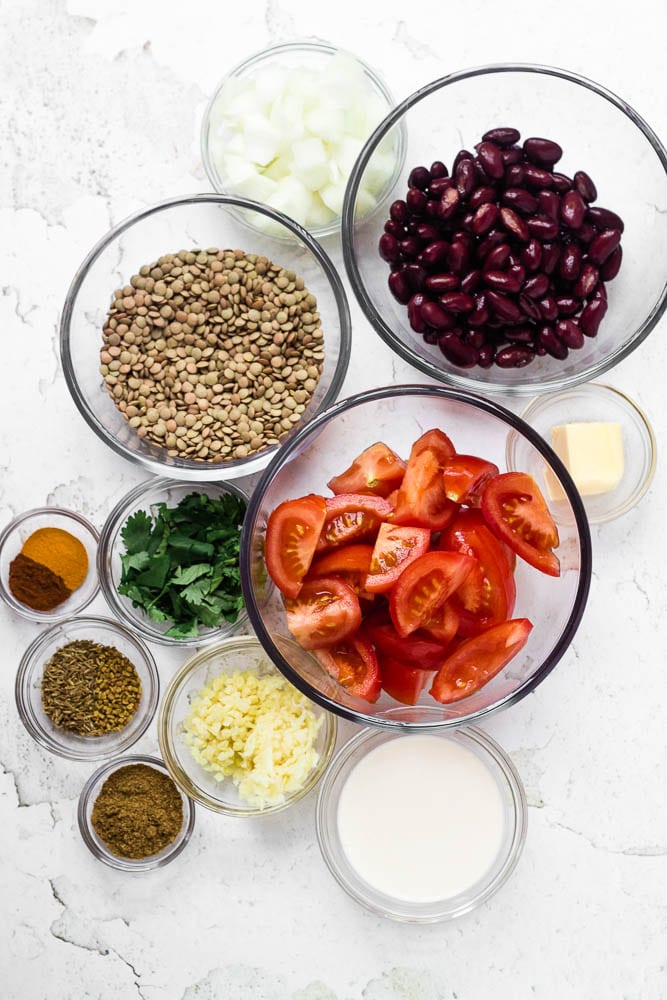 What spices do I need?
I tried to keep the spice profile fairly mainstream here too. We use a mix of fenugreek seeds, cumin seeds, chili powder, tumeric and garam masala.
Fenugreek seeds aren't common enough to have a guaranteed place on your shelf, but they're widely available in supermarkets so pick some up and you might find you love cooking with them. Swap in mustard seeds if you don't have any.
Garam masala is a sweet and fragrant spice mix blend. The exact combo of spices will depend on the one you buy. I personally find it worth investing in fresher blends than just the usual supermarket jars. I love the JustIngredients brand which I buy from Ocado.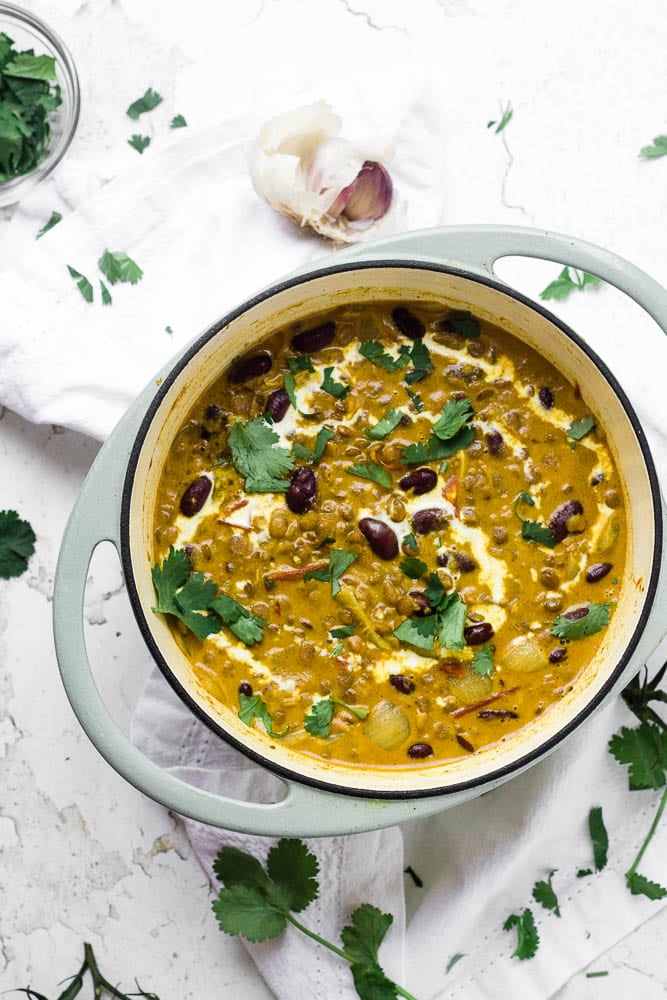 Fresh tomatoes or canned / pureed / paste?
I've tried this recipe with all three, and fresh tomatoes have the edge for me. I just prefer the way they melt into the sauce and give some flavor and freshness without that concentrated tomato flavor you would get from using canned or jarred.
But if you really need this to be a pantry meal, you can absolutely swap in a few tablespoons of tomato paste or around 1 cup (140ml) of passata (pureed tomatoes). It's not my favorite way, but it's certainly not bad!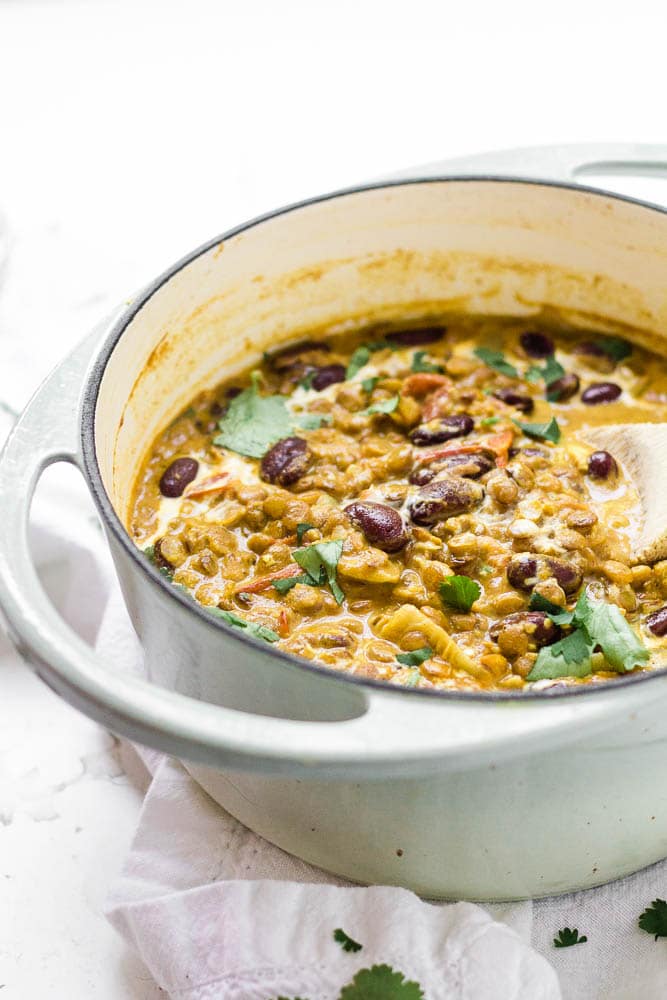 How to Serve your dal
I personally call this a complete meal, alongside some rice and/or naan bread, but if you're looking to bulk this out a little, here are some ideas for what to serve alongside:
Topped with paneer or tofu skewers
Topped with spiced roasted vegetables
Alongside a really green curry like sag aloo (try my slow cooker recipe!) or sag paneer (or try my kale paneer!)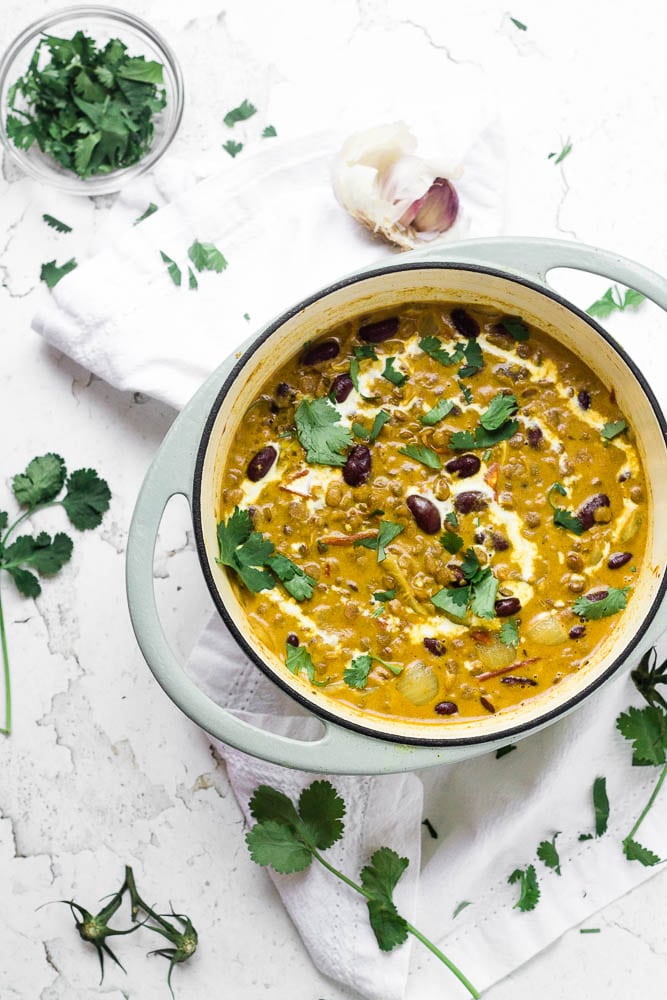 Making Ahead and Storing
This is a great dish to make ahead of serving, because the longer it sits in the fridge the better it's going to taste.
You'll get 4 decent servings if you're serving it as the main meal, but more if it's a side dish or lunch portions.
Leftovers are perfect for taking into work the next day and it will freeze nicely for 3+ months.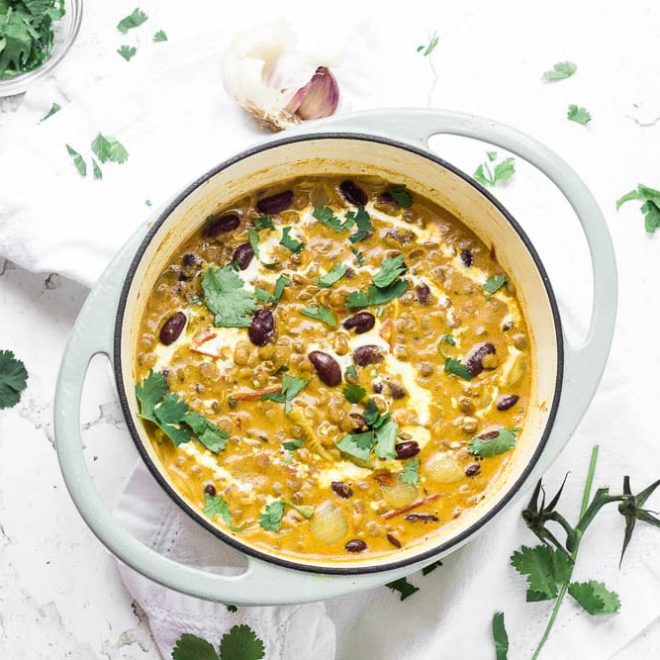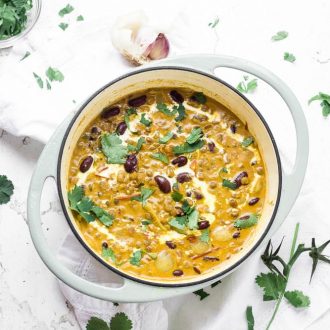 Green Lentil Dal Makhani
A creamy, decadent green lentil dal makhani style curry that is simple to make at home in one pot! Serve this vegetarian delight with naan bread or rice.
Ingredients
1 small onion
6 small cloves of garlic, sliced
1 Tbsp ginger
4 chopped fresh tomatoes
2 tsp cumin seeds
1 tsp fenugreek seeds, or you can substitute mustard seeds
½ tsp chili powder, see notes
1 Tbsp garam masala
1 tsp turmeric
200 g (1 cup) dried green lentils
1 can of kidney beans, drained and rinsed
60 ml (0.25 cups) double cream / heavy cream
25 g (2 tbsp) salted butter
Salt & pepper to taste
A couple handfuls of fresh coriander, cilantro leaves to garnish.
Instructions
In a medium-large saucepan, heat a glug of olive oil and sautee onion until soft.

Add the garlic, ginger, cumin seeds and fenugreek seeds. Mix for another minute or so until the fragrances start to release.

Add the tomatoes a small pat of the butter (holding the rest back to mix in at the end) and simmer for around 5 minutes, stirring frequently, until they break down and start to reduce.

Add the chili powder, turmeric and garam masala and stir through. Add salt and pepper to taste.

Add the kidney beans, green lentils and 2.5 cups of boiling water.

Simmer for 30 minutes until the lentils are soft. (That's just a minimum – you can leave it simmering longer if you like.)

Remove from the heat. Stir in the cream and butter until melted in.

Let set for about 5 minutes before serving.

Scatter with coriander (cilantro) leaves after dishing it up.
Notes
1/2 tsp chili powder gives the curry a tiny bit of spice to it, but it's mild. Add more if you prefer a hotter curry, or reduce / omit if you don't want any spicy kick at all. If you don't use fresh tomatoes, you could swap in about 1 cup of passata (pureed tomatoes) or a few Tbsps of tomato paste. If you use tomato paste, add some extra water. I don't peel my tomatoes, so there are some bits of tomato skin mixed in with the dal, which I have zero problem with, but you could take the extra step of peeling them if you wish. Score the skins with a knife, let them sit in boiling water for a minute or two, and the skins should peel off easily. You can swap brown lentils for green lentils, no problem. If you prefer a smoother finish, you can use an immersion blender to blend a little bit of the dal until you get the texture you like. Nutritional information is based on a portion that is 1/4th of the recipe.
Serving: 1g, Calories: 273kcal, Carbohydrates: 36g, Protein: 13g, Fat: 10g, Saturated Fat: 6g, Polyunsaturated Fat: 3g, Cholesterol: 24mg, Sodium: 285mg, Fiber: 12g, Sugar: 8g