Air Fryer Paneer Curry
A creamy paneer curry for two, made entirely in the air fryer! Crispy paneer is drenched in a sweet, mild cream sauce. This is a base recipe with lots and lots of variations to try to suit your own tastes and the contents of your fridge!
Who doesn't love a dreamy bowl of paneer tikka masala or paneer makhani? No one. That's who.
This recipe takes inspiration from those styles of curry. You've got crispy, slightly smoky paneer in a creamy sauce, that incredible mix of textures that makes tikka masala so popular.
The recipe as written is very mild, very sweet, very inoffensive to children or those who don't like spice. But there's so many ways to adjust it, so please don't be put off if that is your worst curry nightmare. I have a whole list of ideas coming for you.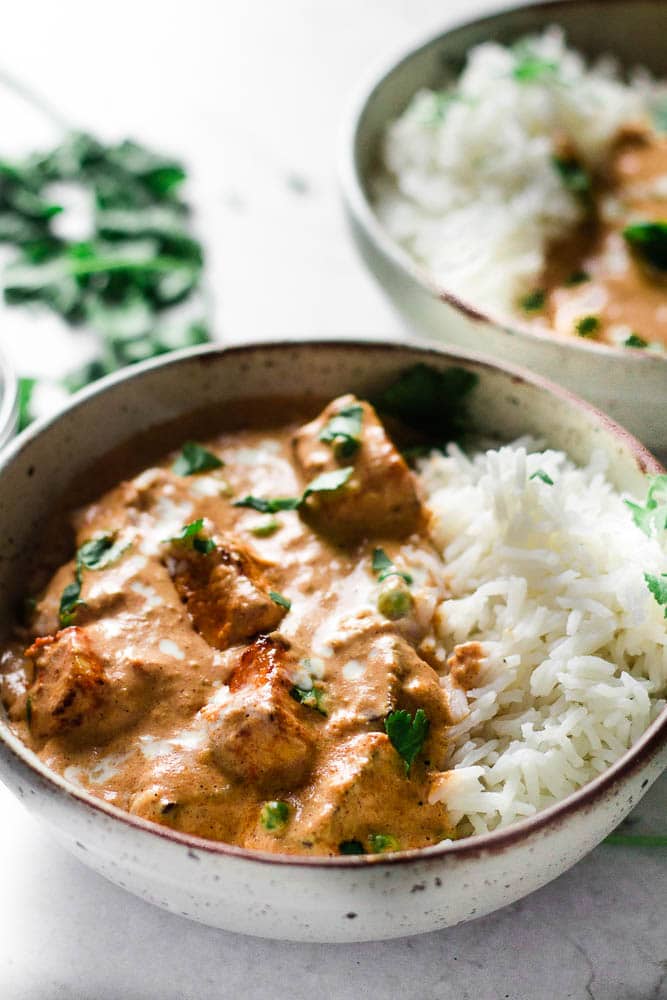 Why you should cook Paneer in an Air Fryer
An air fryer is a great way to achieve golden, crispy paneer without all the oil spitting that you get when you pan fry it.
All you need to do is coat the paneer in oil and cook for about 10 minutes at 200C / 400F. I don't even bother turning it or shaking it or anything. And it comes out perfect every time.
Why you should make the whole Curry in an Air Fryer
Whilst making paneer in the air fryer is a pretty straightforward and clearly beneficial endeavor, making the curry sauce in an air fryer might seem a little… odd? Pointless? I hear you.
The benefit here is to create the whole meal in the air fryer so that you aren't needing to babysit any aspect of it. Much like with my oven roasted sweet potato tikka masala, sometimes it's just nice not to have to be at the stove / hob at any point during your dinner making. You're already using the air fryer for the paneer, so it just kinda works.
To make this sauce in the air fryer, you are going to need a pan that fits in your air fryer basket. You can get them as part of wider accessories packs, or you may have a mini tin in your collection anyway, but it's a deep 7 inch pan you want.
How to Make it – in Pictures
A full printable recipe card is coming your way, but this shows you the general idea.
The base of this sauce is a couple of air fried "roasted" tomatoes and onions, then we add spices and cream and puree it all down. (You can even puree it right there in the pan if you use an immersion blender).
The paneer will cook while you're blending the sauce, then you put it all together in the pan and back into the air fryer to get it warmed up again.
And then you plate it up with some rice and coriander. Ta da!
Using microwave rice will keep this dinner as easy as can be, but if you're cooking rice from scratch, I recommend about 1/2 cup dried which will yield around 1.5 cups.
How to Customise this Paneer Curry
Add vegetables! This is even better with some mushrooms and peppers cooked alongside the paneer. You can also add other frozen vegetables or fresh spinach (see Recipes Notes for instructions).
A different protein source, like tofu or halloumi, would slot right in here.
Add more chili powder, or some fresh chili, if you want a bit of heat. It's super mild as it is.
You don't need to use my blend of spices – you could simply swap in your favourite curry powder.
Using coconut cream instead of dairy cream should work just fine, though I haven't tested it.
Add tomato puree (alongside the spices) if you want a more red, tomatoe-y finish.