An easy one pan sweet potato tikka masala style curry made entirely in the oven with paneer and other veggies! So creamy and comforting, this recipe is easy to make and can be adapted to the contents of your fridge.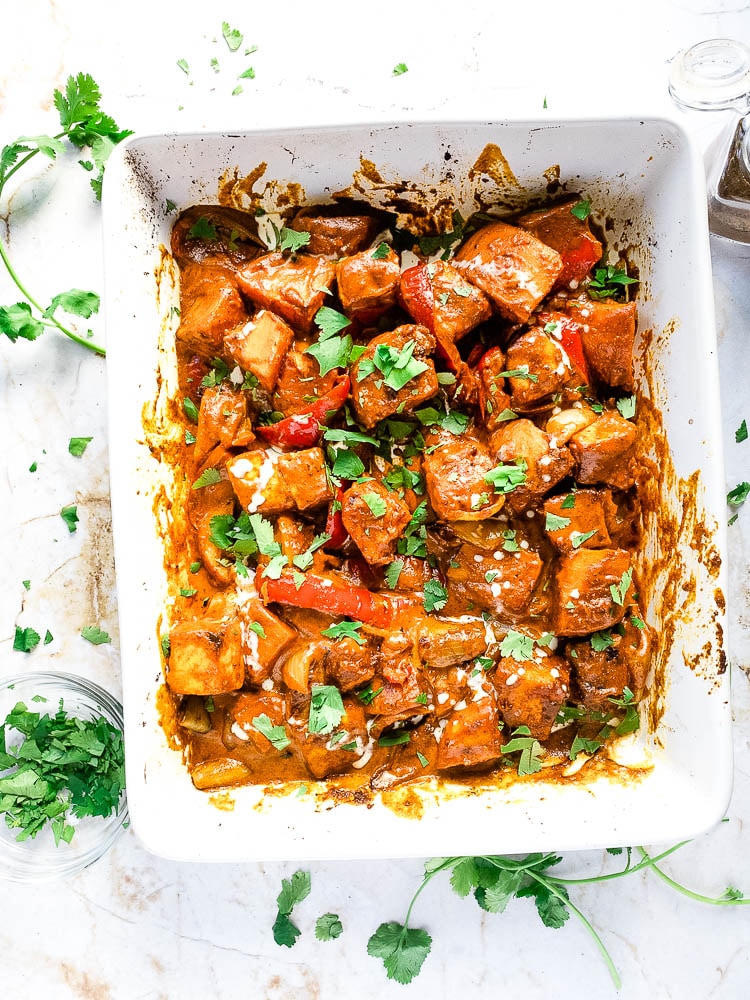 Well, we all love a tikka masala, I think we can agree. The creaminess, the bright red-ness, the sweetness, the spices… Sign me up!
But the term "tikka masala" specifically refers to food being prepared on a grill (tikka) and then mixed with a sauce (masala). The problem is, on a weeknight I have no intention of skewering and grilling things. That's a nope. But what I am willing to do is oven roast them.
So this is the plan – we oven roast our sweet potatoes and other good stuff in spices, then we just make the sauce right there in the pan with the roasted stuff.
This is so completely inauthentic, I know. Buuutt it's easy and it hits the spot. Sometimes that is the goal.
The Filling
So what stands up well to this process? I love how chunks of sweet potato cook this way and end up smoky, sweet and creamy in the middle, so they are our star ingredient.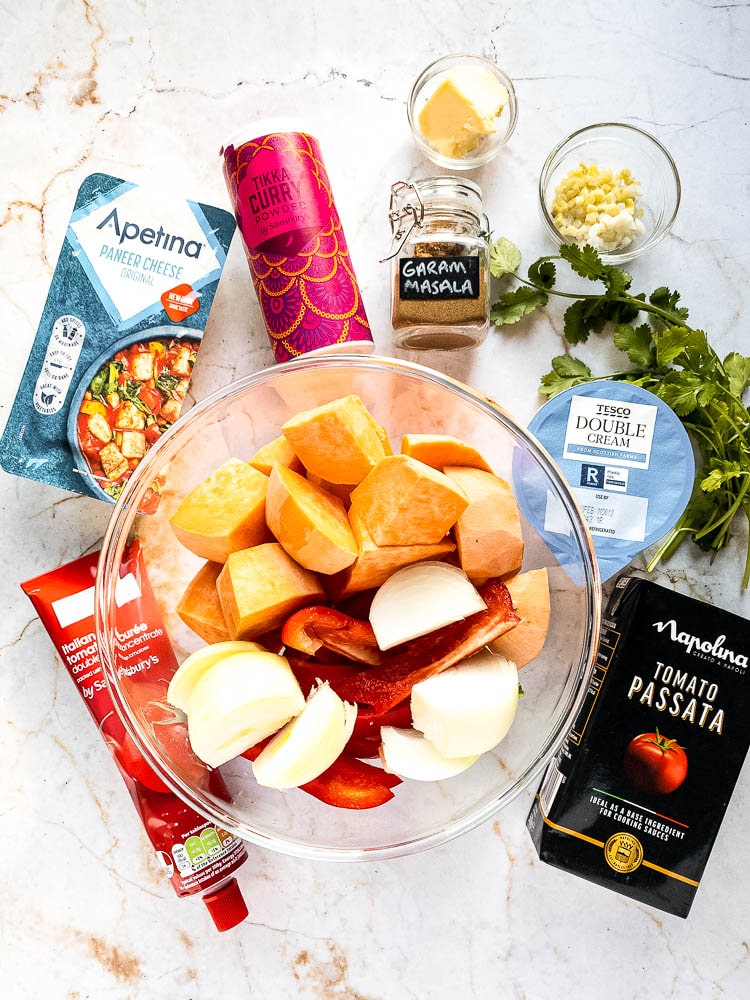 I also love to add paneer to any curry that I can, and I was delighted to find that paneer could roast in the oven alongside and turn out great too. But I haven't made this a headline ingredient because I know it's not a staple for everyone, and can be hard to find in some places. So if you don't have any / can't find any, consider adding chickpeas or mushrooms (see the notes in the recipe card for more precise instructions).
Other good veggies to include would be peppers and onions but you can add other vegetables you have lying around too! Mushrooms, spinach, peas, it can take whatever you've got (again, see recipe notes for more precise instructions if adding other veggies).
Tikka Masala Spices
You know I love to put together a curry with a nice mix of whole and ground spices, but for this recipe I am using a tikka masala spice blend mixed with tomato puree. It makes the dinner easy as can be, with a short ingredients list, but you do have options.
You could instead…
Put together the spice blend from scratch (this tikka masala spice blend should work with most home spice collections) and then mix it with the tomato puree.
Prepare a tikka masala paste from scratch (I have tested this recipe with Jamie Oliver's tikka masala paste and it is lovely).
Use a pre made tikka masala paste if you have one.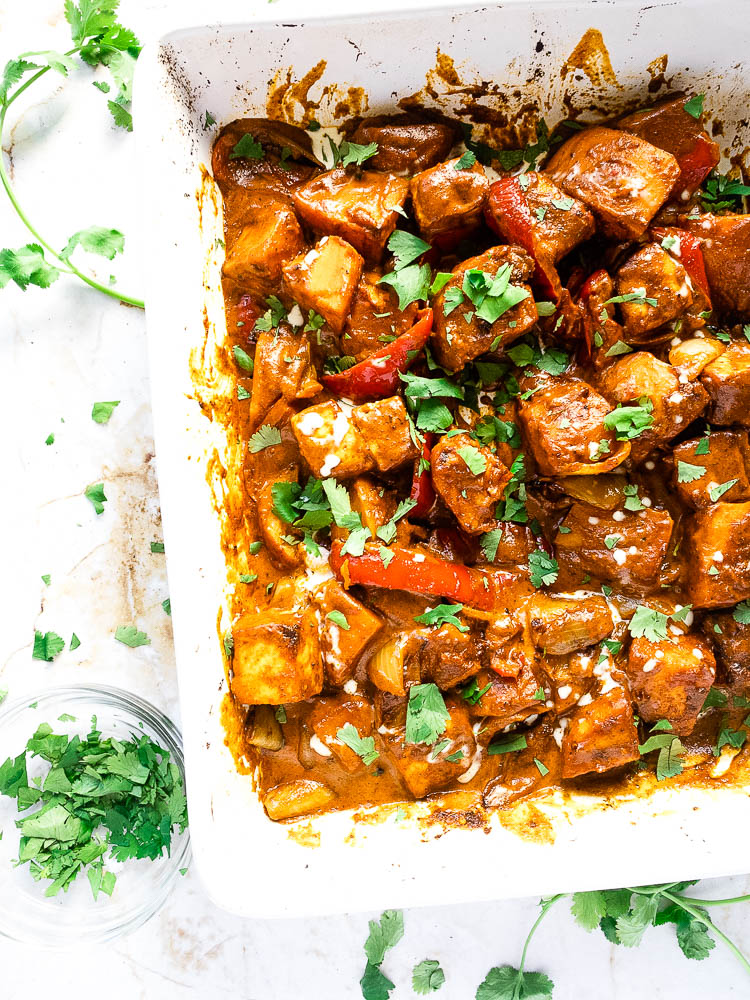 A Note on Roasting paneer
I've tested this recipe with a couple of different brands (Everest and Apetina) and both work great however, they behave a little differently when being roasted.
Everest is drier and firmer. It's almost squeaky. It doesn't crumble; it's got a smooth finish. It stands up to being tossed around a little. If you're using this or any paneer that resembles this description, you want to be careful not to leave it in the oven too long or it can get really dried out and chewy. So make sure to chop your sweet potato on the smaller side (smaller than in my photos) so you don't get into a situation where your paneer is overdone before the sweet potato is ready.
Apetina is more fresh, moist and crumbly. It will break apart easily and you have to be delicate with it. If you're using this brand or any fresher moist / crumbly paneer, you needn't worry too much. In my experience this paneer lasts forever in the oven without any sign of drying out.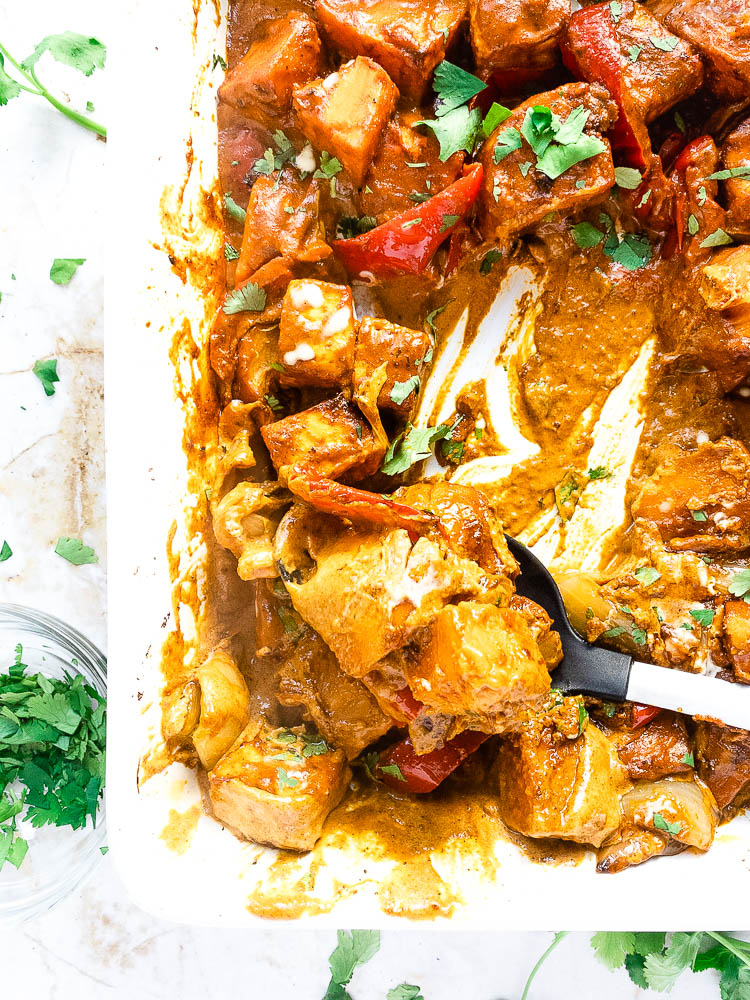 How to Serve
I normally say rice AND nan, but for this one I'd say either/or. It's saucy, but it's not super saucy, like with some takeaway curries where the filling is just drowning in sauce and begging for all the rice and all the bread to mop it up. I've kept it lighter on the sauce because it's just so gloriously rich.
If you're making this as part of a bigger curry night feast, it would pair well with this easy dal recipe and/or something green like sag aloo or kale paneer (though if you do kale paneer, you may want to swap out the paneer for chickpeas or mushrooms in one of the recipes – although hey, that's up to you and how you feel about double paneer-ing!)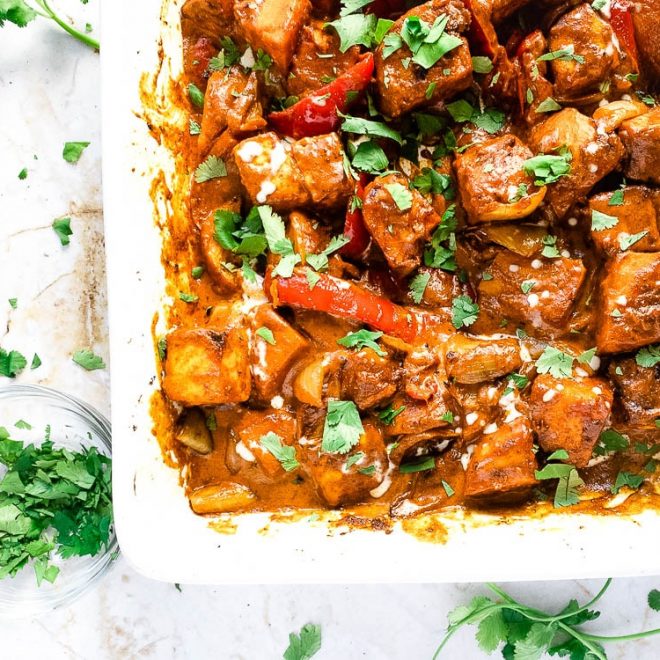 Oven Roasted Sweet Potato Tikka Masala
An easy one pan sweet potato tikka masala style curry made entirely in the oven with paneer and other veggies! So creamy and comforting, this recipe is easy to make and can be adapted to the contents of your fridge.
Ingredients
4 Tbsp tikka masala spice blend
2 Tbsp tomato paste
4 Tbsp olive oil, + more for spraying
1 Tsp finely chopped ginger
2 Tsp finely chopped garlic
1 block paneer, cubed
4 medium sweet potatoes, sliced and cubed
2 onions, cut into 1/8ths
1 red pepper, sliced
2 Tbsp (30 g) butter
1 Tbsp garam masala
¼ cup (60 ml) passata
½ cup (120 ml) double / heavy cream
A few handfuls of fresh coriander / cilantro, for serving
Instructions
Heat oven to 200C / 400F.

In a large bowl, mix the tomato puree, olive oil, garlic, ginger and tikka masala spices to form a paste. Scoop just a spoonful of the mixture out (about 1/3rd of the total amount) and set aside, leaving the rest in the bowl.

Add the sweet potatoes, onions, and peppers, to the bowl. Mix and toss to coat the vegetables in the paste.

Finally, add the paneer and the remaining paste to the bowl and mix very gently just until the paneer is coated in paste too. You don't want to break the paneer pieces so go easy on them!

Spray a roasting tray with olive oil, then scatter the vegetables and paneer on top and add another spray (or drizzle) of oil over them.

Place in the oven for 35-45 minutes, until everything is lovely and charred and the sweet potato is soft inside.

Now remove the pan from the oven and very quickly add the garam masala and butter. Mix around, allowing the garam masala to toast from the residual heat of the pan.

Pour the tomato passata and cream into the dish. Give everything a stir until the sauce has formed.

Return to the oven for a further 5 minutes until the sauce is warmed through.

Scatter with cilantro (coriander) and serve!
Notes
Substituting mushrooms for paneer: Use a pack of button mushrooms (leave whole), cremini mushrooms (slice in half) or portobellos (slice into strips) and add them at the same time you'd have added paneer – at the beginning with the sweet potatoes. Substituting chickpeas for paneer: Use one can, drained, and add them between steps 7 and 8: after adding the garam masala and butter, before adding the passata and cream. Adding peas or other frozen vegetables: Add them alongside the cream and passata, you may then need an extra 5 minutes in the oven in step 9. Adding spinach: Add after step 8. Once the sauce has formed, mix in and it will start to wilt. It will finish cooking when it's returned to the oven.
Serving: 1g, Calories: 330kcal, Carbohydrates: 35g, Protein: 11g, Fat: 17g, Saturated Fat: 7g, Polyunsaturated Fat: 9g, Cholesterol: 36mg, Sodium: 409mg, Fiber: 6g, Sugar: 13g