A delightful Mediterranean and Indian fusion, this baked curry is full of sweet roasted peppers and lentils with crispy feta cheese on top. Everything sits in a luxuriously creamy spiced sauce and the whole meal comes together in one pan in the oven. This is a versatile dish that can be served in different ways with several variations to make it your own.
Soooo.. What have we here? A mashup of Indian and Mediterranean yumminess, that's what! A creamy baked curry, full of sweet roasted peppers, lentils and Indian spices, topped with browned feta cheese cubes.
You can serve it with rice and nan to lean into its Indian side, or maybe couscous and pita bread to lean into its more Mediterranean side. It's whatever you need it to be. It's just reeeeeally tasty.
One of my most popular recipes ever is my halloumi bake and this recipe is really similar. A rich tomatoey sauce, some plant protein, and browned cheese. This one just goes in a different direction spice-wise. And the great thing is, I know in some parts of the world halloumi is hard to find and expensive, whereas feta is more widely available. Yay!
How to make it in Pictures
As ever, a printable recipe card is on it's way to you but here's the visual run down. It's entirely made in the oven, and there are just a few steps.
You start by roasting your peppers, onions and garlic and then using the residual hot oil to toast the spices.
Then you'll add your lentils, tomatoes, cream and mix the sauce together all nice.
Arrange the feta on top, bake and then grill to achieve that amazing crispiness.
Serve and delight!
Top Tips for Making this Recipe
Don't hesitate to add more veggies! Just roast them in the pan with the peppers. Mushrooms, zucchini, everyone is welcome here.
I call for 1 and 1/2 cups of cooked lentils. If you're cooking them from dried, you want to cook around 1/2 cup of dried lentils. If you're using a can, it will be slightly less than 1.5 cups but it's not a problem, this is a flexible recipe.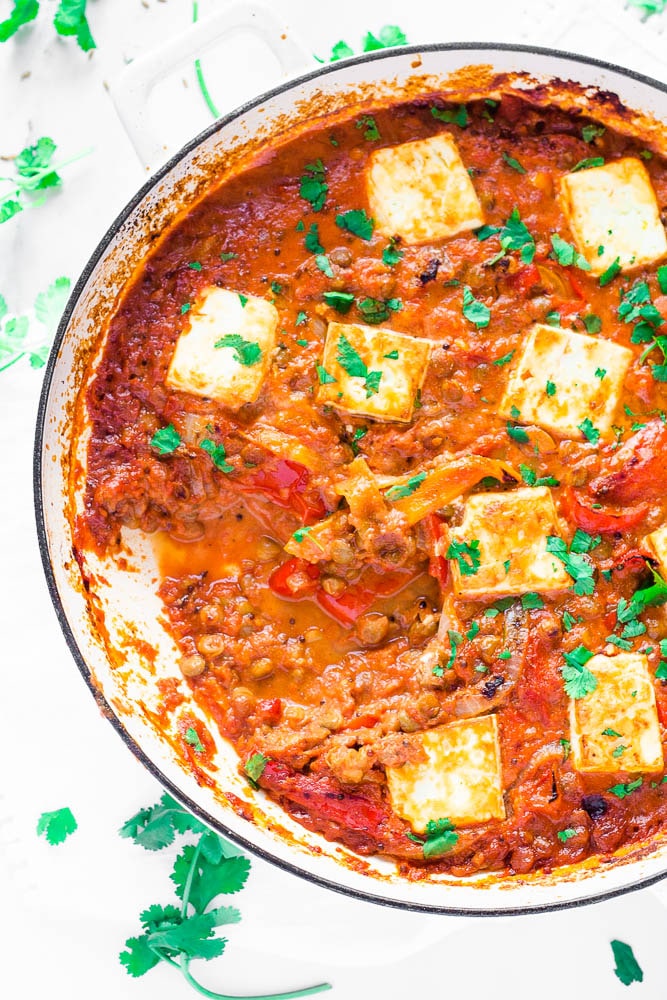 No lentils? Try chickpeas or other beans.
Halloumi or paneer can be used instead of feta if you wish. Or any other grillable cheese for that matter.
The cream is optional. It sure is tasty, and it gives the sauce a nice texture, but a more straight tomato finish is pretty delicious too if you want to lighten this up.