Asian tostadas with beer battered avocado & drunken mushrooms
You will gather from the insanely long recipe title that this recipe is about a lot of things.
But it started with just one thing…. beer.
Those who know me know that I am a wine person, which is annoying for two of the men in my life, my husband and my older brother, both of whom are serious beer geeks. So Mr. Veggie had a thought. He wondered if I should try cooking with beer and learn more about it as a food ingredient. Then we could make this more of a shared interest. Not a bad idea.
So, when I was offered some samples of Sapporo beer – with the mention that it's larger than average cans allowed plenty of beer for both drinking and cooking – I realised that it was time to get started. And our upcoming visit to my brother and his fiance's house was the perfect place to get started.
First, we had to hide the samples from these two until the time was right…
You can see why. (The astute among you will notice  that my husband is in the presence of three different beers here, without even counting the beer in his tostada toppings. You see? Beer geeks.)
And when the night came for cooking, we set the Sapporo free, went to the kitchen, and the four of us freestyled these tostadas.
Kristie makes some fantastic sauces, Mike knows how to get mushrooms drunk, Robin chops like a pro and I always have an idea for something to deep fry. We made a good team.
So where did this come from? Sapporo, being an Asian beer, made us all want something Asian. But being in Arizona, I wanted something Mexican. And we can all appreciate some good fusion food. Asian tostadas were born.
The base is fried gyoza or wonton wrappers. There is then a layer of beer infused drunken oyster mushrooms, then beer battered avocados (double beer!), then Asian slaw and, finally, peanut sauce.
On the night we made them we had also sourced some incredible wasabi cheddar cheese which we included too. So good.
There are many components to this recipe so to ensure success, there are two things you need.
First, a clear counter-top.
The second, PEOPLE! This is perfect for a small group of people cooking and hanging out together, and drinking the beer that doesn't go in the food.
You may have noticed that the tostadas photographed are from two different occasions. I wanted to share the original table of food with you from the night we made them, but since it was already dark when we ate, I couldn't get any really great "final" shots for the blog. I went home and re-made them which gave me a chance to test the recipe again and to take proper nice photos. Like this: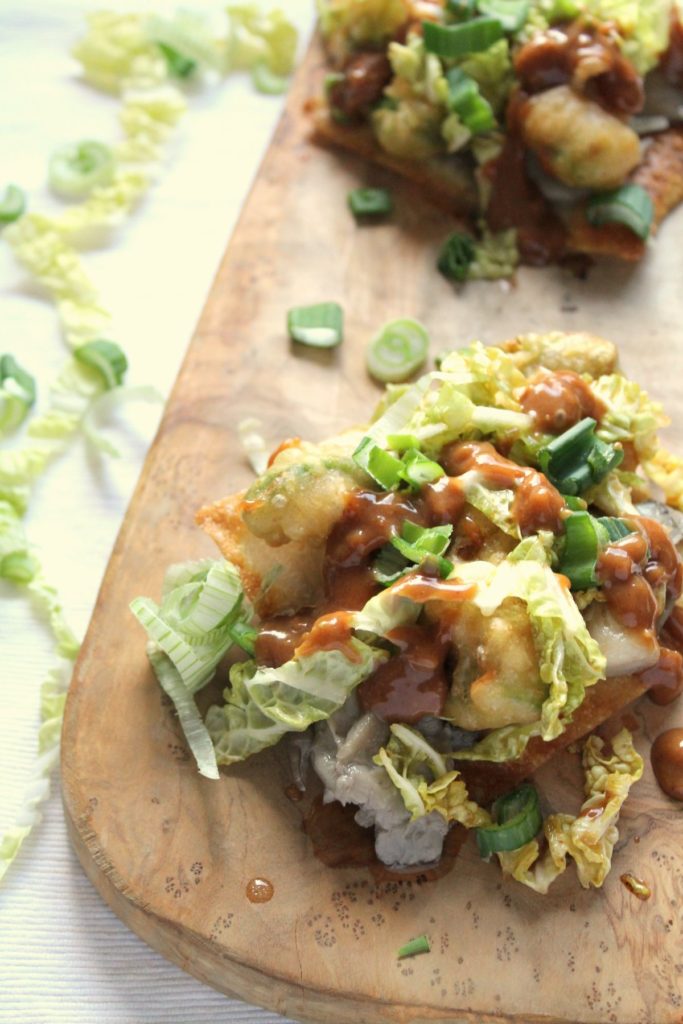 Although truthfully, this is such a hard thing to photograph. Everything involved is a shade of either brown/beige or green.
The flavours, however, are anything but homogenous, so don't let that put you off.
So my first experiment in cooking with beer was an absolute success, and beer is officially on the menu at Ciao Veggie HQ. Let me know if you have any suggestions for cooking with beer!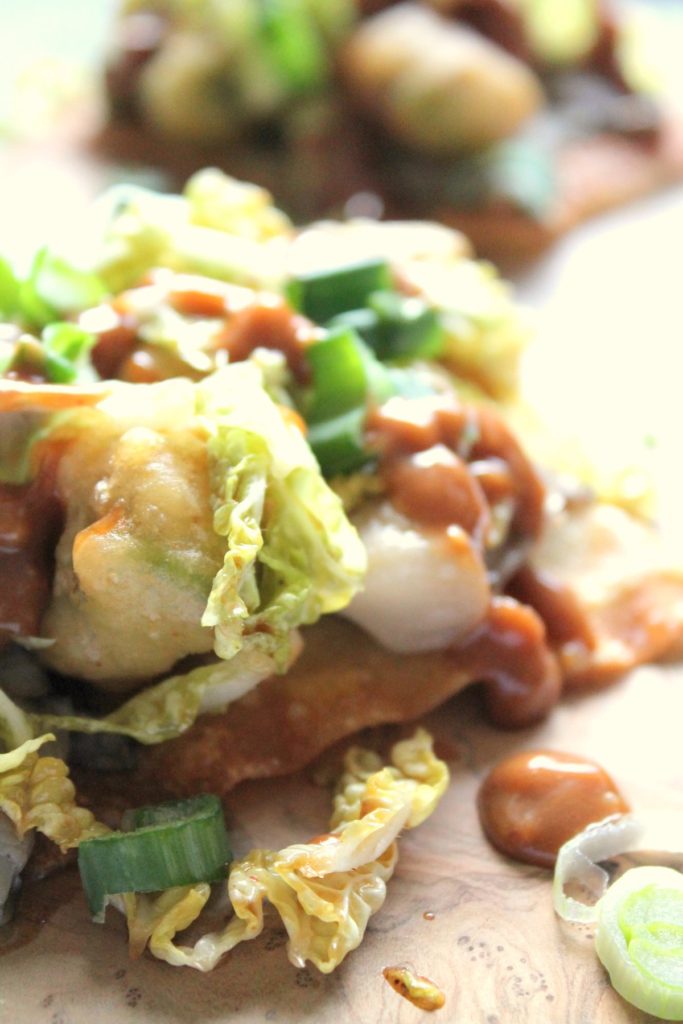 Some ideas for variations:
If you aren't vegan and you can find wasabi cheese, DO IT, but this is pretty niche so don't worry if you can't. The second time I made them, I didn't have any and it was all good.
You could use taco shells and make these tacos?
Mike had a great idea for another version of this- you could beer batter the mushrooms instead, and then use the avocado to make a guacamole of some sort.