Bocconcini Salad with Mint
Soft, creamy bocconcini cheese stars in this delicious salad bursting with summery Mediterranean flavors. Cherry tomatoes and bocconcini pair with artichokes and avocado for a filling lunch or side dish. With a fresh mint and lemon dressing, this is a fresh alternative to the traditional caprese salad and will shine at your next barbecue or potluck!
Summerrrrrr! It's almost here, and with it, the barbecue invitations are going to start rolling in, aren't they? So here you go: this is what you should be making the next time you're asked to contribute a dish to a barbecue or picnic.
This bocconcini salad is similar to a caprese salad, in that fresh mozzarella pearls (aka bocconcini) and cherry tomatoes are the stars. But we're adding in some other Mediterranean tastes (artichokes, pine nuts and kalamata olives) and avocado to bulk it out.
Aaaand we're also skipping the basil (shock! horror!) and adding mint as the star herb, alongside a lemon dressing.
So we break the mold a little here, but it's sure to be a crowd pleaser.
So what exactly is Bocconcini?
Bocconcini is just small, bite sized mozzarella balls. Sometimes they're just called mozzarella pearls.
It's a little pricier to buy bocconcini than a single large ball of mozzarella that equals the same weight. So you could just buy mozzarella and chop it all tiny, but bocconcini is a) super cute in this salad and b) has a really nice, light and pillowy texture that I just love.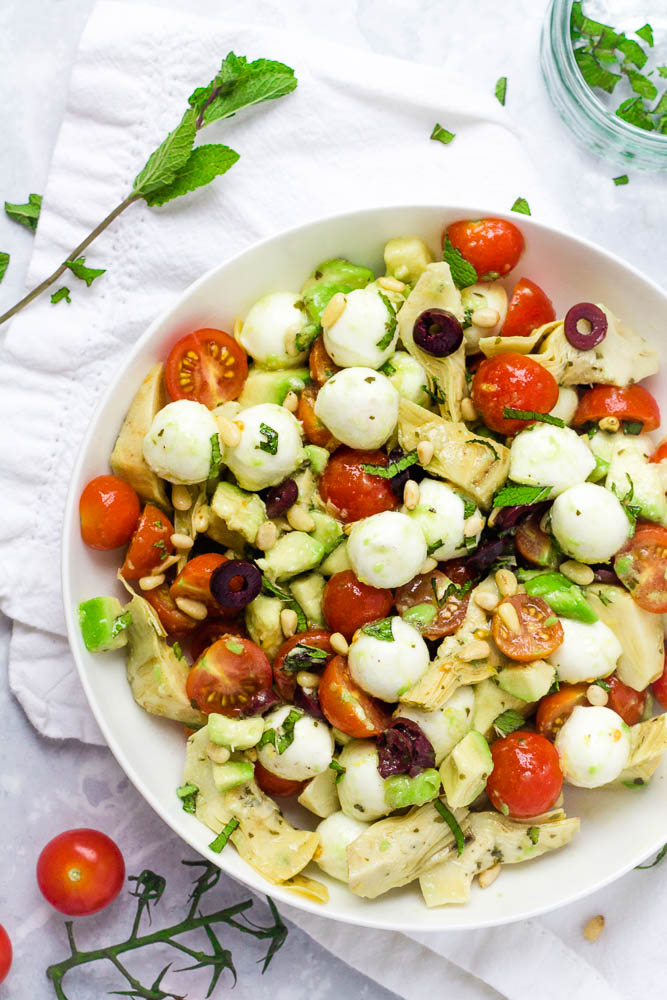 Variations to this Bocconcini Salad
Well, where to start. This is super flexible!
First of all, if the mint isn't doing it for you, go ahead and use basil. I do love the mint, but I won't mind.
Throw in some grains! A cup or so of cooked quinoa could make a really nice addition to this, but note that you'll want more dressing.
In other iterations I've added corn, cucumber and red peppers. All of these ingredients work nicely if you have them lying around.