26 Vegetarian Spring Dinner Recipes
A collection of vegetarian dinner recipes perfect for spring time! Some of our favorite ingredients belong to the spring: kale and spinach, tomatoes, peppers, new potatoes, asparagus and fresh herbs such as mint and chive are all becoming available… we are loving it!
These recipes either use some of these seasonal springtime veggies and herbs, or are flexible enough not to require specific veggies so you can easily swap things around based on what you've got.
26 Vegetarian Spring Dinners
Spring Pasta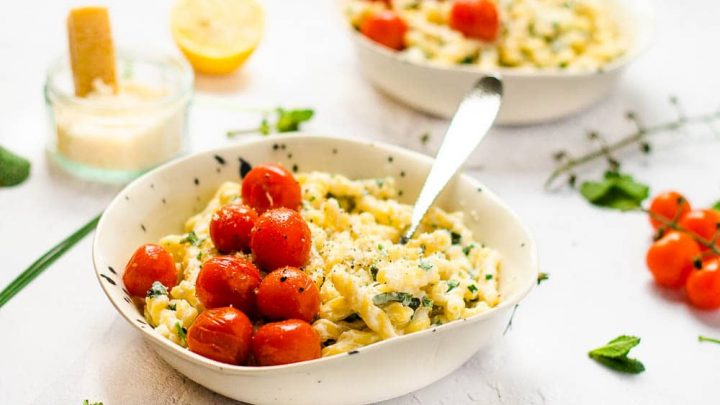 A quick and easy gemelli pasta recipe with herbed ricotta and burst cherry tomatoes! This is a delicious, fresh vegetarian dinner recipe that comes together in 20 minutes and is packed with delicious garden flavors. The herbed ricotta sauce is creamy and luscious, while being a much healthier alternative to cream sauce. This is light, fresh summer eating at its best.
This halloumi pasta recipe is a total delight. With little effort and very few ingredients, you can create a crowd pleasing dinner full of flavor! Roasted cherry tomatoes and halloumi cheese are paired with mint, garlic, and toasted walnuts to make this healthy vegetarian pasta meal.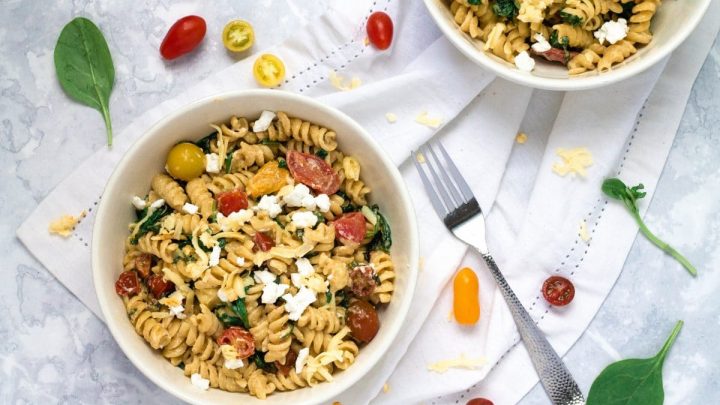 Deliciously creamy spinach pasta with goat cheese, smoked cheddar and cherry tomatoes! This incredible vegetarian pasta comes together in just 20 minutes. It is bursting with flavor, comforting but light, and packed with healthy greens.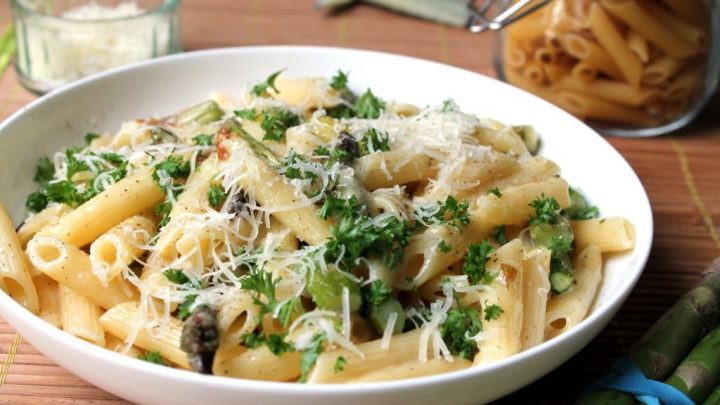 A vegetarian pasta carbonara recipe that really packs in the flavor. The with manchego cheese and white wine sauce is creamy and decadent, and beautifully coats the roasted asparagus and garlic. With so much good stuff packed in every bite, no one will mind that it's meatless! It comes together in half an hour for an easy veggie pasta dinner.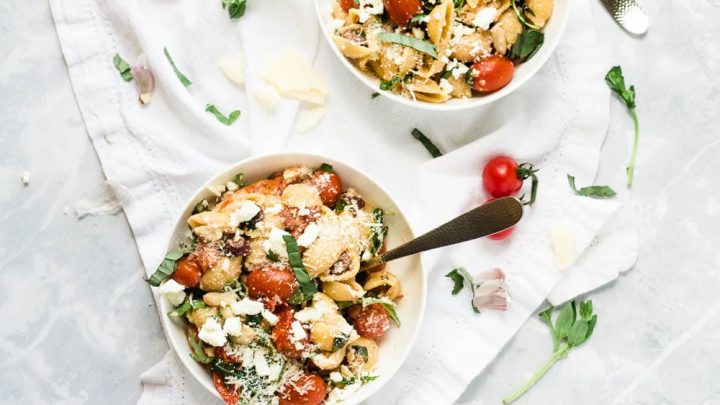 A tasty, simple vegetarian pasta dinner packed with white beans, fresh tomatoes, cheeses, herbs and arugula / rocket! Perfect for a weeknight dinner, you will love the mix of flavors and textures. With fresh tomatoes and greens, this is a fresh and healthy meatless meal with lots of protein in the mix.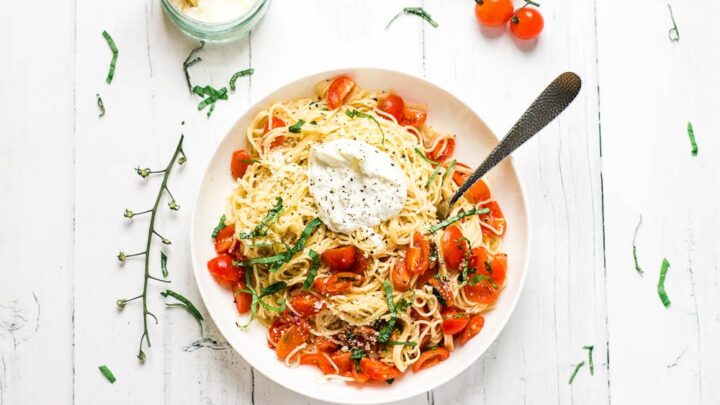 Angel hair spaghetti with a fresh raw tomato bruschetta sauce and burrata topping! This is the perfect luxurious summer pasta dish. The delicate bruschetta pasta complements your creamy, cool burrata perfectly and lets this amazing cheese take center stage at dinner time!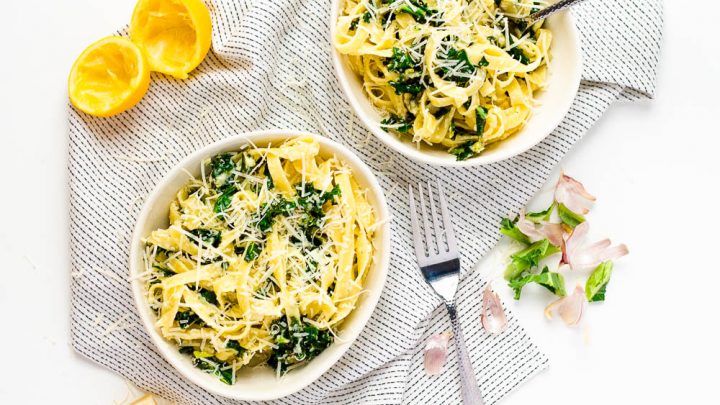 Tasty parmesan garlic noodles with finely chopped kale for a nutritional upgrade on a comfort food classic. An excellent way for kale skeptics to try this nutritious green. Keep dinner simple with a big bowl of these kale noodles, or add some cherry tomatoes and a protein source for a well rounded meal.
This creamy avocado spinach pasta is given a luxurious twist with fresh mozzarella and gruyere cheeses! A filling, nutrient packed vegetarian pasta dinner like nothing you've tried before.
This quick, easy kale avocado pesto pasta is a deliciously simple recipe, with a creamy texture and tons of flavor. A super healthy but comforting vegetarian and vegan pasta dinner!
This creamy brie and red pepper pesto is a luxurious twist on a classic. With an irresistably thick, creamy and melty texture, it makes for a hearty vegetarian dinner.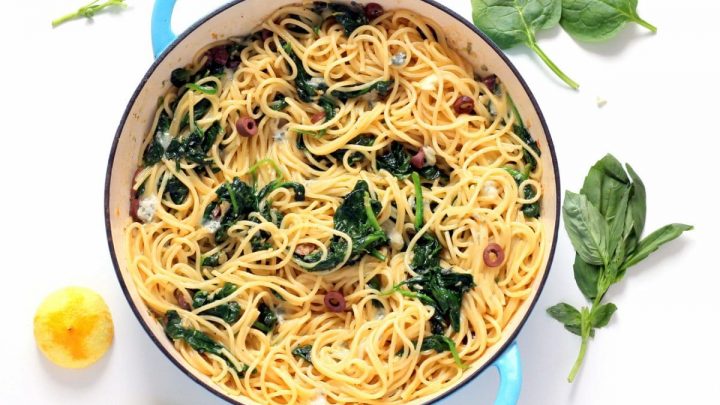 A healthy, quick and easy spaghetti dinner packed with gorgonzola, lemon and spinach. The sauce is light but creamy, and coats every spaghetti noodle with an amazing flavor. Eating your greens has never been more delicious, and the it only takes as long to make as the pasta takes to cook!
If you love carbs, you will adore this recipe for Spaghetti Genovese with a superfood twist - avocado pesto adds an amazing creaminess and richness to this Italian classic!
Spring Salads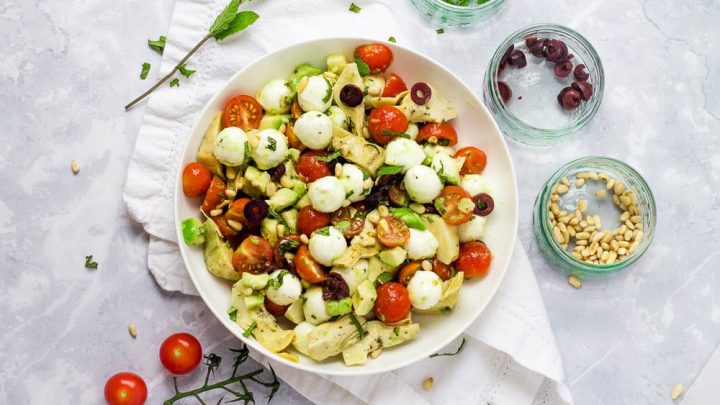 Soft, creamy bocconcini cheese stars in this delicious salad bursting with summery Mediterranean flavors. Cherry tomatoes and bocconcini pair with artichokes and avocado for a filling lunch or side dish. With a fresh mint and lemon dressing, this is a fresh alternative to the traditional caprese salad and will shine at your next barbecue or potluck!
A vegetarian taco salad packed with smoky roasted veggies! Crispy, creamy, smoky and filling, this veggie taco salad will soon become your favorite healthy Mexican inspired dinner.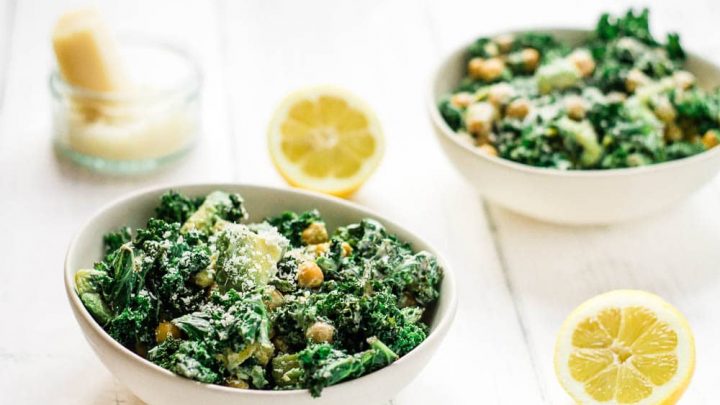 A warm roasted kale salad with chickpea croutons, avocado and a creamy Caesar dressing! This is easy to make with an amazing texture. Served warm, it's the perfect winter or summer side dish or the basis for a light meal. The vegetarian Caesar dressing is Greek yogurt based, intensely flavorful and luxurious! 
Lighter Dinners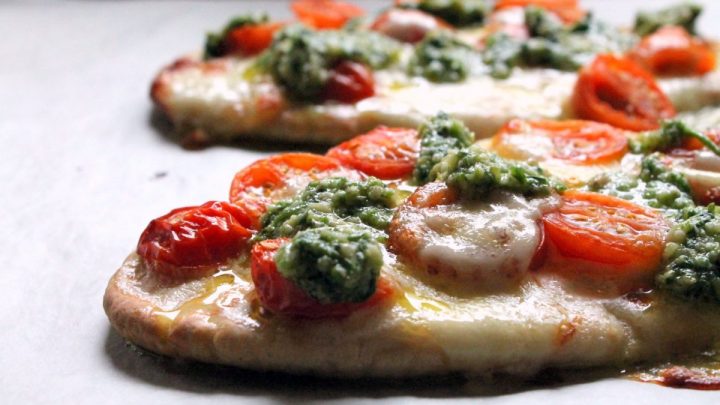 A quick and easy pita caprese pizza which can be put together in 15 minutes (including making the chive pesto from scratch)! A fresh, healthy and extra tasty vegetarian lunch or snack!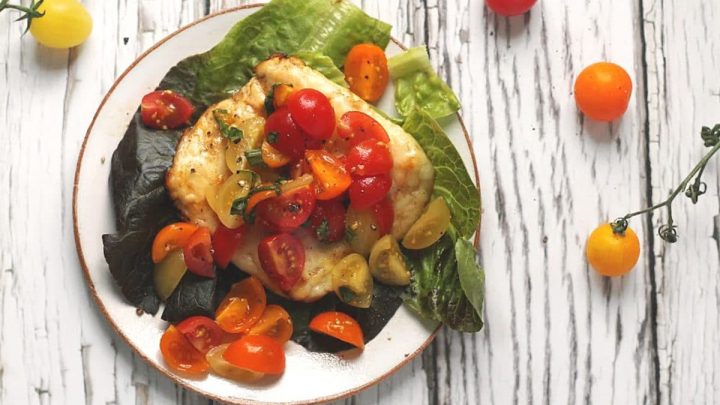 Balsamic baked halloumi cheese with a bruschetta topping. A fresh, summery and quick vegetarian dinner that tastes amazing! It's ready in 20 minutes, including side dishes. This is a delicious meatless alternative to the popular dish Bruschetta Chicken.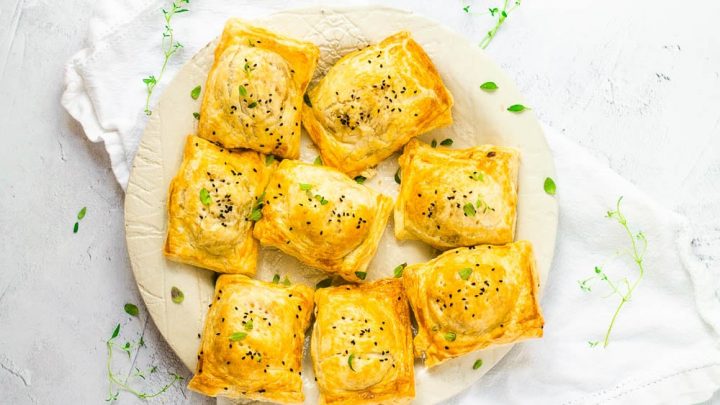 Homemade cheese and onion rolls are so much yummier than store bought! These cheddar cheese and caramelized onion rolls are simple to make – the filling ingredients bake together in the oven to streamline the process. Serve fresh from the oven at parties or pack them in a picnic basket in the warmer months.
Spring Comfort Foods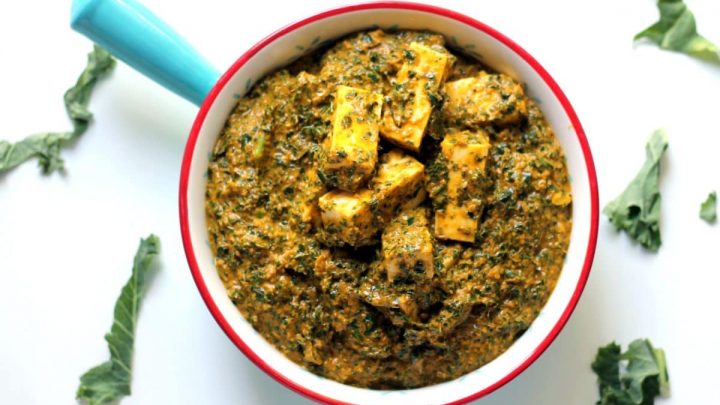 This simple, quick and healthy vegetarian kale curry recipe is perfect for busy weeknights! Kale tastes amazing in place of spinach for a palak paneer style dish full of sweet, aromatic spices and creamy coconut milk.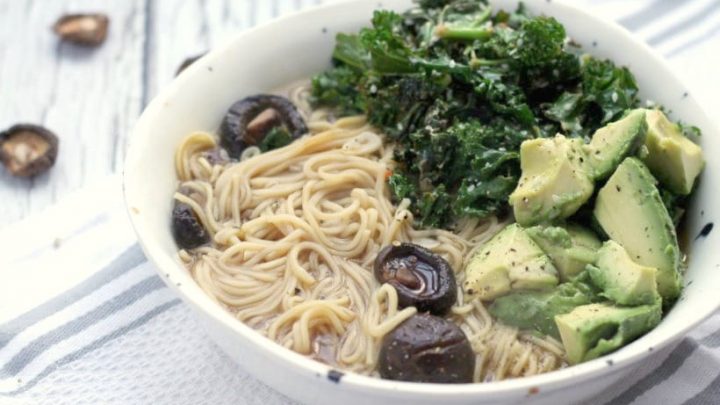 Healthy and nourishing, this quick vegetarian ramen packs in a variety of flavors and textures with shiitake mushrooms, kale and avocado! Taking only 20 minutes to prepare, it's an easy and healthy dinner. Can be made vegan or gluten free when using the appropriate noodles.
Baked sweet potatoes topped with kale and chickpeas cooked with Mediterranean flavors, and finished off with a creamy basil yogurt sauce. Everything bakes together in the oven in one pan, making this easy to prepare and clean up after! A healthy tray bake / sheet pan dinner for two or a substantial side dish for four, which is gluten free, vegetarian and easily adapted to be vegan.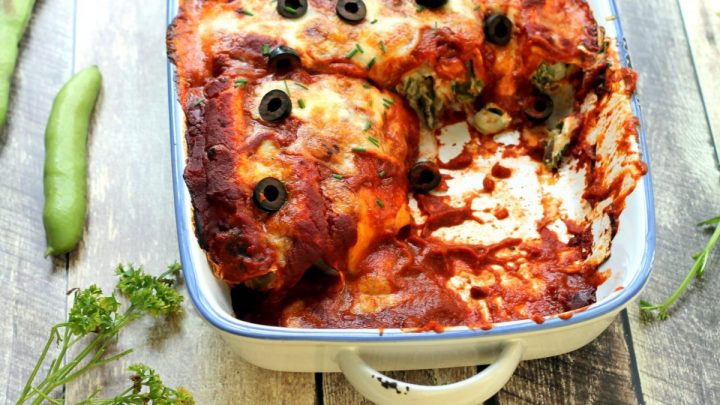 Healthy, simple vegetarian enchiladas packed with roasted seasonal veggies and creamy goat cheese. Red peppers, broad beans (aka fava beans), asparagus and herbs from the garden make this a truly summery enchilada recipe. Easily adapted to include what you've got in season locally to you!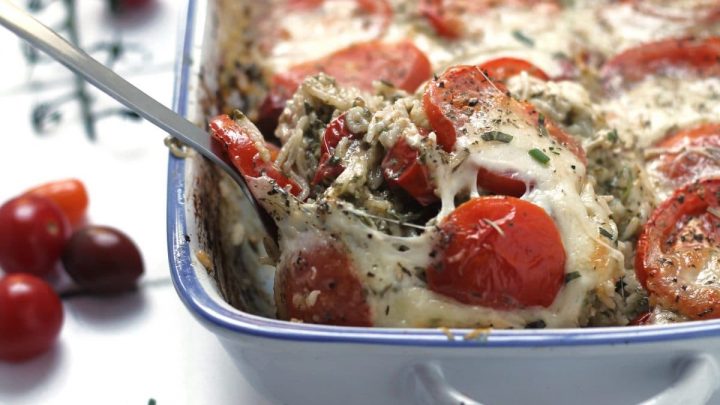 A simple, delicious recipe for baked spinach rice with juicy cherry tomatoes and a fresh mozzarella topping! A great way to pack lots of nutritious greens into a comforting casserole. Using all fresh ingredients, this is a healthier twist on spinach rice.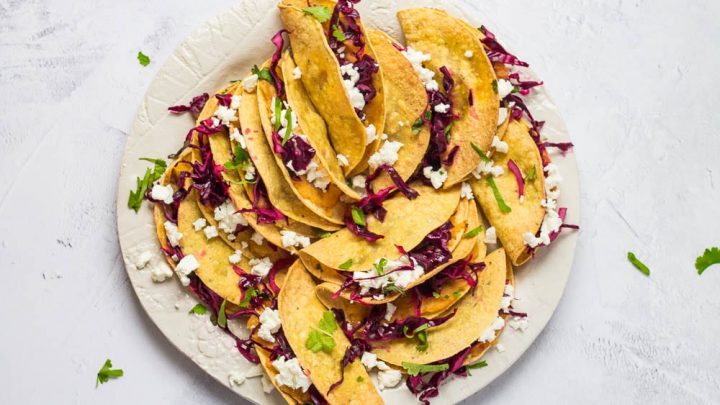 A homemade, oven baked spin on Tacos de Papa! Spiced mashed potatoes make a flavorful, economical taco filling alongside crispy fresh red cabbage slaw and tangy feta cheese. Oven baked instead of fried, these crispy mashed potato tacos are a fun and easy dinner that the whole family will agree on for Taco Tuesday.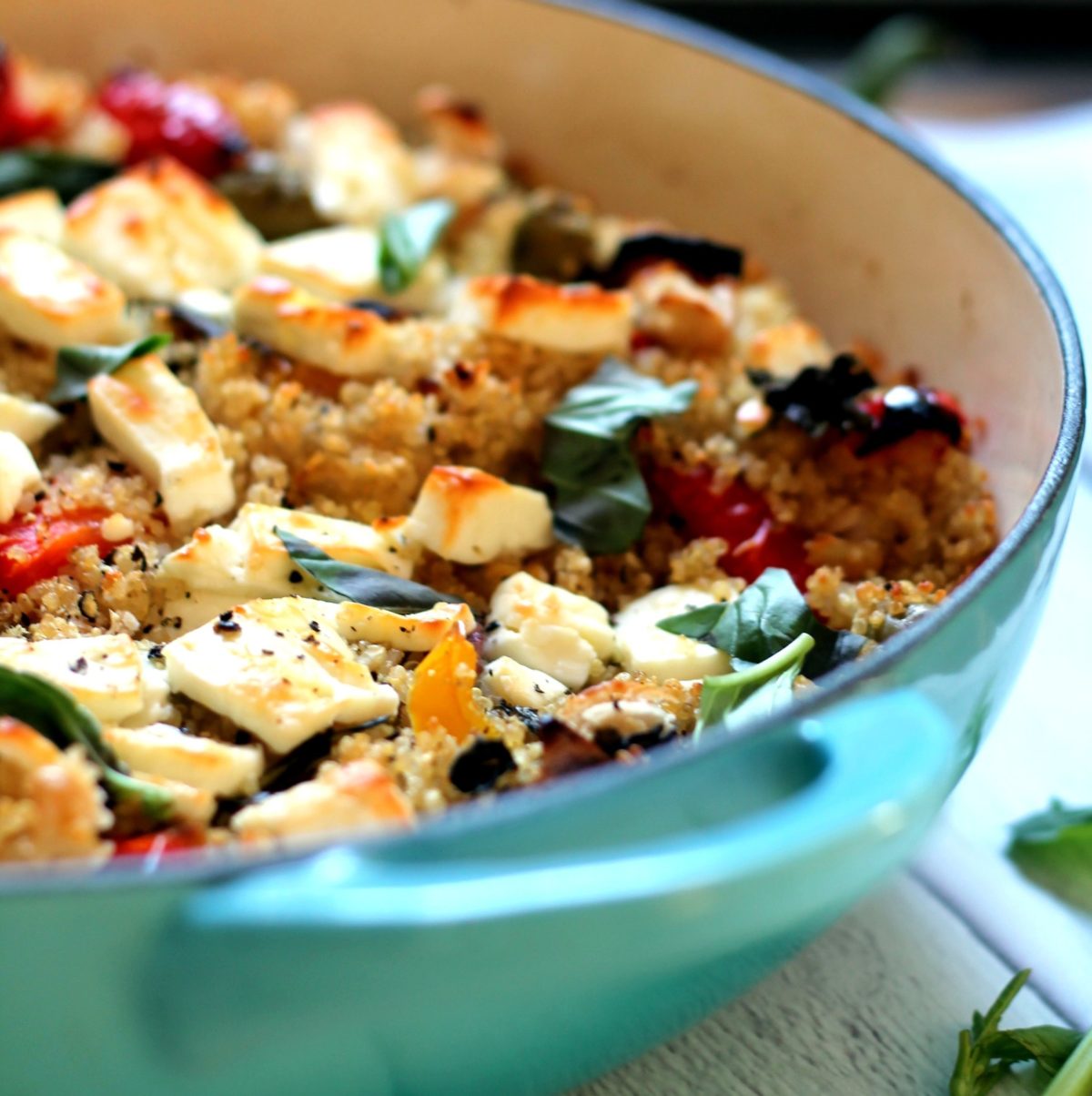 An array of Mediterranean flavors and feta cheese are baked into this hearty quinoa casserole. It's an easy to make vegetarian dinner and works as a main dish or a side. Healthy and fresh, with just the right about of indulgence from the feta cheese, this is a vegetarian recipe for everyone.