This halloumi pasta recipe is a total delight. With little effort and very few ingredients, you can create a crowd pleasing dinner full of flavor! Roasted cherry tomatoes and halloumi cheese are paired with mint, garlic, and toasted walnuts to make this healthy vegetarian pasta meal.
So, this is a recipe where three of my favorite things finally all get together in the same bowl.
Pasta + halloumi + cherry tomatoes. Mmmm.
Cherry tomatoes have paired with both pasta and halloumi seperately, in lots of my previous recipes. I use halloumi as a base for many recipes, and pasta as a base for even more, but the halloumi and pasta never came together in the same dish.
I've made halloumi pasta dinners before as part of "let's clean out the fridge" pasta nights, but never really crafted a pasta dish with halloumi that made sense and felt worthy of sharing here.
Well that changes today.
I have finally arrived at a halloumi pasta recipe that I am happy with, a big pan of pasta with cherry tomatoes, mint, halloumi and walnuts. Mmm.
So let's discuss.
How to make this Halloumi Pasta
The cherry tomatoes are roasted in the oven with some garlic and mint. MINT. Not basil today.
I am declaring 2019 the summer of mint here at Happy Veggie Kitchen. I've been putting it in all sorts of dishes where I wouldn't have previously thought to put it. Turns out, cherry tomatoes and mint are a beautiful, summery combination and you'll love it.
So. You roast all of these ingredients slowly in olive oil, and this is how we create a beautiful sauce for your pasta.
They roast for 30 minutes, so in the meantime we will cook your pasta and halloumi and toast your walnuts.
So let's make a decision on your pasta shape.
I went random today and used radiatore pasta which is a sort of hybrid between fusilli and pasta shells. I loved it! Shells or fusilli also work well here.
It's good to choose a very textured shape that can soak up lots of sauce and pick up lots of garlic bits in its ridges.
Your halloumi will be cubed, and then pan fried.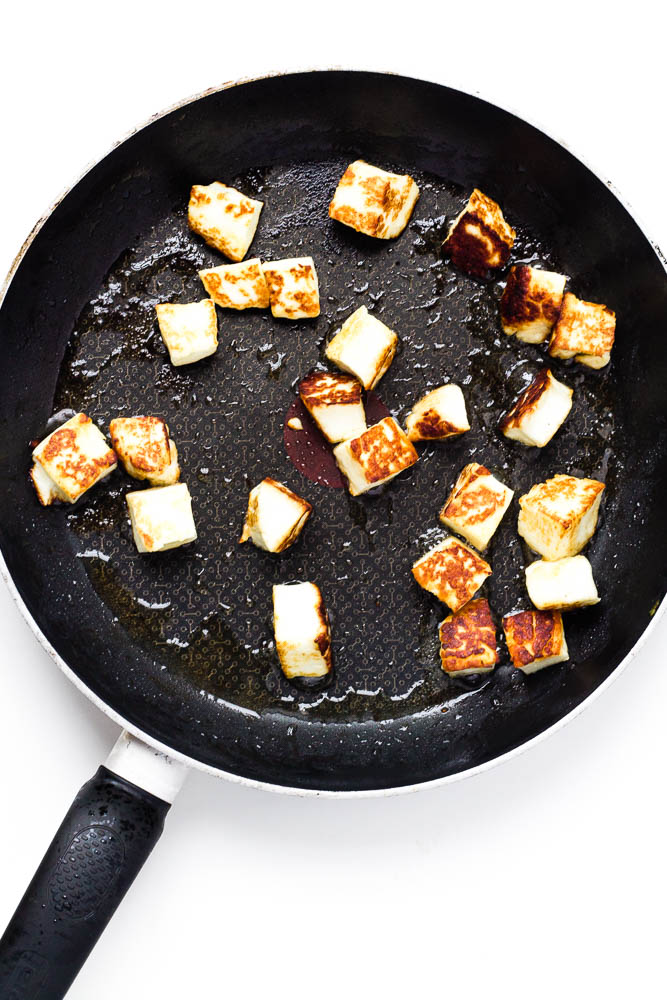 You could also roast the halloumi in the oven alongside the cherry tomatoes – see the recipe notes.
Toppings!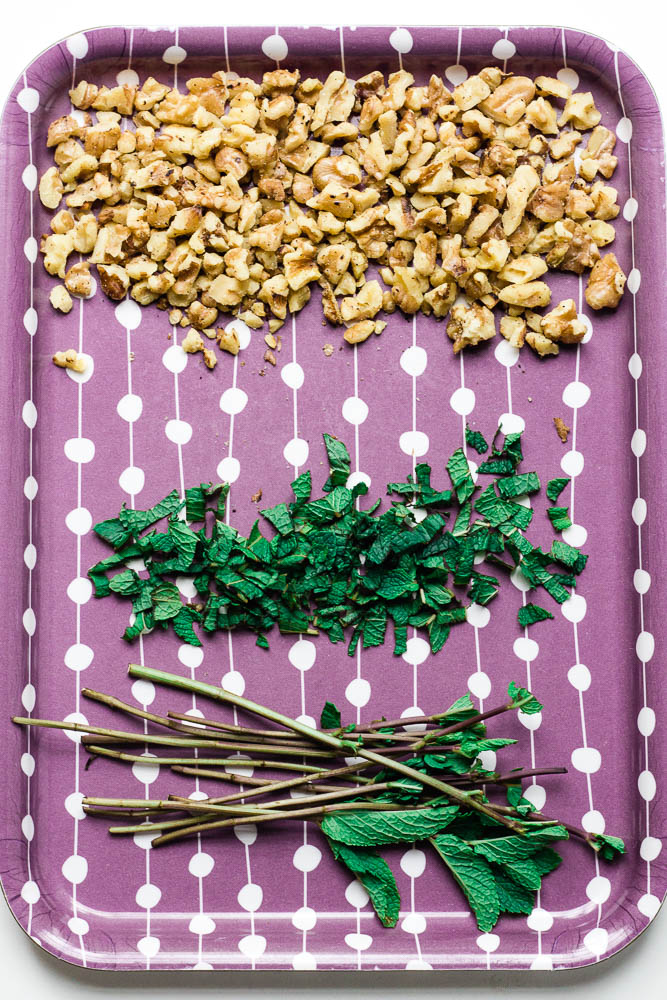 Chop up some extra fresh mint and toast some walnut pieces.
Now watch it come together.
Fresh from the oven, the cherry tomatoes will have started to release their juices and combine with the oil and garlic to make a beautiful light sauce.
You'll mix in the pasta and let the ridges absorb some of that delicious flavor.
Add more oil if it needs it now.

And then in goes the halloumi!
And then the toppings go on, and it's ready to serve.
It's going to be a great dinner.
Love halloumi recipes?
Well, me too. I put halloumi in everything. So feel free to check out my full collection of halloumi recipes which includes various gems like Bruschetta Halloumi, Halloumi Fajitas and even a Butter Halloumi Curry.