Light, refreshing vegetarian lettuce wraps with an Indian inspired chilli paneer filling. These are absolutely delicious, full of flavor and take only 15 minutes to get on the table.
This recipe was first published in 2014, and was updated with new photos in April 2022.
These chilli paneer lettuce wraps are a super low effort meal that delivers something filling, yet refreshing, which is perfect for the summer.
The origins of this recipe was verrrry hot day, in the middle of a heatwave, the kind of day where you just. can't. move. Safe to say, I did NOT want to cook anything, but this was able to scraped together without too much sweat. A win!
Let me make the case for vegetarian lettuce wraps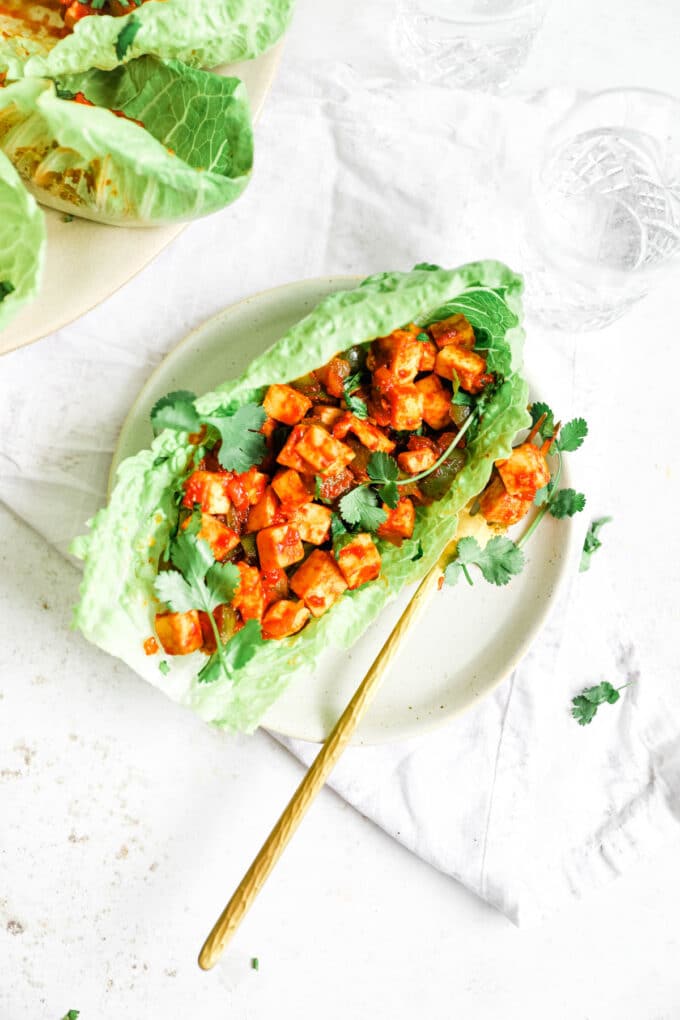 Lettuce wraps are a pretty great concept, even though they don't sound like they would be very interesting. I first tried the famous PF Chang's vegetarian tofu lettuce wraps when I was in the US and I was so surprised at how lettuce could hold the filling in such a sturdy way, without wilting. And how using lettuce as a wrap can keep a meal from feeling too heavy and carby. I guess it's just like having a warm salad, where the balance is tipped away from the leaf and back towards the filling.
Lettuce wraps can support either of these goals
Lighter, hot weather eating: I see lettuce wraps as summery, because the way the lettuce wrap gives such a cooling effect on the spicy filling, and because on a really hot day you don't always want heavy carbs.
Lower carb eating: If you are inclined to lower carb eating, lettuce wraps will be a way of life all year round. Anything you could put in a wrap or tortilla can be put in a lettuce wrap.
The Chili Paneer Filling
Chilli paneer is a dish I first tried at an Indo-Chinese restaurant, and is the obvious choice for a vegetarian. Paneer is a solid non-melting cheese which goes crispy on the outside, and stays chewy in the middle. Coated in a sticky tomato and soy sauce, with onions and peppers, it is just heavenly.
For this recipe, with the goal being ease, I took the basics of chilli paneer but cut some corners. My simplified sauce has just 4 ingredients and by skipping the part where the paneer is fried in a cornflour before frying, it comes together very fast. Since the pieces in this dish are so small, I thought we could skip that step and let them be, and it works out just fine.
Serving Suggestions
This is a complete meal for two, and is surprisingly filling just as it is (despite being fairly low in calories thanks to the lettuce situation).
If you'd like to bulk it out a little or add some carbs, you could add a few spoonfuls of rice to the wraps too.
I never saw the need for a sauce with these, because the lettuce adds some moisture to the bite, but a cooling yogurt based sauce would be nice too if you feel like something is missing.
If you'd like a side dish, consider adding samosas, spring rolls (or both!) to the table for a bigger finger food spread.
Chilli Paneer Vegetarian Lettuce Wraps
Light, refreshing vegetarian lettuce wraps with an Indian inspired chilli paneer filling. These are absolutely delicious and take only 15 minutes to get on the table.
Ingredients
6-8 leaves of romaine lettuce
225 g (8 oz) block of paneer, chopped into small cubes
1 green pepper, chopped finely
1 white onion, chopped finely
2 garlic cloves, sliced
1 tsp minced ginger
Cilantro (coriander), optional topping
For the sauce
2 Tbsp tomato puree
2 Tbsp soy sauce
1 Tbsp chili garlic sauce
1 tsp mirin
Instructions
First, whisk together the sauce ingredients in a small bowl and set aside.

Coat the bottom of a wok with oil, and heat to a high heat setting.

Throw in the chopped onion and green pepper, stir fry for a couple of minutes, just to give them a head start before adding the paneer.

Add the cubed paneer, and continue to stir fry at high heat, tossing regularly, until all ingredients are browned and crispy. It will be tricky to ensure that each tiny cube of paneer is browned evenly on all sides so don't worry too much- there will be a mix of textures, and that's good too!

Add the garlic and ginger and stir fry for another minute. It should be smelling delicious at this point!

Once the paneer, pepper and onions are nicely browned, turn the heat to low, pour in the sauce, and mix constantly to coat. It will sizzle and bubble a lot, but after a minute or two you will have a nice sticky mixture.

To assemble the wraps, just spoon some filling into a lettuce leaf and eat taco-style! Add a little coriander (cilantro) if you fancy.
Calories: 409kcal, Carbohydrates: 20g, Protein: 20g, Fat: 29g, Saturated Fat: 17g, Polyunsaturated Fat: 1g, Monounsaturated Fat: 1g, Cholesterol: 74mg, Sodium: 1486mg, Potassium: 516mg, Fiber: 5g, Sugar: 8g, Vitamin A: 7620IU, Vitamin C: 58mg, Calcium: 598mg, Iron: 2mg