Thanks to its robust, grill-able texture, halloumi cheese is so much fun to cook with and makes the best vegetarian fajita filling! In this recipe, halloumi is seasoned and roasted in the oven with veggies to make easy vegetarian sheet pan fajitas. No one will miss the meat… halloumi fajitas will be your new favorite!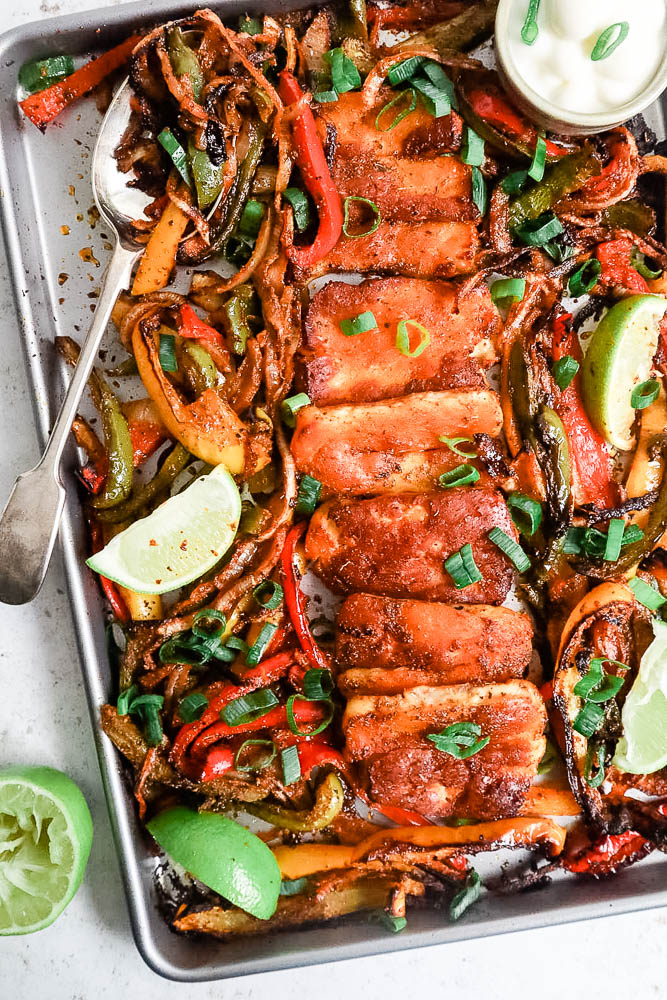 Please note this recipe was updated in December 2021 with new photos, a video and an alternative method. If you are a returning visitor wondering if you're in the right place – yes you are! The Roasted Halloumi Fajitas recipe you love is still here.
I am a vegetarian who lives in London, so I eat a lot of halloumi. It's a staple pub food ingredient in this country, and we can not get enough of it.
Halloumi is one of those magical cheeses that doesn't melt. So it can be roasted, grilled, or fried to make all kinds of delicious concoctions.
And we vegetarians seem to have claimed ownership of this magical stuff. When halloumi options show up, they're almost always vegetarian. Slabs of halloumi are frequently used as a veggie burger, beer battered halloumi stands in for vegetarian alternative to "fish and chips", it even shows up in some vegetarian English breakfasts.
Since halloumi came around, vegetarian menu choices have been 10000% less dull, and meat eaters are always happy with it too.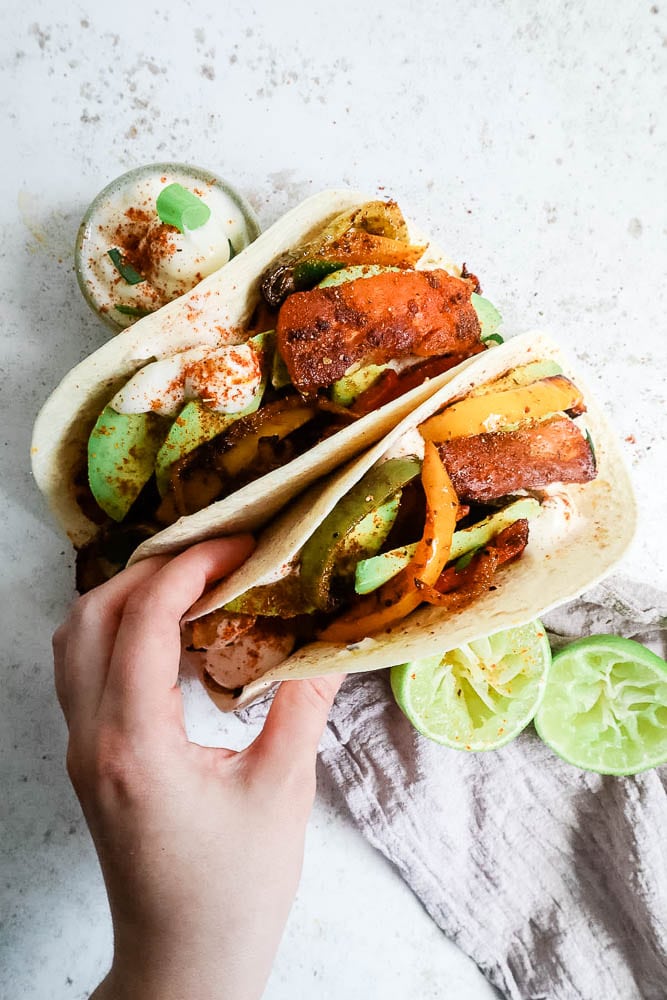 So let's make halloumi fajitas
Fajitas can be one of those meals where the vegetarians get everything but the meat. So there's something missing, and that feels sad.
Well not today. Today we are replacing the meat with halloumi, and feeling more than satisfied with our situation.
And my goal here was also to create a really easy halloumi recipe for you, so I have gone for the sheet pan fajita method.
Why make sheet pan (baking tray) fajitas?
Typically fajitas are prepared on a sizzling hot grill, and you could certainly do this at home with a griddle or cast iron pan, but there is a learning curve with these types of pans and it requires a certain amount of attention. The sheet pan method, while certainly inauthentic, makes things a little more straightforward and foolproof.
It's just as simple as putting all your toppings on a sheet pan (large baking tray) and roasting in the oven for 20-25 minutes.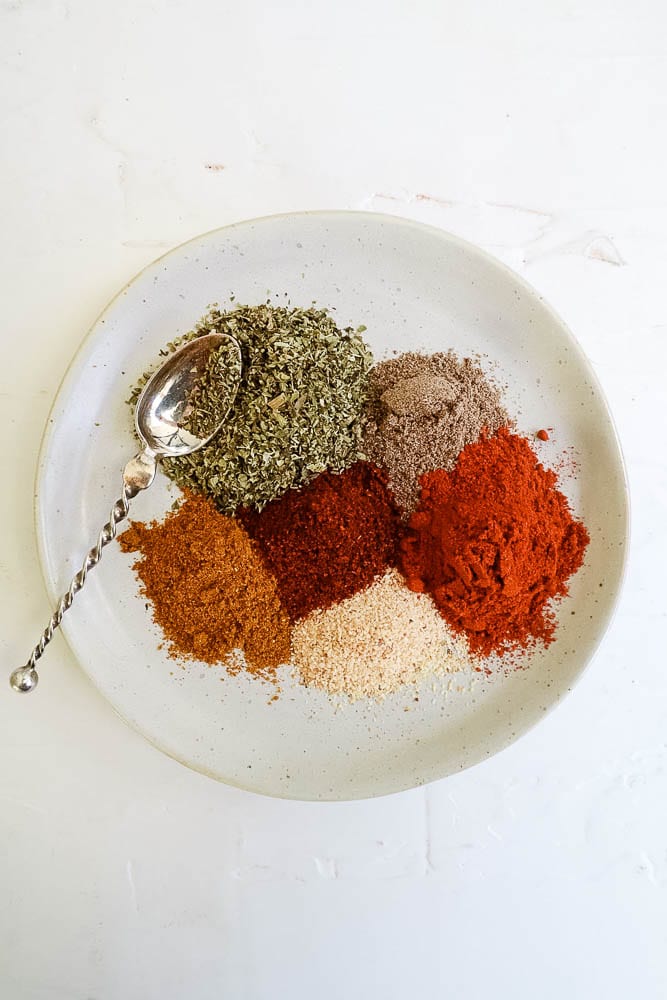 You can either
a) put the vegetables and halloumi straight onto the tray, drizzle with oil and scatter with spices, mix it all up right on the pan, and then roast (2018 method)
or b) mix the spices with the vegetables and halloumi in a bowl, and then scatter them on the baking tray (2021 method)
Method A served me and lots of readers well for many years, and it makes this a true one dish recipe. Method B gives you more even distribution of the spices and makes sure none of it gets lost on the tray. It is up to you!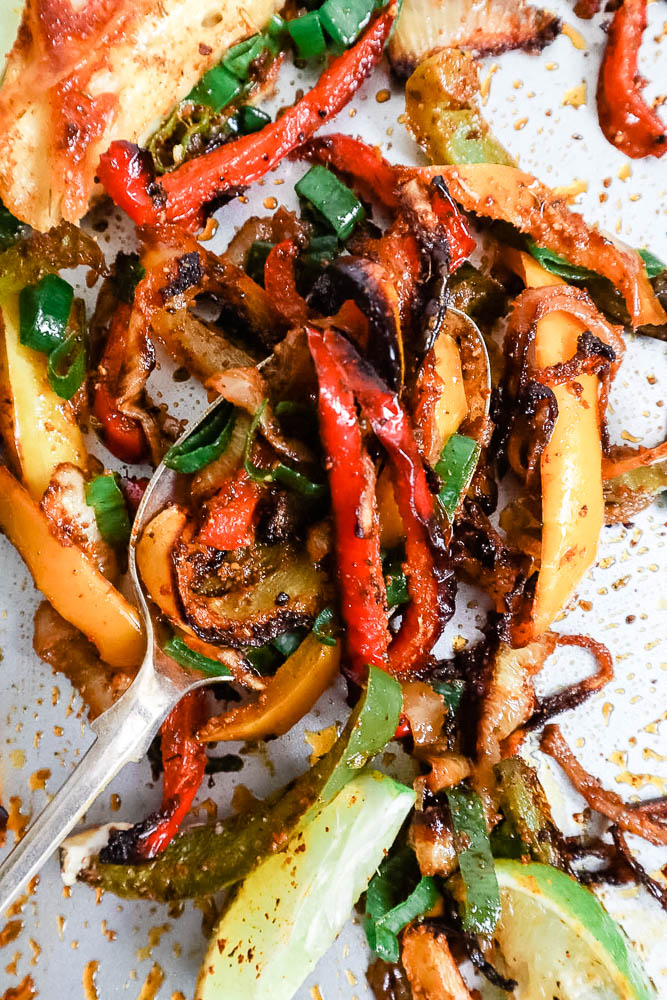 This is my favorite way to make homemade fajitas because you get some nice charred crispy bits that you wouldn't get with a wok or frying pan. And so hands off! While everything is roasting, you have plenty of time to set the table, bring out some toppings and warm your tortillas. All in all, a low stress, low effort weeknight meal that everyone's going to love.
How long to roast them for
You want to roast them for 20-25 minutes, until they're cooked to your liking. The current images show them cooked for the full amount of time, for a super crispy result, which is my preference these days and seems to be most popular amongst Pinterest users who have shared their photos from this recipe.
Less time keeps the peppers a little more crunchy and the halloumi a little more soft (below the recipe card I have my old 2018 photos which were cooked for less time, scroll down and take a look if you want a visual comparison)
Some readers have tried a hybrid – putting the onions and peppers in for a longer time, up to 30 minutes, but adding the halloumi later. This makes sense if you want super caramelized vegetables without over-doing the halloumi.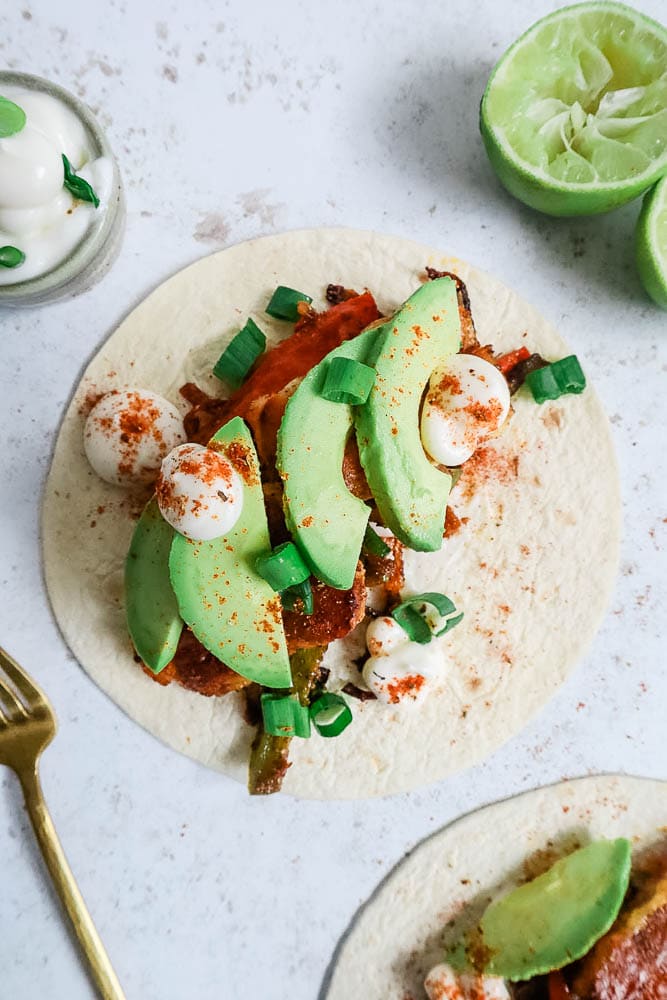 No Halloumi in Sight?
If you can't track down any halloumi but like this concept, here are some ideas.
I've used paneer cheese in my fajitas before, and it has a great bite. Paneer is less salty so the result isn't quite as rich, maybe up the seasonings a little if you're concerned.
You could also try making a tofu based vegan halloumi.
More Halloumi Recipes
Are you a fan of the squeaky cheese? Well, you should check out some of my other halloumi recipes!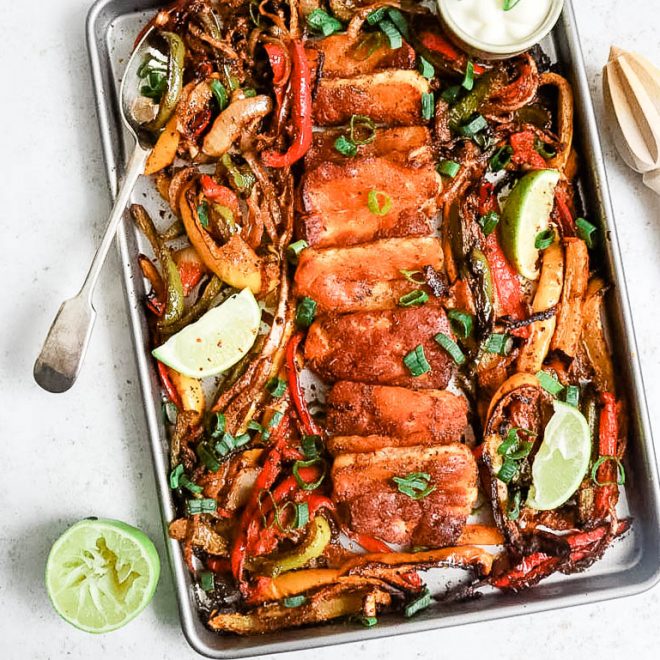 Roasted Halloumi Fajitas
Thanks to its robust, grill-able texture, halloumi cheese is so much fun to cook with and makes the best vegetarian fajita filling! In this recipe, halloumi is seasoned and roasted in the oven with veggies to make easy vegetarian sheet pan fajitas. No one will miss the meat… halloumi fajitas will be your new favorite!
Ingredients
250 g (9 oz) halloumi cheese, sliced into strips
3 bell peppers, sliced into strips
1 large white onion, sliced into strips
3 Tbsp olive oil, divided
Fajita Seasoning
2 tsp oregano
2 tsp smoked paprika
1 tsp chili powder
1 tsp ground coriander
1 tsp of cumin
1 tsp garlic granules
To serve
8 flour tortillas
Toppings of your choice: avocado, sour cream / yogurt, salsa
Instructions
Pre-heat the oven to 410F / 210C (190C fan) while you slice the halloumi, onion and peppers.

Prepare the fajita seasoning by mixing everything together in a small bowl.

Put the onions and peppers in a large bowl, then add 2 Tbsp of olive oil and most of the fajita seasoning. Toss to get everything coated nicely in the oil and seasonings. Scatter over the baking sheet. Then put the halloumi in the bowl with another 1 Tbsp of oil and the remaining seasoning, toss very gently to coat, and add it to the baking sheet too.

(Alternatively you can just place the halloumi, onion and peppers directly onto the baking sheet, sprinkle the fajita seasoning and oil over the top, and use a spatula to get everything coated in the oil and seasonings – this may not give a perfectly even result, but it works fine and saves a bowl.)

Place in the oven for 20-25 minutes, or until the halloumi is cooked to your liking. (You may need more or less time – every oven is different, so do check in often.)
Notes
The fajitas pictured were cooked for 25 minutes but below the recipe card you can see an older version of the photos which were cooked for 20. Cooking for longer gives a richer, crispier result with more caramelized vegetables. Cooking for shorter gives crunchier veggies and softer halloumi. You can even cook the vegetables for longer and add the halloumi later. The choice is yours!  Every oven is a little different. The first time you make these, check in after 15 minutes. Adjust the heat or cooking time if you need to.  This makes enough for about 8 fajitas. Cooking for 4? That's 2 each, so add a side of rice or beans. Cooking for 2? That's 3 each for a full dinner, and then save a little bit to make quesadillas with the following night. Bulk out the quesadillas with refried beans and mozzarella. Reheating your fajita mixture? Warming in the oven, covered, is the best way to bring the halloumi back to life. If you've cooked the halloumi on the crispier side, it won't reheat as well and may be quite rubbery so if you know you intend to reheat some, you may wish to cook for less time and get softer halloumi.
Serving: 1g, Calories: 552kcal, Carbohydrates: 66g, Protein: 24g, Fat: 22g, Saturated Fat: 10g, Polyunsaturated Fat: 10g, Cholesterol: 49mg, Sodium: 884mg, Fiber: 6g, Sugar: 5g
The 2021 Update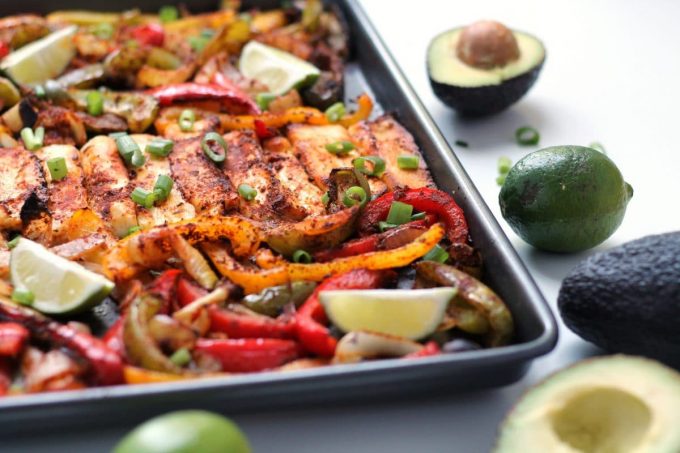 This Halloumi Fajitas Recipe was originally published in 2018, then updated in 2021 with a few changes:
Addition of a video and a wider selection of photos.
New photos showing the fajitas cooked for the higher end of suggested cook time rather than the lower end, reflecting feedback from users who have made these fajitas.
Updating the recipe method to suggest tossing the ingredients in a bowl before putting on the baking tray, to improve the reliability and replicability of the recipe.