My brother's recipe for meatless spaghetti sauce is simply the best! Thick and chunky, packed with veggies and rich flavor, you will make this time and time again. Fill your freezer with a huge batch of this tomato sauce for many easy spaghetti dinners to come. Vegetarian, vegan and super healthy!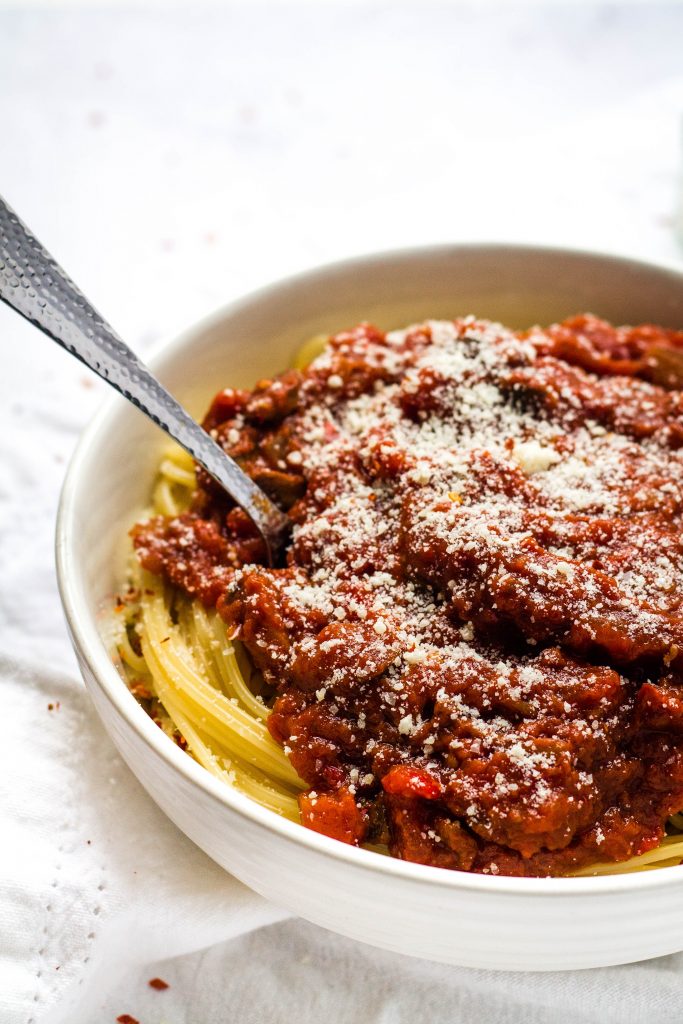 Be honest with yourself. Is it time to up your spaghetti sauce game? Are you using jarred sauce, or making really quick sauces that don't have enough time to get that deep flavor?
I can be guilty of both, and while I would always maintain that quick sauces have their place and that there are ways you can mitigate for the lack of time, just note that this is the sauce I call THE BEST.
So, when you can steal a lazy afternoon to while away on spaghetti sauce making… JUST DO IT.
This vegetarian spaghetti sauce recipe is a firm favorite in my family, and was developed over the course of several years, across two continents, by my big brother Mikey. It is the thing we always have to request when we get together. Mikey has to make spaghetti.
Instead of looking for ways to hack everything like I often do, he appreciates that spaghetti sauce making is an art deserving of a little love and care.
So he will be letting that sauce simmer for a good few hours, adding a little bit of this and a little bit of that, until it is just so.
He tends to eyeball his measurements but one night, I stalked him in the kitchen and we got everything measured and turned into a recipe.
You're welcome.
(And just real quick, on the subject of my brother, you should check out his website and Etsy shop if you like custom metal signs, flowers and cool home decor!)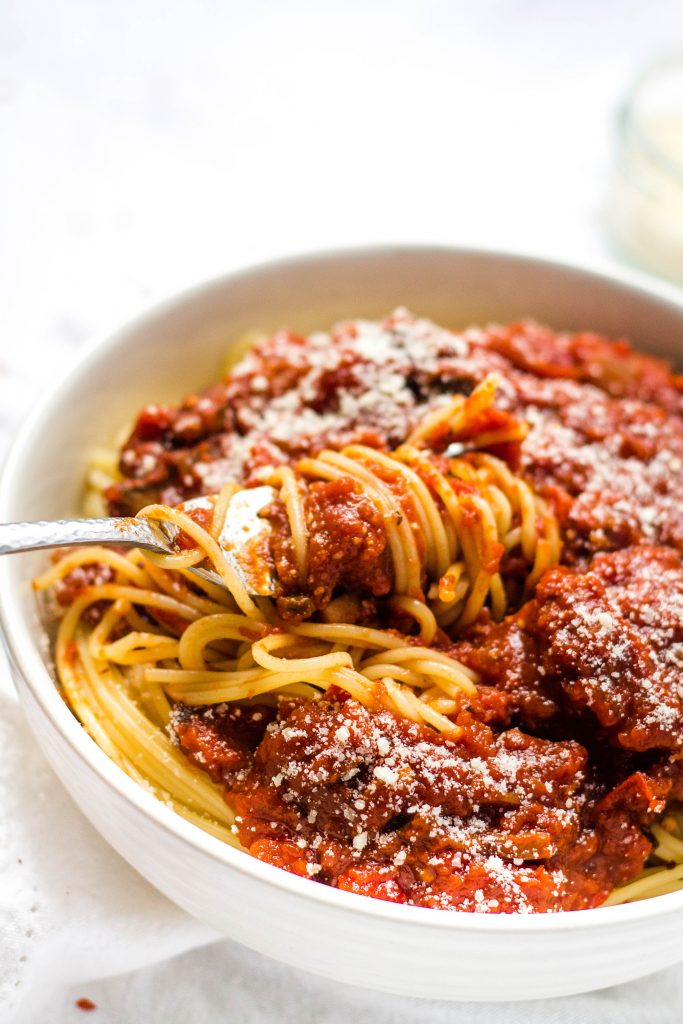 How to make this vegetarian spaghetti sauce
You'll get 5 cans of the best tomatoes (I like to use Cirio brand), tomato paste, garlic, mushrooms, peppers (which you'll roast), olives, and a whole bunch of other flavorful ingredients like red wine and vegetarian (fish free) Worcestershire sauce.
You'll let it simmer for 3-4 hours, stirring often, in which time it will reduce and form a beautiful chunky sauce.
Serve over spaghetti, top with cheese, add garlic bread and salad.
And everyone's favorite dinner is ready!
How to feed a hungry crowd with it
Spaghetti dinners are the ultimate crowd pleasers. Make a batch of this sauce, a big pot of spaghetti, roast a spaghetti squash and guess what? You can feed vegetarian, vegan, gluten free and low carb friends and family. Winning.
The sauce is naturally vegan, but to make the perfect vegan spaghetti dinner you could add some homemade vegan parm. It's quick and easy to make!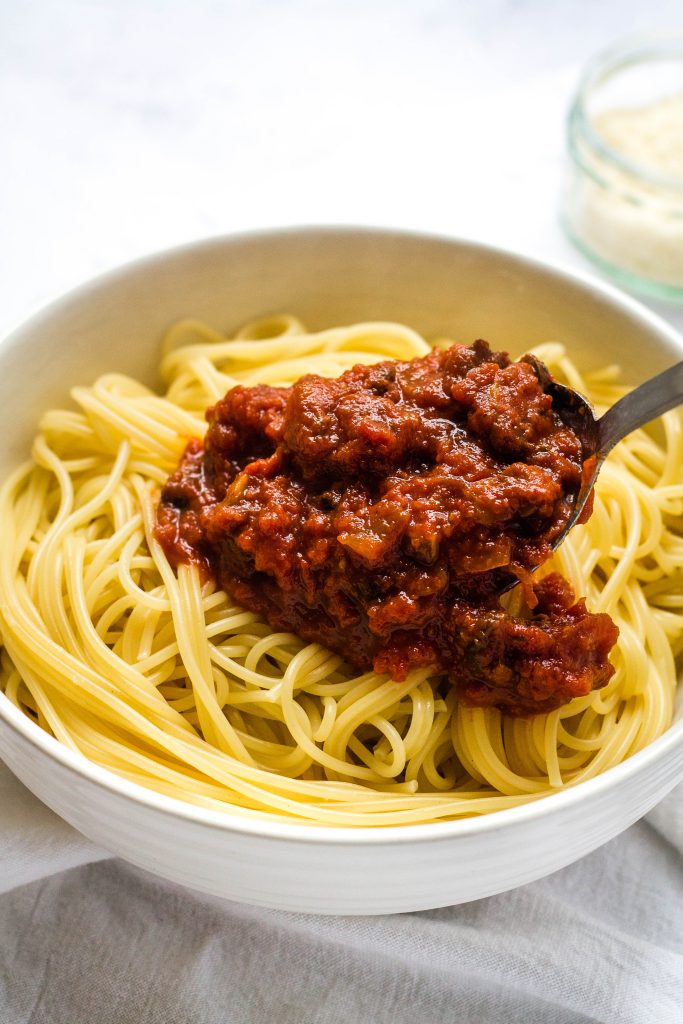 Variations on this spaghetti sauce
This recipe I am sharing with you was from one iteration of the spaghetti sauce. But in reality it's made a little differently each time. Some ideas for how to personalize your sauce:
You can use white wine instead of red
Use a couple cans of fire roasted tomatoes (and then you don't need to roast the peppers, unless you want it doubly smoky)
You can add some parmesan to the sauce
Make it arrabbiata style with the addition of red chili
Throw in some mashed capers for extra umami